Chinese nationals found illegally staying at HCMC apartment
Three Chinese men have been found illegally staying at a Ho Chi Minh City apartment in District 4 on Tuesday, local police stated.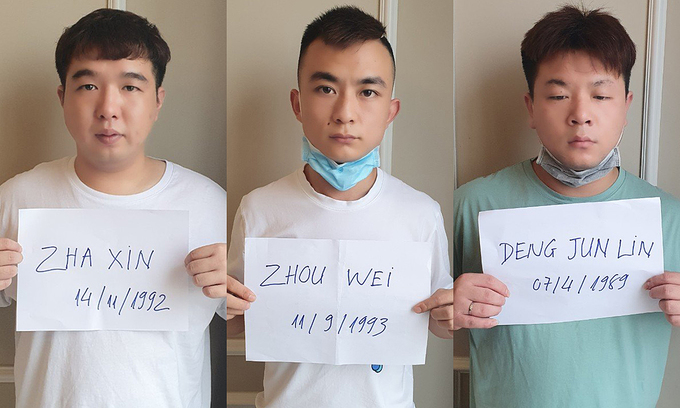 Three Chinese men are brought to a HCMC police station for illegally staying in the city. Photo by VnExpress/Nhat Vy.
Authorities prepare to deport illegal Chinese entrants in HCMC. Photo courtesy of the HCMC police.
The men, aged 28-32, said they were staying at an apartment in District 4 to "look for jobs." They have now been put into a centralized quarantine zone as a Covid-19 prevention measure, the municipal police department confirmed.
They said they had entered Vietnam via a less-traveled path along the northern border with the help of smugglers, before traveling to HCMC on a bus.
Police were first alerted of the three through a local tip-off.
In the last two months, HCMC has discovered multiple incidents of people illegally entering Vietnam from China. Over 100 entrants have been found in the period, but the actual number could be much higher, police said.
As a coronavirus prevention measure, anyone wishing to enter Vietnam must undergo mandatory quarantine. Many seek to bypass quarantine through illegal entry, VnExpress reported.
Previously, fifty-two illegal Chinese entrants were deported from Ho Chi Minh City.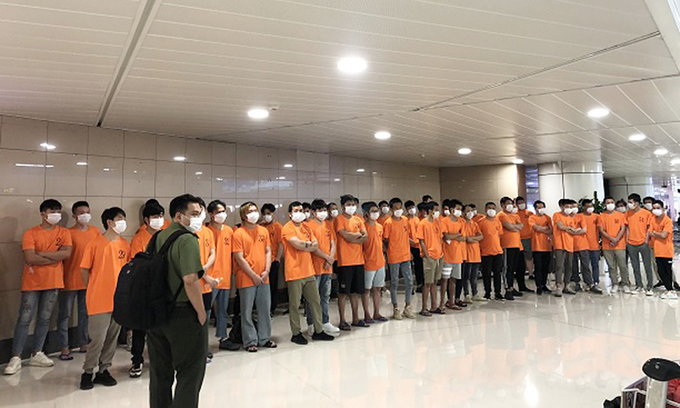 Three Chinese men are brought to a HCMC police station for illegally staying in the city. Photo by VnExpress/Nhat Vy.
This is the second time this year that illegal entrants in the southern metropolis have been deported.
HCMC raises coronavirus alerts on Tuesday after recording a new coronavirus-positive case: a 35-year-old man who went for a health check-up after displaying classic Covid symptoms like fever and coughing. If confirmed, the case would be the southern metropolis's second case in Vietnam's latest Covid-19 wave.
Earlier, over 40 Chinese were also found illegally residing in Hanoi's Nam Tu Liem District.
Chu Xuan Dung, deputy chairman of the municipal People's Committee, said the Chinese would be tested for Covid-19 and be transferred to a centralized quarantine zone in Hoang Mai District.
National inspection drive aims to detect illegal immigrants
The Minister of Public Security has ordered a national examination campaign to discover illegal immigrants in Vietnam, the Ministry of Public Security's Spokesperson Lieut. Gen. To An Xo said at the Government's regular press conference on May 5.
Xo said that under the order, motels, hotels and accommodation facilities across the country will be examined, while the border guards will increase border patrols, and the police will seek illegal immigrants and launch legal proceedings against them and brokers of illegal immigration.
Illegal immigrants who are negative to COVID-19 will be returned to the places they departed, while accommodation facilities violating relevant regulations will have their licenses revoked and receive administrative fines and even criminal punishments, he said.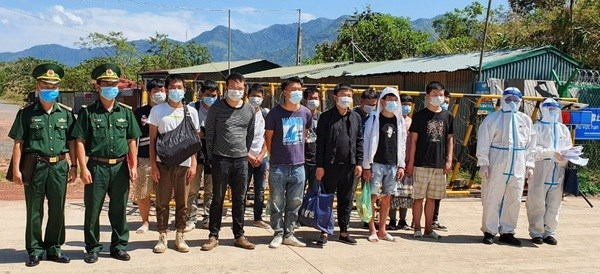 The northern province of Dien Bien hands over 13 illegal Chinese immigrants to the Chinese side. Photo: VNA
According to the officer, since the beginning of the year, about 150,000 people have entered Vietnam, including 110,000 through land border gates, and 40,000 through flights, according to Vietnamplus.
Meanwhile, 39 localities nationwide have reported 199 cases with 1,343 illegal Chinese immigrants. The Ministry of Public Security prosecuted 49 cases with 141 defendants.
"It is crucial to drastically prevent illegal immigrants, as illegally entering Vietnam is violating the country's sovereignty, causing high risks of pandemic outbreaks and affecting the livelihoods of Vietnamese people," he stressed.
The officer added that the major method of organizing illegal entry into Vietnam is contacting those wishing to enter Vietnam through the Internet before transporting them to the country.
As Vietnam shares a long border with neighboring countries, it is easy to cross the land border, he said, adding that through the general examination campaign, localities will report to the ministry major methods of brokering illegal entry into Vietnam, thus put forth effective prevention and combat measures.
The domestically-transmitted COVID-19 cases in Vietnam have risen to 3,072, with 30 patients confirmed in the past 12 hours as of 6 am on May 19, the Ministry of Health said.
Of them, 16 were recorded in Bac Ninh province, 10 in Bac Giang, three in Lang Son and one in Ho Chi Minh City.
The ministry also documented one imported case on the morning, bringing the total imported infections to 1,471.
As many as 1,502 COVID-19 patients were confirmed in the nation since it was hit by the fourth COVID-19 wave on April 27.
A total of 121,010 people who came in close contact with COVID-19 patients or arrived from pandemic-hit areas are being quarantined nationwide, including 2,217 at hospitals, 32,348 at other quarantine sites, and 86,445 at residences.
Among the COVID-19 patients, 37 have tested negative for the SARS-CoV-2 once, 29 twice, and 23 thrice.