Singapore Seeking New Fields Of Cooperation With Vietnam
Singapore Ambassador to Vietnam Catherine Wong said that when the traditional fields of cooperation have reached the two countries' expected effectiveness, Vietnam and Singapore can start collaborating on other new fields such as startups and innovation.  
Speaking of the phone call between Prime Minister Nguyen Xuan Phuc and Singapore Prime Minister Lee Hsien Loong in May during her home interview with VnExpress at the end of July, Singapore Ambassador to Vietnam Catherine Wong stated that even the COVID-19 pandemic could not prevent the leaders of the two sides from keeping in touch.
Singapore and Vietnam's bilateral relationship was upgraded to a strategic partnership in 2013. The two countries' bilateral trade last year reached US$22.7 billion. The main products between the two countries are petroleum, computers, electronic products and components, and telephones. In addition, Vietnam produces and exports aquatic products, coffee, pepper, vegetables and fruits to Singapore, but the market share has not been large.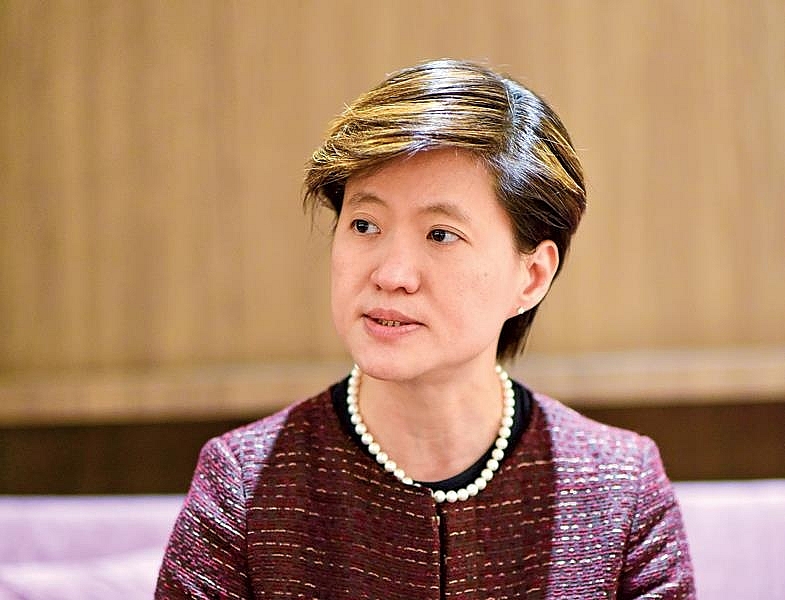 Singapore Ambassador to Vietnam Catherine Wong. Photo: baodautu.vn
Singapore is the third-largest foreign direct investor after Korea and Japan, mainly in the real estate business, processing industry, manufacturing, and construction.
Ms. Wong said that Vietnam - Singapore has substantially cooperated in many traditional fields such as trade, investment, finance, education and tourism but there are still many other fields to exploit, such as agricultural trade, start-up, innovation, technology, energy exploration, infrastructure, urban solutions, and e-commerce.
Madam Ambassador stated that she was extremely impressed with the quality of some Vietnamese agricultural products such as fruits, seafood, nuts, and rice. Therefore, more Vietnamese products are expected to be exported to Singapore to continue Vietnameselychee's success in June.
Ms Wong added that Singaporean companies are keen to cooperate with Vietnam to develop sustainable smart cities and new energy sources such as solar energy or liquefied natural gas (LNG). In the industrial sector, Singaporean companies can help develop automation solutions or robots, which will be a great help for the high-tech manufacturing sector.
Last year, Singapore expanded its network of the Global Innovation Alliance to Ho Chi Minh City, opening up opportunities for cooperation between Singapore and Vietnamese startups. Singapore has startups in areas such as financial technology, education technology, and medical technology.
"These are all potential areas that our companies hope to be able to come to Vietnam to find the right partners here," said Ambassador Catherine Wong.
Education is one of the focal points of cooperation between the two countries. About 10,000 Vietnamese students are studying in Singapore. The Singapore Ministry of Education is continuing to award ASEAN scholarships to high school students and students from countries in the region. Private companies in Vietnam are also cooperating with universities in Singapore to award post-graduate scholarships.
Last year, the Deputy Prime Minister of Singapore announced the Asia Ready Exposure Program, which encourages students from Singapore vocational colleges and universities to go to ASEAN cities, China and India for internship programs and experiences. Madam Ambassador also stated that Vietnam has always been a popular destination for Singaporean students. She hoped that exchange programs like those can continue, so not only more Singapore students will come to Vietnam but more Vietnamese students will come to Singapore.
In March, Singapore announced that it would introduce Vietnamese into its junior and pre-university curriculum from 2021. Ambassador Wong assessed that the inclusion of Vietnamese in the curriculum has increased Singapore students' interest and exposure to this language, thereby promoting people-to-people exchange.
The Ambassador believed that learning Vietnamese will not only make it easier for Singaporeans to understand the Vietnamese culture, but also assist them in having more interactions and developing meaningful relationships with Vietnamese people.
According to the Ambassador, even for someone who has been working in Vietnam for 4 years like herself, Vietnamese is still a difficult language. She admitted that she still cannot speak Vietnamese fluently even though she can understand more than speak. However, Ms. Wong agreed that knowing the local language is always very useful if you really want to understand a country, its culture, its society and its people.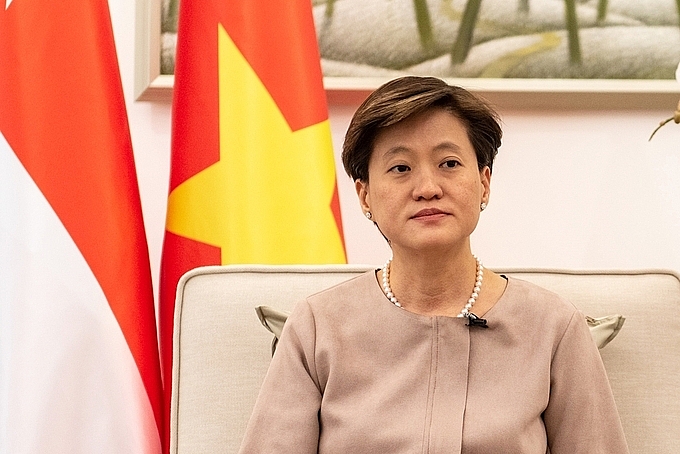 Singapore Ambassador to Vietnam Catherine Wong in Hanoi on July 24. Photo: Thanh Hue.
The Bien Dong Sea (South China Sea) is also an issue of common concern of Vietnam, Singapore and other ASEAN countries. Tensions in the Bien Dong Sea heated up when China deployed a series of aggressive activities such as the Haiyang 8 geological survey vessel entering Vietnam's exclusive economic zone and then following Malaysia's drilling ship.
Vietnam has repeatedly rejected China's claims and illegal activities in the Bien Dong Sea. The US and Australia recently declared China's "nine-dashed line" claim in the South China Sea as "illegal" and "inconsistent" with international law. In a note sent to the United Nations Secretary-General Antonio Guterres on July 29, Malaysia also denied China's "historic rights" related to the "nine-dashed line".
Ms. Wong stressed that Singapore is not a country with overlapping sovereignty claims in the South China Sea and does not take any side in the issue of sovereignty claims. However, as a small country whose economy depends on trade, Singapore's concern over the Bien Dong Sea issue is mainly to maintain regional peace and stability, so that economies can continue to grow.
The Ambassador added that Singapore is also interested in the freedom of navigation and aviation, and hopes that countries involved in disputes in the Bien Dong Sea will resolve the disputes peacefully through negotiation adhering to the principles of international laws, such as the United Nations Convention on the Law of the Sea (UNCLOS).
Madam Ambassador affirmed that Singapore will continue to work with ASEAN countries as well as China to come up with a practical and effective code of conduct aimed at resolving disputes in the Bien Dong Sea.