Cloud hunting attracts tourists to Ha Giang's second highest peak
Chieu Lau Thi, second of Ha Giang's highest peak in the northern province, is an attraction to tourists and cloud lovers all the time, as it is a famous place for cloud hunting - an unique and impressive experience.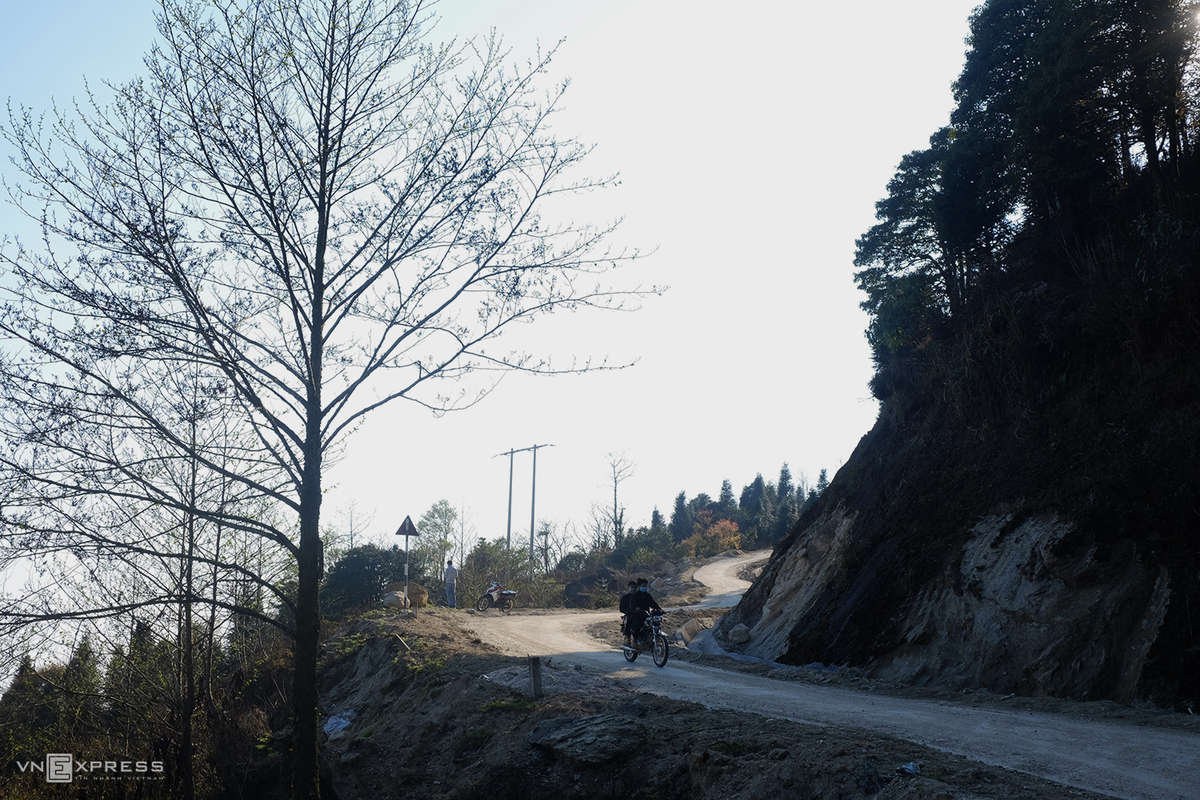 Photo: VnExpress
Chieu Lau Thi or Kieu Lieu Ti is located in both Tan Minh and Chien Thang villages, Ho Thau Commune, Hoang Su Phi District. At 2,402 meters above sea level, this is the second-highest peak in the northern province, after Tay Con Linh summit (2,428 m).
From Hanoi, tourists often choose to take a night bus to Hoang Su Phi, then rent a motorbike to drive nearly 40 kilometers more to reach the foot of the mountain before scaling Chieu Lau Thi, according to VnExpress.
Photo: VnExpress
It would take over half a day to travel 300 kilometers from Hanoi to Ho Thau Commune using private transport. The last 15 kilometers get pretty dangerous with many bends and ongoing construction.
A concrete road to Chieu Lau Thi is nearly finished, meaning vehicles with less than nine seats could soon reach the foot of the mountain, surrounded by forests.
Chieu Lau Thi has different beauties in different seasons. But the best time for cloud hunting here is from September to February, which coincides with rice harvest and spring blossom season. From the foot of the mountain, visitors have to ascend hundreds of steps before reaching the peak.
Although the footpath to the top stretches only 800 meters, it can take 30-40 minutes to conquer. The higher you go, the denser the forest.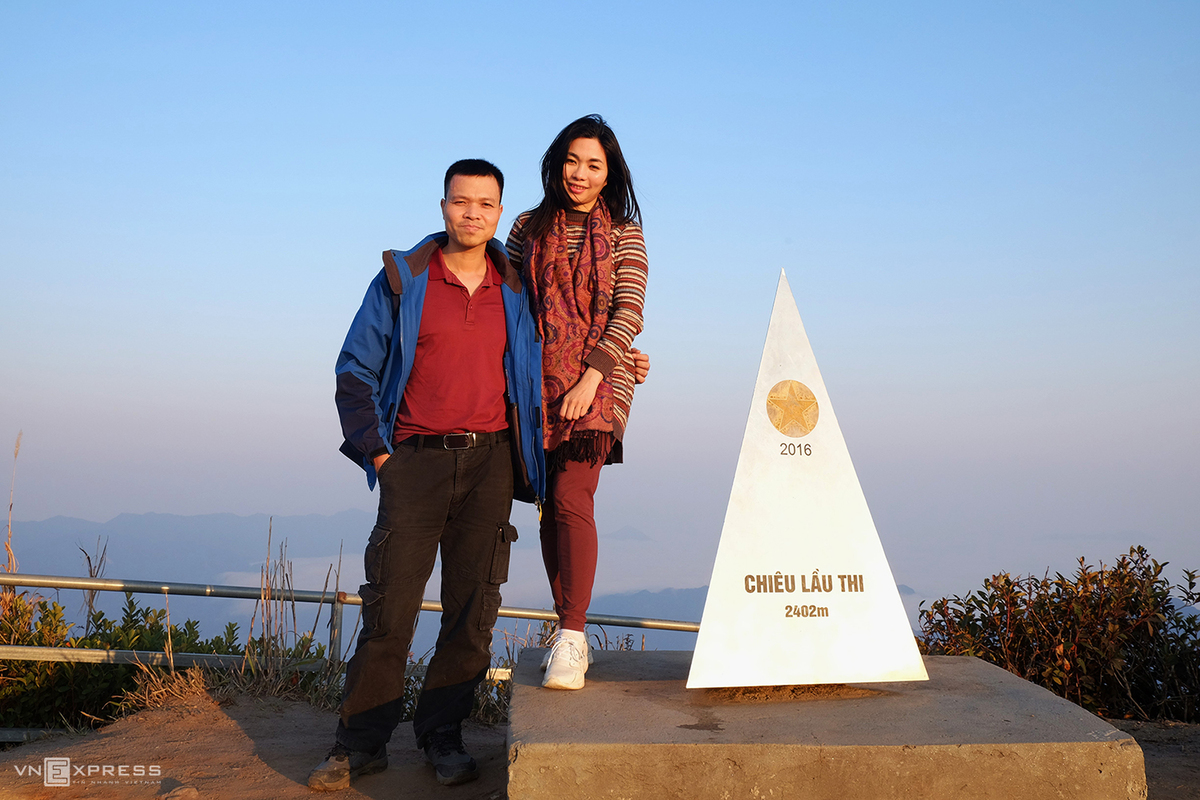 Hanoians Cuong and Ha conquered Chieu Lau Thi on the first day of March. Ha said, although she had seen oceans of clouds in places like Ta Xua (Son La Province) and Y Ty (Lao Cai Province) communes, she was still amazed by the beauty of the second highest peak in Ha Giang. (Photo: VnExpress)
Without going to the top, you can still see the sea of clouds over the valleys around Chieu Lau Thi.
A good time for cloud hunting is late afternoon (4-6 p.m.), when sunset is about to hit, or at 5 a.m., before dawn.
To stay overnight, tourists either camp or book a homestay operated by the Phu Pu family, which costs VND100,000 ($4.3) a night. The homestay is about 2 kilometers from the route to the mountain.
Originally a farm, it was later expanded and welcomes guests from 2016. A meal costs VND150,000 and a herb bath about VND100,000.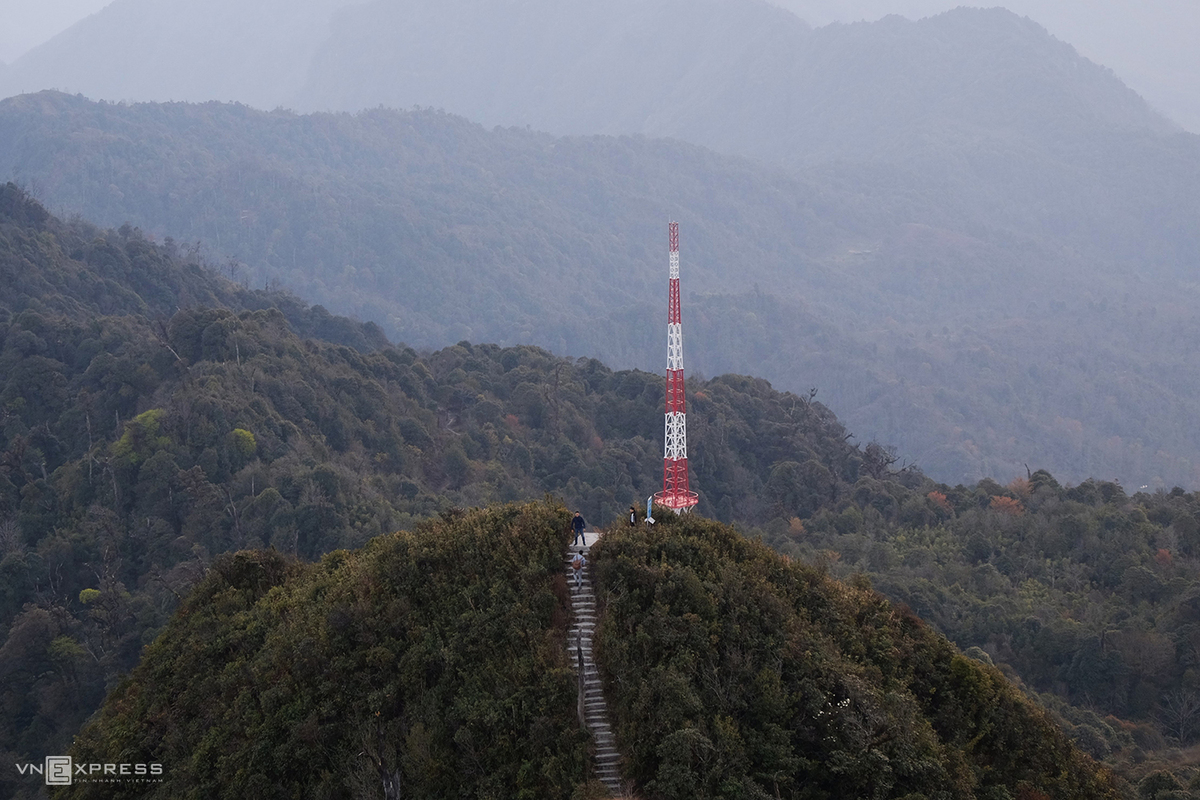 Although the footpath to the top stretches only 800 meters, it can take 30-40 minutes to conquer. The higher you go, the denser the forest. (Photo: VnExpress)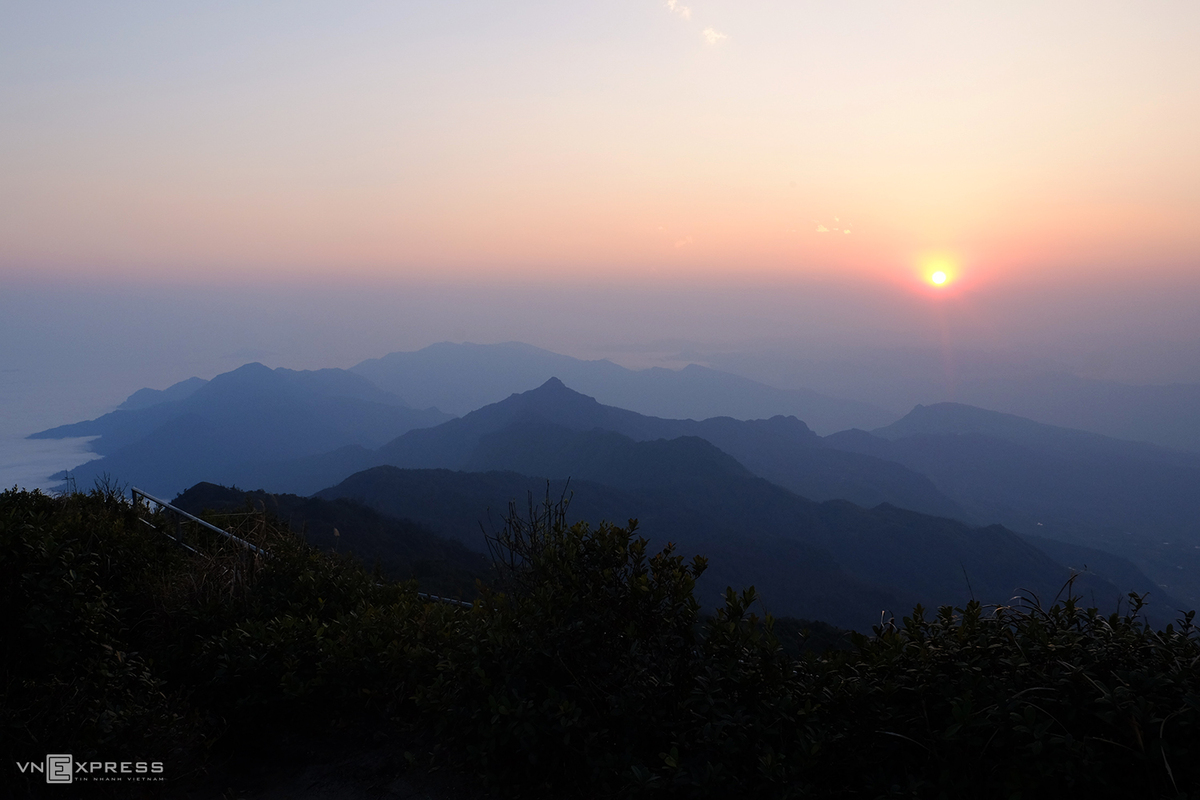 Sunset viewed from the mountain top. (Photo: VnExpress)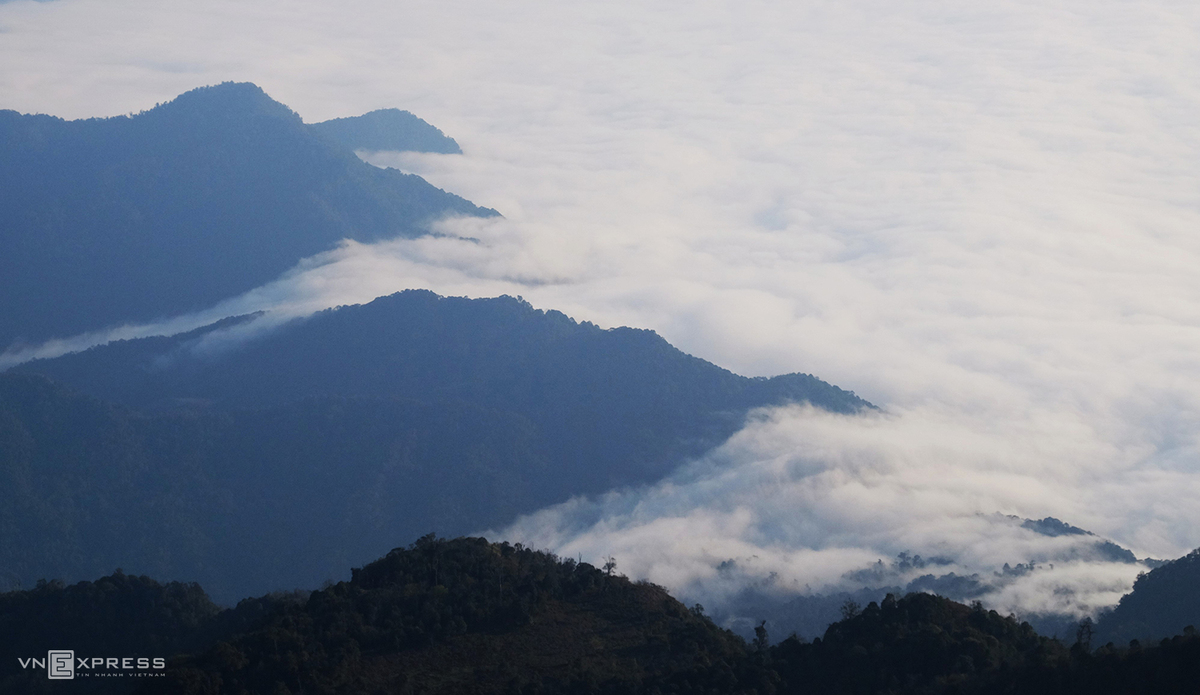 Photo: VnExpress
Other places to see when you visit Ha Giang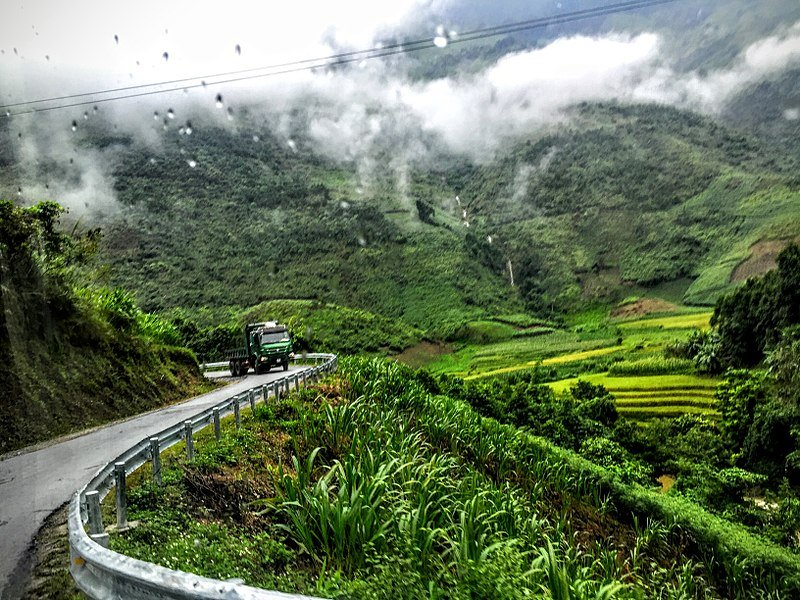 Photo: Wikimedia
Thon Ta Village and Waterfall
While there is little to see in Ha Giang city, there are some interesting spots to visit close by. Thon Tha village is one of them. Only around 500 people live here but since tourists have been visiting for many years, there are plenty of nice homestays and many locals who speak English and are eager to be your guide.
A stop here is worth it as you'll see how people live in this part of Vietnam. Many villagers run their own farm and live in traditional houses, renting out their extra rooms to travelers. This is your chance to sleep in an authentic stilted house, overlooking verdant rice fields and waving good morning to buffalos when you wake up.
A short trek from town, you'll find a beautiful waterfall which offers wonderful refreshment after a hike.
Khuoi My and Tai Con Linh Peak
If you're looking for a great trekking experience, head to Khuoi My village on Tay Con Linh Peak from Thon Ta. If you set out early in the morning, you'll get there by lunchtime and have plenty of homestays to choose from for a meal. Hosts are known to be very welcoming and eager to share stories about their history, culture and traditions, so feel free to ask!
As you walk the mountain paths, Ha Giang's countryside will unfold before your eyes and offer breathtaking views of rice fields, forests and surrounding mountains.
Ma Pi Leng Pass and Heaven's Gate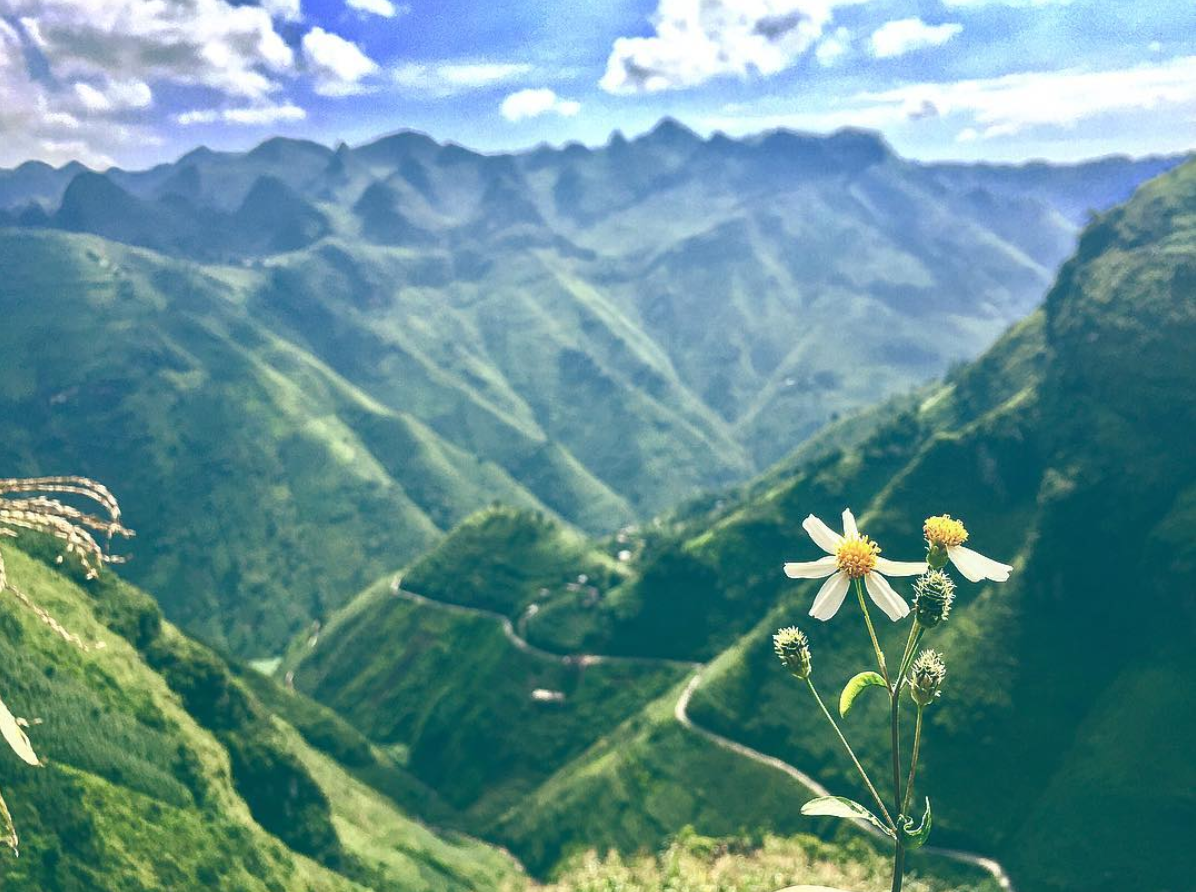 Photo: Instagram @thang.huynh83
As you head east from Ha Giang to Dong Van, you will start to see the landscape change to what you've doubtlessly seen on postcards of Ha Giang. The endless rice paddies will slowly give way to the famous limestone mountains, deep canyons and rocky structures which make this province so unique. All of this is part of the Dong Van kart Plateau, a UNESCO-recognized geopark.
You will make your way towards Quan Ba Valley where you'll see the famous Fairy Breast Mountains, two round hills set in the middle of a perfectly flat valley. If you have some extra time, you can go there for a hike and a visit. Many locals do, as they believe it brings good luck.
Further along the path, you will get to Ma Pi Leng Pass, an impressive area with endless views of the Nho Que River, its canyon and the mountains rising steeply on either side. Take some time to stop along this road and soak up the view… chances are you'll meet a few other travelers and locals doing the same.
Dong Van
After a lot of driving, you'll arrive in Dong Van, the largest town in Ha Giang province. It's worth it to spend some time here as there are plenty of things to see and do. You can start by exploring the Old Quarter, Dong Van's city center. It resembles a courtyard surrounded by traditional coin-roof buildings. Today, many of them have been converted into cafes and souvenir shops. This might come as a surprise, but the city is a popular stop among Vietnamese travelers who are exploring the Dong Van loop, so tourism in this area is more developed than in the rest of the province.
Once you've had enough of the town, you can climb a nearby hill to find the ruins of a French fort called Don Cao. From there you will also have breathtaking views of Dong Van and the surrounding countryside.
Sa Phin
Only a short drive from Dong Van is Sa Phin, the village home to an important historical site, the Hmong King Palace. It was built in the 1920s for Vuong Chinh Duc who was also known as the Hmong King. He was on good terms with the French during their colonial rule.
The palace is an interesting building with elements of European and Chinese style elements and was one of the most luxurious homes in the area. Richly decorated with beautiful carvings of flowers and decked out with the era's most modern facilities, the palace was often the site of visits from dignitaries and important businessmen.
Today the palace is a museum and you'll find some interesting pictures giving you an idea of the lives the owners led.
Explore Local Markets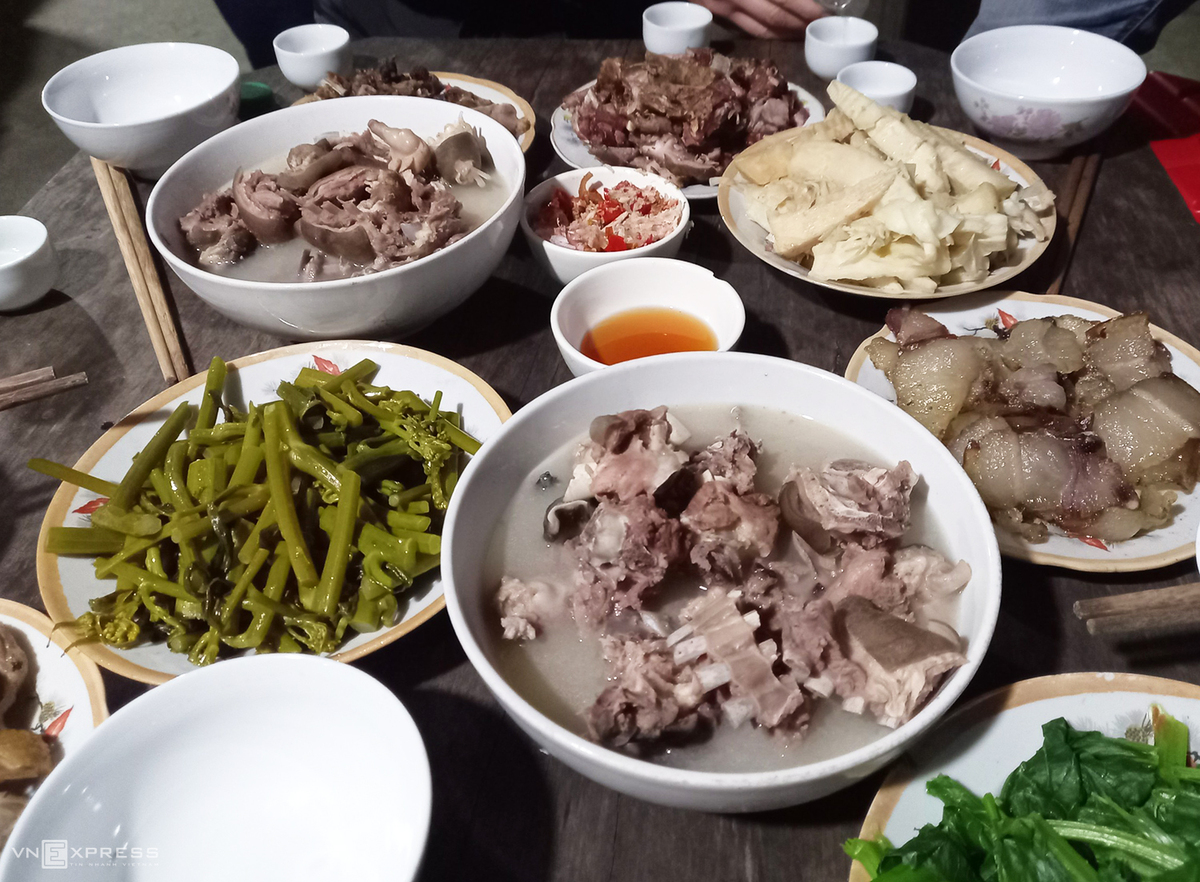 Photo: VnExpress
Towns around Ha Giang are known for their colorful, interesting markets. Usually, they take place in the morning on Saturdays or Sundays and maybe one weekday. To include at least one in your itinerary, ask your guide which market he recommends and time your trip in a way that gives you time to explore it.
Usually, people from several villages gather for a market, making it a melting pot of Hmong, Dao, Tay and other ethnic groups. They all come wearing their traditional dresses, so get ready for an unparalleled display of local fashion and textiles.
Markets are also the perfect place to try some more local food and see how some of your favorites are made.
Popular markets to visit in Ha Giang include the ones in Dong Van, Meo Vac and Tam Son. But of course, there are many others too. Just ask your guide or homestay host, and you'll get plenty of options.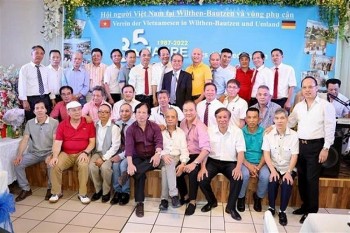 Economy
The Overseas Vietnamese Association in Wilthen - Bautzen and surrounding areas in Germany held a get-together on the occasion of the 35th anniversary of Vietnam - Germany labour cooperation.