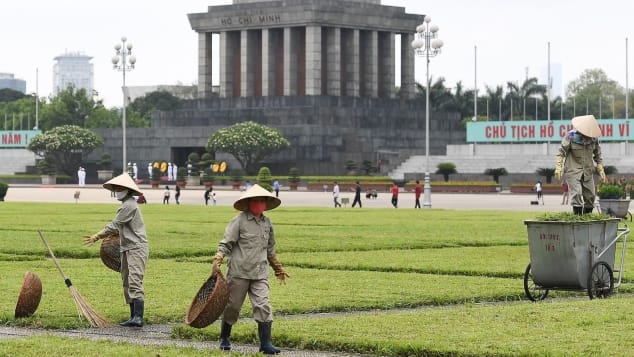 Municipal workers tend to the grass outside the Ho Chi Minh mausoleum in Hanoi on May 13 as tourist spots began reopening (Photo: AFP).
After a week with no new Covid-19 cases, Vietnam's government had just eased its 22-day social distancing initiative, allowing some businesses to reopen on April 23.
Signs of life had already begun to emerge the prior day. Honking from the streets grew louder as more people rode around on their motorbikes, while local shopkeepers swept the sidewalk in front of their store -- all good signs the city was poised to reopen as planned.
And now, domestic tourism is resuming as well, as airlines increase flight schedules and hotels re-open throughout the country, Katie Lockhart, the article's author wrote to CNN.
Ho Chi Minh City lifted the ban on certain entertainment facilities and non-essential businesses, including pubs, cinemas and spas.
Hanoi reopened its historical attractions to visitors, while walking streets and markets in its popular Hoan Kiem District reopen May 15.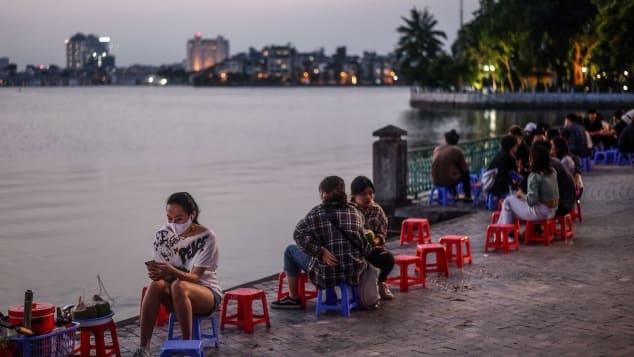 A woman sits by the lake at sunset in Hanoi on May 2 (Photo: AFP)
Katie depicts Hanoi as "a city of smiles as life resumes".
The street food stalls were among the first to put out their tiny plastic chairs. The smell of boiled chicken and the slurping sounds of happy locals filled either side of Chan Cam street.
The tables around were filled with young people talking louder than normal. They were thrilled to be back in a local cafe, a vital part of the youth culture in Vietnam.
"While walking past women squatting down next to coal fires turning trays of fragrant marinated pork and separating thin noodles into bowls, my mouth started to water.
I turned the corner and was surprised to see a dozen tables packed with people hunched over their bowls, dipping their vermicelli in the warm, meaty broth. There was no social-distancing going on here.
Walking back to my apartment full and happy, I noticed others doing the same. There were small groups of older women smiling and laughing on the sidewalk while men smoked from their long bamboo pipes and watched the traffic", Katie shared her view in the article.
Katie affirmed that these days, it doesn't feel like the city has dramatically changed. But Hanoi feels back to its pre-Covid self.
As of May 7, Vietnam had just 288 cases and zero deaths, the writer noted, adding that the Southeast Asia nation acted faster than most nations, shutting its borders with China in late January and suspending visas to prevent foreigners from entering the country.
"It may seem like Vietnam got off easy, but that's not by chance", she affirmed.
The writer added that the country has bolstered communication work to raise public awareness of the disease, as people receive daily updates from loudspeakers on vehicles making their way through the streets, reported by Vietnam News.
Candy Lee