Con Dao travelling: all things you need to know about the top secluded attraction in Vietnam
Located in southern Vietnam, Con Dao is an archipelago comprising 16 islands, which is famous for the most pristine beaches and attracts many tourist by long-standing historical value. Here are all things you need to know about travelling to this dreamland.
An ideal destination for escaping bustling city life
According to Vietnam Guide, Con Dao Islands, also known as Con Dao National park, are an archipelago of 16 mostly uninhabited islets just off the southern coast of Vietnam, each of which offering expansive beaches shaded with evergreen trees. Great for savvy travellers looking to escape bustling city life, the main island also boasts miles of coastal roads, hiking trails and a wide range of outdoor activities.
The main (and only inhabited) island, Con Son was once the site of French-run prisons for Vietnamese involved in the independence movement.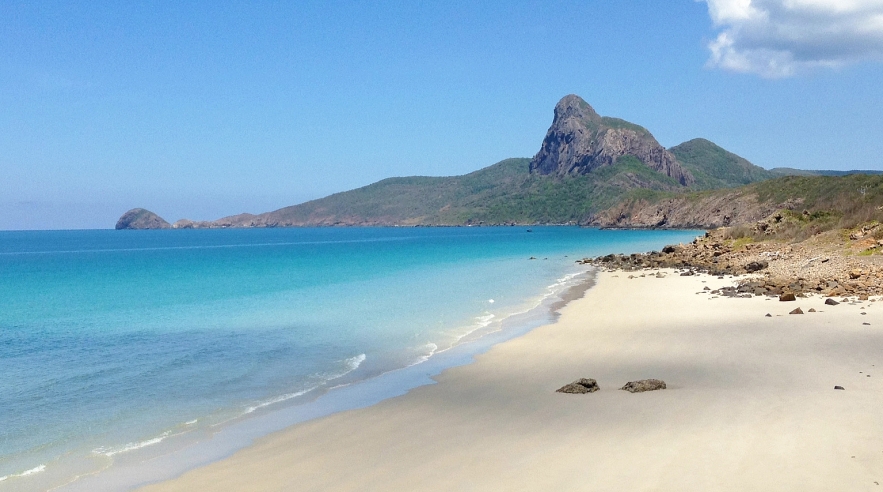 Photo: Vn Express
Most of the derelict prisons are located in Con Son Town, where you can visit the prison cells, and infamous tiger cages. Many locals visit Con Son to pay their respects to revolutionaries such as Vo Thi Sau, the first women on the island to have been executed by the French.
Aside from this rather bleak part of Con Son, the island has plenty of unspoilt beaches where you can enjoy a day of sunbathing, swimming, and dining on fresh seafood. Closest to the town is Bai An Hai Beach, which connects Ben Dam Harbour to several beachfront resorts and fishing villages.
If you prefer privacy, rent a motorbike and make your way south towards Mui Ca Map (Shark Cape) and Nhat Beach to enjoy fine white sands and breathtaking views of the ocean.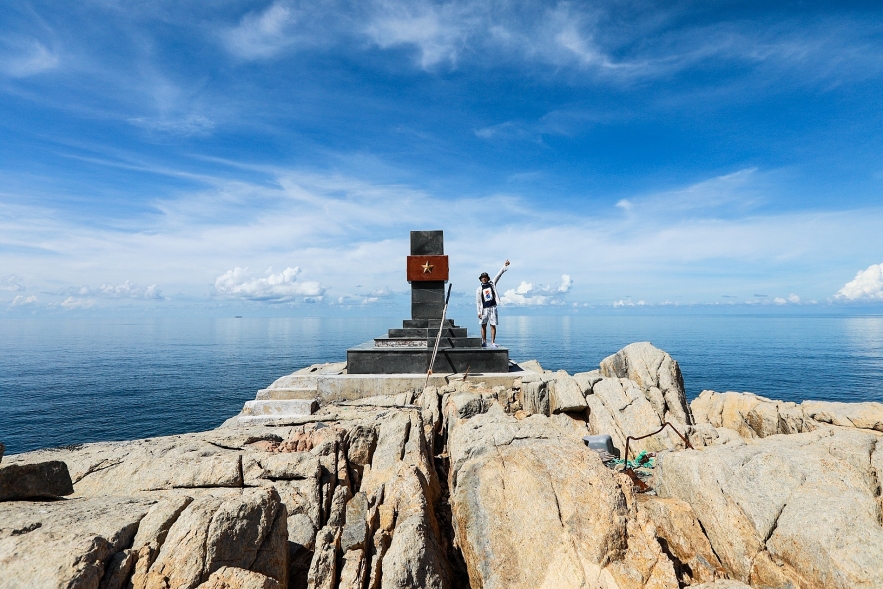 Photo: Vn Express
Island-hopping and diving are popular activities on Con Dao Islands, where you can explore most of the uninhabited islets and spot various wildlife such as stingrays, barracudas, moray eels, and dugongs. Due to its status as a national park, you need to arrange your trip with Con Dao National Park Headquarters (29 Vo Thi Sau, Con Dao District, Ba Ria - Vung Tau Province). Hon Bay Canh Island is renowned for its turtle breeding grounds, so if you're visiting between June and September, you may even get a chance to watch turtles laying their eggs.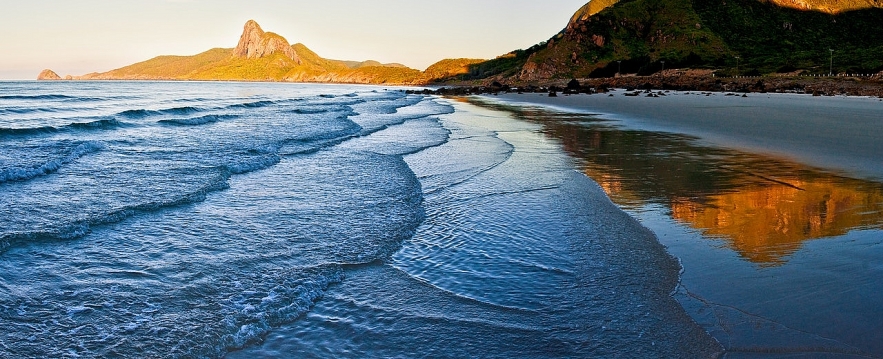 Photo: Lonely Planet
Best time to go
The best time to visit Con Dao is from March to September, when the ocean is quiet and the wind weak, which eases transportation, Vn Express reported.
Even in the rainy season (May-October), downpours here are pretty gentle, lasting for a mere hour in the afternoon. In the morning, the weather is sunny with clear skies, suitable for diving and photography. Turtle breeding season occurs from July to September.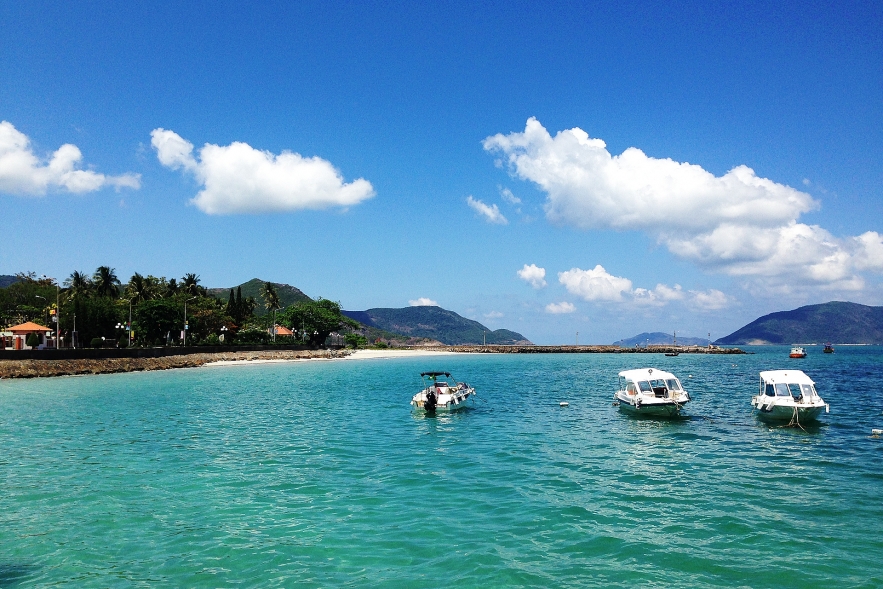 Photo: Vn Express
Three popular ways to get to the dreamland
According to Beach Addicted, visiting Con Dao is not as difficult as in the past, now served by both air and sea.
The first option and the most comfortable one is to fly there. Con Son, the main island, has a small airport and there are couple of airlines flying there.
Flying from Ho Chi Minh City only takes 50 minutes and costs from 65 to 108 USD. From Con Dao Airport, you can take a taxi downtown for about 12 USD.
A cheaper option would be going by ferry. Visitors can even take their motorbikes and bicycles along. From HCMC, you can take a two-hour bus ride to Vung Tau for 3.88 USD. It's preferable you take the bus early in the morning to catch the first ferry of the day at 8 a.m.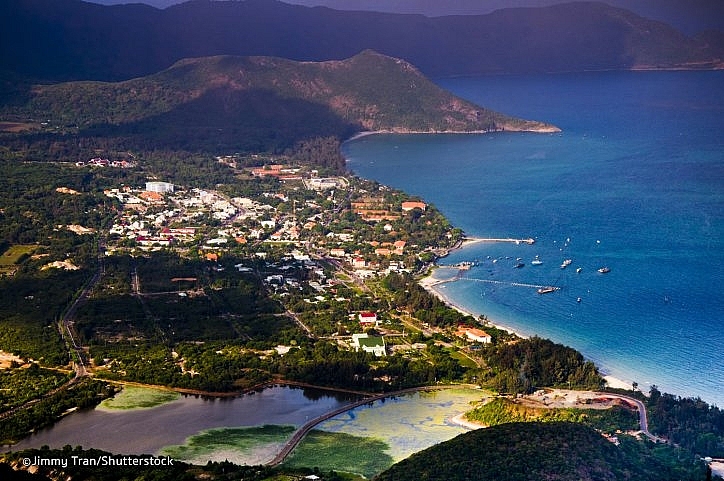 Photo: Vietnam Guide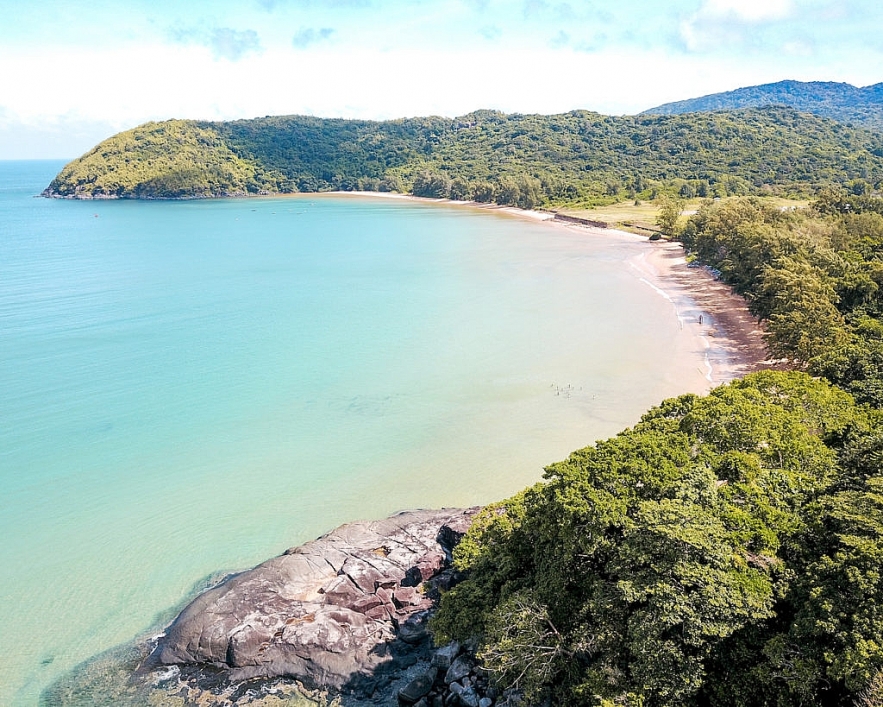 Photo: Beach Addicted
From Vung Tau, you can take a high speed boat from Cau Da Port to Con Dao, which will take you 4.5 hours and cost 28.4 USD. If you want to spend more time on the sea, choose a 12-hour trip on a bigger ferry for 17.2 with bed included.
Accommodation and transportation
According to Vn Express, taxi is a great way to move round the islands, but are quite expensive. Instead, visitors can rent a motorbike for 4.31 USD to 6.46 USD a day.
The cheapest means of transport locally is by bicycle. You can rent one for 1.29 USD to 2.15 USD a day. The expensive part is exploring local coral reef by kayak, which could cost 215 USD for a group of six to 20 people.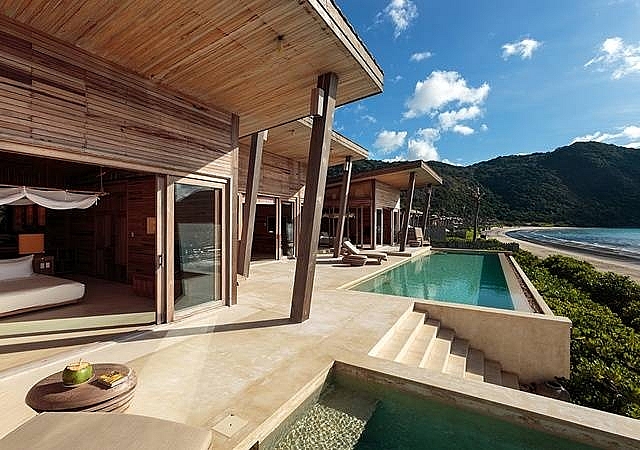 Photo: Six Senses Con Dao
There are many accommodation choices, from motels, homestays, hotels, to high-end resorts. Prices range from 4.31 USD to 90 USD. Dozens of mini-hotels dot Con Son Town, all offering good budget-standard rooms. Staying in the center of Con Dao is recommended because it helps moving from one place to another.
The most attractive destinations to explore
Hon Bay Canh – Hon Tai – Hon Tre Lon – Hon Tre Nho – Hon Ba
These small islands lie on a marine eco-tourism route skirting coral reefs and mangrove forests. In the right season, you could watch turtles lay their eggs or experience baby turtles returning to sea.
Dam Trau Beach
One of the most loved local beaches is crescent-shaped Dam Trau, boasting tranquil waters and yellow sand. Spend your day here swimming in the clear ocean, then drinking cocktails along the seafront promenade.
Photo: Vn Express

Photo: Vn Express
Tau Be Cape
Located between the airport and town, surrounded by vertical cliffs forming an arc embracing the sea, the cape is an epic spot from which to view the sunrise over Con Dao.
An Hai Beach, Cau Tau Beach
These white sandy, quiet beaches are located right in the center of big Con Dao Island, inhabited by scores of local households.
Nhat Beach and Shark Cape
Many tourists stop here to take photos of the road curving around the mountain, skirting the clear blue sea.
Dam Tre Bay
Located in the north of the island, Dam Tre Bay offers a natural, windy landscape, surrounded by mangrove forests. Visitors can watch canaries in breeding season and many other marine species. On the way, why not enjoy beautiful views of Con Son Bay, Lo Voi Beach, Dat Doc Beach, Chim Chim Cape and Dong Bac Bay.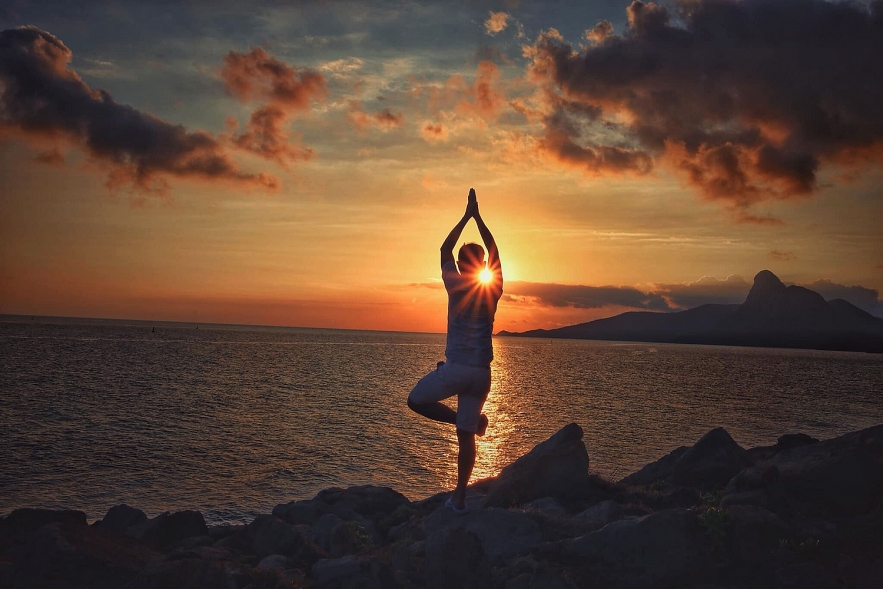 Photo: Vn Express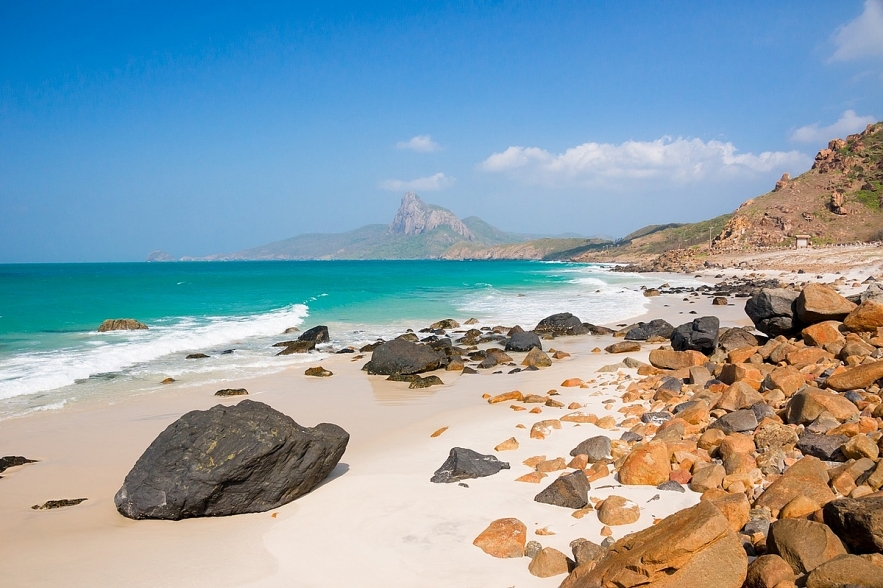 Photo: Vn Express
Ong Dung and Nui Chua primeval forests
From Con Dao, go west and trek about an hour through the primitive forest. In the end, it will lead you to a beach. Also explore Con Dao National Park for VND60,000 per person.
Ma Thien Lanh Bridge and 914 Bridge
These bridges, now popular tourist attractions, are historical monuments built by soldiers.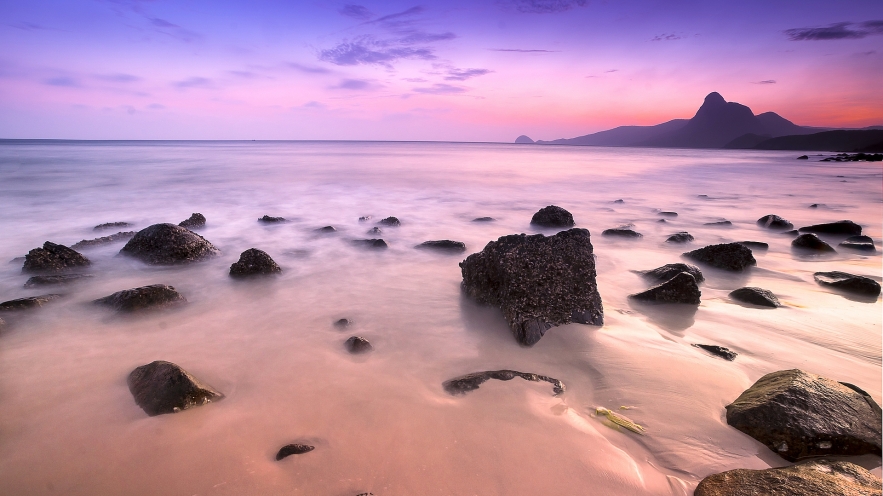 Photo: Express
Con Dao Museum
In the past it was the residence and working place of 53 island lords for 113 years. The relic area today has become a place for displaying materials and items with historical value to attract tourists. Admission price is 0.86 USD.
Con Dao Prison
The prison system remains nearly intact and divided into many cells and camps, including Phu Hai and the "tiger cage", dotted with statues of tortured prisoners. Hire a guide to learn information on the area for 0.86 USD per person.
Hang Duong Cemetery
Here lie the graves of over 2,000 martyrs, along with the tomb of national war hero Vo Thi Sau. Visitors often burn incense here to honor those fallen in war.
Photo: Vn Express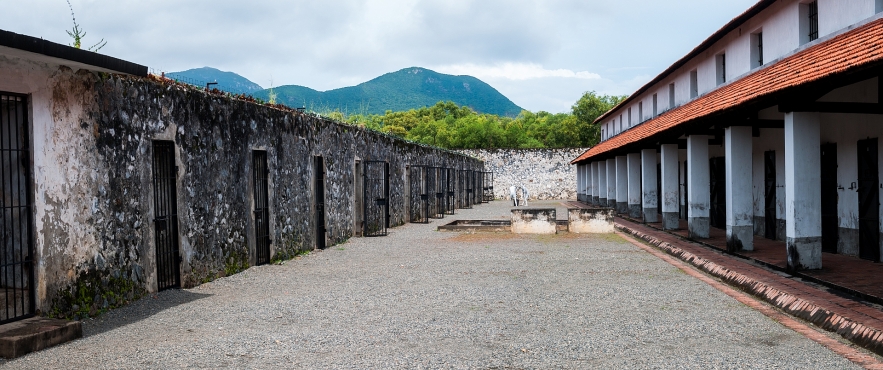 Photo: Vn Express
Nui Mot Temple
Located in the center of the island, Nui Mot is considered one of the most beautiful temples in Vietnam. Situated on the mountain, visitors standing in the yard can take in the entire view of the ocean, residential areas and An Hai lotus lake.
An Hai Lake
An Hai is the second largest freshwater body on the island (the largest being Quang Trung Lake), with Hoang Phi Yen road bent around it. In summer, lotus blossoms tickle the lake pink, attracting many ardent photographers.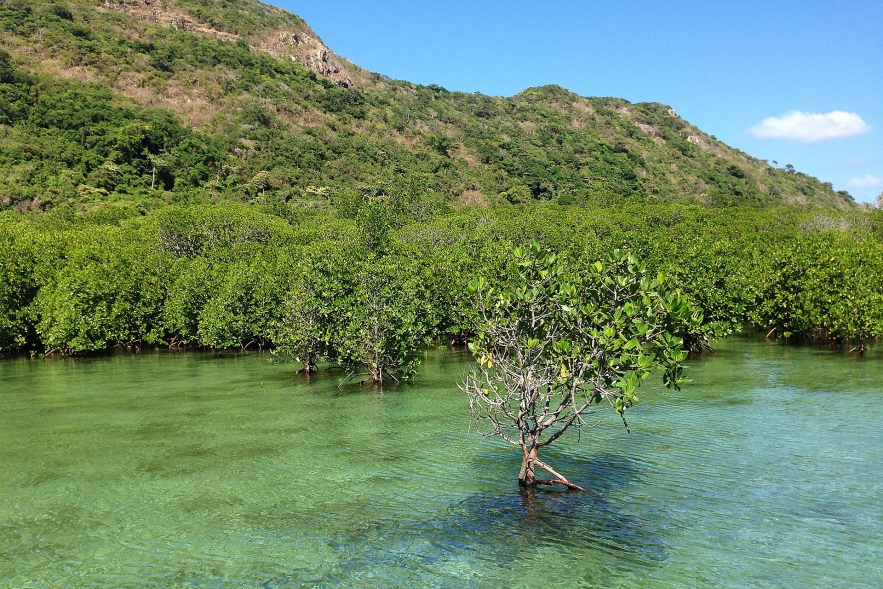 Photo: Vn Express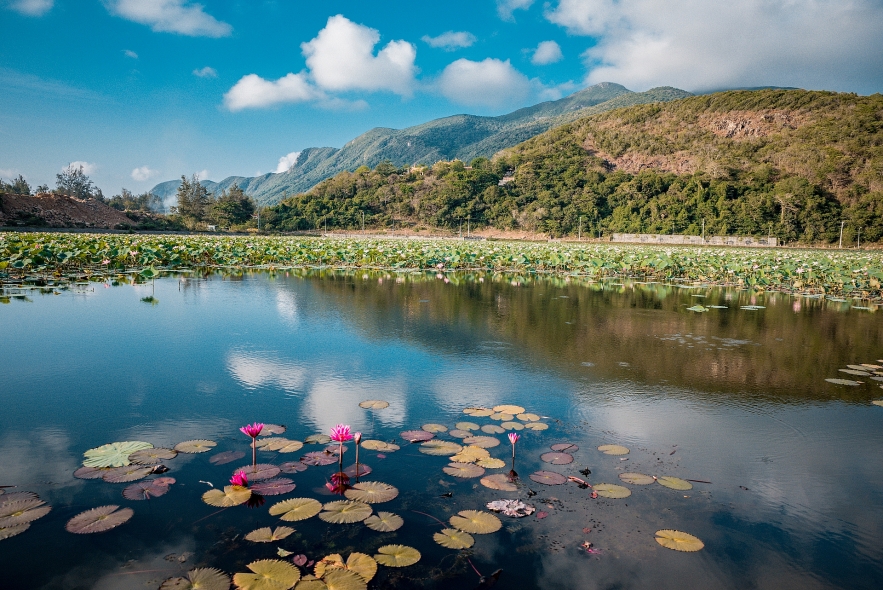 Photo: Vn Express
Pearl extraction
Visitors can learn more about pearl extraction at various local farms and buy related products.
What to eat
Like other islands, Con Dao's specialty is seafood. Fresh seafood purchased at Ben Dam Port is considered the cheapest by locals and many tourists.
Floating rafts offer a meal of grilled seafood for an average price of 8.62 USD to 21.55 USD per person, with an extra cost of 0.43 USD - 1.29 USD to reach each vessel.
Other local dishes include rice, porridge, crab vermicelli, and Vietnamese pancakes for around 0.43 USD.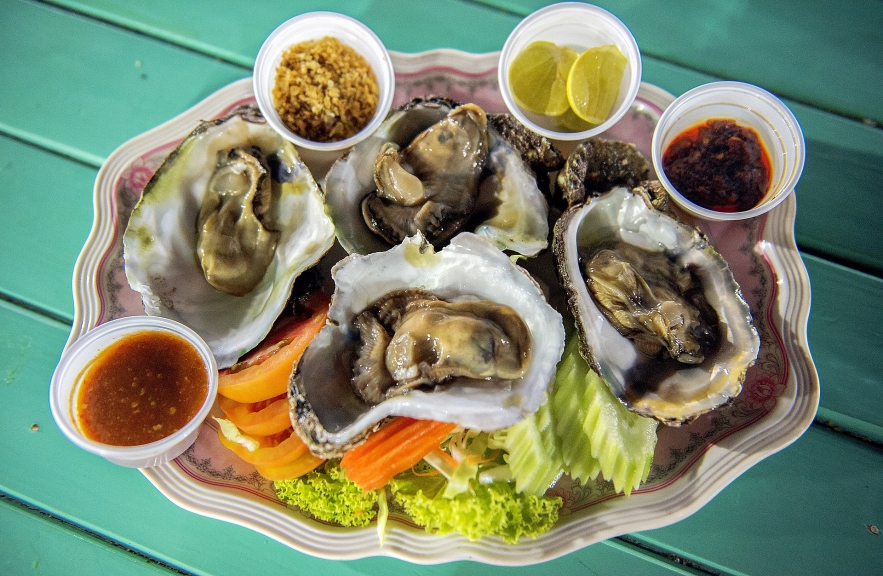 Photo: Vn Express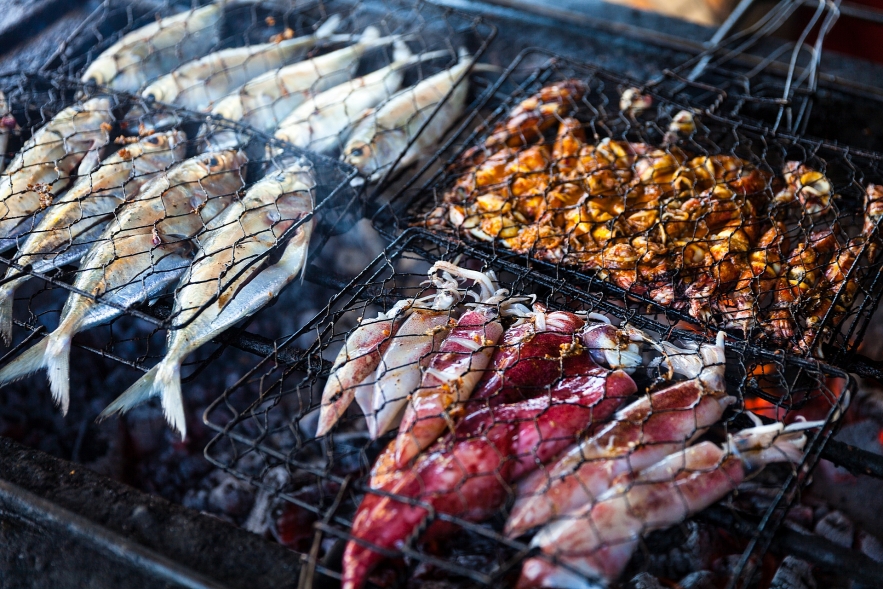 Photo: Vn Express
Con Dao specialties you should try are oyster sauce, fish sauce, cone snail, giant snail, red lobster, moon crab, red grouper, shark salad, and a variance of fish.
You can buy these delicacies at Con Dao Market. Tropical-almond tree seeds are popular souvenirs. Roasted seeds are seasoned with sugar and salt, creating a crunchy texture and fragrant smell.