Congratulations on National Day of Singapore
Vietnam's top leaders have extended congratulations to leaders of Singapore on the country's 55th National Day (August 9).
Vietnam and Singapore officially set up diplomatic ties on August 1, 1973. Source: Internet
Party General Secretary and State President Nguyen Phu Trong sent a letter of congratulations to Singaporean President Halimah Yacob.
Prime Minister Nguyen Xuan Phuc also extended congratulations to his Singaporean counterpart Lee Hsien Loong.
On the occasion, Deputy Prime Minister and Minister of Foreign Affairs Pham Binh Minh congratulated Singaporean Minister for Foreign Affairs Vivian Balakrishnan.
Vietnam and Singapore officially set up diplomatic ties on August 1, 1973.
Singapore and Vietnam upgraded their bilateral relationship to a strategic partnership in 2013. Bilateral trade reached USD 22.7 billion last year. The main products traded between the two countries are petroleum, computers, electronic products and components, and telephones. In addition, Vietnam exports seafood, coffee, pepper, and vegetables, although the proportion of these is lower.
Singapore is the third largest foreign direct investor into Vietnam, after the Republic of Korea and Japan. Singapore's investments are mainly in real estate, processing, manufacturing, and construction.
Singapore has emerged as the biggest foreign investor in Vietnam in the first four months of 2020 with USD 5.07 billion, accounting for 41 percent of the total.
On the occasion of Singapore's 55th National Day, Singapore's Ambassador to Vietnam Catherine Wong sat down with VnExpress for an interview on Vietnam and Singapore's growing bilateral cooperation in areas such as trade and investment, innovation, and education.
Ambassador Wong said that Vietnam and Singapore already have strong cooperation in many traditional areas such as trade, investment, finance, education, and tourism, but there are still many more areas to explore, such as agri-trade, startups, innovation, technology, energy, infrastructure, urban solutions and e-commerce.
"I've always been very impressed by the quality of some agricultural products in Vietnam such as fruits, seafood, nuts and rice. We hope to see more Vietnamese products being exported to Singapore. In June, Vietnamese lychees were sold in our supermarkets in Singapore and were very well received," said the Ambassador.
Ambassador Wong added that Singapore companies are keen to cooperate with Vietnam to develop sustainable smart cities as well as new energy sources, such as solar energy and liquefied natural gas .
Education is one of the focal points of cooperation between the two countries. About 10,000 Vietnamese students are studying in Singapore, she said. "Vietnam is always a popular destination for Singapore students," Ambassador Wong added.
"We hope that these kinds of exchange programs can continue, not only for Singapore students coming to Vietnam, but for more Vietnamese students to come to Singapore."
In March, Singapore announced that it would include Vietnamese in secondary school and preuniversity curricula from 2021. Ambassador Wong assessed that introducing Vietnamese in the curricula will increase Singapore students' interest and exposure to the language, thereby enhancing people-to-people ties.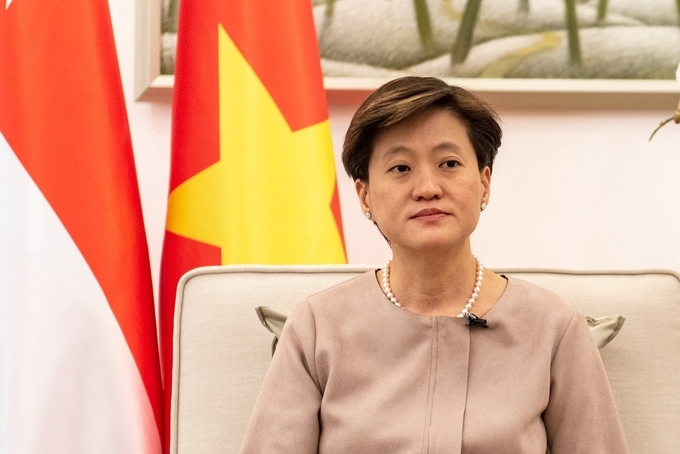 Singapore's Ambassador to Vietnam Catherine Wong. Source: Vnexpress
Ambassador also shared about Singapore's commitment to preserving regional peace and stability in the South China Sea (known as Bien Dong Sea in Vietnam).
She stressed that Singapore is not a country with claims in the South China Sea, and will not take sides on issues of sovereignty. "But we are a small country whose economy is highly dependent on trade. Therefore, our interest in the South China Sea issue is mainly to maintain regional peace and stability so that economies can continue to develop", she said.
Ambassador Wong added that Singapore also has an interest in the freedom of navigation and overflight, and hopes that countries involved in the South China Sea disputes will resolve their disputes peacefully through dialogue, and adhere to universally recognised principles of international law, including as the 1982 United Nations Convention on the Law of the Sea (UNCLOS).
"We will continue to work with ASEAN countries as well as China to come up with an effective and substantive code of conduct, which hopefully will help to resolve disputes in the South China Sea," she said./.