3M will import masks from China for U.S
3M has agreed to import millions more protective masks for U.S. health-care workers after falling into a dispute with the Trump administration about shortages of the critical protective wear, President Trump and the company said Monday.
3M, based in Minnesota, said it will import 166.5 million masks over the next three months, mostly from its factory in China.3M was already making 35 million N95 masks a month in the United States, mostly for the U.S. market. But hospitals have still grappled with shortages of protective equipment.
3M said it exports a "small proportion" of its U.S. production to Canada and Latin America. Last week, the company said the Trump administration had asked it to stop those exports, to make more masks available for U.S. use. That prompted complaints from Canadian Prime Minister Justin Trudeau.
On Monday, 3M said its new deal with the Trump administration "will also enable 3M to continue sending U.S. produced respirators to Canada and Latin America, where 3M is the primary source of supply."
3M's factory in China has largely produced masks for the Chinese and Asian markets. In February, presidential trade adviser Peter Navarro complained in an interview with Fox Business that China had moved to "nationalize, effectively, 3M, our company . . . to prevent them from sending us any stuff."
Source: WP
Coronavirus live update today shows the Covid-19 pandemic has claimed more than 75,500 lives as it spread to 209 countries and territories.
The world updated its numbers of 1,346,036 infections, 74,654 deaths and 278,534 recoveries.
The US: death toll surpasses 10,800 cases
The death toll from the new coronavirus in the United States passed the 10,800 mark, according to a tally from Johns Hopkins University. There were 367,004 confirmed infections in the US, incseased by 30,331 compared to previous day.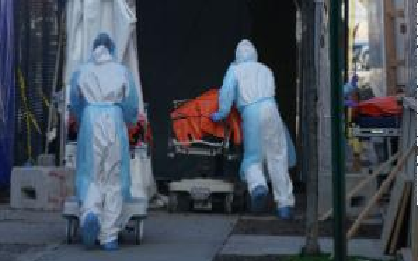 (Photo: CNN)
The governor of South Carolina ordered all residents of the state to stay at home except for essential outings to get groceries or exercise. South Carolina was one of the few US states remaining that had not issued such "stay at home" orders in the face of the coronavirus pandemic.
The UK: Prime Minister Boris Johnson's condition has worsened since being hospitalised with persistent COVID-19 symptoms and he has been moved into intensive care, his Downing Street office said in a statement on Monday.
"Over the course of this afternoon, the condition of the Prime Minister has worsened and, on the advice of his medical team, he has been moved to the Intensive Care Unit at the hospital.
"The PM has asked Foreign Secretary Dominic Raab, who is the First Secretary of State, to deputise for him where necessary."
There are 51,608 infections in the UK, increased by 3,802 cases, with 5,373 deaths, rose 439 cases compared to previous day.
Spain: has reported more than 5,029 new cases of the coronavirus with over 700 new deaths on the fourth day the daily totals have declined.
The total number of deaths in Spain from COVID-19 today passed 13,341 among more than 136,675 cases.
Israel: declares coronavirus lockdown for Passover
Israeli Prime Minister Benjamin Netanyahu said a national lockdown would begin on Tuesday and end on Friday to try to stem the spread of the new coronavirus during the Jewish holiday of Passover.
In a televised address, he said travel restrictions would be tightened on Tuesday and that Israelis will be banned from leaving their homes on Wednesday evening, when families traditionally travel to festive Passover "seder" meals. Israel has confirmed 8,904 infections with 57 deaths
Coronavirus updates on ASEAN members:
Indonesia: Positive cases in Indonesia have increased as of April 7 by 218 to 2,491. The death toll also increased to 209 and the number of those recovered reached 192. Out of the total number of cases, 1,232 were located in the capital Jakarta.
Malaysia: recorded 131 new cases, bringing the total to 3,793 with the number of deaths reaching 63.
Singapore: The country confirmed 66 more coronavirus cases, bringing the total number to 1,375.
Singapore has told 20,000 foreign workers to stay in their dormitories for 14 days and just announced a third stimulus package worth US$3.6 billion to soften the economic damage from the ongoing coronavirus outbreak.
Thailand: has extended a ban on all passenger flights from landing in the country for 12 more days until the end of April 18.
Thailand reported 51 new coronavirus cases and three more deaths on Monday. The country has confirmed 2,220 cases and 26 fatalities.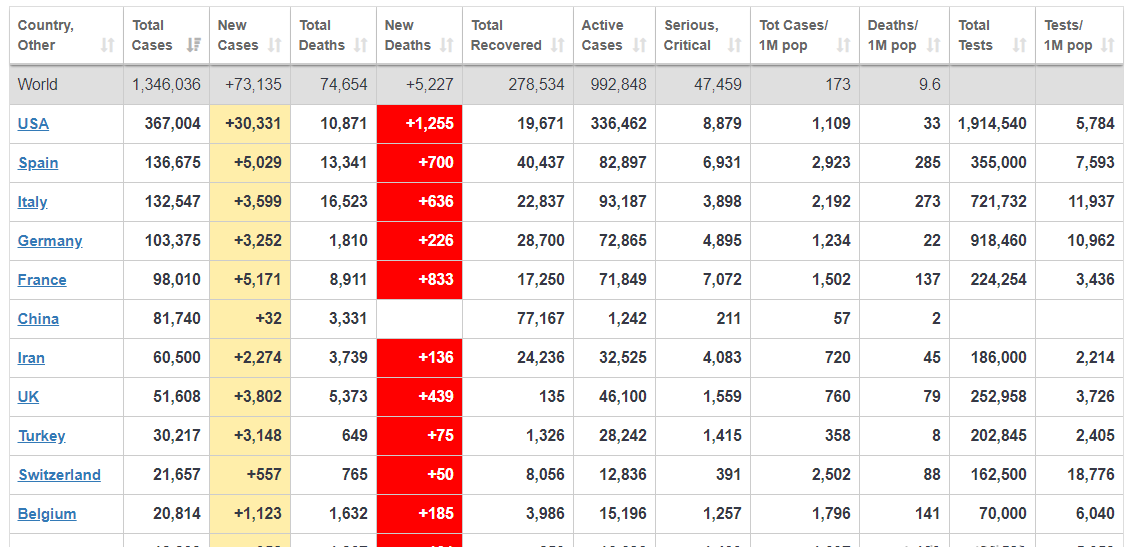 The numbers are continuously increasing in the global epicenters (Photo: worldometers)
Vietnam reports no new Covid-19 case on Tuesday morning
Vietnam has recorded no new coronavirus infections on Tuesday morning, keeping its national count at 245 since the night of Monday.
Tuesday morning marked the third one in a row that the nation has had no fresh cases of Covid-19 caused by the new coronavirus. Prior to that, it has announced to have several new infections every morning since March 6.
On Monday evening, four cases were confirmed, taking the tally to 245.
Of the cases, 95 have been discharged. Another 18 are expected to leave hospitals after recovery on Tuesday.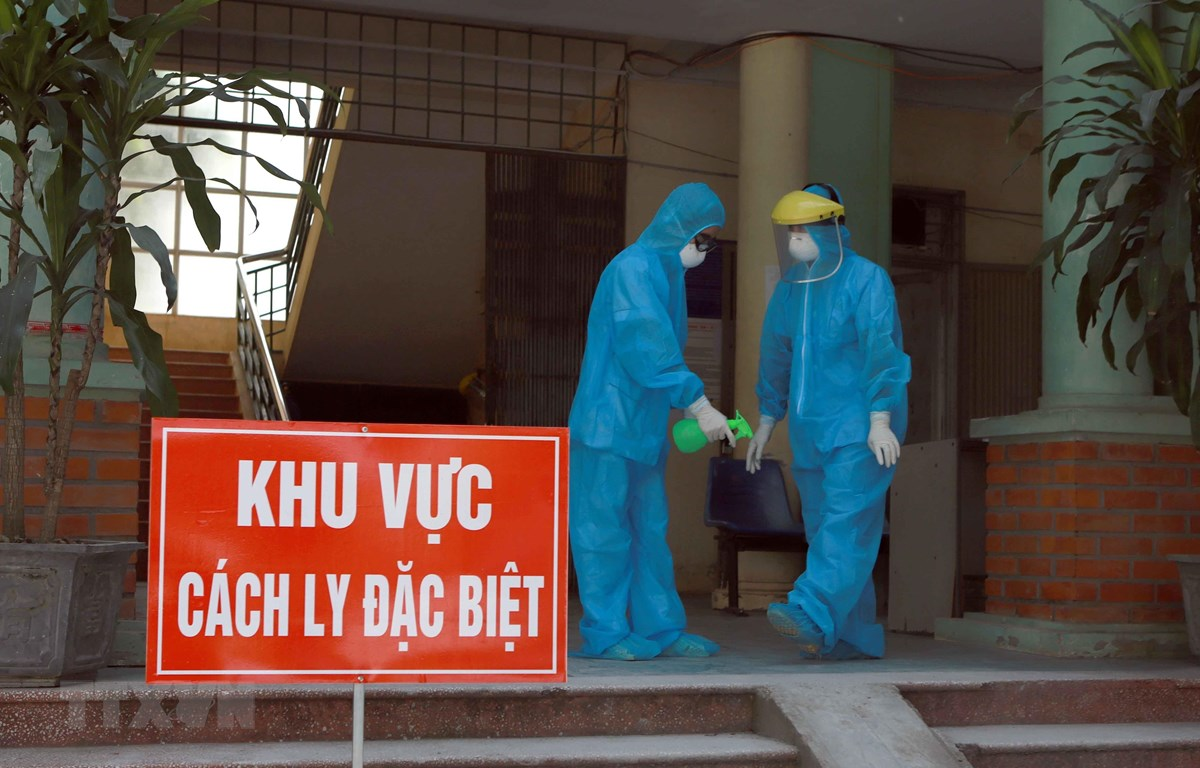 A doctor in protective area inside the National Hospital in Hanoi (Photo: MoH)
Many of the 150 active cases are Vietnamese nationals returning from abroad, mostly from Europe and the U.S., and more than 60 people are related to the two major Covid-19 hotspots in the country – the Bach Mai Hospital in Hanoi with at least 43 cases, and Buddha Bar & Grill in Ho Chi Minh City with at least 18 cases.
The number of new cases recorded in a day in Vietnam had fallen steadily in the past four days, from ten on March 3 to three on March 4, and then just one case on March 5 before it went clean until the night of March 6.
Coronavirus live update today on April 6
The world is struggeling to combat against the killed- virus. Globally, the Covid-19 pandemic has claimed more than 70,533 lives. The global epicenters stay the same to the US, Spain, Italy, Germany and France.
The US: it was reported 336,851 infections and 9,620 deaths today, New York City is in a dire situation with deaths surging and medical supplies running low. The US surgeon general Jerome Adams said this week is going to be the "hardest and the saddest" for Americans, describing it as a "Pearl Harbor moment" and a "9/11 moment.", CNN informed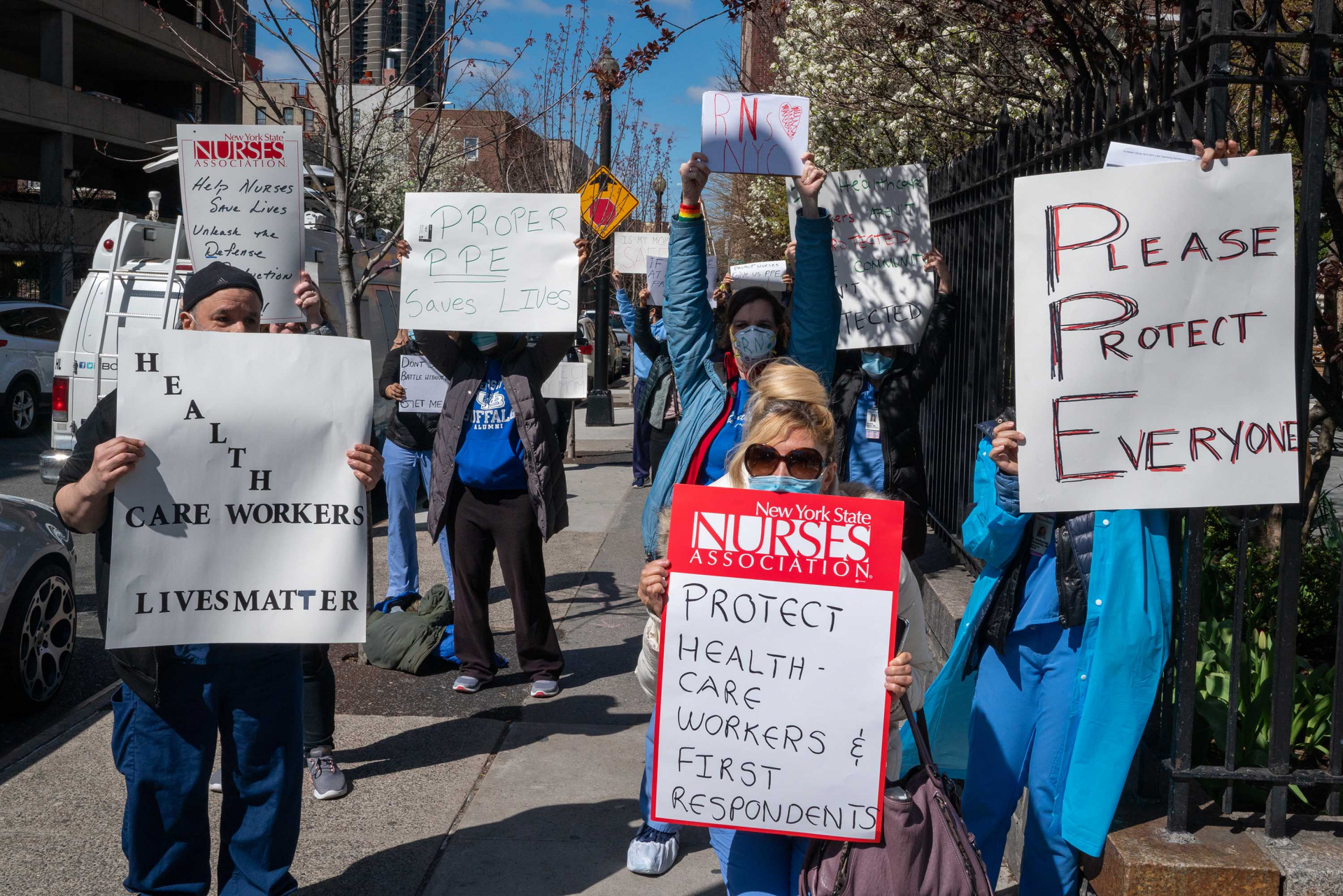 Medical personnel hold signs during a demonstration for increased personal protection equipment outside Montefiore Hospital in the Bronx, New York, on April 2. David Dee Delgado/Bloomberg/Getty Images
Spain the global second epicenter only to the US with the highest number of infections in Europe, reached 135,032 cases, and 13,055 deaths. But, Spain recorded the lowest daily rise in deaths from the coronavirus since early March with more 414 today.
Italy and France: has no recordes of any new numbers today, with 128,948 infections and 15,887 deaths; 92,839 infections and 8,078 deaths in turn.
The UK: also has no new case recorded today but British Prime Minister Boris Johnson will remain in a London hospital under observation after he was admitted on Sunday night with persistent symptoms of coronavirus, BBC informed.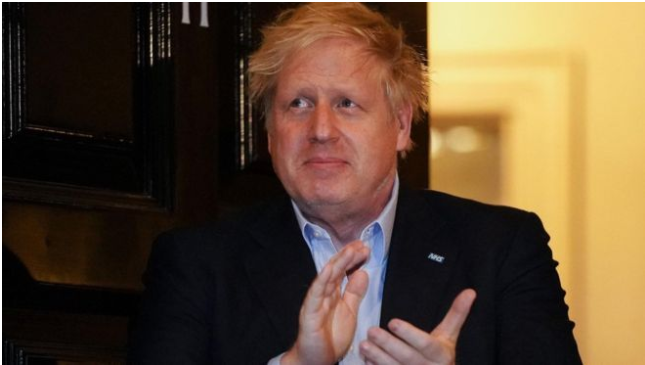 The PM took part in the clap for carers on Thursday outside No 11 Downing Street (Photo: BBC)
The coronavirus COVID-19 is affecting 208 countries and territories around the world and 2 international conveyances. Hereinafter the numbers counted for your reference by Worldometers.
Vietnam, The country is still in a 15-day nationwide social distancing period that was started Wednesday, not allowing gatherings of more than two people and asking people not to leave their homes to contain the spread of the pandemic. The step was taken citing a crucial two-week period in the nation's Covid-19 fight.
The government also suspended all inbound international flights and halted road transport services until April 15 to limit travel in the country of 94 million people.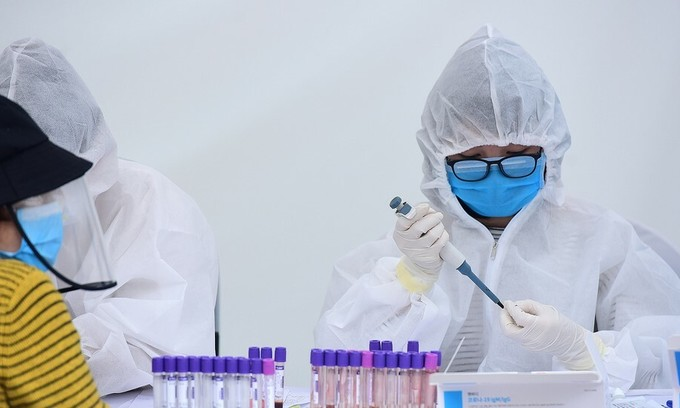 A woman sits for a Covid-19 test at a quick testing station in Hanoi. Photo by VnExpress
After near 2 days of not seeing any new cases reported, Vietnam has confirmed 245 Covid-19 cases so far with more 4 new cases returning from overseas. The country has gone through less than a week of a social distancing campaign announced by Prime Minister Nguyen Xuan Phuc, which calls for people to stay home and does not allow public gatherings of more than two until April 15.
Most of the active Covid-19 cases in Vietnam are people coming in from abroad, especially Europe and the U.S, and people who'd come into close contact with them. Half of them have tested negative at least once.
As of Monday, 95 out of the total 245 reported patients have recovered and mostly discharged from hospitals.
ASEAN members: