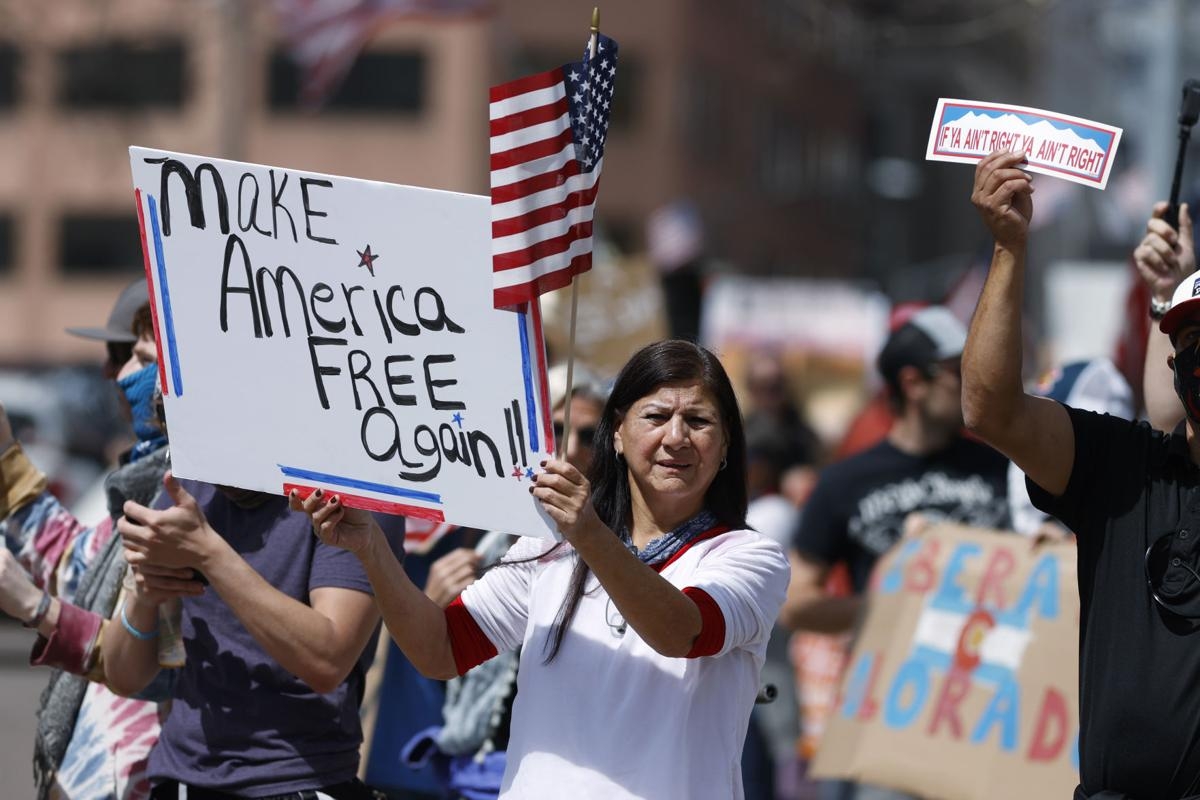 One protestor with the sign "Make America Free Again" (Photo: QC Online)
Coronavirus today update: The virus has spread to 210 countries and territories around the world and 2 international conveyances, killing almost 166,000 patients and infected nearly 2,500,000 people.
Coronavirus today update: The US
As of April 20 early afternoon, the US reports 28,123 new infections, raising total to 792,759, of which 42,514 are dead (over 2,000 new deaths), 72,389 have recovered. Active cases stay at 677,856, with 13,951 in critical condition.
The order of states as the most vulnerable states in the country remains the same, though the number of infections and death have risen.
New York is the hardest-hit state, with 248,417 cases and 18,298 deaths. New Jersey to come second with 85,301 infections, which is one-third of New York's total. The state has 4,362 deaths aready. Connecticut has 1,127 deaths and 17,962 infections – far lower than in New York. Meanwhile, Lousiana reports 23,928 patients and 1,296 deaths.
Corona today update: A total of 1,828 detainees and 108 staff members at the Marion Correctional Institution in Marion, Ohio have tested positive for the illness.
Of the sick inmates, 38 were being treated at an outside hospital. A total of 667 inmates were being quarantined at the facility. The jail houses about 2,500 inmates.
"Because we are testing everyone — including those who are not showing symptoms — we are getting positive test results on individuals who otherwise would have never been tested because they were asymptomatic," the Ohio Department of Rehabilitation and Correction told New York Post in a statement.
There have been 471 deaths in Ohio due to the coronavirus outbreak. More than 11,600 have tested positive for the illness in the state.
Corona today update: Thousands in Denver protest business closures over virus
According to AP, thousands of people staged a peaceful protest outside Colorado's Capitol on Sunday against the state's stay-at-home order and its closures of thousands of nonessential businesses as ways to fight the spread of the coronavirus.
Denver's protesters joined others in the West, including Utah, Idaho and Washington state, in staging rallies demanding immediate action to reopen states for business.
Horn-honking motorists lined up for several blocks on an avenue leading to the Capitol building, then circled it as pedestrians, some not wearing masks, congregated closely outside the building. Many waved American flags and held signs that read "End the Virus, Not the Economy" and "We need stability to stay healthy," The Denver Post reported. Other signs expressed support for President Donald Trump, who has called for a rapid economic reopening, and against Gov. Jared Polis, whose orders shuttered thousands of nonessential businesses. Police officers wearing masks and gloves kept tabs on the protest.
Spain: Europe's biggest epicenter reports over 201,210 cases, in which about 10 percent have succumbed to the virus.
Coronavirus today update: Hong Kong reports no new coronavirus cases for first time since March 5
Hong Kong reported no new confirmed cases of novel coronavirus on Monday for the first time in more than six weeks, according to a statement by the city's Centre for Health Protection.
As early April 21 morning, the total number of reported coronavirus cases in Hong Kong remained at 1,026, including four deaths.
Despite that, the CHP is encouraging residents to continue to maintain an appropriate social distance and avoid social activities like meal gatherings to reduce their risks of getting infected.
Coronavirus today updates: Japan:
The nation's total infections have 10,797 cases, at least 236 deaths have been reported.
Japan is offering sex workers financial aid. But they say it's not enough to survive the pandemic
Sex workers across Japan have been hit hard by closures and restrictions due to the pandemic. The entire country is under a state of emergency, with many businesses ordered to shutter and people advised not to go out.
Japan has recorded nearly 11,000 coronavirus cases nationwide, including at least 236 deaths, according to Johns Hopkins University, CNN reported.
Softening the economic blow: The central government has launched a massive stimulus package worth 108 trillion Japanese yen ($1 trillion). After some controversy, sex workers are eligible to apply for aid, under certain conditions -- a move some activists have hailed as a sign of progress for an industry that has long suffered social stigma.
But for many sex workers, the package offers little reassurance -- and its rules for eligibility seem opaque and restrictive. Some aren't sure how to apply for benefits without effectively outing themselves.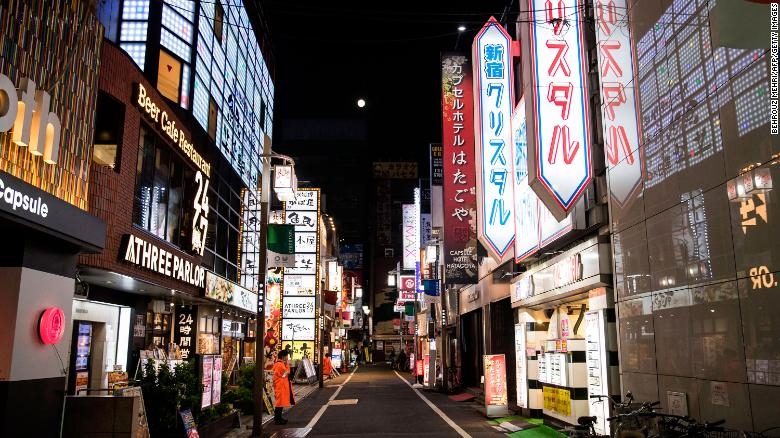 Sex work in Japan is crippled by COVID-19 (Photo: CNN)
Coronavirus today update: India records high increase in new cases
A total of 924 new COVID-19 cases have been reported in India in the past 24 hours, slightly lower than yesterday increase (1,250) - the country's largest single-day spike during the epidemic, according to a CNN count. Another 33 deaths were also reported.
India has confirmed a total of at least 18,539 cases of coronavirus, including 592 deaths, according to the country's Ministry of Health.
A total of 3,273 people have recovered or been discharged.
The highest number of cases are being reported from the states of Maharashtra and Gujarat, and the union territory of Delhi.
Germany records one of its lowest daily rates of new coronavirus cases
Germany has recorded one of its lowest rates of new coronavirus cases and virus-related deaths in the past 24 hours, the German center for disease control, the Robert Koch Institute, said on its website on Monday.
According to the Institute, 1,323 new infections were confirmed for Sunday, bringing the total number of cases in Germany to 147,065.
The death toll in the country climbed by 220 to 4,862, according to the data.
Over the past week, the number of new coronavirus cases in Germany has sunk lower, but the daily death toll has risen.
While the Robert Koch Institute has said physical distancing measures are working, it has also warned in the past that weekend infection numbers can be inaccurate because some labs have a lag in sending their results.
Coronavirus today update: Dozens of countries worldwide ease lockdown.
India has allowed some industrial and agricultural activities to start again, although the country today recorded a record new number of new infections, with 1,553 and 36 deaths.
Iran, where COVID-19 killed at least 5,000 people, some community isolation rules were relaxed last week, and some major shopping centers and inner highways have reopened. Restaurants, gyms and other venues remain closed.
South Korea extended its community isolation policy to another 16 days April 19, but removed some restrictions for religious and sports facilities that used to be strictly banned. Many Koreans are returning to their workplaces, flocking to shopping malls, parks and restaurants.
Israel also relaxed its anti-epidemic measures from today, allowing a partial reopening of hardware, electronics and stationery stores. Schools, barbershops, shopping centers are still closed, people are required to wear masks in public places and will be fined if they do not comply.
In Europe, Germany, Poland, Norway, the Czech Republic and Albania began to relax the blockade. Germany allows some shops to be open. Norwegian authorities say that have "controlled the nCoV" and allowed nursery and nursing home to reopen. Poland allows the opening of parks and forests, while the Czech Republic allows the opening of flea markets. Albania also decided to reopen a number of low-risk businesses such as retail stores, furniture stores, manufacturing companies, flower shops, jewelry, and children's toy shops.
Thailand may also relax the blockade order from early May to provinces without new infections within two weeks. About 35 of the 77 provinces in Thailand did not appear new cases in the past two weeks, while today the country recorded only 27 new cases, at least within a month.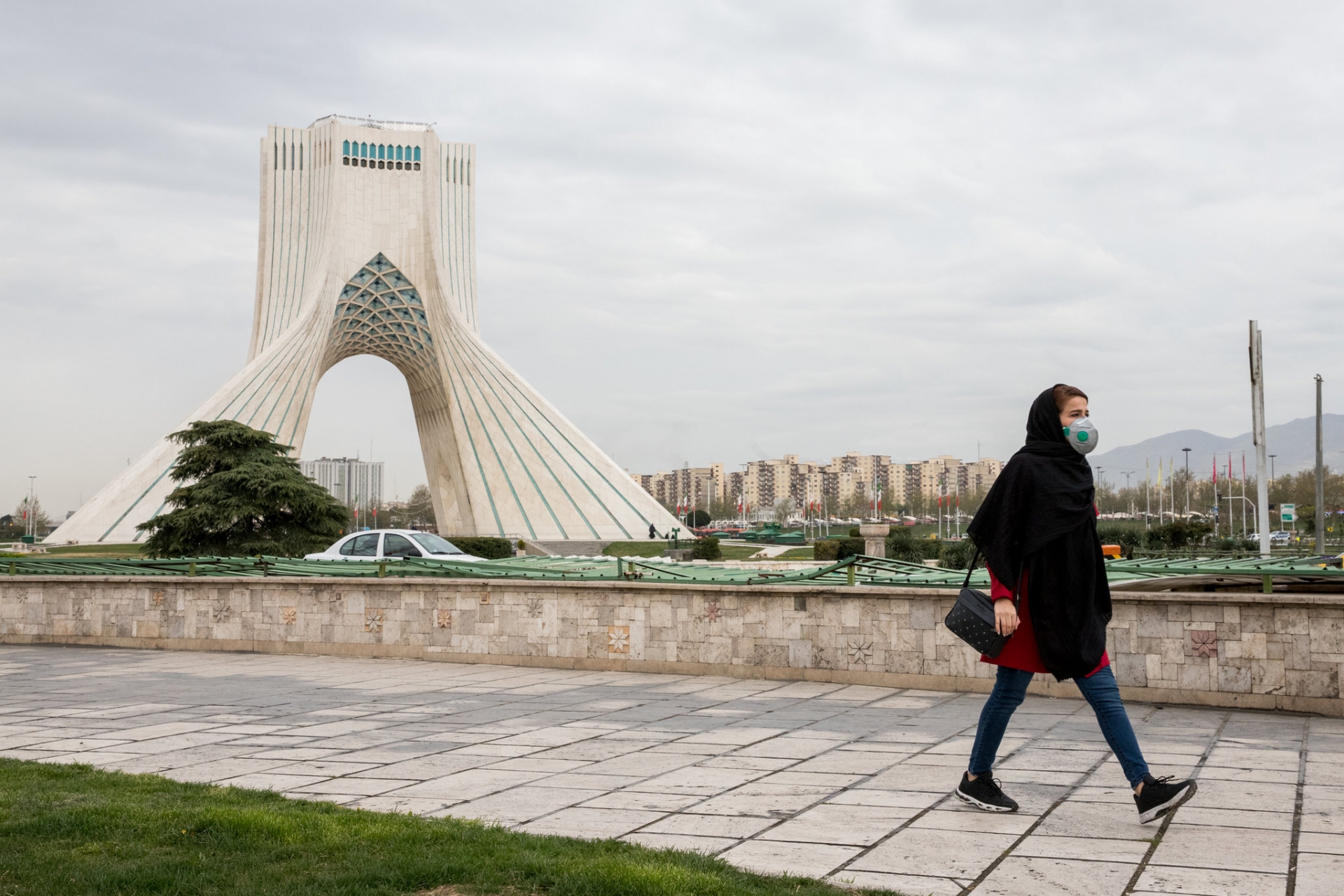 Iran is one of the many countries relaxing its lockdown (Photo: NYT)
However, some countries are still determined to continue the strict lockdown
Although the number of infections and deaths in Spain has decreased, the country is decisive in keeping the blockade at least until April 27, when children are allowed to go outside. In France, although the government claimed that it had controlled the nCoV, the control measures were maintained for at least three more weeks.
New Zealand is expected to relax the blockade from April 28, when Prime Minister Jacinda Ardern is confident that nCoV does not spread widely in the community. New Zealand's number of new nCoV infections has recently dropped to just one digit from dozens of new cases every day, VnExpress reported.
Coronavirus today update: South East Asia has over 30,000 infections reported, Singapore is the biggest epicenter, while Indonesia has the highest fatalities
ASEAN countries report a total of top 30,130 nCoV patients, an increase of 1,883cases within 24 hours. 1,171 lives have been claimed.
On April 20, Singapore adds another 1,426 new cases, the highest one-day rise since the outbreak began. The country is now the biggest epicenter of South East Asia. However, there's no death reported in the country for the last 11 days.
Indonesia reported more 185 new cases within 24 hours, another 8 patients have died, raising death toll to 590, including 20 doctors.
The Philippines ranks third in the list, with 200 new infections, total cases stand at 6,459. With 19 new deaths, its fatality tally is 428. 613 have recovered.
Malaysia has 36 new cases, the lowest since its government issues the nationwide lockdown since March 18. The country, which used to be the biggest epicenter of ASEAN, now has 5,435 cases, 89 deaths, no new death reported.
Vietnam, Brunei, and Campuchia are the three ASEAN countries with three-figures cases, which are 268, 138, 122 respectively, Vietnam and Campuchia report no new infection in five consecutive days.
Timor-Leste has 22 infections in total, whose place as the least vulnerable country in ASEAN has been taken by Laos (19 cases).
Regarding death tolls, Indonesia still has the highest (590), the Philipines (428), Malaysia (89), Thailand (47), Singapore (11).
Four countries with no deaths reported since the outbreak are Vietnam, Campuchia, Laos, and Timor-Leste.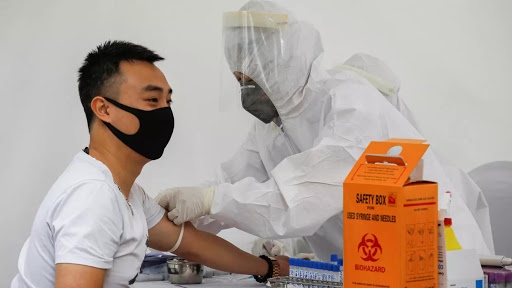 Vietnam has gone five days in a row without new infections, only nearly one-third of patients remain active (Photo: RFI)
Coronavirus today update: Vietnam has reported zero new COVID-19 patients on Tuesday morning, meaning the nation has been clear of new COVID-19 patients for five days in a row.
Its infection tally stays still at 268 since last Thursday morning, and 215 have been discharged from hospitals, including 12 on Monday.
Of the 53 active patients, seven have tested negative twice and 14 once, including the "patient 188," a woman in Hanoi that marks the only relapse case in Vietnam now, according to the Health Ministry.
The extended social distancing campaign in Hanoi, Ho Chi Minh City, and ten other localities, Lao Cai, Quang Ninh, Bac Ninh, Ninh Binh Provinces in northern Vietnam; Da Nang, Quang Nam, Binh Thuan, Khanh Hoa, Ha Tinh in central Vietnam and Tay Ninh Province that neighbors Cambodia is going to end on Wednesday.
The government said previously that it will decide to keep extending the campaign depending on the real situation.
Hanoi and HCMC on Monday proposed that the government not extend the social distancing campaign.
The Covid-19 pandemic has spread to 210 countries and territories, and more than 170,300 have died from the disease so far.
Jasmine Le