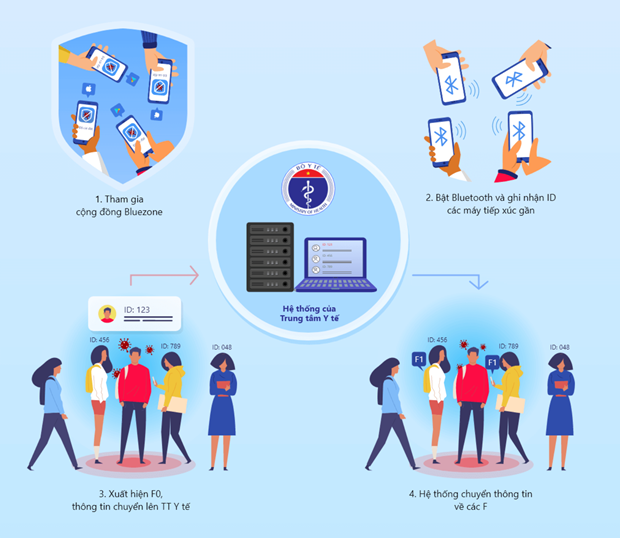 Illustrative photo.
The launching ceremony was held marking the attendance of Vietnam Prime Minister Nguyen Xuan Phuc, Deputy Prime Minister Vu Duc Dam and representatives from the Ministry of Information and Communications and Ministry of Health.
The platform developed by Viettel, the Vietnamese multinational telecommunications company provides six remote healthcare services prescribed by the Ministry of Health including medical consultancy; consultation on medical examination and treatment; image diagnostic consultation; consultation on surgery anatomy; consultation on surgery; training technology transfer medical examination and treatment.
Medical facilities engaging in the platform can set up a clinical protocol for each patient as well as examine one's health conditions daily, give warnings, remind of treatment schedule, directly talk to patients via calls and messages, and mete out treatment, functional recovering, nutritional consultancy as well as follow-up examination.
For their part, the patients can easily watch for their health via the platform or website, connect with doctors by calling and texting, book for examination, connect with others who have the same illness as well as updated information on treatment guidelines.
Thanks to its simple formation, Vietnam may implement the remote system to thousands of hospitals and medical facilities, which need no available IT line-ups to operate the platform.
The telemedicine will help reduce the number of people directly visiting the hospitals as well as the number of patients treated in some large hospitals. People nationwide can receive the best healthcare qualities thanks to the platform.
Minister of Information and Technology Nguyen Manh Hung stressed that the novel respiratory disease is pushing the medical industry into digital transformation in the most rapid way as Vietnam in recent years has spotted some afar advances in diagnosis and treatment including online hospital, digital clinical records, among others.
The remote health consultancy may require some regular family medical equipment such as thermometers, sphygmomanometer, heart rate meter, Blood Glucose Monitors, including the COVID-19 test, etc. While these aforementioned equipment is increasing cheaper thanks to the development of technologies.
Besides, the Bluezone app, a part of the afar check-up platform is also introduced. The app can help people detect others nearby who are positive for the virus through previously saved data. Bluezone is a solution applying Bluetooth low energy (BLE). When smartphones are installed with the app, they are able to detect others within two meters and memorize data about themselves, according to VNA.
If the app user is positive for the SARS-CoV-2 (known as F0), known through the saved data, health authorities can identify the F1s who came in close contact with the positive patient and the system will alert the F1 users about the risk of infection.
They will be also provided with instructions to contact the health authorities for assistance.
The app is also completely confidential, anonymous and transparent, as it only stores data on the user's phone, and does not transfer user's information or locations to the system.
Lyan Vu