Coronavirus live updates April 11 sees the world's confirmed cases have reached 1,697,364, with 18,699 deaths and 27,239 patients recovered. The novel virus has thus far spread to 210 countries and territories around the world.
The US: has 33,314 new cases within 24 hours, raising total to 501,880. 2,017 new deaths reported.
New York sees a soar in death tally, with over 10,600 new deaths, the city now has more than 160,000 deaths, which slightly surpassed the number of deaths in Spain – the second worst-hit country in the world. Unclaimed coronavirus victims are also reported to be buried in mass graves, partly due to the surge of deaths in the city in the past few days, according to global news.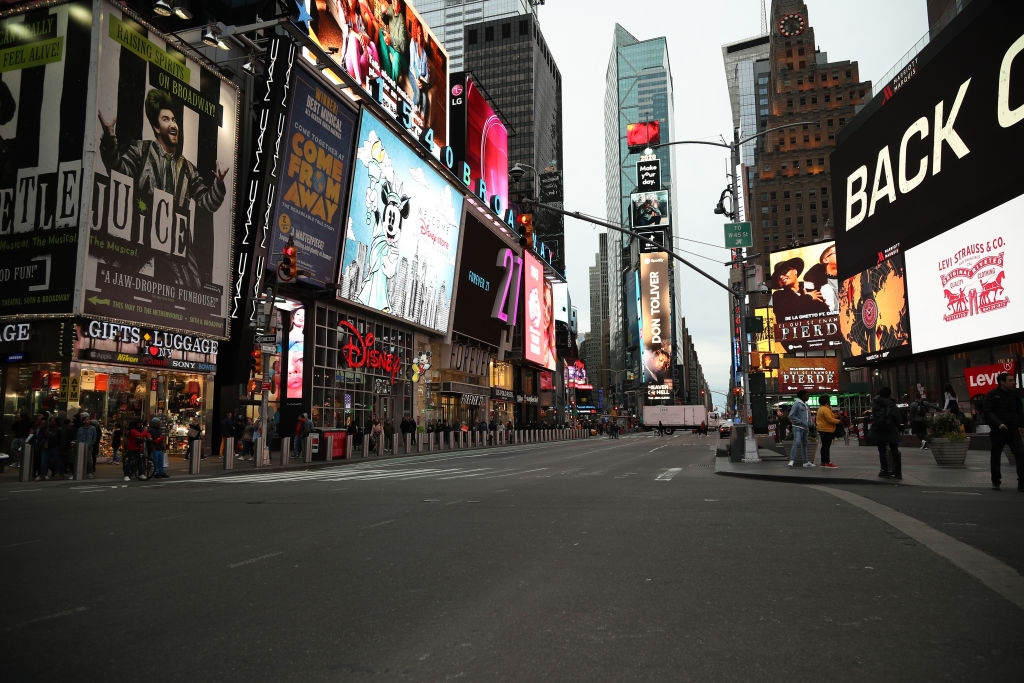 A street in the US is left deserted due to COVID-19 fear (Photo: Time)
Russia: Of the nearly 1,800 new cases confirmed throughout the country, Moskva witnesses a record high number of new infections at 1,124 cases, which accounts for over 62 percent.
Russia's death tolls stand 94, with 18 newly-reported.
China: ranks 6th on the global list in terms of total infections, which is approaching 82,000 cases. Death tolls stand at 3,336. China's COVID-19 situation is seeing a positive sign as its figures have stayed modestly in the past two weeks.
The country had lifted the lockdown policy in many provinces and cities, including Wuhan city – first epicenter of the pandemic – Wednesday. To protect the city from the second outbreak, Wuhan's officials confirmed to continue checking on its citizens' health on a daily basis.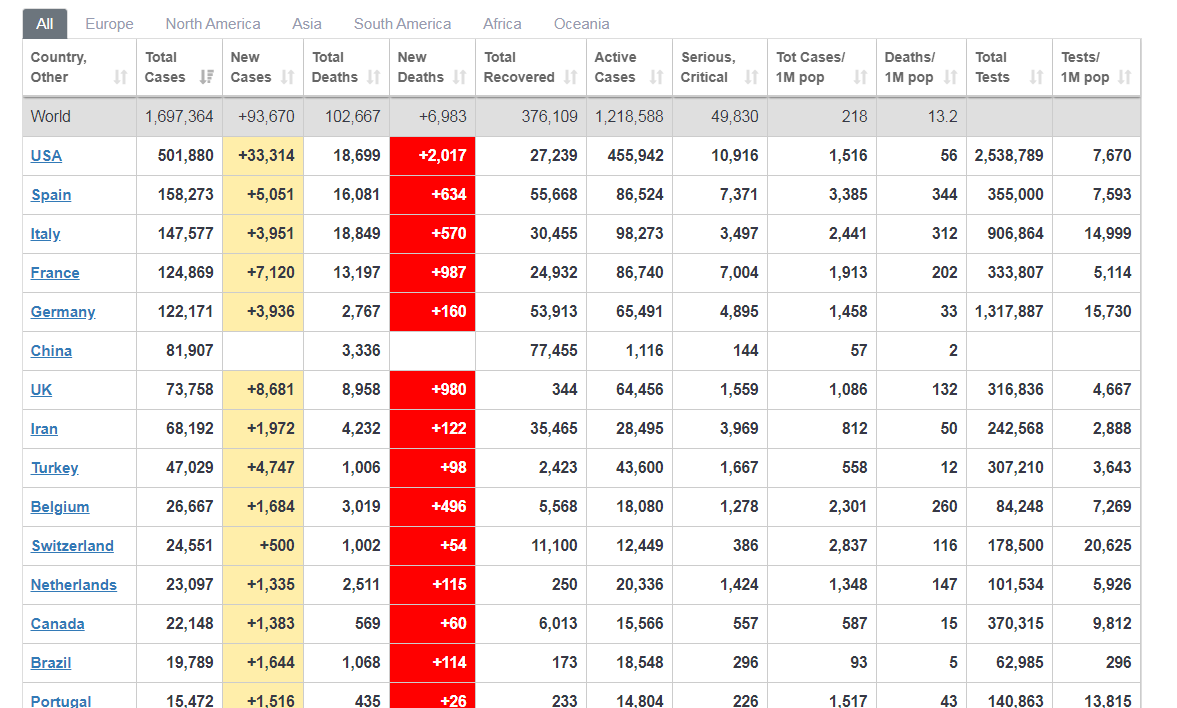 (Photo: WorldOMeters)
Spain: With 634 more deaths, Spain's death tolls on April 10 is the lowest in the last 17 days, AFP reported. However, it is still the second country with the largest total cases (some 158,273), only behind the US. Over 16,081 deaths have been so far reported.
Coronavirus today updates in South Asia: Over 12,000 infections in total
India is the current epicenter of South Asia, with total infections occupies nearly half of the region's (7,347), and 229 deaths. Delhi and Mumbai are two COVID-19 hotspots with over 1,100 cases, most are at slums.
Afghanistan, Bangladesh, Sri Lanka, Maldives, Nepal, and Bhutan are the 6 other countries that coming next.
Body temperature checking in Indonesia (Photo: Reuters)
Coronavirus today updates in ASEAN: Nearly 17,000 infections in total
To date, Malaysia tops the ASEAN countries regarding total infections, which stands at 4,346 – an increase of 118 new cases. 70 deaths have been reported. The Philippines' total cases are pretty close, only some 200 cases lower than Malaysia. Indonesia, Thailand, Singapore come up next in the list.
In terms of death tolls, Indonesia, the Philippines are the two highest, with 309 and 221 respectively. Campuchia, Laos, Timor-Leste, and Vietnam are the 4 nations with no deaths reported, according to figures extracted from WorldOMeters.
Coronavirus today updates

in Vietnam:

Vietnam Health Ministry confirmed two new COVID-19 infections on Friday evening – one person returning from Russia and another infected by a Hanoi patient.

This morning saw new cases take the country's count of active infections to 113, after the number of discharges from hospitals rose to 144 Friday, with no death recorded to date.
Jasmine Le