Coronavirus live updates April 10: World infections surpasses 1,600,000
Coronavirus today updates see nearly 84,773 new infections, 7,225 more deaths. Top countries in COVID-19 ranking reports no new infections or deaths within 24 hours.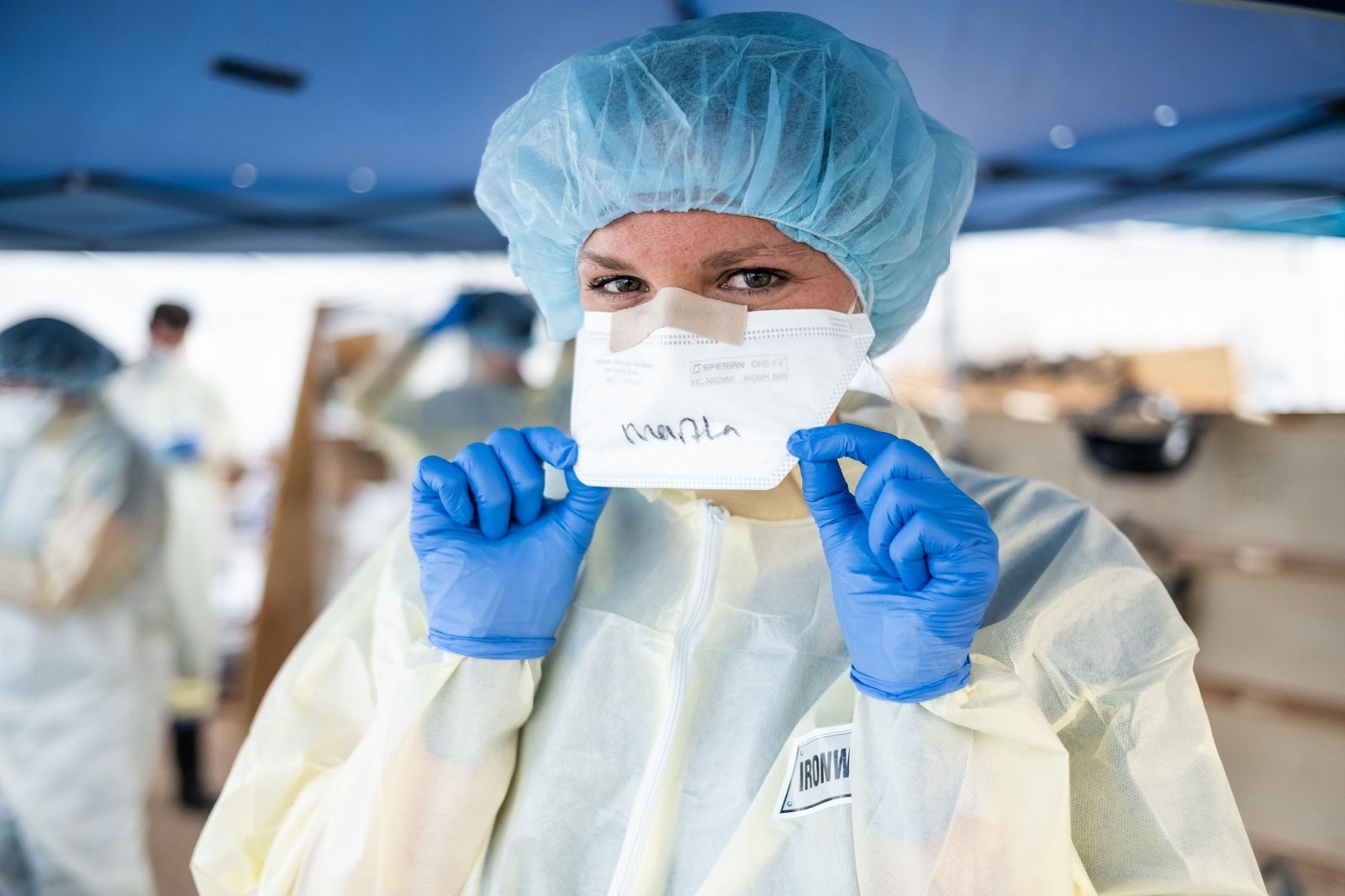 The world is reaching 1,529,401 cases in total (Photo: Geo.tv)
Coronavirus updates April 10, The coronavirus COVID-19 is affecting 209 countries and territories around the world and 2 international conveyances, sourced from WorldOMeters.
The US: Live update on coronavirus sees the US experience a modest increase of 33,536 new infections and 1,900 deaths within 24 hours. Still, the country is leading the world in terms of death counts (16,691) among 468,566 infections, with death tolls account for 3.4 percent, 5.2 percent have recovered, according to data extracted from WorldOMeters.
Officials have warned Americans to expect alarming numbers of coronavirus deaths this week, even as an influential university model on Wednesday scaled back its projected US pandemic death toll by 26 percent to 60,000.
US President Donald Trump on April 9 expressed his appreciation for over 450,000 made-in-Vietnam personal protective equipment from Vietnam.
"This morning, 450,000 protective suits landed in Dallas, Texas. This was made possible because of the partnership of two great American companies—DuPont and FedEx—and our friends in Vietnam. Thank you!" he wrote on his Twitter account.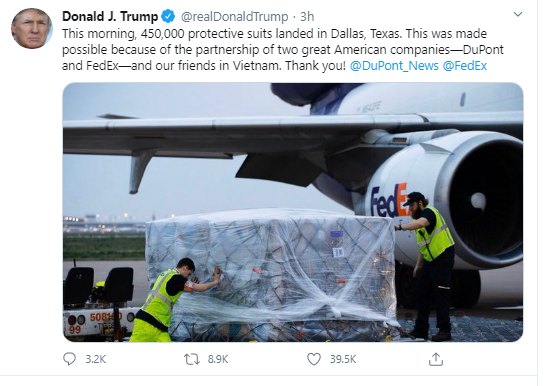 Trump says thanks on his Twitter
Russia: is seeing the third consecutive days with over 1,500 new infections a day. On April 9, this number registers nearly 1,000. The country's total infections and deaths are 10,131 and 76 respectively.
Of the 1,459 new infected patients reported Wednesday, 857 are from Moskva – the worst-hit part of the country. Saint Petersburg, Russia's second-largest city recorded 44 more cases. The Moscow government is rushing to finish a 500-bed facility for nCoV patients treatment, similar to the field hospital model in China, RT reported.
China: report no new rise in confirmed cases, the lowest in the last two weeks.
Mainland China reported 63 new infections on Wednesday, up from 62 a day earlier, the National Health Commission said. Of those, 61 were travelers arriving from overseas, bringing the total number of confirmed cases in China to 81,865.
While new infections have fallen from their peak in February after China locked down several cities and imposed strict travel restrictions, authorities have called for continued vigilance amid fears of a fresh resurgence of infections.
Besides, the country is also taking "silent carriers" management (virus carriers who exhibit no clinical symptoms such as a fever or a cough, or asymptomatic people) into consideration, in a bid to avoid a second wave of infections, Reuters reported.
As reported by WHO, North Korea has tested for over 700 nCoV patients, test results later reveals all are negative for the novel virus, while only 500 suspected patients are being quarantined. WHO confirmed N. Korea on April 9 has clear of nCoV in the whole country.
Meanwhile, South Korea on April 9 has smallest jump in cases since February.
South Korea says it has reported 39 more cases of the coronavirus over the past 24 hours, in a continued slowdown of the virus outbreak in the Asian country.
The additional cases increased the country's total to 10,423, according to Korea Centres for Disease Control and Prevention. It says 6,973 of them have been recovered and released from quarantine while fatalities from the coronavirus rose by four to 204, nzherald reported.
Top countries with COVID-19 cases, including Spain, Italy, Germany, France, Ira, the UK, still reported more than 4000 new confirmed cases and hundreds of deaths throughout this 24 hours, remaining emergency situation worldwide.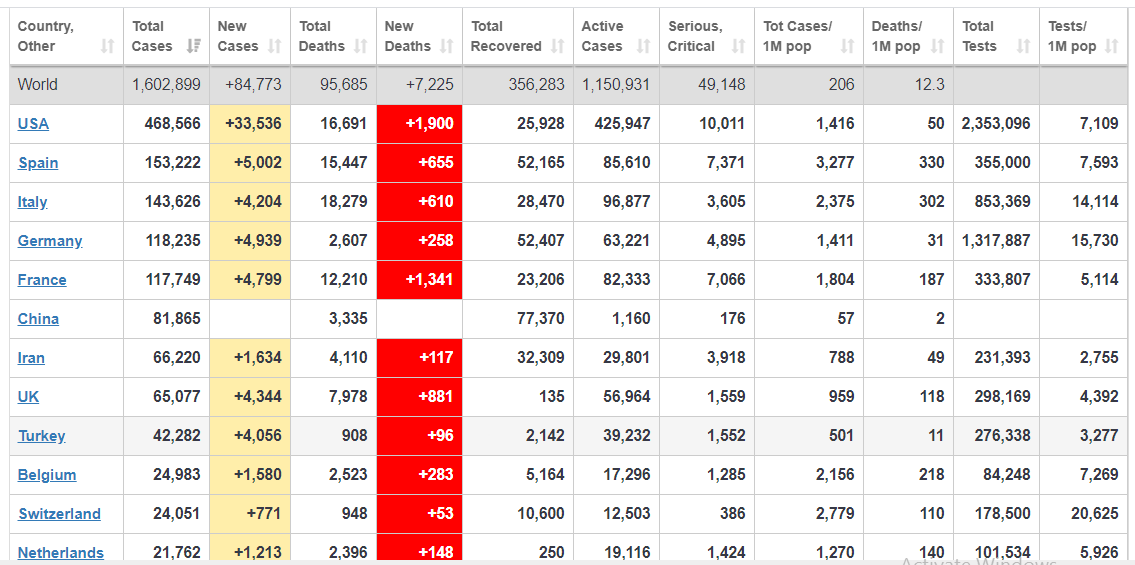 Coronavirus live update on April 10 for the world top countries with highest numbers of infections and deaths (Photo: worldometers)
Coronavirus today updates in ASEAN countries:
Malaysia, the Philippines, Indonesia are the three ASEAN member countries that have the largest jump in confirmed cases in a single day, particularly 109, 206 and 337 respectively. Meanwhile, new deaths reported of the three are 2, 21 and 40 respective;y. Thus, the highest new infections and death tolls in the region go to Indonesia for the second time within two consecutive days.
Laos has one more new case reported, total infections stand modestly at 16, no death reported.
Coronavirus live updates in Vietnam April 10: No new nCoV cases in Vietnam on Friday morning
Vietnam Health Ministry records no new COVID-19 infection April 10, with total infections stand at 255, 50 pct of which have recovered.
Thus, there have been 4 new cases reported during the last 24 hours. The total number of patients was 255, of which 128 are discharged from hospital, slightly surpassed active ones (127), VNE reported.
Among the 125 patients being treated, 25 tested negative for the first time, 18 have negative test results twice - eligible to announce positive. Five cases are using ventilators, one needs dialysis and ECMO interference.
No life has been claimed so far.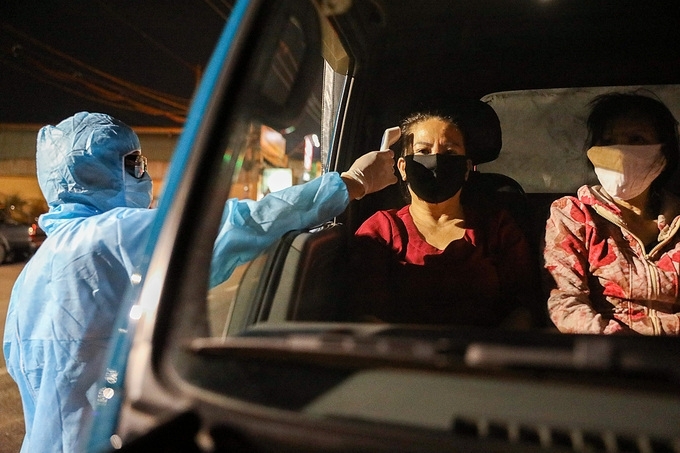 Medic is checking people's body temperature (Photo: VNE)
Hanoi is taking the lead in the number of Covid-19 patients in Vietnam, with 118 cases, 49 have been discharged, followed by HCMC with 54 cases, of whom 37 have been discharged.
To date, Vietnam has 74,941 suspected COVID-19 sufferers under quarantine, in which nearly 650 are at hospital, nearly 27,800 at other centralized quarantine zones and the remaining 48,886 are self-isolated at their place of residence.
Me Linh District's Steering Committee for COVID-19 Prevention and Control imposed a lockdown on Ha Loi village in Hanoi's Me Linh Commune Tuesday afternoon, following news that the country's 243rd COVID-19 patient, confirmed on Monday, lives and had attended a wedding ceremony in the village during his incubation period.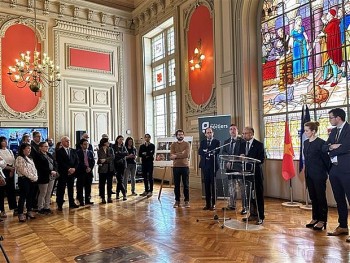 National
Vietnam News Today (Mar. 26): Vietnam and Thailand promote labour cooperation; Vietnamese, French localities look to step up cooperation; Attractive incentives on offer at Hanoi Tourism Festival 2023; E-commerce accounts for 60% of Vietnamese digital economy.