Coronavirus outbreak: South Korea raises threat alert level
President Moon Jae-in on Sunday put South Korea on the highest possible alert in its fight against the coronavirus, a move that empowers the government to lock down cities and take other sweeping measures to contain the outbreak.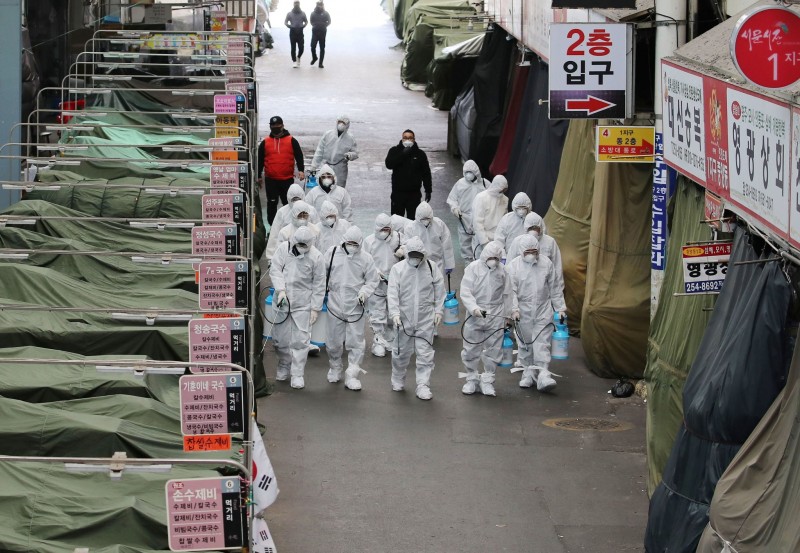 praying disinfectant on Sunday at a market in Daegu, the southeastern city where many of South Korea's coronavirus infections have been confirmed.Credit...Yonhap, via Agence France-Presse — Getty Images
"The coming few days will be a critical time for us," he said at an emergency meeting of government officials to discuss the outbreak, which in just days has spiraled to 763 confirmed infections and seven deaths. "The central government, local governments, health officials and medical personnel and the entire people must wage an all-out, concerted response to the problem."
Many of South Korea's coronavirus cases are in the southeastern city of Daegu, which has essentially been placed under a state of emergency, though people are still free to enter and leave the city.
More than half of the people confirmed to have been infected are either members of the Shincheonji Church of Jesus, a secretive religious sect with a strong presence in Daegu, or their relatives or other contacts.
The spike of cases in South Korea, along with rising numbers in Iran and Italy, has added to fears that the window to avert a global pandemic is narrowing. The World Health Organization has warned African leaders of the urgent need to prepare for the virus; it identified 13 African countries as priorities because of their direct links to China, which accounts for the vast majority of confirmed infections and deaths./.