Coronavirus update: Hanoi tourist sites close
Hanoi authorities have closed several historical relic sites to deploy protective measures against the continuing Covid-19 epidemic outbreak.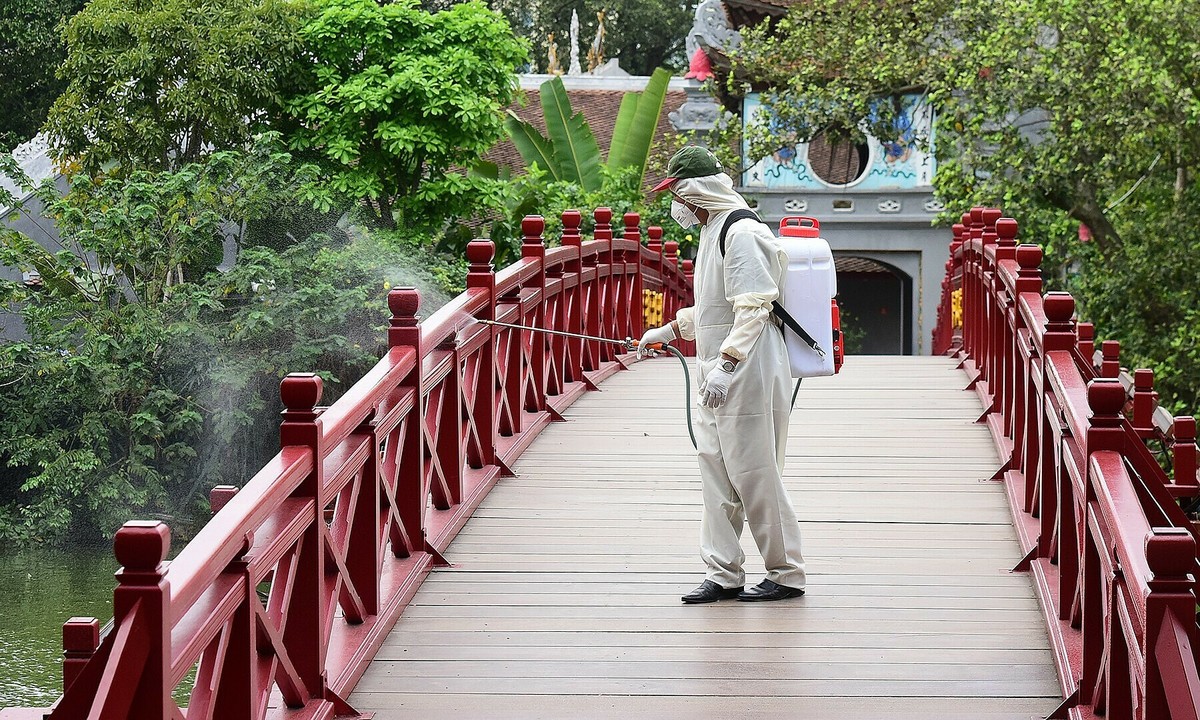 A medical worker disinfects the The Huc Bridge of Hoan Kiem Lake in Hanoi, March 10, 2020. Photo by VnExpress/Giang Huy
Hoa Lo Prison in Hoan Kiem District has stopped admitting visitors since Monday afternoon. Two British tourists who tested positive for the coronavirus and are now quarantined in Da Nang in central Vietnam, visited the prison on March 3, Nguyen Thi Bich Thuy, its director, said.
"Ticket sellers did not come in close contact with the infected tourists. But we have still stopped admitting tourists to disinfect the entire prison," Thuy said.
The Temple of Literature has been closed since March 10 in a bid to avoid the potential spread of the COVID-19, said Le Xuan Kieu, Director of the Centre for Scientific and Cultural Activities of Van Mieu-Quoc Tu Giam.
He said due to the impact of COVID-19, the number of visitors to the site has fallen.
The site would be sterilised to help ensure the safety of visitors, he said, adding that updates would be available on the Facebook fanpage and website of the site.
The Temple of the Jade Mountain (Ngoc Son Temple) and several ancient houses in the old quarter have also closed for disinfection, Nguyen Doan Van, head of the Hanoi Monuments and Landmarks management, said.
Head of the Hanoi Historical Relic Site Management Board Nguyen Doan Van said that other popular sites across the city were also closed during this time, for example relic sites at 48 Hang Ngang, 5D Ham Long, 90 Tho Nhuom, Ngoc Son Temple in Hoan Kiem Lake and Ho Chi Minh Memorial House in Van Phuc village in Ha Dong district.
St. Joseph's Cathedral was shutting down from March 10. A notice in front of the cathedral says: "We are temporarily closed to visitors to prevent the spread of COVID-19. Thank you for your understanding and we apologise for the inconvenience!"
Meanwhile, tourists visiting the Ho Chi Minh Mausoleum are requested to wear face masks. The Ho Chi Minh Museum, which is near the mausoleum, has seen few visitors. The Vietnam Military History Museum is still open to visitors.
As of March 11 afternoon, Vietnam has confirmed 38 COVID-19 infections, 16 cases of which have recovered and discharged from hospital, the remaining 22 are being quarantined and under treatment.
Starting from Thursday, Vietnam would temporarily stop granting visa-free entry to ethnic Vietnamese and their families from the following European countries: Denmark, Norway, Finland, Sweden, the U.K, France, Germany and Spain.