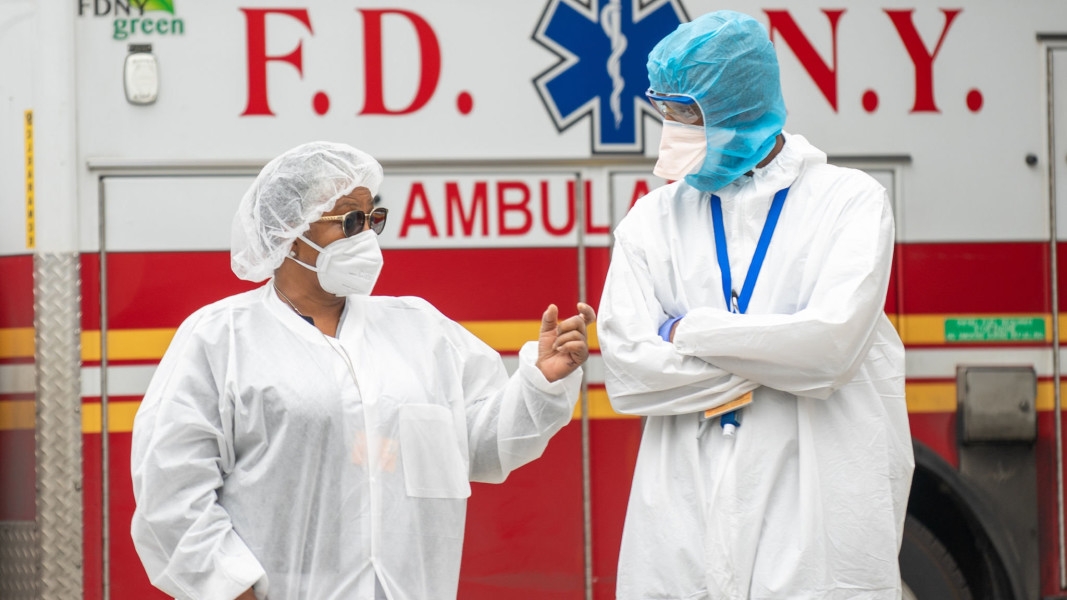 The US is now world's biggest COVID-19 epicenter (Photo: Financial Times)
Coronavirus today update: in the US
The death toll in the United States from the coronavirus has surpassed Italy's, putting America at No. 1 worldwide for the number of people killed by the virus.

Date compiled by WorldOMeters show that the U.S. had lost 22,115 lives as of April 13 early afternoon. Italy has nearly 19,900 deaths.

The development comes as more hot spots begin to emerge in the U.S. in addition to New York, Louisiana and Detroit. Earlier this month, Dr. Deborah Birx, the White House coronavirus response coordinator, said Colorado, Pennsylvania and Washington, D.C., were among areas of concern, NPR reported.
Officials have also struggled with the lack of a coordinated response across the various levels of government.
Each state has its own rules for stay-at-home orders, if it has such orders at all. Some states provided exemptions for religious services, particularly during Passover and Easter. And some governors did not issue stay-at-home orders until early April; the federal government called on Americans to practice social distancing in mid-March.
Data from the Centers for Disease Control and Prevention also indicate a racial disparity in hospitalizations. Preliminary data from New York City officials show the Latino community there has been hardest hit by deaths.
There is also a struggle for medical supplies to reach areas that need them the most. NPR found that the public-private collaboration established by the Trump administration has meant that long-established business ties often shape decisions about who gets equipment.
The National Governors Association on Saturday called on Congress to approve $500 billion in direct aid to states. President Trump and congressional Democrats are haggling over the size and scope of another relief package. In March, Trump signed a number of aid packages into law, including the $2 trillion CARES Act.
Coronavirus live updates today: New York City now has more than 100,000 cases of the novel coronavirus
A rise of at least 5,695 cases on Sunday has put New York City's total number of coronavirus infections at over 104,000, with at least 6,182 fatalities.
More than 189,000 cases have been reported in New York state -- the most heavily-affected state in the US. Hundreds of people are currently dying every day from coronavirus-related complications.
Speaking on Sunday, Gov. Andrew Cuomo said authorities wanted to reopen the state as soon as possible but said it was hard to know how the virus would continue to develop, CNN reported.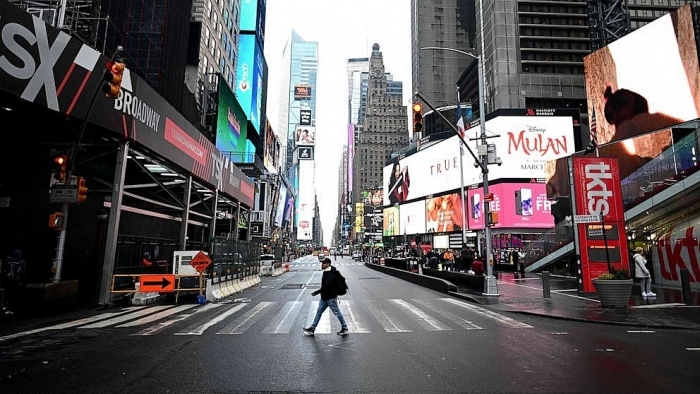 New York is left deserted due to the COVID-19 pandemic (Photo: ABC News)
Coronavirus live updates today: Number of confirmed coronavirus cases in Texas jail more than doubles
There are now 25 inmates in Harris County, Texas, who are confirmed to have coronavirus, which more than doubles the previous count of nine within the jail population, CNN cited a tweet Sunday evening from the sheriff's office.
The sheriff's office says "dozens more inmates with symptoms are still awaiting test results." Harris County is home to Houston and is the most populous county in Texas.
Coronavirus today update: Almost 600 Sailors on USS Carrier Roosevelt have tested positive for COVID-19
In an update Sunday, the Navy revealed that 585 sailors have tested positive, and 3,967 sailors have been moved ashore in Guam, where the carrier is in port. Now, over 80 percent of the ship's roughly 4,800 crew, staff and squadrons are off the ship, which deployed in January. Some of the crew has to stay aboard to guard the ship and to maintain its two nuclear reactors, data reported by Bussiness Insider.
The first three coronavirus cases aboard the USS Theodore Roosevelt were announced on March 24.
Coronavirus live updates today in Canada: the country has lost 717 lives to the novel coronavirus, and 24,383 COVID-19 patients have been recorded. Nearly 30 percent have been discharged from hospital. Of the 16,494 active cases, 3 percent are in serious or critical condition.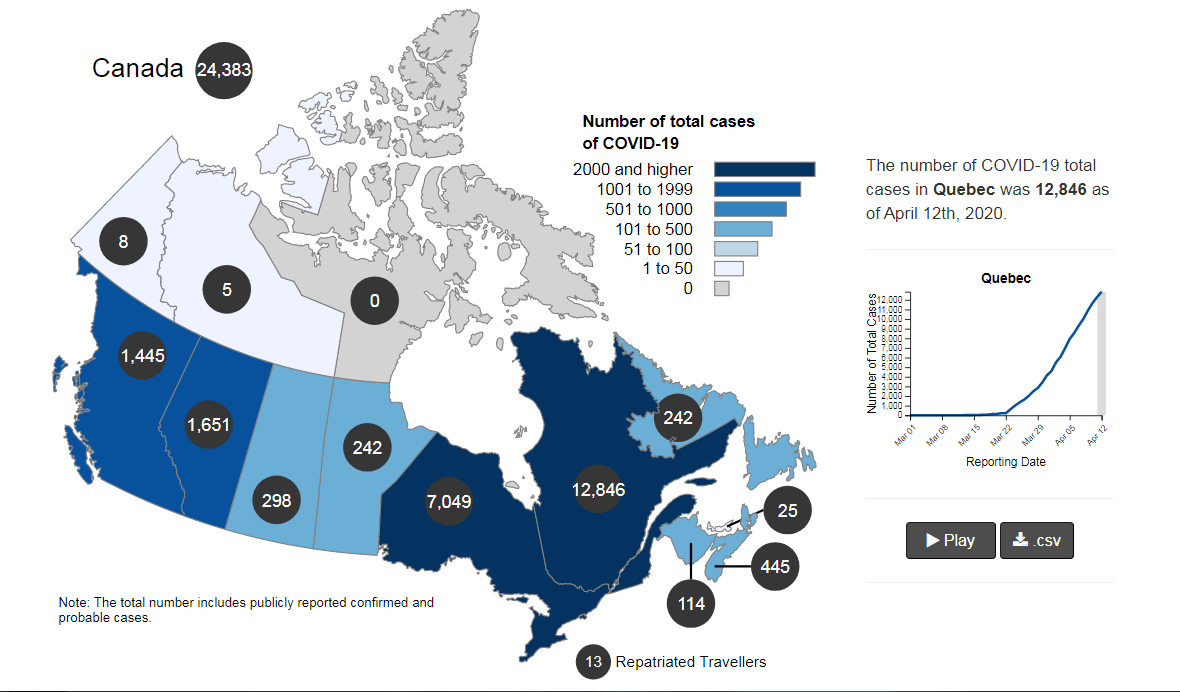 COVID-19 updates in Canada April 13 early afternoon (Photo: Canada.cn)
Quebec has the largest number of infections (12,846) followed by Ontario (7,049), Alberta (1,651), Bristish Columbia (1,445).
While the virus has spread to most regions of the country, Nunavut is the only place in Canada with no COVID-19 case confirmed so far, according to figures from Canada.ca.
Jasmine Le