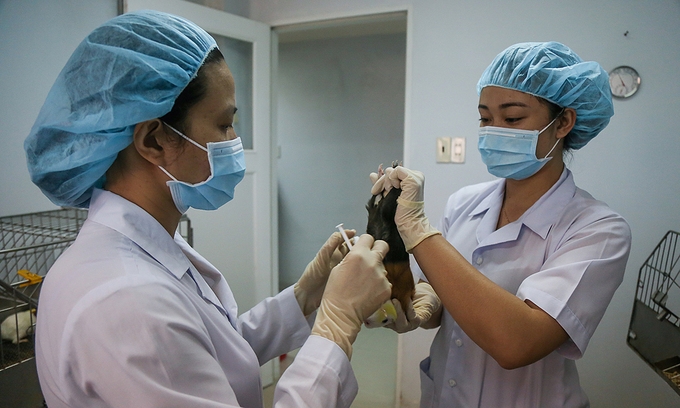 Medical staff test a potential coronavirus vaccine on a mouse at a laboratory in Khanh Hoa Province in central Vietnam. Photo by VnExpress/Xuan Ngoc
The project was jointly undertaken by scientists of the Company for Vaccine and Biological Production No.1 (VABIOTECH) under the Vietnamese Ministry of Health, and their colleagues from the UK's Bristol University since the very first COVID-19 infection case was confirmed in Vietnam.
Scientists have succeeded in generating a strain carrying SARS-CoV-2 antigens in the laboratory, which is considered the most ingredient in vaccine production, helping the body to produce antibodies against the deadly virus, said VABIOTECH President, PhD Do Tuan Dat.
Dat said the vaccine has been tested in mice for two weeks and scientists are waiting for the results to examine the ability to produce antibodies against the SARS-CoV-2 virus.
Next week, he said, scientists will conduct blood tests on mice in the laboratory and send samples to the National Institute of Hygiene and Epidemiology for evaluation.
After this stage, the COVID-19 vaccine will continue to be studied and tested in animals to further assess its safety and effectiveness.
A vaccine is considered the most effective way to fight against a viral disease. It is said to take at least 12-18 months to develop the COVID-19 vaccine which is safe for humans.
To date eight coronavirus vaccine trials have been carried out on humans in a number of countries, but there have been no evaluation reports yet.
Vietnam also is one of the few countries in the world to successfully producing a diagnostic kit that is able to detect signs of COVID-19.
As of May 3, Vietnam recorded 271 confirmed cases of the disease, in which a British citizen who works in the oil and gas sector is the lastest patient, VOV cited update from the MoH.
He flew together with 12 experts on a private flight coded AXY 2504 from the UK to Vietnam's Tan Son Nhat International Airport on April 28.
They were all placed in isolation at a concentrated quarantine facility in HCM City's outlying Can Gio district as soon as they landed in Vietnam.
The 37-year-old man is currently receiving treatment at HCM City's Cu Chi field hospital.
The new case was confirmed nine days after Vietnam had seen no new positive cases and 17 days after no locally-transmitted cases had been recorded.
To date Vietnam has reported 271 coronavirus cases, with 217 recoveries and no deaths.
The remaining 54 active cases are receiving treatment at less than 10 health facilities across the country. Most of them remain in stable health condition, with more than 10 having tested negative at least once.
More than 30,000 people have been in quarantine for medical observation at hospitals, concentrated quarantine facilities and places of residence./.
Hannah Nguyen