Vietnam reports a new COVID-19 case linked to patient 17
Another people has been confirmed positive for SARS-CoV-2 in Vietnam, bringing the total number of the infection cases in the country to 32, the Ministry of Health reported on March 10.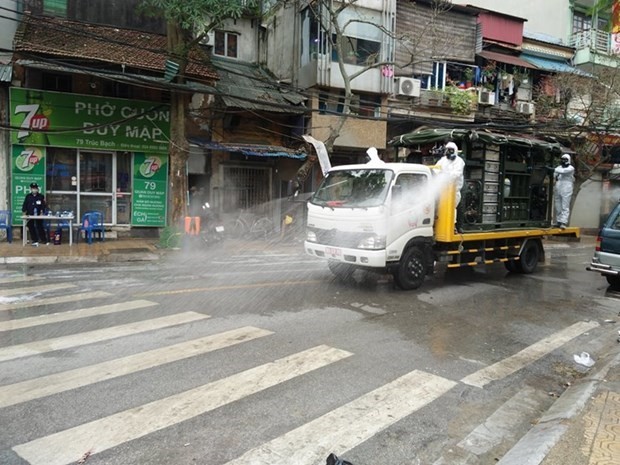 Hanoi's streets are sterilised after a resident is confirmed to be infected with the SARS-CoV-2. (Photo: VNA)
A 24-year-old woman who'd met Hanoi's first COVID-19 infection case in London was confirmed to be infected with the novel coronavirus, the ministry said.
The woman, who lives in London, flew to Ho Chi Minh City in a private jet Monday and has been placed under quarantine in the city's field hospital in Cu Chi District.
Case 32, had met Nguyen Hong Nhung in London on February 27. Nhung is the 26-year-old Hanoian who became the capital city's first COVID-19 patient last Friday.
Vietnam had previously reported only 16 cases of the virus despite bordering China - the epicentre of the global outbreak - but a cluster of infections was discovered at the weekend among 201 passengers on a Vietnam Airlines flight from Britain.
Nhung - case 17, on the flight from London was found to be suffering from the disease after returning to Hanoi from a tour of France, Italy and Britain.
She is believed to have infected her aunt and driver, forcing authorities to isolate several houses near her home and a private hospital where she first sought treatment.
The other patients included Vietnamese, British, Irish and Mexican nationals.
The 17th infection case of Vietnammboarded Flight VN0054 from London to Hanoi, which landed at Noi Bai International Airport at 4:30 am of March 2. The country continually recorded more cases who were also on this flight on the following days.
Vietnam Airlines announced that the crew members of Flight VN0054, which several cases of COVID-19 infection boarded, have tested negative.
Aside from the four pilots and 12 attendants on this flight, the 23 technicians who got on the plane to examine it also haven't shown any symptom of the disease.
All the staff have been sent to a concentrated quarantine centre, according to the national flag carrier./.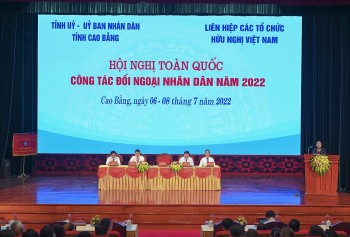 Friendship
During the event, many important issues will be discussed, and constructive suggestions and solutions will be provided to promote more effective people-to-people diplomacy operations.