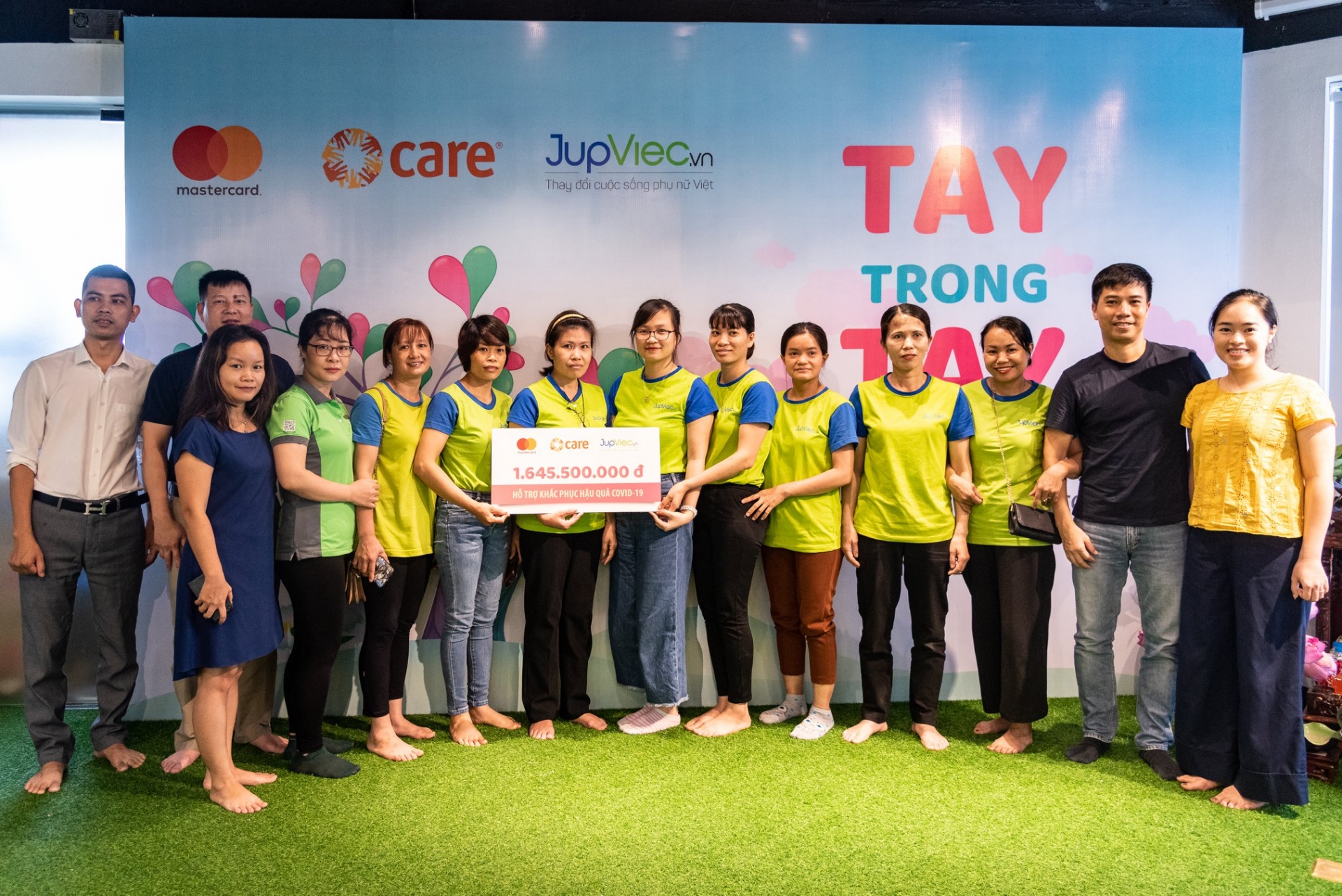 The financial support is from Mastercard to employees of JupViec.vn, a technology company connecting household service workers and customers via mobile phone app in Hanoi and Ho Chi Minh City, to help them overcome the consequences of Covid-19. Photo: Le Minh Duc/CARE
More than 800 female house cleaners, who are working and partnering at JupViec.vn, a technology company connecting household service workers and customers via mobile phone app in Hanoi and Ho Chi Minh City, have received cash support with a total value of around USD 70,000 (over USD 1.6 billion) to overcome the consequences emerging from the COVID-19.
This is a part of supporting activities from the partnership between Mastercard and CARE International, an international non-governmental organization, to support local women. The cash transfer symbolic ceremony takes place today Hanoi with the participation of representatives of the recipients, JupViec.vn and CARE International in Vietnam.
Each woman has received up to VND 3 million (around USD 130) via direct bank transfer. The support amount differs, depending on individual circumstances and financial damage caused by the COVID-19 outbreak.
"These women working in the informal sector are amongst most vulnerable populations and most affected by the pandemic. During this time of uncertainties, the economic crisis caused by the outbreak may hit harder than the coronavirus itself, that protecting and supporting the people have never been more critical. Our end goal is to empower and help them to overcome this difficult time. We hope that by assisting in this way, the recipients can be more proactive and flexible in deciding their usage, spending the money according to their situation and priority," said Le Kim Dung, Country Director of CARE International in Vietnam.
"While social distancing in place, female workers in informal employment suffered from declining working hours, or even job losses. This led to greater financing pressures for the women that they still have to pay for living expenses, energy bills, etc. while having either less or no income. In our case, there has been a significant decline in the number of orders on our platform in comparison to the same period last year and our working partners have also witnessed a drop in their earnings consequently. On behalf of more than 800 house cleaners, we'd like to thank Mastercard and CARE International for this humanitarian relief, which is in-time, transparent and meaningful," said Phan Hong Minh, Director of JupViec.vn.
A quick survey conducted by CARE International in Vietnam and JupViec.vn shows that the majority of women who have received the emergency support this time will use the money to cover their costs of living, pay overdue house rents, buy medicine, clear their debts, or pay tuition fees for their children. For part-time house cleaners who also have other side jobs such as online food shop owners, tailors, manicurist, waste collectors, etc., this money is also used to invest in their small businesses. For those who work full-time as house cleaners at JupViec.vn, they intend to use the money to buy more cleaning equipment as well as to cover the cost of transportation, phone bills, and data usage when using the app for their work.
Winnie Wong, Country Manager of Mastercard shared: "Mastercard hopes that the financial support, as part of the ongoing partnership with CARE International in Vietnam, will help these women improve their life conditions, recover from temporary financial hardships, and provide a safe return for them to work after the pandemic."
The activity demonstrates Mastercard and CARE's commitment to contribute to the overall effort of Vietnam in driving a strong economic recovery. Besides, the two partners are also working in larger efforts to ignite the potential of Vietnam's women community that plays a vital role in promoting economic growth and reducing income inequality and poverty in the national economy./.
Hannah Nguyen