COVID-19: European leaders agree €1.82 trillion COVID-19 recovery fund
European leaders have reached a breakthrough agreement on a massive joint recovery package to cushion the economic fallout from the coronavirus pandemic.
European leaders agree €1.82 trillion COVID-19 recovery fund (Photo: Euro News)
European leaders agree €1.82 trillion COVID-19 recovery fund
To tackle the deepest recession in its history, the EU will set up a €750-billion coronavirus fund, partly based on common borrowing, to be handed out as loans and grants to the hardest-hit member states. That comes on top of a seven-year, €1.074-trillion EU budget.
French President Emmanuel Macron hailed the deal as a "historic day for Europe", reported by Euro News.
German Chancellor Angela Merkel said "extraordinary events" required "extraordinary new methods," while Spain's Prime Minister Pedro Sanchez likened the recovery package to Europe's post-war Marshall Plan.
The deal's novelty lies in the fact that for the first time ever, the European Commission is allowed to borrow on international markets to then transfer the funds to member states in need, said Alessandro Leipold, Chief Economist at the Lisbon Council and a former senior official at the International Monetary Fund.
"This is really a show of solidarity and something that was completely unthinkable before COVID-19. So it is ground-breaking in that respect," Leipold said.
Finland's former Prime Minister Alexander Stubb said that while the summit was one of the EU's most drawn-out ever, the bloc was remarkably swift at agreeing on such a significant package.
"It's historic in terms of size, it's historic in terms of scope, and actually, it's historic in terms of speed," Stubb told Euronews, adding that the move had "deepened European integration in an unprecedented way."
Yet the path to consensus was far from smooth, taking four days and nights of wrangling over money and sovereignty.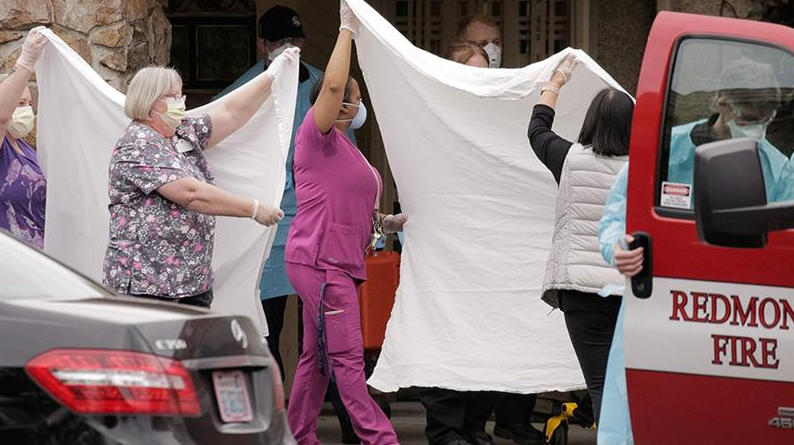 An ambulance transports a person from the Life Care Center of Kirkland, a long-term care facility linked to several confirmed coronavirus cases, in Kirkland, Washington (Photo: Reuters)
Trump administration sends another $5 billion to nursing homes to fight coronavirus
The Washington Post reported that Trump administration announced Wednesday that it is sending $5 billion to nursing homes and state veterans' homes to fight the growing coronavirus epidemic.
The money can be used to hire additional staff, implement infection control, increase testing and provide additional services, such as technology to allow residents to connect with their families.
The infusion comes from the provider relief fund contained in the $2 trillion coronavirus relief package that the US Congress passed in late March. It's in addition to the $4.9 billion nursing homes are receiving to offset revenue losses and to respond to the pandemic.
California on Wednesday surpassed New York as the state with the most confirmed coronavirus cases reported since the outbreak began, as the daily death toll in the United States topped 1,100 for the first time since late May. The number of fatalities reported nationwide now exceeds 140,000, and the United States is rapidly approaching 4 million total cases.
The US has become the worst-affected country, with more than 3.9 million diagnosed cases and at least 143,147 deaths.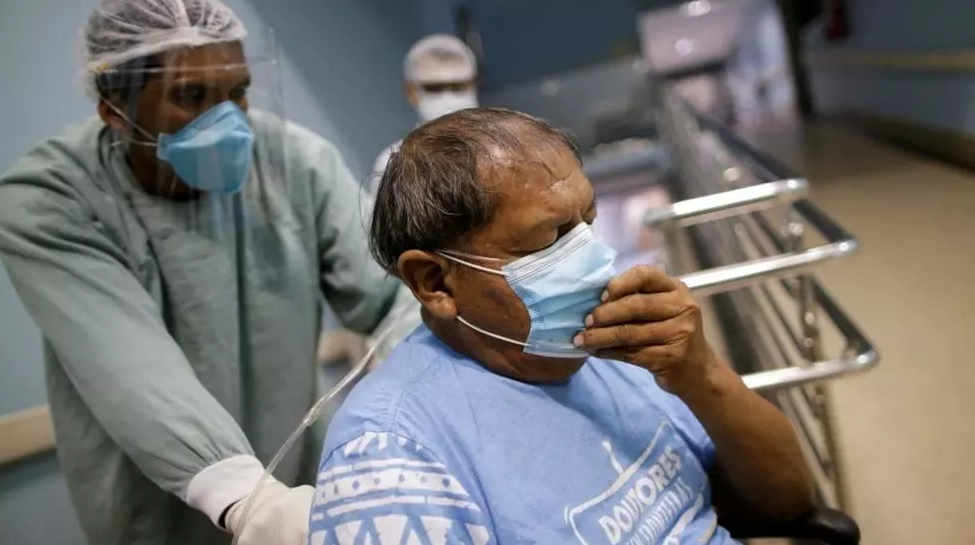 Yawalapiti chief, suffering from the coronavirus disease, arrives at Sao Francisco de Assis hospital after being transferred from Canarana to Goiania in Goiania, Brazil (Photo: Reuters)
China reported 11 new cases, demand flight passengers to provide negative COVID-19 test
The announcement came after China's National Health Commission reported 11 new coronavirus cases, including three imported. Of the new cases, seven were reported from the Muslim-majority Xinjiang autonomous region, which is home to the Uighur ethnic community.
According to Andalou Agency, China on Tuesday announced that passengers of all flights arriving from abroad would have to provide negative COVID-19 test results as the country ramps up measures against the novel coronavirus.
Foreign nationals arriving at China will have to apply for a health certification from Chinese embassies before flying to the country and provide "negative nucleic acid test results" declaring they were not suffering from the disease coronavirus-negative, daily Global Times reported.
Tests should be performed up to five days before departure at health institutions designated or recognized by Chinese embassies overseas, said a statement jointly issued by the Civil Aviation Administration of China, the General Administration of Customs and the Ministry of Foreign Affairs.
"The measure acts as part of the country's efforts to contain the spread of the global pandemic," it said, adding that Chinese nationals seeking to return home should upload test results through a "health mini-program" on mobile messaging app WeChat.
India reports nearly 40,000 new cases
On Wednesday, India reported almost 40,000 new cases. India now has more than 11.18 lakh cases, of which more than seven lakh have recovered from the disease. The number of dead is touching 27,500 now. Having been keen to reopen its economy, India is now facing the twin challenge of combating the pandemic and massive flooding in the country's northeast.
The Health Ministry announced 139 more COVID-19 deaths on Wednesday, by far the highest one-day death toll linked to the contagious disease in Indonesia.
Central Java reported the highest number of fatalities on Wednesday with 70 deaths. East Java followed with 35 deaths, bringing the total number of COVID-19 deaths in the province to 1,496, the highest among all provinces.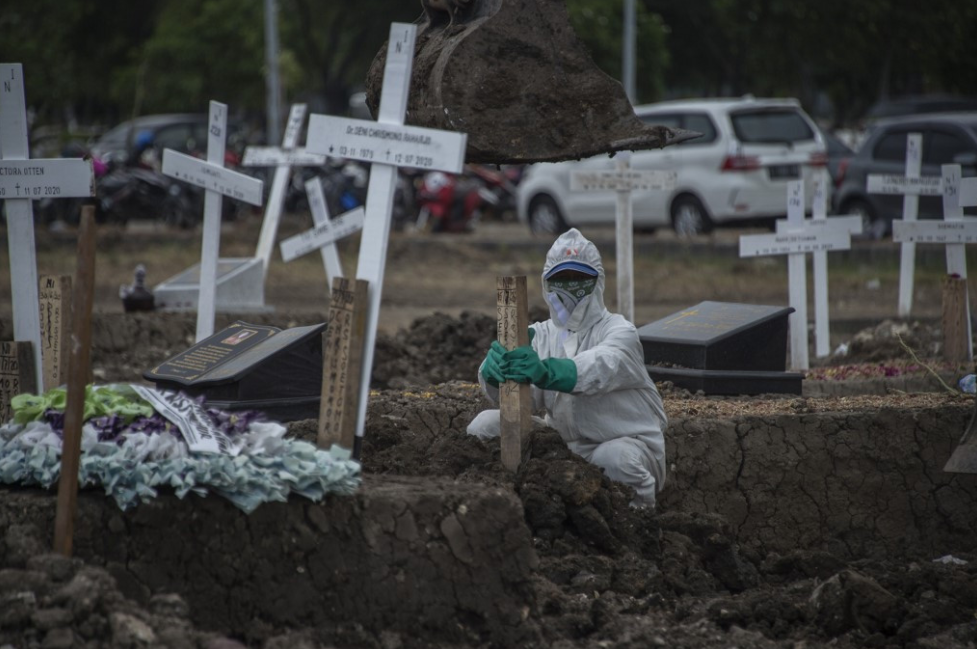 A worker places wooden grave markers at a burial site for victims of the COVID-19 coronavirus at Keputih cemetery in Surabaya, Indonesia on July 15. (Photo: AFP)
From July 15 to Wednesday, Indonesia recorded approximately 95 COVID-19 deaths per day, higher than its daily fatality average of 69 deaths per day in the previous week, according to data compiled by The Jakarta Post.
Meanwhile, in Latin America, Brazil registered 67,860 additional cases of the virus on Wednesday, along with 1,284 related deaths. That brought the total number of cases in Latin America's largest nation to 2,227,514, while deaths rose to 82,771.
Neighboring Argentina posted a daily record of 5,782 confirmed cases, the vast majority of them in and around the capital, Buenos Aires, taking the total number infected in the country to 141,900, reported by France 24.
Peru, which has the second-highest number of cases in Latin America behind Brazil, added 3,688 previously uncounted people to its death toll on Wednesday, taking fatalities to nearly 17,500.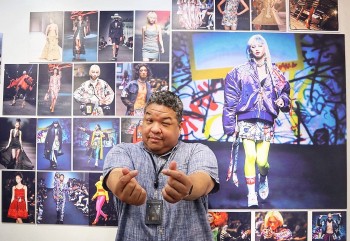 Viet's Home
Experience the striking colors and styles of Korea's fashion, captured by American photographer Dr. Michael Hurt.