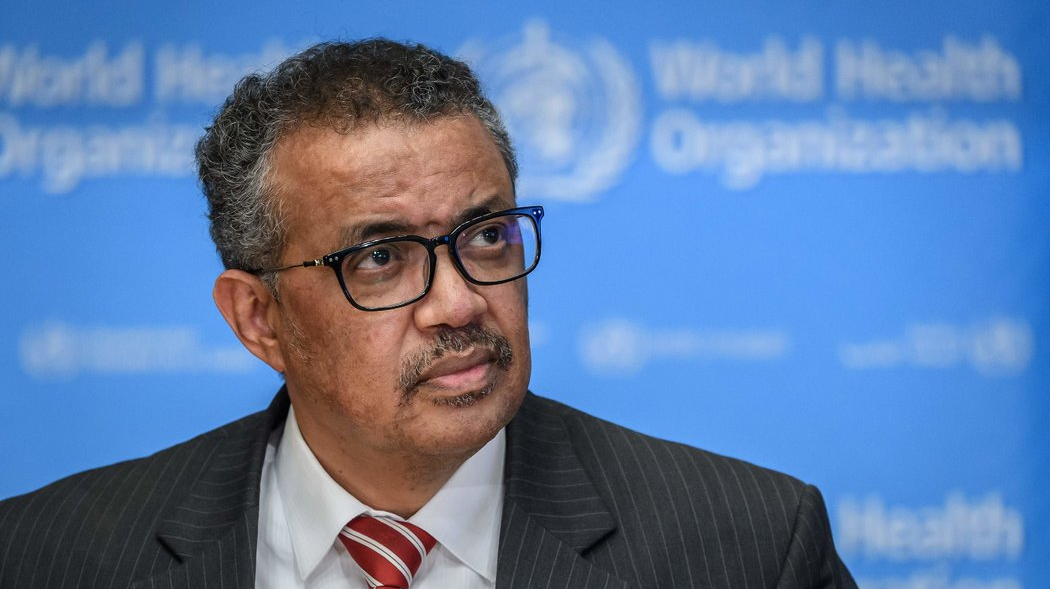 WHO Director-General Tedros Adhanom Ghebreyesus (Photo: The New York Times)
WHO: 'Too many countries are headed in the wrong direction'
On July 13, the World Health Organization (WHO) warned that too many countries are acting arbitrarily in response to the Covid-19 pandemic, reported by The World and Vietnam Magazine.
After recording 230,000 new cases of Covid-19 in just one day reported on July 12, WHO said that the pandemic would only worsen unless people followed basic principles like spacing. socially, wash their hands, wear a mask and stay home if they get sick.
According to WHO Director-General Tedros Adhanom Ghebreyesus, some countries that have reduced the blockade are currently witnessing a re-emergence of the SARS-CoV-2 virus because of non-compliance with proven methods to minimize risks.
Speaking at an online conference, Mr. Tedros pointed out that there will be no return to the "normal" state in the near future as too many countries are going in the wrong direction. According to him, the SARS-CoV-2 virus is still the No. 1 general enemy, but "the actions of many governments and people do not reflect that".
Tedros said that if governments do not implement a comprehensive strategy to prevent the virus from spreading and people do not follow the basic principles, there is only a chance that the disease will worsen.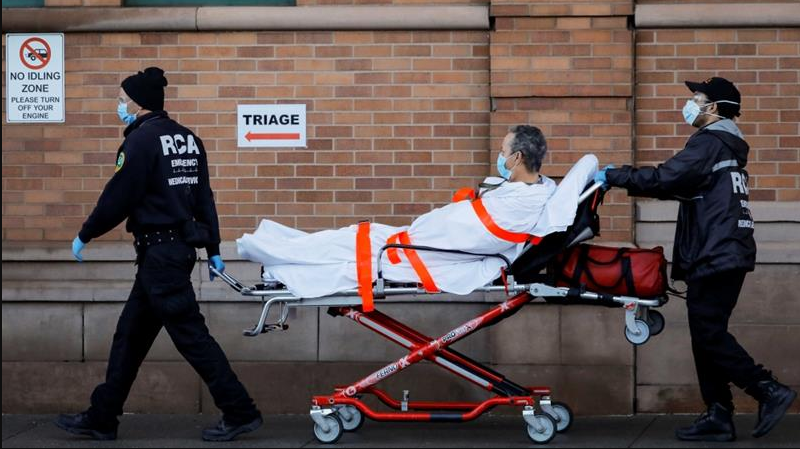 Paramedics taking a patient into an emergency centre at Maimonides Medical Center in the Brooklyn borough of New York (Photo: Reuters)
US coronavirus case averages reach record
More than a third of U.S. states reported record highs in average new Covid-19 cases as deaths across the U.S. gradually rise, according to a CNBC analysis of data compiled by Johns Hopkins University.
Across the U.S., 19 states saw new cases reach daily records on Sunday, based on an average over the previous seven days, according to the data. That includes Texas, Georgia and Florida, the last of which reported a shattering 15,300 new cases on Sunday. CNBC uses a seven-day trailing average to smooth out spikes in data reporting to identify where cases are rising and falling.
Meanwhile, the number of coronavirus-related deaths is on the rise in a handful of states, including Texas, Florida and Arizona.
Covid-19 deaths in the U.S. have declined or remained relatively stable for weeks, even though cases have more than doubled since mid-May. After peaking at an average of more than 2000 deaths per day just three months ago, primarily driven by New York and New Jersey, fatalities in the U.S. have been slowly declining — falling to an average of fewer than 600 fatalities a day from June 23 through July 8.
But the daily death toll appears to be on the rise again in the U.S., epidemiologists say. As of Monday, the U.S. is averaging just over 700 new deaths a day.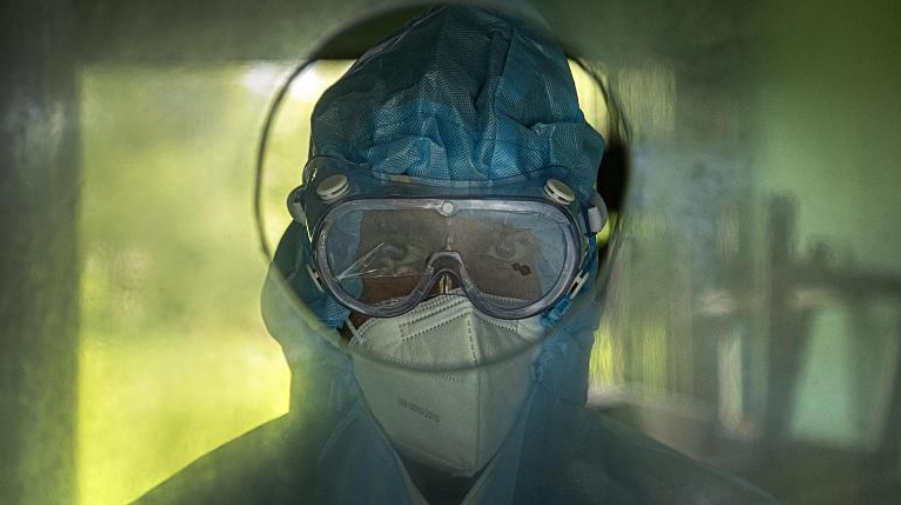 An Indian health worker waits to collect nasal swab samples at a COVID-19 testing center in Gauhati, Assam state, India (Photo: AP)
India adds over 28,000 new coronavirus cases
According to Euro News, India reported another record surge of coronavirus infections on Monday, adding 28,701 new cases over the previous 24 hours.
Authorities in several cities are reinstating strict lockdowns after attempting to loosen things up to revive an ailing economy.
The new cases raised the national total to 878,254. The Health Ministry also reported another 500 deaths in the past 24 hours, taking total fatalities up to 23,174.
New Delhi, Mumbai, Chennai, Bangalore and Pune are among the key Indian cities witnessing a surge in infections. Several states introduced weekend curfews and announced strict lockdowns in high-risk areas to slow down infections.
India is third in total coronavirus caseload, behind only the United States and Brazil.
Passengers travel on a jeepney with seat dividers to ensure social distancing in Manila (Photo: AFP)
Manila goes back to lockdown as new cases surges
About 250,000 people in Manila will go back into lockdown, an official said Monday, as the number of new coronavirus infections in the Philippines surges.
According to the Jakarta Post, residents in Navotas, one of 16 cities that make up the sprawling capital of 12 million people, will have to stay home for a fortnight, just six weeks after emerging from one of the world's longest lockdowns.
Residents will be allowed to go to work, but outdoor exercise will be banned. Shops and businesses can remain open but restaurants will only be allowed to do take-aways.
Quarantine measures to contain the virus vary across the Philippines, but the strictest and longest lockdown was in Manila, the center of the country's outbreak.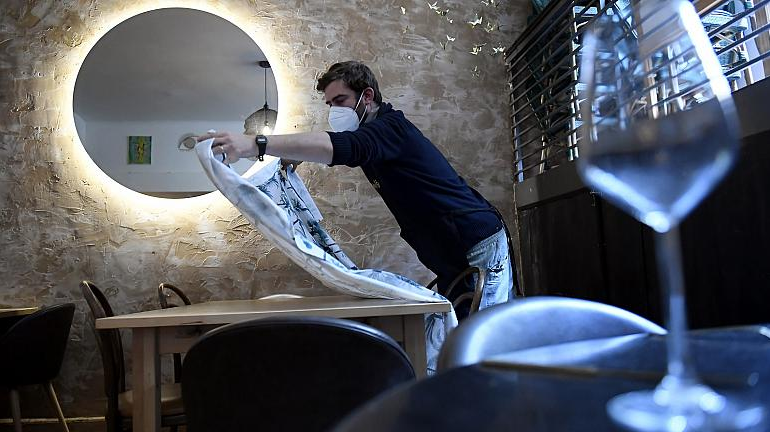 A Hungarian restaurant owner prepares to open in Budapest (Photo: AP)
Surge in new coronavirus cases in Eastern Europe
Countries in Eastern Europe are facing rising waves of coronavirus infections, leading to riots in Serbia, mandatory face masks in Croatia and travel bans or quarantines imposed by Hungary.
The new restrictions come as the World Health Organization (WHO) reports that daily global infections hit over 228,000 last week, with the US confirming over 66,600 new cases on Friday, another record, according to Johns Hopkins University.
Hungarian authorities said on Sunday that they have sorted countries into three categories — red, yellow and green — based on their rates of new coronavirus infections, and will impose restrictions, including entry bans and mandatory quarantines, depending on which country people are arriving from.
Serbia reported 287 new infections on Sunday, although there have been increasing doubts about the accuracy of the figures. Officially, the country has over 18,000 confirmed infections and 382 deaths since March. Health authorities are warning that Serbian hospitals are almost full due to the latest surge. Sunday's report of 11 coronavirus deaths was the country's second-highest daily death toll.
In Bulgaria, authorities reintroduced restrictions lifted a few weeks ago because of a new surge in cases. Indoor facilities at nightclubs and discos were ordered to close on Friday, with outdoor locations limited to 50 percent of capacity. Wedding and baptisms have been limited to 30 people, while sporting events can be held only without spectators.
Valerie Mai