COVID-19 (July 25): Hanoi requires wearing mask in public places
Considering the high risk of Covid-19 pandemic, Hanoi requires continued implementation of prevention and control measures, starting with quick tests, hands washing, and masks wearing in public places.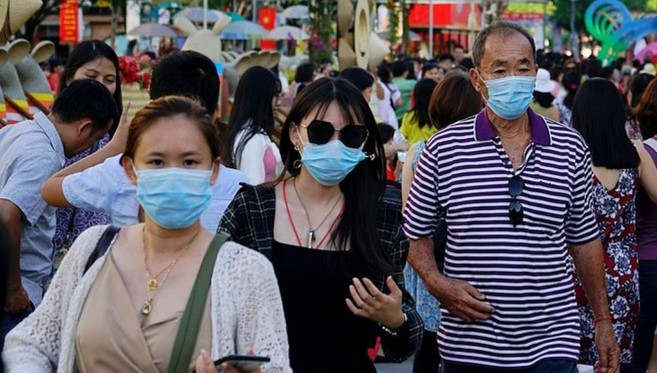 Hanoi requires wearing mask in public places (Photo: Thanh Nien)
Hanoi requires wearing mask in public places
The People's Committee of Hanoi City has just sent documents to all districts about preventing and controlling Covid-19. Accordingly, the Hanoi People's Committee stated that, as Covid-19 epidemic situation is still complicated worldwide, Vietnam in general and Hanoi in particular is still at high risk. Therefore, the Hanoi People's Committee requires districts to continue implementing the prevention and control strategy as set out; in order to prevent a second wave of COVID-19 outbreaks in the city.
Hanoi requires its districts to continue to uphold COVID-19 controlling and preventing methods, including quick test, hand washing, mask wearing in public, medical isolating with imported people. The Hanoi People's Committee also assigned the Hanoi Department of Health to continue to closely monitor the evolution of the epidemic, consistently 5 principles: prevention - detection - isolation - zoning - stamping out.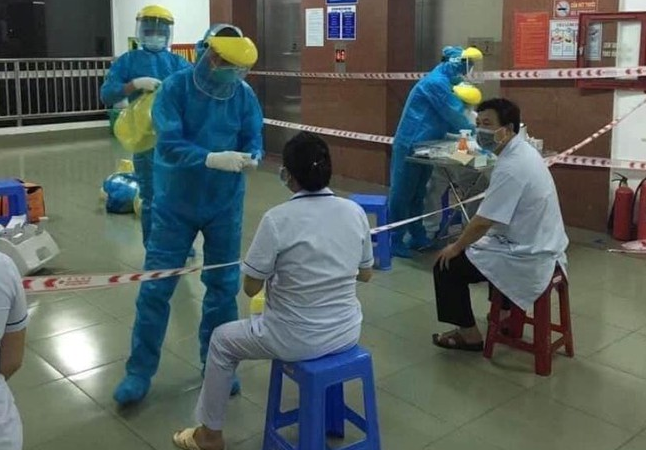 Danang C hospital is being zoned at a narrow level (Photo: PLO)
Da Nang detected a suspected case of COVID-19 infection
On the morning of July 24, the Vietnamese press confirmed that a man in Da Nang had an initial test result positive for SARS-CoV-2 virus. The patient named TVD, 56 years old, living in Hoa Khanh Bac ward, Lien Chieu district, Da Nang.
Mr. D. was admitted to Da Nang Hospital C (emergency department) on July 20 with fever, diagnosed with pneumonia, after two days, the disease progressed.
On July 23, the Centers for Disease Control (CDC) in Da Nang took samples to test and gave positive results for SARS-CoV-2 virus.
Shortly thereafter, Da Nang transferred the sample to the Nha Trang Pasteur Institute for testing, confirmed and not yet published, and at the same time isolated cases of close contact. This patient has now been transferred to Danang Hospital.
Assoc.Prof. Dr. Le Thi Quynh Mai, Deputy Director of the National Institute of Hygiene and Epidemiology, said the Central Institute of Hygiene and Epidemiology is the leading COVID-19 testing laboratory in Vietnam - where the final results are confirmed. At 8:30 am on July 24, the Institute received the sample from Da Nang. The National Institute of Hygiene and Epidemiology has continued to work through the night and expects to have official results in the morning of July 25.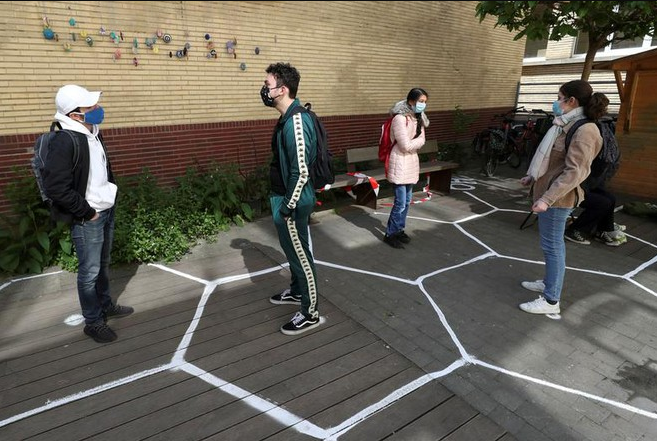 Social distancing greatly contributes in preventing COVID-19 (Photo: Thanh Nien)
Vietnam recorded 1 new case of COVID-19, isolated immediately upon entry
CASE 413 (Patient No.413): Male, 31 years old, coming from Myanmar, working as a sailor on ship IPANEMA, leaving Japan on June 16, 2020, entering Hon Gai port on June 23, 2020.
The patient is isolated from the ship immediately after entry, then transferred to isolated at Van Long Hotel, Quang Ninh Province.
On July 9, 2020, patients were sampled and tested negative for SARS-CoV-2. However on July 23, he received positive testing results. Currently, the patient is isolated and treated at the National Hospital of Tropical Diseases.
Scientist: Mask wearing, hand washing and social distancing play major roles in combating COVID-19
A recent study by Dutch scientists published in the journal PLOS Medicine shows that the combination of wearing masks, washing hands and keeping social distance is extremely important in limiting the disease of Covid-19. spread.
Ganna Rozhnova, who founded models of infectious disease research at Utrecht University Hospital of Medicine (Netherlands), co-author of the study said that if people continue to voluntarily wear masks and wash their hands, the epidemic peak will be pushed back by several months.
The researchers estimate that, if 90% of a country's population implements a combination of preventive measures such as hand-washing and distance-keeping, that country will avoid an outbreak of Covid-19, according to Popsci.
This finding coincides with other studies on the role of these measures in limiting Covid-19 spread.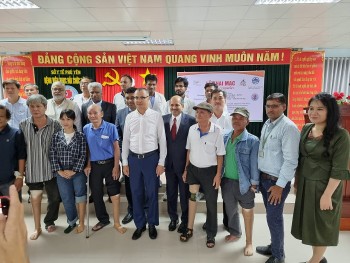 Friendship
This is the 5th time the Jaipur Foot Artificial Limb Fitment Camp has been held in Vietnam since 2018 by the Indian Ministry of Foreign Affairs, Indian agencies and organizations.