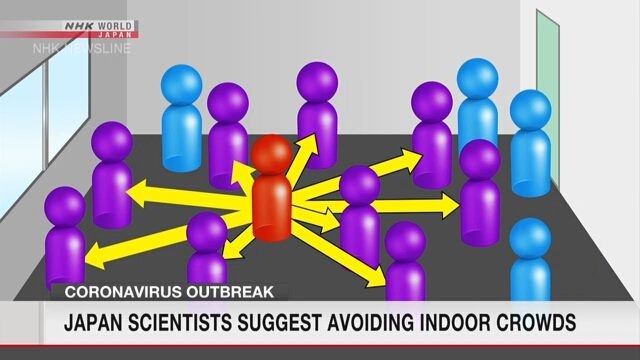 Japanese experts suggest avoiding indoor crowds. Source: NHK
The experts say the spread of the new coronavirus can be contained by avoiding gatherings in small indoor spaces.
The report was compiled by a group of researchers, set up by the health ministry as a task force to prevent coronavirus infection clusters.
The experts conducted a detailed analysis of 110 Japanese people infected with the virus in Japan, including 10 cases where the infection occurred in groups by February 26.
The team found that 83 people, or 75.4 percent, apparently did not transmit the infection to anyone at the time of the survey. About half of the 27 remaining patients were confirmed to have spread the virus to only one person.
On the other hand, 11 cases where the infection spread from one person to two or more people, it was found to have occurred in a closed environment where many people gathered indoors. Among the 11 cases, two patients were discovered to have infected as many as 12 people.
In an open, well ventilated environment, only two cases in Japan were found where one person infected two or three people. And there were no cases found of four people being infected by one person.
Professor Hiroshi Nishiura of Hokkaido University, one of the researchers who have conducted the analysis, says the study so far shows a common risk.
He says there is a higher risk of catching the virus when people gather in a small indoor space where the air tends to stagnate, even if the space is ventilated. He says it is possible to prevent the spread of infection by avoiding closely packed groups indoors.
According to Michihiro Nishida, the head of the Saitama public health center, if someone thought the virus was on their clothes, they can put their clothes in the washing machine as they would ordinarily. Additionally, it's advisable to dry your clothes outdoors in the sun. It's thought that viral particles can only live out in the air for a few minutes at most because they have no source of sustenance in the atmosphere.
"For this reason, rather than shutting up your home, it's thought that ventilation which gets the air out is more effective. People may think that the virus can enter their own homes from the rooms of their neighbors, but its potency is weakened in the air, so it's alright," he said during an interview with Mainichi's reporter./.
VNF/NHK/Mainichi