Vietnamese people in EU countries stay calm despite COVID-19 cases increasing
According to Việt Nam's Ministry of Foreign Affairs, Italy hosts some 5,000 Vietnamese people. The country's number of infected cases on Sunday exceeded 1,100, ranked third on the world's worst-hit countries by COVID-19 following China and South Korea.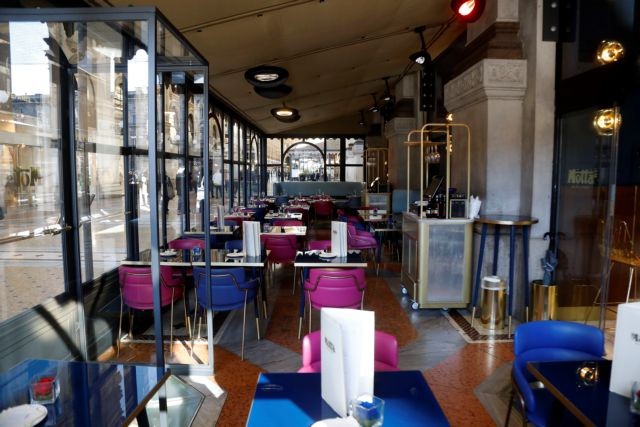 Photo taken on Saturday shows the empty tables of a restaurant in Milan, Italy. — XINHUA/VNA Photo
Thanh Hà is still taking her six-week-old baby outside for a breath of fresh air in Italy's northeast region of Lombardy, despite the jump in coronavirus cases there.
Living in a small town 20km from Bergamo, Hà said life was going on as usual despite new cases reported elsewhere.
"The current situation is not bad as it sounds. Last Sunday, when many new cases were confirmed, people flocked to supermarkets to stock up on food, including me. Schools were closed for a week while sport and cultural events were cancelled. Bars were closed from 6pm to 6am," said Hà.
"After a week, it's started to go back to normal."
Sharing the same opinion, 25-year-old Vũ Hải in Bergamo told Việt Nam News nothing much had changed.
"Buying food, facemasks and hand sanitiser are among our priorities," said Hải.
"Most Italian people are pretty chilled. They do not bother to have facemasks and they're still going to bars."
Hà said Italy's healthcare sector and the government had been clear about the disease and the number of cases recorded.
She quoted Professor Walter Ricciardi, an Italian member of the World Health Organisation's executive council, as saying that out of 100 infected people, 80 recover, 15 have serious but curable, five are very critical and three die. However, most of the people who have died in Italy had existing medical conditions.
Hà said Lombardy had offered free swab tests for more than 10,000 people who had direct contact with infected people whether they showed symptoms or not.
Although the media has reported soaring racist and xenophobic attacks against Asian people, Hà said she had not suffered any negative experiences, with or without her Italian husband.
"I think racist assaults tend to happen in epicentres," said Hải.
"Since the first case was reported, the attitudes of local people to Asians have slightly changed in Bergamo. I notice people covering their faces when they see me in the street," he added.
Ngọc Linh, a masters student in Milan, where 29 infected cases had been confirmed as of Saturday, said COVID-19 had exposed the racism that exists in Italy.
Linh's friend was attacked by a local man, proclaiming that Asian people spread the disease.
According to Italy's Ministry of Health, eighty of the most acute cases are in Lombardy.
"We try to be calm, keep up to date and stay at home as much as possible," said Hải.
"I do not have any plans to return to Việt Nam because I'm trying to finish my degree and the cost is too high," he added.
"Bergamo is relatively safe compared to other areas."
Linh said she was trying to self-protect because arranging a health examination appointment was quite complicated for an expat.
"The government has set up a COVID-19 hotline but I am told it is usually engaged and the people only speak Italian," she said.
According to Việt Nam's Ministry of Foreign Affairs, Italy hosts some 5,000 Vietnamese people.
The country's number of infected cases on Sunday exceeded 1,100, ranked third among the world's worst-hit countries following China and South Korea.
In France
Working as a part-time barista for a coffee chain near the Louvre in Paris, 25-year-old Quỳnh Pha is not required to wear a facemask.
"After confirmed cases in France jumped to 100, with two deaths, the company has refused to issue a requirement for facemasks, even in popular locations," said Pha.
Her university sent a notice to all students, advising those returning from Singapore, South Korea, China and Italy, to self-quarantine for 14 days.
"Despite some field trips being cancelled, people around me pay little attention to preventative measures," Pha said. "No one is stocking up on food, supplies and facemasks. We are only asked to wash our hands regularly."
Hữu Khánh, a photographer in Spain's capital Madrid, reported a similar situation.
"Food supplies are sufficient," he said. "I feel a bit scared but have nothing to do."
"Some friends of mine who plan to return to Việt Nam are considering staying here as they are afraid of being unable to move back to Spain," added Khánh.
"A lot of local people who lack access to accurate information show hatred towards Asian people on public transport. Despite this racism, I think the situation where I live is under control," he said.
Phạm Huyền, a masters student in Malta, said her university had set up an emergency situation team for COVID-19 prevention, after two infected cases were reported in Siliema, 20 minutes walk from San Gwann, where she lives.
Huyền's school has also asked students to spend two weeks in self-isolation after returning to Malta from infected areas in Italy, including Veneto, Lombardy, Emilia Romagna and Piemonte.
"People are not worrying," Huyền said.
"I think it is partly because the local healthcare system is capable and they believe that coronavirus spread is controllable," she added./.
VNS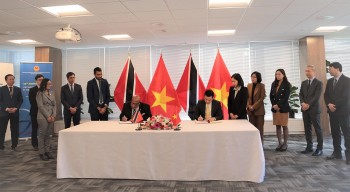 Friendship
Signing the Joint Communiqué establishing diplomatic relations between the Socialist Republic of Vietnam and the Republic of Trinidad and Tobago.