COVID-19 Relief Association in England: noble gesture in pandemic time
A Vietnamese American group has formed the "COVID-19 Relief Association" to help out those fellow countrymen in the UK affected by the COVID-19 pandemic.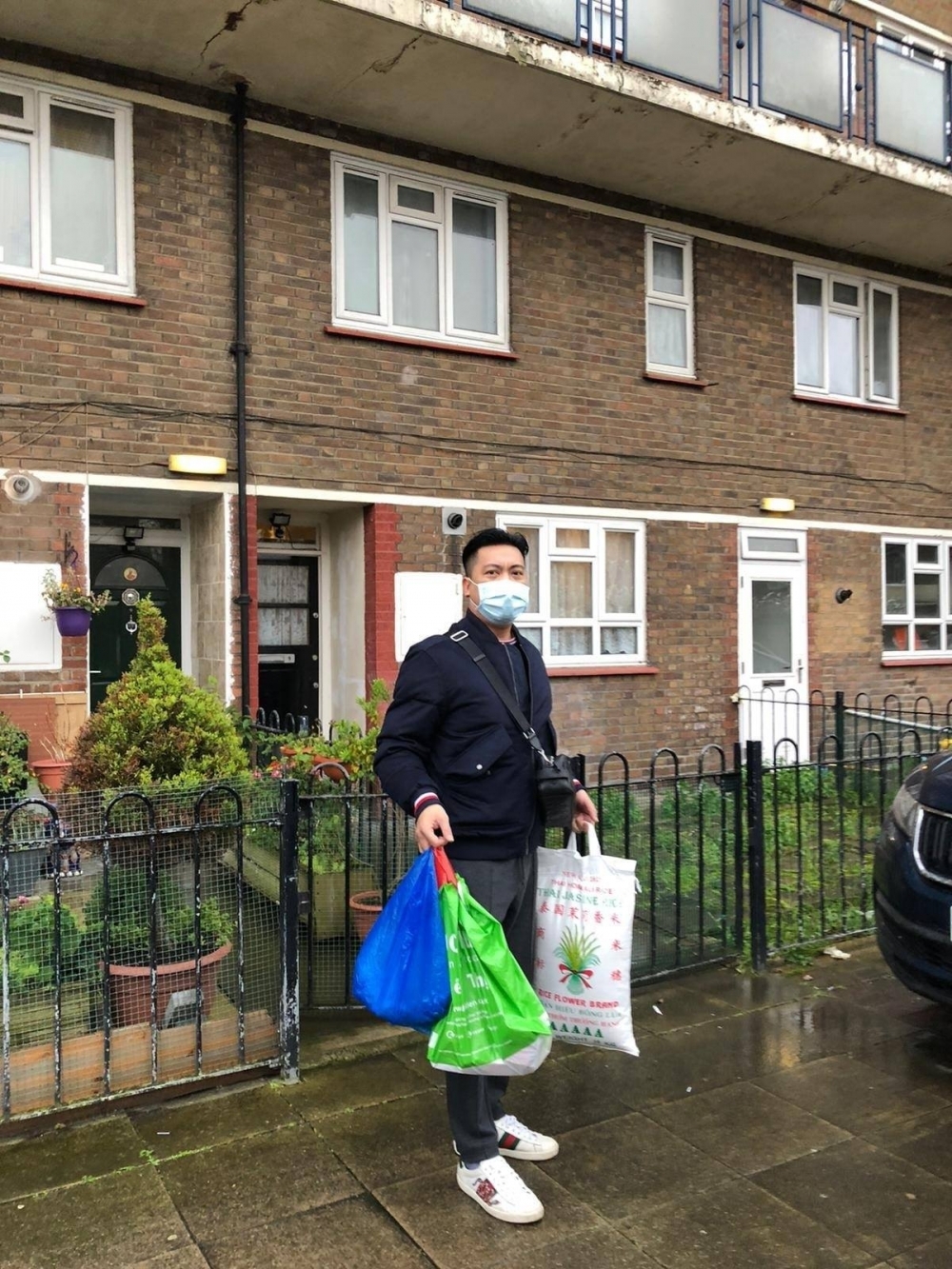 One member of COVID-19 Relief Association bringing food and medicine to one Vietnamese family in the UK (Photo: Thoi Dai)
"Don't hesitate as we are Vietnamese. We are Children of the Immortal and we are compassionate. We would do our utmost to help shoulder your sufferings. All we do is to bring you peace. Feel free to dial us at 07933278071 if you want to make donations. Thank you", COVID-19 Relief Association wrote on its fanpage.
COVID-19 Relief Association was founded on January 4, 2021, with 12 members and a long list of collaborators from other provinces across the UK. Its main mission is to extend helps to those Vietnamese Americans struck by the novel coronavirus or having financial problems. Package of foods and medicine are sent right to their door.
"The pandemic has been ravaging for over a year. Many Vietnamese nationals living and studying in the UK are badly affected either financially or emotionally", one representative from the COVID-19 Relief Association was quoted by Thoi Dai. "Some members of the Association are also laid off from work though, we are determined to raise fund and help the unfortunate individuals".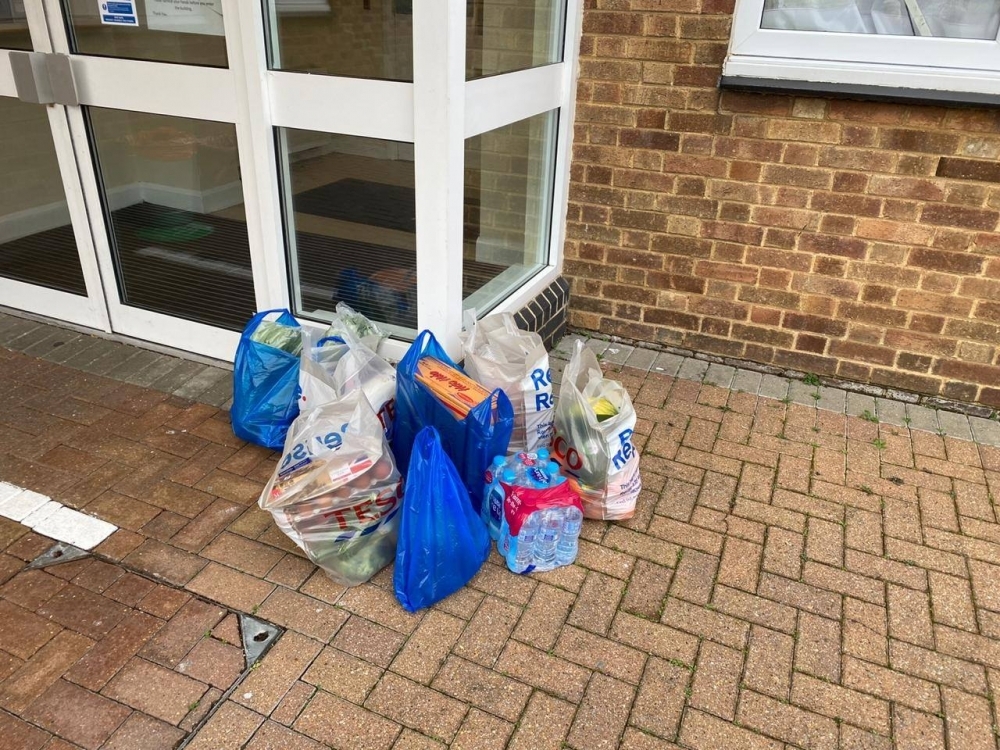 Aid packages are sent right to their door (Photo: Thoi Dai)
The person added that the Vietnamese community in the UK has been currently in a more stable situation than previously. No new infection reported in the past few weeks.
"There is relatively no Vietnamese American infected with the novel coronavirus. However, there are still few Vietnamese students and other newcomers to the country enlisting our help. We have sent them money via e-bank or directly given food if there are collaborators in the vicinity", he said.
COVID-19 Relief Association has now covered many provinces and cities in the UK. The Association would proceed with its support plan until the day the pandemic ends, hoping to lend a helping hand to more needy countrymen.
Besides COVID-19 Relief Association, there are a handful of organizations founded by Vietnamese nationals around the world whose aim is to help overseas Vietnamese overcome the consequences of COVID-19.
Since the COVID-19 pandemic, the Osaka - Vietnam Friendship Association has become a familiar place to support Vietnamese in difficulty in Osaka, Japan, especially students and interns.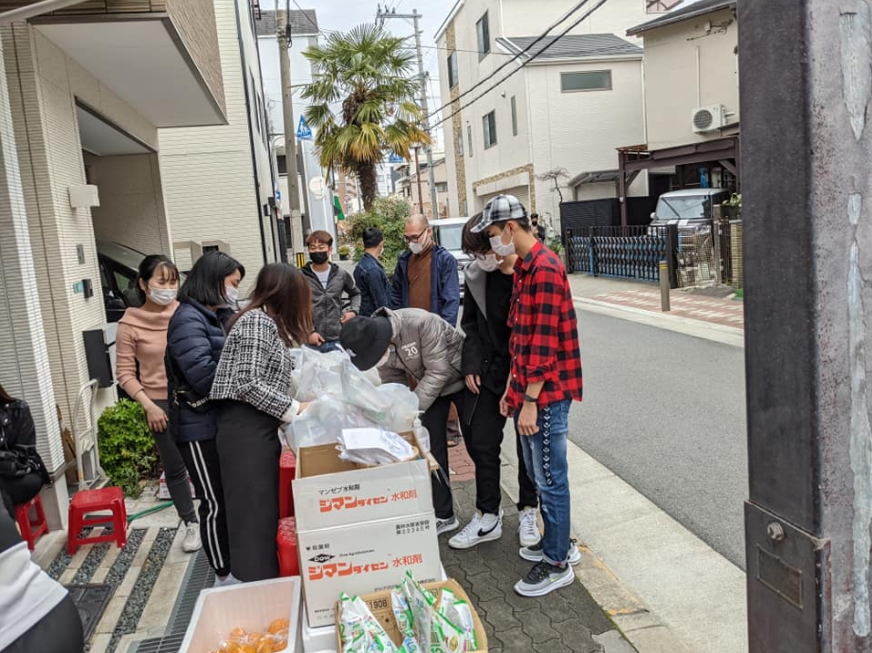 Osaka - Vietnam Friendship Association distributed rice and vegetables to Vietnamese suffering difficulties in the pandemic.
The prolonging COVID-19 pandemic has been posing difficulties in the daily lives of Vietnamese living in Japan. Once a week, the Osaka-Vietnam Friendship Association distributes from 50 to 100 free cakes to Vietnamese students and interns in Japan. Along with that, the Association has held events to giving advice on visa procedures for those who are learning of the visa conversion and related issues, consulted by Japanese Notaries of Public Administration, with Vietnamese translation.
Since February 2021, thanks to the support from Japanese farmers, the Association has provided free rice and vegetables to the people having difficulty in life due to the effects of the COVID-19 pandemic.
Since its inception, the association has held many activities promoting relations between Vietnam and Japan, including Vietnamese cooking classes, free Japanese classes, and free Vietnamese classes.
Meanwhile, the Vietnamese Embassy in Cambodia and Khmer-Vietnam have continuously provided support for those Vietnamese nationals struggling during the COVID-19 pandemic.
As reported by VNA, a number of overseas Vietnamese are undergoing quarantine period in Cambodia. Their initial anxiety has now alleviated and their quarantine life has been gradually stabilizing. On top of that, they have been receiving continuous support from their home country.
"Local authorities have been giving us good care and creating favorable living conditions. We are also provided with enough daily necessities", Ms. Luu Thi Da, 60 years old, living in Prey Veng city, was quoted as saying.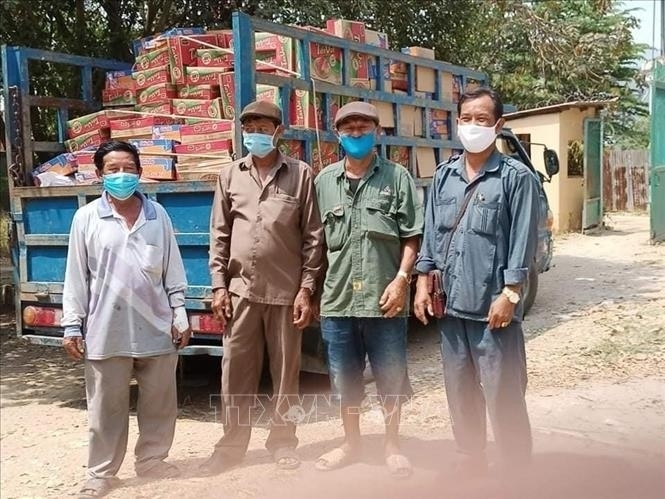 Transporting instant noodles to needy Vietnamese nationals in Kandal province (Photo: VNA)
According to the Community Department, Vietnamese Embassy in Cambodia, 500 gifts including rice, instant noodles and face masks were handed over to 500 needy Vietnamese households in 5 provinces (Luek Daek, Mukh Kamphool, Lvea Aem, Kien Svay, Ponhea Lueu) on March 20. The package is donated by the Dong Thap Union of Friendship Organizations and 5 benefactors.
On March 19, the Prey Veng Provincial Branch also sent a batch of rice and instant noodles to 408 households of Vietnamese and Khmer people in Prek Sai Kho commune. The branch also sent another 135 gift boxes to local authorities who would later hand the gifts to 135 Khmer households in difficult circumstances and affected by the COVID-19 epidemic.
On March 19, an aid package including rice, instant noodles, personal medical gears that worth roughly VND 120 million (US $5,189) were handed over to the Khmer-Vietnam Association at Thuong Phuoc border gate. The package was then sent to Vietnamese Cambodian under quarantine and local first responders in the fight against the pandemic.