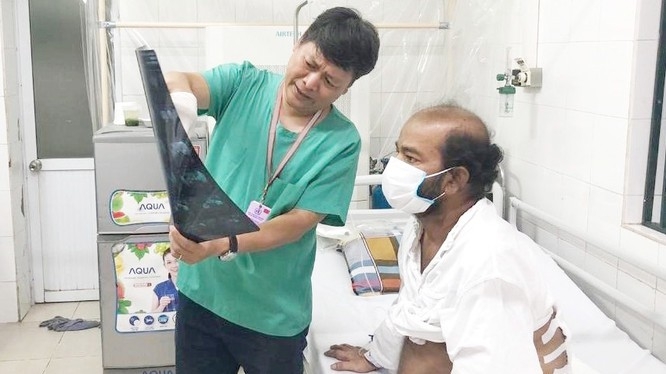 K.V, 53 years old, Sri Lankan national is being explained by the doctor about his health condition. Photo supplied by Viet Duc Hospital.
The first case is M.J, 33 years old, US national, travelling Vietnam since January 27. Unfortunately, he suffered a brain injury after a traffic accident in Vinh Phuc province on April 20. He later was admitted to Viet Duc Hospital for emergency treatment.
Reportedly, the patient's visa expired on April 26. During his stay in the Intensive Care Unit 2 at Viet Duc hospital, he was tirelessly taken care of by doctors and nurses.
He is now transferred to the Department of Neurosurgery 1, no need support from a ventilator and is expected to continue rehabilitation therapy.
Regarding his visa status, the Consular Department under the Ministry of Foreign Affairs said that in such force majeure case, the foreigner is accepted to be in Vietnam until he could recover to return home country.
Like M.J, R.D, German national, travelled to Vietnam since February 28. In that time, he suffered a stomach puncture and had an emergency surgery at Hanoi-based Viet Duc Hospital.
During the treatment, the Hospital proactively informed the German Embassy to contact his relatives in case of need. They also allowed one of his Vietnamese friends to take care of him while he was in the hospital despite the national social distancing.
On May 24, R.D was healthy to return Germany.
For 53-year-old K.V, Sri Lankan national, being stuck in Vietnam turns out to be a fortunate thing.
Unfortunately trapped in Vietnam while driving a cargo ship, the Sri Lankan man who suffered from a carbuncle was promptly operated by doctors at Viet Duc Hospital.
His injury was quite serious but thanks to the dedicated care and treatment, the patient recovered within only one week and was transferred to National Burn Hospital for skin graft.
"Being stuck in Vietnam turned out to be a lucky thing because I received great sympathy and medical care. This is an experience I will never forget," K.V said.
Jennifer Tran