Daily Horoscope for December 31: Astrological Prediction for Zodiac Signs
Daily Horoscope for December 31: While we are traversing the dream realms, the moon forms an opposition to Pluto, which could create some emotional dreams. Give yourself extra time to regroup this morning if you had some difficult encounters while in sleep mode.
Daily Planetary Overview
Mars throws some difficult energy into the situation as well, forming a T-square with the moon and Pluto. We may experience some fear or trepidation as we move toward the new year, which could leave us feeling uninspired and physically exhausted. After a trying 2020, you may not feel optimistic about the upcoming year, and faking it won't come easy right now. Give yourself permission to feel whatever emotions you're experiencing now, but don't forget to look for joy and acknowledge the blessings around you.
As we head into afternoon, the moon changes signs into Leo, giving us the opportunity to shake off any excess emotions we've been holding onto. It's okay to remove yourself from your feelings a bit in favor of focusing on yourself and the upcoming year.
Unfortunately, difficult aspects to Saturn and Jupiter could create some internal frustration as we inch closer to the new year. There could be some anger in the air due to the fact that there are so many aspects of our lives and the world that are beyond our control right now.
Take a time-out if you need to, and remember that it's fine to not celebrate if you're not feeling up to it. Things will get better and easier in 2021, but it's okay to be unhappy with the situation as it stands right now. Hold on to the people who make you feel good right now, and find comfort with your loved ones and within yourself. Happy New Year!
Aries
The first sign of the Zodiac, Aries are the trailblazers. Passionate and independent, Aries will never do something just because everyone else is doing it—a Ram needs to be 100 percent committed to the task at hand.
Dec 31, 2020 - Issues regarding love and romance should be going well for you now, Aries. You will find that your natural tendency to ground and plan is working perfectly with your desire to find what you want in a mate. Things may be about to come to a dramatic climax in your emotional realm. A foggy, dreamy feeling may make it difficult for you to keep your feet on the ground.
Taurus
Smart, ambitious, and trustworthy, Taurus is the anchor of the Zodiac. Amazing friends, colleagues, and partners, Taureans value honesty above all else and are proud that their personal relationships tend to be drama free.
Dec 31, 2020 - You may want to escape into your dreams today, Taurus. Trying to do something practical may be met with opposition, as the general mood of the day calls for things to be more ethereal and elusive. Connect with your sensitive side and feel free to spend time on artistic projects. You may have to take a more grounded approach when it comes to matters of love.
Gemini
Smart, passionate, and dynamic, Gemini is characterized by the Twins, Castor and Pollux, and is known for having two different sides they can display to the world. Expert communicators, Gemini is the chameleon of the Zodiac, adept at blending into different groups based on the vibe and energy they perceive.
Dec 31, 2020 - You will be able to find a greater connection to your inner soul today, Gemini. You will also find that you're more psychic than usual. Trust your intuition. The more you look inward, the more you're apt to find the solutions to your outward questions. Combine a sense of dreamy emotion with a grounded feeling of love and beauty. You may need to balance your cloudy head with stable roots.
Cancer
Emotional, intuitive, and practically psychic; ruled by the moon and characterized by the crab, Cancer has so much going on in its watery depths. Cancers may seem prickly and standoffish at the first meeting, once they make the decision to become friends with someone, that person has a friend for life.
Dec 31, 2020 - You may have many irons in the fire today, Cancer. People and projects could demand your attention, yet you may feel so dreamy and unmotivated that it could be hard to make progress on any of them. Creative solutions are the best route for you. Be flexible and open to other people's ideas, and make sure you consider the unlikeliest ways to tackle the issues.
Leo
Bold, intelligent, warm, and courageous, fire sign Leo is a natural leader of the Zodiac, ready to blaze a trail, vanquish injustice, and make a name for themselves along the way. Blessed with high self-esteem, Lions know that they possess enviable traits—and they're proud of them.
Dec 31, 2020 - This is going to be a great day for you, Leo. Strangely enough, you will find that tension may help you get things done. There's an easiness today that will create openings for exploring creative outlets. Regarding love and romance, try to stay grounded. You and the object of your desire may have two different points of view on the relationship. Communicate clearly.
Virgo
Smart, sophisticated, and kind, Virgo gets the job done without complaining. Virgos are amazing friends, always there to lend a hand and also lend advice. Practical Virgos are incredibly adept at big picture thinking, and planning out their life, their vacations, and what they're going to do today isn't a drag it makes them feel in control and secure.
Dec 31, 2020 - You may need to let go and release your control, Virgo. You know what you want, so just trust your intuition. If you continue to let your brain do all the work, you will probably miss valuable information that can only come when you slow down and look within. Connect with others on sensitive issues and feel free to let your guard down. Let your mind work freely.
Libra
Intelligent, kind, and always willing to put others before themselves, Libras value harmony in all forms. Ruled by Venus, the planet of beauty, Libra adores a life that looks good. As the master of compromise and diplomacy, Libra is adept at seeing all points of view and excels at crafting compromises and effecting mediation between others.
Dec 31, 2020 - This is an excellent day for you, Libra. You will find that things automatically flow your way. You will receive more attention than usual and be the center of any flattering discussions. The one difficult point might be intimate relations with others. Romantic issues may take on a more serious, grounded tone at this time.
Scorpio
Passionate, independent, and unafraid to blaze their own trail no matter what others think, Scorpios make a statement wherever they go. They love debates, aren't afraid of controversy, and won't back down from a debate.
Dec 31, 2020 - You may feel a bit lazy and unmotivated today, Scorpio. It could be hard to drag yourself out of bed. In terms of love and romance, there's apt to be some tension, as one part of you wants to make plans while another part is feeling up in the air and in the clouds. These two different viewpoints might make it difficult to make a move in any one direction.
Sagittarius
Independent and strong-willed, Sagittarius personalities are all about going off the beaten path. Sagittarius isn't afraid to step away from the pack and is a natural-born leader who goes after what he or she wants, regardless of what other people think.
Dec 31, 2020 - Love and romance are apt to be going quite well for you now, Sagittarius. You should find that it's easier to be yourself in a partnership. Let your romantic side shine through. Indulge in delicious candlelit dinners and share your deepest fantasies with those you love. If your partner resists this energy now, you may want to consider looking elsewhere for romantic company.
Capricorn
Smart, hardworking, and fully in control of their destiny, a Capricorn will always get what they set their mind to, in both personal and professional life—no excuses. Capricorns may get a reputation as stubborn, but they simply know what they want, and also know how they wish other people would behave.
Dec 31, 2020 - You may feel a great deal of nervous energy today, Capricorn. Tension could come to you from all angles. Indecisiveness might be your biggest problem. You may be in a frenzy trying to figure out where to move next. The key is to slow down and relax. Don't make a move without evaluating things. Be careful about acting too hastily, especially when it comes to matters of the heart.
Aquarius
Independent and enigmatical, Aquarians are unique. There is no one quite like an Aquarius, and because each is so incredibly individual, it can be tough to describe them as a group. Aquarians don't like labels, and may shy away from any adjective—even the good ones you might bestow upon them.
Dec 31, 2020 - Issues having to do with love and romance are in your favor today, Aquarius. You're more in touch with your emotions. You will find that your attitude toward love is more grounded than usual. Feel free to let go of some control. Let fate take you where it will in this department. Also make sure that you don't worry so much about things. Worrying will cause doubt, something you don't need.
Pisces
Smart, creative, and deeply intuitive, Pisces can be close to psychic. Pisces feel things deeply and have incredibly strong gut reactions. A Pisces "knows" things from deep within, and can often judge whether a person or situation is good or bad.
Dec 31, 2020 - You may not feel in sync with the day's energy, Pisces. Something about it may not sit right with you. Your natural instinct to want to take the lead may be overshadowed by an unwillingness to even get up. You may feel like your internal fire is squelched, especially when it comes to love and beauty. If your mind is cloudy, don't worry about it. The fog will clear soon.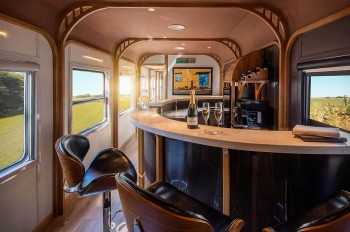 Travel
"The scenic train routes showcase some of Asia's most beautiful landscapes and provide a much-needed opportunity to rest and reconnect with loved ones," said CNN.