Daily Horoscope for January 19: Astrological Prediction for Zodiac Signs
Daily Horoscope for January 19:
When the moon squares Venus in the early hours, it increases the need for love and affection, and we may seem a little clingier than usual with loved ones.
Daily Planetary Overview
If you find yourself alone during this energy, the temptation could be to find comfort with a stranger, but this would be ill advised. The thing you're looking for is the intimacy you can't get from someone you don't really know. Impulse purchases should also be avoided because they will also fall flat as a solution.
Empathy is high when the moon sextiles Mercury later. You could find yourself listening more deeply to others' concerns and actively trying to assist in finding solutions to their issues. You'll find most people are very forthcoming with their feelings and thoughts as well, which can give you new insights into who they are and what they believe. As usual, the more you share of yourself during this transit, the more you'll get out of it. You'll be a wonderful addition to any team with an open mind.
The sun moves into Aquarius later in the day, which could lead you to feel like you need to reconnect with anyone you haven't spoken to for some time. You might visit some favorite spots you haven't been to in a while and generally just feel like you've tapped into the collective once again. It's a reminder of the fact that we're all intertwined.
Aries
The first sign of the Zodiac, Aries are the trailblazers. Passionate and independent, Aries will never do something just because everyone else is doing it—a Ram needs to be 100 percent committed to the task at hand.
Jan 19, 2021 - Take a break from your daily routine and get off the treadmill today, Aries. The world will turn without you for one day, so tune out for a while. Remember that whatever path you take is the right one. Regret is a useless emotion. Don't even bother with it. Enjoy the present day and all the small joys it has to offer. Communicate your dreams and bring things into balance.
Taurus
Smart, ambitious, and trustworthy, Taurus is the anchor of the Zodiac. Amazing friends, colleagues, and partners, Taureans value honesty above all else and are proud that their personal relationships tend to be drama free.
Jan 19, 2021 - Things are flowing your way, Taurus, and you should find a great deal of pleasure in the company of others. There may be an element of fantasy about the day that causes you to lose track of time and space. Don't bother connecting to reality if you don't have to. Go to an art museum or attend a dance performance. See a movie and go out to your favorite restaurant.
Gemini
Smart, passionate, and dynamic, Gemini is characterized by the Twins, Castor and Pollux, and is known for having two different sides they can display to the world. Expert communicators, Gemini is the chameleon of the Zodiac, adept at blending into different groups based on the vibe and energy they perceive.
Jan 19, 2021 - Don't try to nail down any answers today, Gemini, because you will probably end up feeling frustrated. The less you try to force your will on others, the more you will find that things just automatically go your way. Today isn't about finding solutions to problems. It's about enjoying what you've already learned and accomplished. Keep things light.
Cancer
Emotional, intuitive, and practically psychic; ruled by the moon and characterized by the crab, Cancer has so much going on in its watery depths. Cancers may seem prickly and standoffish at the first meeting, once they make the decision to become friends with someone, that person has a friend for life.
Jan 19, 2021 - Let your childlike side come out and play today, Cancer. Your dreams are in full force, so let them lead the way. Enjoy lighthearted conversations with friends about the latest movies or novels. You might want to go shopping or get a haircut. This is a good day to improve your general appearance. You have a much keener eye for style on a day like this.
Leo
Bold, intelligent, warm, and courageous, fire sign Leo is a natural leader of the Zodiac, ready to blaze a trail, vanquish injustice, and make a name for themselves along the way. Blessed with high self-esteem, Lions know that they possess enviable traits—and they're proud of them.
Jan 19, 2021 - Take a break from the routine and get off the beaten path, Leo. This is a day to forge ahead with ideas and dreams rather than commitments and answers. Question things and debate the facts. Have fun whatever you do. This is the perfect day to go out and fly kites with your friends. All group activities are strongly favored. You can't go wrong chatting about the latest events in your life.
Virgo
Smart, sophisticated, and kind, Virgo gets the job done without complaining. Virgos are amazing friends, always there to lend a hand and also lend advice. Practical Virgos are incredibly adept at big picture thinking, and planning out their life, their vacations, and what they're going to do today isn't a drag it makes them feel in control and secure.
Jan 19, 2021 - It may feel like something has suddenly clicked into place for you today, Virgo, because you've found the missing piece of a puzzle you've been working on. The answers may be subtle, but they're there. Fantasy and a playful attitude will lead you to them effortlessly. Spread your ideas to the world, and encourage others to join in your daydreams.
Libra
Intelligent, kind, and always willing to put others before themselves, Libras value harmony in all forms. Ruled by Venus, the planet of beauty, Libra adores a life that looks good. As the master of compromise and diplomacy, Libra is adept at seeing all points of view and excels at crafting compromises and effecting mediation between others.
Jan 19, 2021 - Things may seem surreal today, Libra, so don't take other people's chatter too seriously. This is a day to reach out and touch someone, so pick up the phone. It's a good day to share your dreams, no matter how farfetched they sound. Others may look at you as if you have three heads, but as long as you're being honest with yourself, there's no reason to be shy about sharing.
Scorpio
Passionate, independent, and unafraid to blaze their own trail no matter what others think, Scorpios make a statement wherever they go. They love debates, aren't afraid of controversy, and won't back down from a debate.
Jan 19, 2021 - You may find it hard to take a realistic approach to your emotions today, Scorpio. A sensitive issue may pull on you, leaving you feeling like you're out in left field in the way you relate to others. You might want to consider letting someone else take the lead for once, allowing you to regain your equilibrium before the next decision needs to be made.
Sagittarius
Independent and strong-willed, Sagittarius personalities are all about going off the beaten path. Sagittarius isn't afraid to step away from the pack and is a natural-born leader who goes after what he or she wants, regardless of what other people think.
Jan 19, 2021 - Question the validity of anything you come in conflict with today, Sagittarius. You might find that people act on incomplete information, and that they're falsely accusing you of something you didn't say or do. Work to bring harmony to the situation by getting to the truth and helping to make the real motivations known. Words may be charged with strong emotions, so be gentle.
Capricorn
Smart, hardworking, and fully in control of their destiny, a Capricorn will always get what they set their mind to, in both personal and professional life—no excuses. Capricorns may get a reputation as stubborn, but they simply know what they want, and also know how they wish other people would behave.
Jan 19, 2021 - Today is a great day for you. You should enjoy a great deal of playful conversation, Capricorn. Fantasy is likely to play a big role in events, and you may daydream as you walk down the street. Don't bother with reality if you don't have to. You're much better off keeping the tone light and playful. Enjoy your fantasy world and feel free to invite others into it.
Aquarius
Independent and enigmatical, Aquarians are unique. There is no one quite like an Aquarius, and because each is so incredibly individual, it can be tough to describe them as a group. Aquarians don't like labels, and may shy away from any adjective—even the good ones you might bestow upon them.
Jan 19, 2021 - There may be a rather confusing element to the day, Aquarius. You feel tempted to act, but some of the pieces seem to be missing. It could be hard to make a decision, since you don't have the whole picture in front of you. You're better off spending this day outside with a group of friends rather than trying to make any major life decisions or commitments.
Pisces
Smart, creative, and deeply intuitive, Pisces can be close to psychic. Pisces feel things deeply and have incredibly strong gut reactions. A Pisces "knows" things from deep within, and can often judge whether a person or situation is good or bad.
Jan 19, 2021 - Be the star of your own movie and proud of the role you play, Pisces. You might find yourself taking on many different characters, depending on your mood of the hour. There's a special gleam in your eye that you should share openly with others. Don't feel rushed to get anywhere. You've already arrived. Enjoy yourself in the company of those you love.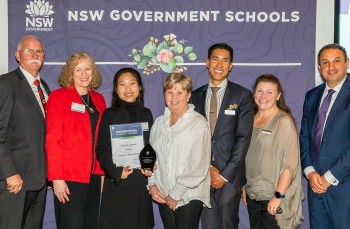 Overseas Vietnamese
The award for international students studying at New South Wales state schools (Australia) honors excellent ones from many countries, including a Vietnamese female student.