Daily Horoscope for January 6: Astrological Prediction for all Zodiac Signs
Daily Horoscope for January 6: The Capricorn sun and Libra moon are at odds in the early hours of the day as a square forms between these two luminaries. As you begin to stir from your slumber and awaken, you may find yourself getting up on the wrong side of bed.
Daily Planetary Overview
Try not to let your ego get the better of your emotions, and try to be patient with both yourself and those around you. While we're cosmically set to get an emotional reprieve in the second half of the morning, today won't be an easy day.
As afternoon manifests, the moon begins to form harsh aspects with Pluto and Mercury. Emotions that we've repressed may begin to affect us, though we won't necessarily have the tools to release them just yet. A cerebral energy could put you in an obsessive headspace, so try not to fall down any social media rabbit holes or stalk your ex online. Mars begins its journey in Taurus today, giving you motivation to make money and build security for yourself.
Unfortunately, the action planet meets some resistance from Saturn. Try not to jump the gun right now when it comes to making financial moves. Take stock of your finances in the coming days, and form a plan to resolve any lingering debt you may have.
Aries
The first sign of the Zodiac, Aries are the trailblazers. Passionate and independent, Aries will never do something just because everyone else is doing it—a Ram needs to be 100 percent committed to the task at hand.
Jan 6, 2021 - Close relationships should grow closer today, and new relationships become close ones. You're likely to feel extremely warm and loving toward most of the people you know, and they should reciprocate that feeling. Romantic relationships, especially, could grow more intimate and physical. You like the way you feel, Aries, but want to express it outwardly through gifts or intimacy.
Taurus
Smart, ambitious, and trustworthy, Taurus is the anchor of the Zodiac. Amazing friends, colleagues, and partners, Taureans value honesty above all else and are proud that their personal relationships tend to be drama free.
Jan 6, 2021 - Relations with family or other members of your household should be especially warm now. Mutual goals and shared wins and losses are likely to bring you closer. Communication with friends and other acquaintances should be open and honest without being blunt, Taurus, providing you with a rewarding day. You probably won't spend much of your day alone. Make the most of it.
Gemini
Smart, passionate, and dynamic, Gemini is characterized by the Twins, Castor and Pollux, and is known for having two different sides they can display to the world. Expert communicators, Gemini is the chameleon of the Zodiac, adept at blending into different groups based on the vibe and energy they perceive.
Jan 6, 2021 - You should feel loving today toward just about anyone you like and respect. Clear communication with friends, lovers, and children could enhance your understanding of them, and vice versa. The bonds in these relationships will be strengthened, perpetuating the good feelings you've felt all year. Current bonds grow more devoted, while new ones become close. Keep the lines of communication open.
Cancer
Emotional, intuitive, and practically psychic; ruled by the moon and characterized by the crab, Cancer has so much going on in its watery depths. Cancers may seem prickly and standoffish at the first meeting, once they make the decision to become friends with someone, that person has a friend for life.
Jan 6, 2021 - Powerful feelings of love well up today, particularly toward family members. Communication between you and those you love is likely to be heightened, Cancer, as you learn to speak your mind while not being too blunt. Romantic matters could thrive now, as you will be in the mood to physically express your feelings. Old friends form stronger bonds, while you discover common interests with new friends.
Leo
Bold, intelligent, warm, and courageous, fire sign Leo is a natural leader of the Zodiac, ready to blaze a trail, vanquish injustice, and make a name for themselves along the way. Blessed with high self-esteem, Lions know that they possess enviable traits—and they're proud of them.
Jan 6, 2021 - Messages from close friends expressing their love and admiration for you may seem to arrive out of the blue. Your accomplishments over the past few weeks may have caused them to see you in a new light. Today you will experience the full force of their feelings. The doors of communication are open for you. You could decide to spend the day getting to know your friends all over again.
Virgo
Smart, sophisticated, and kind, Virgo gets the job done without complaining. Virgos are amazing friends, always there to lend a hand and also lend advice. Practical Virgos are incredibly adept at big picture thinking, and planning out their life, their vacations, and what they're going to do today isn't a drag it makes them feel in control and secure.
Jan 6, 2021 - You're always one to face things logically, Virgo, and today you turn that logic, along with your intuition, toward reassessing some of your values. Your judgment is especially acute, so any decisions you make or any new avenues you want to explore are likely to be just what you need now. Relations with friends, lovers, and family should be warm, loving, and close.
Libra
Intelligent, kind, and always willing to put others before themselves, Libras value harmony in all forms. Ruled by Venus, the planet of beauty, Libra adores a life that looks good. As the master of compromise and diplomacy, Libra is adept at seeing all points of view and excels at crafting compromises and effecting mediation between others.
Jan 6, 2021 - You're likely to feel especially friendly and outgoing today, Libra. People you meet, particularly through groups, are likely to be strongly attracted to you. Friendships, partnerships, and romantic relationships should continue to grow closer, enhanced by your high level of communication. In the evening, go out with those you love. Your bond will be stronger for it.
Scorpio
Passionate, independent, and unafraid to blaze their own trail no matter what others think, Scorpios make a statement wherever they go. They love debates, aren't afraid of controversy, and won't back down from a debate.
Jan 6, 2021 - You should be in a warm and romantic mood today, Scorpio. You will want to schedule an intimate evening with your partner, but you probably won't feel like staying in. You desire an evening out, perhaps to a restaurant, concert, or play. Regardless of how you usually feel, tonight you won't have any reservations about showing affection in public. Enjoy your evening.
Sagittarius
Independent and strong-willed, Sagittarius personalities are all about going off the beaten path. Sagittarius isn't afraid to step away from the pack and is a natural-born leader who goes after what he or she wants, regardless of what other people think.
Jan 6, 2021 - The mutual exploration of spiritual and intellectual ideas could bring you closer to friends and lovers. Fascinating discussions open new horizons to all participants. You may be overcome by the strong feeling of unity. By day's end, you could experience a strong spiritual longing to study whatever the topic of conversation was. Don't hesitate. It can only help you grow.
Capricorn
Smart, hardworking, and fully in control of their destiny, a Capricorn will always get what they set their mind to, in both personal and professional life—no excuses. Capricorns may get a reputation as stubborn, but they simply know what they want, and also know how they wish other people would behave.
Jan 6, 2021 - You feel especially sexy right now. A powerful feeling of love and a need to physically express it could be with you all day. If you're involved, you want to spend a romantic evening with your lover. If you aren't, you could channel the energy into creative activities. Romantic novels and movies are poor substitutes for the real thing, Capricorn, but if they're all that's available, go for it.
Aquarius
Independent and enigmatical, Aquarians are unique. There is no one quite like an Aquarius, and because each is so incredibly individual, it can be tough to describe them as a group. Aquarians don't like labels, and may shy away from any adjective—even the good ones you might bestow upon them.
Jan 6, 2021 - Close relationships could lead to a feeling of spiritual unity today. In fact, Aquarius, you might feel as if those who share your interests are actually your family now. If you're involved, expect to experience warm and passionate feelings toward your partner. If not, don't be surprised if someone new comes on the scene. Shared intellectual interests might be what bring you together.
Pisces
Smart, creative, and deeply intuitive, Pisces can be close to psychic. Pisces feel things deeply and have incredibly strong gut reactions. A Pisces "knows" things from deep within, and can often judge whether a person or situation is good or bad.
Jan 6, 2021 - Love, sex, and romance are on your mind today, Pisces, so you will want to spend as much time as possible with your lover. You could also grow closer to your friends, resulting in a powerful feeling of unity. Right now you have the gift of being able to exercise good judgment when it comes to values in life. If decisions need to be made along this line, this is the time to make them.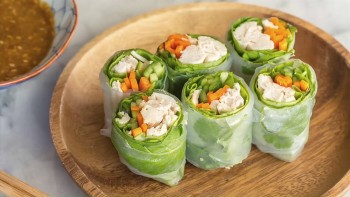 Travel
Rolls are a easy-to-make dish that is loved by many Vietnamese diners as well as Korean stars.