Daily Horoscope July 31: Astrological Prediction for Love, Money, Career and Health
Daily Horoscope for July 31: On Saturday, your main tasks will be to work at home, on the farm, with relatives who will need your help, or with whom you will have certain plans.
Daily Planetary Overview
Some trouble with a boy or a young man can cause you serious inconvenience due to the inability to convince the other party of the wrong path or decision they have made. As wise people say, we can only change ourselves, not others, even if they are our own children. Saturday will come into our lives with new unexpected events and situations that will mainly have to do with your home, family or your financial affairs. It is possible to make an unexpected purchase for your home or sell something you do not use. Saturday will definitely be a bright and memorable day, especially for those of you who are active, open to new things in your life. An unexpected opportunity for men over the age of 35 can open new horizons for their development. Saturday will be an auspicious day to discuss opportunities for new or additional work. This day foretells an important event or conversation related to a person born under the sign of the earthly zodiac sign.
If you were born under the sign of Aries, Leo or Sagittarius, Saturday will be a dynamic but unstable day for you. A situation will arise that will provoke you to decide on a necessary change. Keep calm today if you have to postpone your plans or appointments. Emotions await you in love, but control your own feelings so that unwanted tension does not arise. Make bold plans for next week and prepare well for their implementation.
Daily Zodiac Horoscope for July 31
Aries
The first sign of the Zodiac, Aries are the trailblazers. Passionate and independent, Aries will never do something just because everyone else is doing it—a Ram needs to be 100 percent committed to the task at hand.
Love Horoscope - Tomorrow Aries is worth demonstrating to your beloved your hard work and desire to bring the work started to the end. He will like it, and it will give you charm in his eyes. The inner world is changeable, it will require an unconventional environment and new sensations. Nevertheless, the stars warn against adventures and adventures that can be fraught with negative consequences. Be on this day mentally generous, morally pure and internally prudent. Be with your family and close friends. Tomorrow you will be aiming for light exhibitionism, but try not to be too frivolous.
Money Horoscope - The Moon's return to your income sector 12 hours before the dwarf planet Ceres is due to leave today will ensure your nose for money is sharp until the end. Returning during Mars' first full day in your work sector will not only give you a better read on the income needs and priorities that Ceres has been taking a deep dive into but the very real opportunities that are opening up across the income, work and career fronts.
Career Horoscope - Aries will have a good opportunity tomorrow morning to establish business contacts and agreements made in advance. You are proactive in terms of human and financial resources for a business plan and have secured leadership support. The second half of tomorrow promises a deterioration in business life. Problems will appear in the field of transport. Relations with foreign partners, in turn, will develop. Go on study trips to other regions and countries. If suddenly there is a conflict with the management, try to cool down and look at the difficult situation from the other side, then there will be more chances of recognition of your professionalism.
Health Horoscope - Aries won't be in the best physical shape tomorrow. There are a lot of things to do, you may not be able to cope with them, because you feel bad. Relax, visit a massage parlor, go to the movies, do some meditation. In general, bring a little joy into your life. Watch your health more closely on this day, especially if you have a cow's milk protein intolerance. Choose quality foods to keep you feeling good.
Taurus
Smart, ambitious, and trustworthy, Taurus is the anchor of the Zodiac. Amazing friends, colleagues, and partners, Taureans value honesty above all else and are proud that their personal relationships tend to be drama free.
Love Horoscope - For family relationships Taurus is not the most favorable day. Most likely, they will find fault with you, in response to this, you simply stop paying attention to what is happening. And you will even begin to withdraw into yourself. However, the situation will be resolved by itself if you fulfill at least one promise made a long time ago. Don't make unnecessary scandals. Moving or change of residence is possible. When it comes to raising children, it's best to solve logical problems that are appropriate for their age and the time spent together.
Money Horoscope - When Mercury left your income sector earlier in the month this wrapped up all planetary activity on the income front but not for long. Just two days after lucky Jupiter retrograded back into your career sector and just 17 days before new doors open on the job front, the dwarf planet Ceres returns to your income sector for a deeper dive into your income needs and priorities.
Career Horoscope - Taurus will have to do a good job tomorrow, it can be business manners, speech and voice production. Perhaps, in order to hold a meeting with partners, you need to prepare in advance and get rid of the words of parasites, speak more clearly, without covering your mouth with your hand and with clearer diction. Leadership positions always involve performances, if you expect to get a place of deputy manager or director, then be sure to pay attention to such factors.
Health Horoscope - If Taurus is bothered by any symptoms tomorrow, you are unlikely to go to the doctor. You will endure, drink painkillers, or even begin to self-medicate. Skin or eye problems may appear. Nothing serious, though, so you can really handle it yourself. Do gymnastics, eye exercises and watch your diet regularly.
Gemini
Smart, passionate, and dynamic, Gemini is characterized by the Twins, Castor and Pollux, and is known for having two different sides they can display to the world. Expert communicators, Gemini is the chameleon of the Zodiac, adept at blending into different groups based on the vibe and energy they perceive.
Love Horoscope - In the sphere of personal life, this day for Gemini promises to be calm and predictable. Tomorrow's dating is expected to be pretty standard, with members of your type who you know what to expect. And your premonitions will not deceive you. The day, like the rest of the week, is good for a relationship that can easily turn serious.
Money Horoscope - Three days after Mercury's departure from your income sector ended all planetary activity on the income side of the financial fence, the other side of the financial fence is getting the boost. While the Moon's return to an intuitive and imaginative part of your chart today will always put it at a friendly aspect to Pluto in your financial sector, over the coming days this will expose even more support for money matters.
Career Horoscope - The financial success of Gemini is quite expected tomorrow, so you will take any outside help or unexpected financial investment for granted, and you won't even be surprised at anything. Although, you will probably receive a higher amount than previously agreed. The strong side of signs for this day is the ability to adapt. Not only to people, but also to circumstances. Therefore, at work, no special difficulties are expected tomorrow. You can count on colleagues who will try to join forces to help you, as well as complete the project yourself. They will not interfere with your work and will even stop distracting if you ask.
Health Horoscope - The emotional state Gemini tomorrow will in no way affect the physical. You cannot explain your discomfort with a quarrel at work or dissatisfaction with everyday situations, for example, a queue at a supermarket or a crush on a bus. So be attentive to your own health and do not overwork. The stars are advised to do massages and take a bath with sea salt and herbs.
Cancer
Emotional, intuitive, and practically psychic; ruled by the moon and characterized by the crab, Cancer has so much going on in its watery depths. Cancers may seem prickly and standoffish at the first meeting, once they make the decision to become friends with someone, that person has a friend for life.
Love Horoscope - Tomorrow Cancer may try to repeat after someone the solution of certain issues related to home or family. For example, you will try to make the same design or adopt a few rules for raising a child. However, the result will not be as good as you expected. It is likely that deep in the subconscious, you were simply striving for something else. Relationships with loved ones can be strained because of this. In order not to reach a scandal, calmly talk to them and resolve all issues.
Money Horoscope - A day after Mars left your income sector and just as his hot headed enthusiasm has been replaced by Mercury's smart head for money, the stars align to create positive conditions for income and job matters today. It is a friendly aspect between the Sun in your income sector and the asteroid Juno in your work sector that could also see you start to benefit from what has been invested in the past.
Career Horoscope - Tomorrow Cancer may be somewhat hot-tempered, from which they simply do not want to make responsible decisions. They will go to their superiors, express their opinions and ask them to take their side. However, such a position will not in the least upset or upset the management. They will love your preparedness, clear requirements, and leadership skills. As for financial expenses, tomorrow you will have profitable investments. You will make the purchase of things or equipment together with your relatives, than divide the amount between two. You can safely order what you have wanted for so long.
Health Horoscope - Cancer tomorrow may start to disturb the cardiovascular system, but most likely this is a temporary phenomenon. It is likely that you will even confuse these symptoms with some others: chest pain, neuralgia, or even the gastrointestinal tract. You will have to do sedentary work, which provokes a curvature of the spine. For this reason, headaches or numbness of the limbs may appear.
Leo
Bold, intelligent, warm, and courageous, fire sign Leois a natural leader of the Zodiac, ready to blaze a trail, vanquish injustice, and make a name for themselves along the way. Blessed with high self-esteem, Lions know that they possess enviable traits—and they're proud of them.
Love Horoscope - Tomorrow Lion will have a day of unexpected meetings, in particular, with the former love. Your partner may become jealous about this. This is a plus, because in small quantities it activates the senses, so do not overdo it. Communicate on this day with the opposite sex. A romantic date or an interesting acquaintance is possible. Show initiative and persistence. Success will be to challenge the interlocutor to frankness. A dream tomorrow can be prophetic, but only if a series of lovemaking does not deprive you of it completely for the whole night.
Money Horoscope - Two days after Jupiter's departure from your financial sector saw a lot of the focus shift onto the income side of the financial fence, things are fast becoming more empowered. It is the Moon's return to your career sector during Mars' first full day in your income sector that will both sharpen your professional instincts and provide a window into what is developing across the income, work and career fronts.
Career Horoscope - Tomorrow, none of the luminaries will have a direct impact on the professional activities of Lion. Try to record all the ideas that arise, perhaps some of them will be productive. You are more popular on this day than ever. If there is a need to appeal to the court or to a lawyer, then tomorrow the most opportune moment will be outlined. The trips are good. Try not to argue with your boss. It will be extremely difficult to explain anything to him, but try to understand the essence of his problem. This will be an indicator of your competence.
Health Horoscope - Lion, your health tomorrow will be under the influence of Pluto, which will give you a high level of energy. However, do not overestimate the situation, as all people are susceptible to the flu and the common cold. Get more rest and don't overwork to feel good and not get sick. Play sports with an emphasis on hiking and swimming. Get complexion-improving beauty treatments and tidy yourself up.
Virgo
Smart, sophisticated, and kind, Virgo gets the job done without complaining. Virgos are amazing friends, always there to lend a hand and also lend advice. Practical Virgos are incredibly adept at big picture thinking, and planning out their life, their vacations, and what they're going to do today isn't a drag it makes them feel in control and secure.
Love Horoscope - Tomorrow is good for Virgo in terms of love affairs, but you will have to resent the injustice from your loved ones. The abuser will regret contacting you. In your personal life, expect a pleasant event. Try not to lose optimism. The mood of your loved one tomorrow will completely depend on his health. The same goes for your relationship, so treat him! On this day, the stars do not recommend getting carried away with getting physical satisfaction. Take care of your feelings, and not only your own, but also your partner. This is an important, challenging, but interesting challenge to achieve stability in your pair.
Money Horoscope - As the Moon leaves your financial sector today this was always going to leave you with your financial instincts and imagination fuelled and valuable clues, hunches and insights that you can now begin to process. However, this first visit since both planets here turned retrograde is also leaving you with 20/20 hindsight and a clearer view of the rear view mirror.
Career Horoscope - Tomorrow the Virgo targets will change and become tangible. Continue to communicate with serious people and deal with important issues. You shine with humor, make jokes, but still, you are guided by realism. Your partners respect you for your dedication, energy and determination, so you are guaranteed reliable support and trust on their part. There will be difficulties, but they can be solved - you just need to dive into the topic of interest. Interfering with plans will cause irritation and nervousness. Try to calm down, everything will return to normal with the support of a loved one. Remember not only to work, but also to rest.
Health Horoscope - Virgo tomorrow it is necessary to observe the measure in food, do not overeat. Enrich your diet with fruits and vegetables rich in vitamins and fiber. First of all, you should give up fatty foods, but only until better times. On this day, the lungs can be especially vulnerable, so avoid various types of procedures aimed at treating the respiratory system. And you will have to forget about smoking forever!
Libra
Intelligent, kind, and always willing to put others before themselves, Libras value harmony in all forms. Ruled by Venus, the planet of beauty, Libra adores a life that looks good. As the master of compromise and diplomacy, Libra is adept at seeing all points of view and excels at crafting compromises and effecting mediation between others.
Love Horoscope - If Libra is interested in a new relationship, then start with your immediate environment. Friends or coworkers can suddenly turn out to be very interesting people and even attractive. When going on a date, don't be silent, ask questions, bring up topics to diversify the conversation and show your best side. It is possible that you may be offered to go on a journey where an interesting situation will occur. Do not refuse, perhaps you will meet your love there.
Money Horoscope - Just two and a half months after returning to your financial sector for a deeper dive into your financial needs and priorities, the dwarf planet Ceres leaves today. The Moon's return 12 hours earlier will ensure your financial instincts and imagination are fuelled and you are emotionally and intuitively engaged until the end. This will also give you a read on the planets staying behind to help turn those needs and priorities into reality.
Career Horoscope - The promises made tomorrow Libra, the contracts that will sign these signs will certainly be fulfilled. But only on condition that they turn out to be short-term. If you are planning ahead, be prepared for force majeure and other unforeseen circumstances. It will be extremely difficult to predict them now, so try to win at least as much time as possible. Feel free to go to your bosses with your ideas so that the management will assess your potential and pay attention.
Health Horoscope - This day will suit Libra in order to start a new life, or at least some of its stages. You will begin to take care of yourself, go on a diet, you will follow the regime. And it will not turn out to be as difficult as you thought earlier. Some moments that you previously could not tolerate will now please. It is likely that you will be able to complete your endeavors. For this, your body will be extremely grateful and even begin to work better.
Scorpio
Passionate, independent, and unafraid to blaze their own trail no matter what others think, Scorpios make a statement wherever they go. They love debates, aren't afraid of controversy, and won't back down from a debate.
Love Horoscope - Scorpio, be more attentive to your friends and acquaintances tomorrow. A conflict situation fraught with unpredictable consequences is not excluded. Stock up on revenue and prudence, on which harmony in a relationship with a partner directly depends. Be tolerant of provocations. On this day, give your loved one valuable advice - he will like it. Just try not to harm your relationship. Show a little selfishness - you want to be happy! Gentleness on this day will benefit you more than ever, and he himself will inevitably surrender and sign any peace agreement.
Money Horoscope - When Mercury left your financial sector earlier in the month he not only ended all planetary activity here but a focus that began with Mars' return in March that was more about the money itself. As the dwarf planet Ceres returns today her focus is less on the money and more on a deeper dive into your financial needs and priorities. Here now for the rest of the year, this is something that can evolve over time.
Career Horoscope - Tomorrow, representatives of the Scorpio sign will become virtuosos in matters of information manipulation. You collect the necessary information, bit by bit, and draw appropriate conclusions based on scattered rumors and facts. This day is the day of creative ideas. You solve complex problems brilliantly thanks to your creative style of thinking, but in the field of exact sciences - clearly a vulnerable spot, since attentiveness and perseverance are not your best qualities. Carry out the responsibilities assigned to you with creativity and ingenuity. Teamwork promises success in joint affairs with colleagues.
Health Horoscope - Only Uranus will control your health tomorrow, and therefore the Scorpio sign should count on a great surge of strength and strong immunity. Strong nervous tension will disrupt normal sleep. Exercise caution in sports and housework to avoid harming yourself. Refuse this day from eating spicy food, as well as food flavored with exotic sauces and seasonings. If the pleasure of enjoying unusual cuisine prevails over you, then try only one dish at a time.
Sagittarius
Independent and strong-willed, Sagittarius personalities are all about going off the beaten path. Sagittarius isn't afraid to step away from the pack and is a natural-born leader who goes after what he or she wants, regardless of what other people think.
Love Horoscope - For family Sagittarius or those who have been in a relationship for a long time, the stars recommend tomorrow to consult their other half for everything, on the slightest pretext. To do this, decide what suits you or does not suit you, and talk calmly. In any questions, choose your option and then bring it to the court. It is possible that comments and remarks from a loved one will turn out to be very truthful and accurate. Therefore, the next time you make your choice much more confident and judicious.
Money Horoscope - When Mercury left your financial sector three days ago this ended all planetary focus on money matters, with the money gods shifting all their attention and focus onto the income side of the financial fence. While this has left you with the smart head for money needed to stay on top of money matters, as things come together on the job and career fronts this is giving a new focus on income matters a boost.
Career Horoscope - As for the business sphere, tomorrow Sagittarius will perfectly fit into the team, find a common language and accomplish the literally impossible. For example, you can complete a project that neither you nor your colleagues expected. You just grasp everything on the fly, react quickly, but you can't do without additional efforts. You will probably have to work on the weekend, but the result will not be long in coming. Also, the day is great for taking assistants, trainees and understanding which of them is better.
Health Horoscope - On this day, Sagittarius can easily disturb the nervous tics of the eyes and the general condition of this organ. It is possible that vision will deteriorate sharply, or the eyeball will hurt. Be sure to go to the doctor or consult with people who have similar problems. Perhaps they will help you with practical advice or tell you something important. In general, the day is not bad, just try not to overwork yourself and do eye exercises every few hours.
Capricorn
Smart, hardworking, and fully in control of their destiny, a Capricorn will always get what they set their mind to, in both personal and professional life—no excuses. Capricorns may get a reputation as stubborn, but they simply know what they want, and also know how they wish other people would behave.
Love Horoscope - Capricorn tomorrow will be a new love or platonic love. You may well fall in love with a person whom you have only seen a couple of times, and these feelings will even turn out to be fanatical. Do not try to idealize the person, because you do not know him at all. Today, you will clearly not be able to give a sober assessment. You will notice only the good, after which the gray days will show you the bitter truth. In order not to get upset, try not to fantasize.
Money Horoscope - When Jupiter returned to your income sector two days ago it was to begin a five month exploration of untapped income potential but with limited professional backing. That all changes with the dwarf planet Ceres' return to your work sector just 17 days before Venus will open the doors to the first real career potential this year. Across the income, work and career fronts things are coming out of hibernation.
Career Horoscope - Tomorrow Capricorn is better to stay out of intrigue. Even though you could use a person to get the information you need, you shouldn't take it on on this day. Otherwise, he will only confuse your cards, and after that you will not be able to influence anything. Flirting at work is also not acceptable. In any case, do this not in the office or in the presence of colleagues. Make an appointment, buy the person a cup of coffee, but don't show everyone your intentions.
Health Horoscope - Tomorrow Capricorn has a quiet good day for treatment or testing. There will be no problems with setting the correct diagnosis and prescribing the correct complex of therapy. Therefore, the course will certainly help to heal or to establish the cause of poor health. You can safely schedule a scheduled examination for this day.
Aquarius
Independent and enigmatical, Aquarians are unique. There is no one quite like an Aquarius, and because each is so incredibly individual, it can be tough to describe them as a group. Aquarians don't like labels, and may shy away from any adjective—even the good ones you might bestow upon them.
Love Horoscope - When Mercury left your romantic sector earlier in the month this ended all planetary activity on the romantic front or so you thought. Matters of the heart catch their second wind with the dwarf planet Ceres' return today, beginning a mission that through to the final days of the year will take you on a deeper dive into your heart's needs and priorities.
Money Horoscope - As Mars spends his first full day in your financial sector in nearly two years and as his financial passions and fighting spirit kick in you already have a head start. Venus, the planet of money's return last week means that you have had a nine day head start when it comes to fuelling your financial desires and expectations, giving you both the motivation to take your financial power back and a better sense of where to channel this.
Career Horoscope - Tomorrow, Aquarius may have a worse relationship with colleagues. This is especially true of those employees with whom you have to work together or at neighboring tables. However, close people will fully support your position, but conversations with the rest will not go so smoothly. Try to be calm tomorrow and not be led by your own weaknesses. Do not buy new things, give the old ones another chance, improve them, redo them. Many things you can handle on your own.
Health Horoscope - The most vulnerable spots in the body Aquarius tomorrow will be the stomach and esophagus. The problem is that you are eating too quickly, literally swallowing piece by piece. Constantly distracted and not even washed down, you lead to the fact that food is poorly digested and practically not digested properly. If you continue in the same spirit, the intestinal tract will soon make itself felt with gastritis, an ulcer or a banal disorder.
Pisces
Smart, creative, and deeply intuitive, Pisces can be close to psychic. Pisces feel things deeply and have incredibly strong gut reactions. A Pisces "knows" things from deep within, and can often judge whether a person or situation is good or bad.
Love Horoscope - In a case of perfect timing, the Moon returns to your communication sector during Mars' first full day in your relationship sector and as he joins up with Venus, the planet of love for the first time here in two years. The Moon returns as the dwarf planet Ceres is wrapping up a mission to better understand your communication needs and priorities, just as the most important weeks of the year on the relationship front begin.
Money Horoscope - Today the Moon wraps up an ordinary monthly visit to your income sector that has come with extraordinary timing. This first visit since both planets here turned retrograde comes at an important turning point on both the job and career fronts. After clashing as a Full Moon last week, the last few days have put the Sun and Moon back on the same page, creating a boost in confidence on the income and job fronts.
Career Horoscope - But as for cooperation with your partners on an equal footing, tomorrow Pisces it is better to refuse it. It will obviously not bring any benefit, only harm. So far, you can count on sponsorship in terms of finance, but not full funding. In addition, you are expected to have temporary earnings that do not require additional efforts and excessive efforts. Don't miss these opportunities and you will find yourself on top. The stars are on your side.
Health Horoscope - Tomorrow Pisces may have complications related to nutrition and body weight. Perhaps you will seize your problems or, on the contrary, refuse to eat, because your appetite will disappear. To cope with this, try to reconsider your diet and switch to healthy foods. Check out different diets, weight loss techniques or healthy lifestyles, read reviews and make the right conclusions. You shouldn't agree to radical methods of treatment, surgical interventions tomorrow Pisces, otherwise the result may not be exactly what you would like.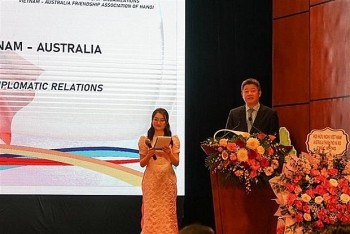 Friendship
A friendship exchange programme has been held recently in Hanoi to celebrate the 50th founding anniversary of the Vietnam-Australia diplomatic relations (February 26).