Aries Horoscope 2022: Yearly Predictions for Love, Financial, Career and Health
Aries Horoscope 2022: Aries natives will gain significant output in many aspects of life; as it is the year of new possibilities and opportunities and mark the beginning of a new stage in life.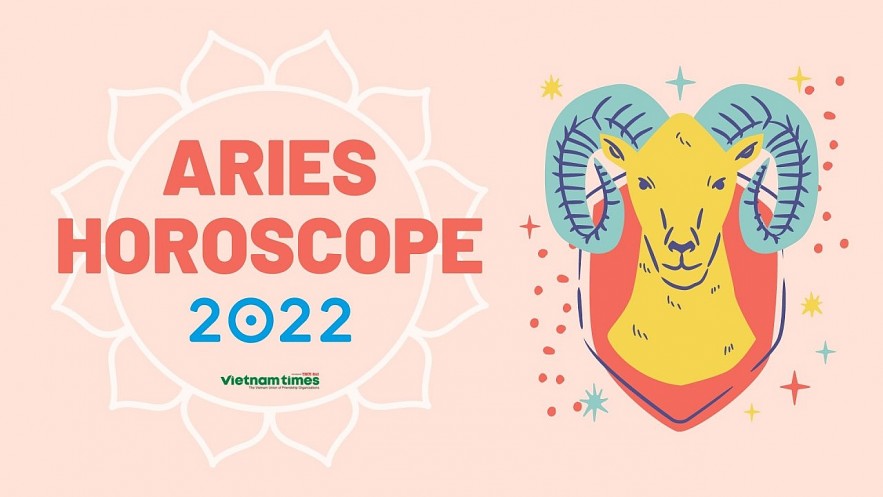 Aries Horoscope 2022: Yearly Predictions for Love, Financial, Career and Health. Photo: vietnamtimes.
From the start of 2021, we knew that year was going to be a write-off. Thankfully, however, we begin to see much more positive energies coming around on the horizon. The beginning of 2022 starts with a calm vibe, which is not the usual Aries style, but it won't last much long. The first few months' focus is to meditate and recollect yourself to get ready for the critical moments coming later in the year. You can think of 2022 as a rollercoaster. More precisely, half of the year will feel like the moment you're going up and building up to something. That something will be the Mars, Uranus, and North Node conjunction, which will send us full speed into a new atmosphere of rapid change. The best advice is to make the best of the early year's fertility and abundance before this significant astrological moment happening around the Summer.
Like mentioned earlier, the early year will be the time to sit down with your thoughts and meditate on how far you've come thus far. 2021 was the official end of a Cardinal Sign focused journey into a Mutable one. You being the Cardinal Fire sign, will feel that reflected mostly in your career and network. You may have just stepped into new waters as far as your career is concerned, and it's still time to adjust to the changes. Considering a new job often involved new friends and new collaborators, it will be wise to continue to work on establishing strong relationships that will help you climb the ladder of your professional world.
According to gotohoroscope, getting involved in spiritual or religious practices may also be very beneficial from January through May. Jupiter will be transiting through your 12th house for that whole time, making the mind space a happy and comfortable retreat when times get rough. Hope will be found through a deep connection with Spirit—whatever that means to you. April specifically looks like a rather auspicious month when it comes to strengthening your connection with the other realms. Maybe going on a yoga retreat will be a good or any different event where you can connect with other people with similar philosophical interests.
The Jupiter transits this year will be rather auspicious to you, Aries, even when it comes to your physical health. After the planet of blessings leaves Pisces, it will enter your 1st house of the body and self. If you have been wrestling with any sort of physical ailments, from May of 2022 to May of 2023, it would be wise to start a gratitude practice every Thursday (since that's the day of Jupiter). This will also help out with some of the harsher transits coming later in the year. Besides, it never hurts to be grateful.
Summer could be a bit of a rougher time, especially as we get closer to August. This is when the one challenging transit of the year comes in to shake things up. This will mainly affect your 2nd house of resources and finances, so try your best to save some extra cash before August to mitigate some of that stress. You may have to skip on some fun parties since this will also be making an overcoming square with the Sun and Mercury in your 5th house. That doesn't mean that the need to go out and have some fun won't be there—it's much the opposite— and that's precisely what will make this time somewhat draining. There will still be some room for fun. You'll just have to be smart with your budget.
The official last Saturn and Uranus square will also be happening right after the whole triple conjunction ordeal. This one being final will bring conclusions to many situations that may have risen last year around February regarding your friends or social network. Some bridges likely need to be burned. Still, other than the drama and bickering that can come out of these situations, this will start a new era for you. This is probably a thing that has been a long time coming, and it will feel more like a weight lifted from your shoulders. With Saturn changing signs and going into your 12th house later in 2023, it will be smart to try to make any ending alliances amicable towards the end.
With that being said, October is not just all doom and gloom. The Venus cazimi happening in your 5th house later in the month will make up for some of the lost fun and excitement from the Summer. This is mostly a good transit when it comes to romance, so don't be get ready to get back into the dating scene at around that time. For those of you who are already in a committed relationship, this doesn't mean that you will be breaking up with your significant other. This is, overall, one of the most positive transits of the year. With that said, this could mean that your relationship gets more robust and more intimate. Because this happens in Libra, it also implies contracts, so some of you will likely get engaged at around that time. Alternatively, pregnancy also has some good potential—anything relationship-related, really.
At around November, the Jupiter retrograde will take Jupiter back into Pisces and your 12th house. With that, the year could feel like a strange deja-vu from last year—albeit somewhat more optimistic. This is the time to reconcile unfulfilled goals and aspirations that were set when the year first started. Since this is happening in your 12th house, taking the time to just spend some time alone may help you find comfort. The idea here is to take the time to unwind and re-center yourself after the rougher months of the year.
The end of the year will surprisingly be quite anti-climatic, given the events that precede it. Though, a little bit of normalcy won't hurt, especially after all we've been through. Take advantage of these calm waters and plan out the year ahead. 2023 will be a massive change in landscape, and so December will be a great time to get yourself acclimatized with the new world that you've built for yourself. Good luck, Aries.
Luckiest day: August 18, 2022
Get ready for a year full of growth, magic, and good fortune, Aries. Lucky planet Jupiter is touring your zodiac from May 10 to Oct. 28 — part of a transit that occurs only once every 12 years — so it's time to focus on expansion and new opportunities. One of the high points of this period will take place on Aug. 18, when Jupiter will form a harmonious trine aspect with lovely planet Venus. Venus will be lighting up your fifth house of romance, passion, and creativity at this time, so it'll be a fabulously lucky time for love and dating. This connection between the benefits will also bring loads of inspiration for artistic endeavors, so take advantage of the magic.
Aries Horoscope 2022 Overview
According to ganeshaspeaks, Love Relationships may advance & progress this year, definitely good news for Aries natives. Some of the Aries Peeps could even think of taking their relationship to a new level. Well, why not? If you are both indeed in love and are ready for commitment, nothing should stop you. Contradictorily, some natives may face delays in terms of settling down in their relationship. However, do not be disheartened as it is better to take time rather than regret it later.
Natives who have been dating for a long time may have some memorable moments this year. Likewise, the growth that you both may see in your personal life would be remarkable. You may feel proud about your relationship dynamics and chemistry. Let the air be filled with Love and only Love. Little patience is required, too, for the sake of a healthy relationship. Be patient with your partner, give them space, and try not to impose your decisions. Instead, let them make their own decisions and choices. Try to support them in their decisions as that makes your relationship much more vital.
According to the year 2022 horoscope, your love life looks like it's right out of some fairytale book. Especially the first half of the year as the months may be filled with romance, adoration & mutual understanding. However, during the middle of this year, some problems may come. Try to take the issues head-on. Think of the beautiful times that you both spend during the start of the year. In a relationship, there are always ups and downs. How well you handle the lows of the relationship is what defines your relationship.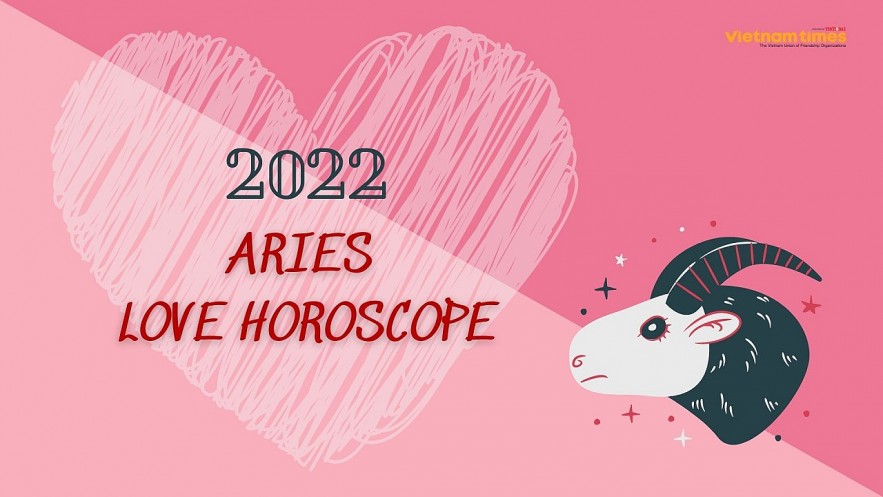 Aries Love Horoscope 2022. Photo: vietnamtimes.
Congratulations to Singles, as you might come across your ideal match after a long wait. You may be very excited and full of joy to see how it feels to be in love finally! In fact, to be in love with the right person at the right time! Go ahead, paint the city red, as this is your time and you must enjoy it thoroughly. These are the moments that you may remember for a lifetime. The foundation that you build during the initial years is how your relationship may shape.
Those who are in a live-in relationship are likely to be in a good phase this year. There is a possibility of upsetting your partner in the second phase of the year. Therefore, walk wisely in a relationship. Try not to make or repeat your mistakes. Also, dodge if possible from getting into fights and confrontations. Rather, talk the issues out, keep the communication more robust between you both—the more potent the touch, the stronger the relationship.
For those planning to add one more family member to their house, especially newly married ones, this is the ideal time to do the same. But you would need some mediation as the support of Jupiter is missing. Hence, take time and start meditating. You can also look out for meditation classes or even refer to a few meditation apps that may guide you with proper meditation. Enjoy this time with meditation, stretching, reading, and doing activities that make you feel relaxed.
According to astrotalk, the year 2022 will pan out to be smooth as butter for the Aries planning to get married or already married. Starting April 2022, due to the effect of the planet Venus, you would be blessed with new happenings in your married life. A lot of adventure awaits the newlywed couples. The ones who have been married for a while would realize how much they wish to have a life of fulfillment. Thus, be abiding by exciting plans for themselves.
Aries must realize that even though their yearly Aries love horoscope 2022 foresees that a magical love life awaits them, they have to put in the effort to maintain a healthy relationship. Aries, you have to give your partner space to grow and flourish. If your partner is in the wrong, be patient with them. Do not hold grudges or keep your feelings bottled up. No matter how complicated your feelings might be, it is always better to discuss them with your lovemate. Remember that communication is the key to any successful relationship. Learn to trust your partner and be more supportive of their decisions this year. It will help enrich your relationship in more ways than one. Your romantic life and your significant other will get you through some of the toughest times this year, suggests your yearly love horoscope 2022.
As per the 2022 love horoscope of Aries, the first few months of 2022 will be a magical journey for you and your boyfriend/girlfriend or spouse. There will be many sweet moments, and you will make many memories with each other. However, some problems may arise in your yearly love horoscope in mid-2022. But these issues can be easily overcome if you remember just how much you love your partner. Do not give up on your relationship just because things seem slightly hard. Because if you do, you will regret it forever.
There's a good chance single Aries will find that this yearly love horoscope 2022 match is a worthy partner. If you have been waiting for your ideal match all of 2021, don't worry, they will find you this year. When you find someone you genuinely like, don't be afraid to take that leap of faith. Invest in this relationship and build a strong foundation. You may get into some arguments and confrontations in the latter part of the year, but ups and downs are a parcel of every relationship. And they will only help bring you closer together.
Aries Horoscope 2022 for Money
Speaking of finances, Aries financial horoscope 2022 predictions says that you have a lot on your plate to grasp. There would be innumerable sources of earnings, investing, and savings. Aries natives, especially the ones owning a business, will have the grace of Jupiter right from the start of 2022; as the planet will transit in your house of income and wealth. So, acknowledging all of them would be the task for you in the New Year 2022. On one side, you will understand the value of money, while on the other hand, you shall save some for yourself and your luxurious lifestyle management.
Some of you can even expect a new beginning in terms of finances. In other words, you shall discover a new way of earning money, which would include your happiness as well as your passion. Moreover, the Aries men and women shall have an exceptionally pleasant and blissful time about money management in the final few months of the year. Aries people working in a foreign land may face finance-related problems at the beginning of the year.
If you work at an MNC or any other foreign firm, the chances of promotion in the first six months are a bit dim. However, the Yearly Finance horoscope 2022 for Aries tells us that you will still work hard, and the results of the same will come to you post the first six months of the year 2022. When talking of earnings from any family business, that is, certainly to remain stable throughout the year, apart from some transit periods, which we will keep you updated about in the transit section of our website.
Moreover, if you deal in any cryptocurrency, the chances of losses are high for you this year. The currency may be termed as an illegal tender. Thus AstroTalk astrologers suggest ditching the same. Finally, the students going to start a career this year will see financial gains, especially in the marketing, copywriting, and entertainment fields. The IT-related fresher may have to struggle to find a suitable start. However, when Saturn transits in the house of income and gains in April 2022, post the period, you will see a surge in your chances of finding yourself new avenues and opportunities.
According to gotohoroscope, in 2022 the Aries financial situation will have a few uncertain moments, but they won't come with those other moments of prosperity. The best advice for this year would be to be mindful of the commitments you make with others. Especially if someone is starting a business and asking for your services, try to keep some distance, just in case. If you get to wrapped around in their endeavours, their successes might be yours, but so are their failures. Especially if you're approximately 29-30 years old, take what you can, but keep your distance.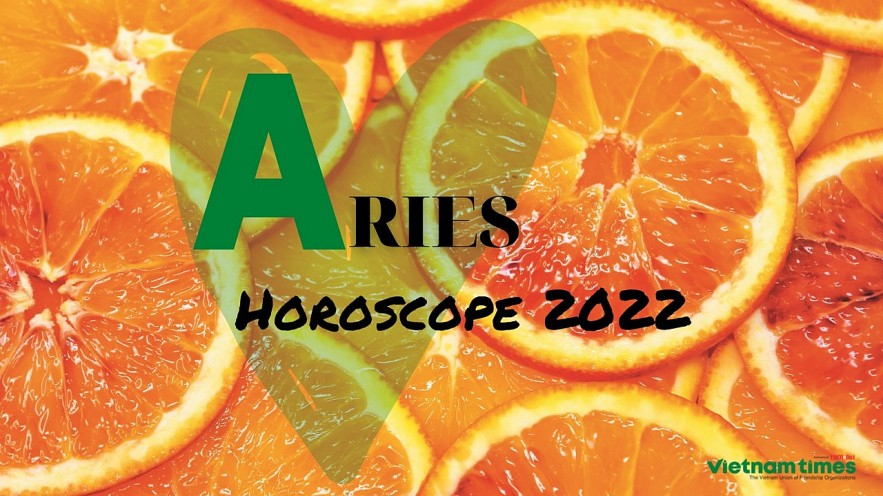 Aries Horoscope 2022: Yearly Predictions for Love, Financial, Career and Health. Photo: vietnamtimes.
Around Springtime, the profit potential is there, but it may come only through some unassisted hard work. This is especially true for those of you who were born at night and have Venus in the 12th house. Get ready to buckle up and get to business, the road there might be rocky, to say the least, but the results will definitely pay up for the challenges along the way. With that being said, it would be wise to stay away from substances at around that month due to Neptune's influence. You may end up spending too much money on ways to escape reality as a reward, but that may end up eating away a lot of your profit.
Later in the year, when Venus enters your 2nd house, inviting that cash flow may be a little easier. Venus and the North Node will be conjunct around June. This transit is incredibly productive for the night births but proceeds with caution. This upward flow of money may either come with complications or be somewhat unstable. There's a chance for it to be a one-time gig. It would be wise to invest or save some of it for a time of need. The Aries who were born during the day should be even wiser with how they spend those gains.
Considering all of these transits, 2022 looks like it's a year for the Aries to proceed with caution. The room for profit is definitely there, but external conditions may make it unstable. As much as it may seem scary, don't be discouraged; just be prepared. Be smart about the people you make associates with. And if you already share a business with somebody, get ready for some number crunching. You'll have more than one opportunity to set yourself up for success. Maybe just leave some of the more expensive purchases and investments for later. Play it safe, and it will all work out in the end.
Aries Horoscope 2022 for Career
According to Aries career 2022 horoscope, this year might give you mixed results in your professional life. This year is perfect for professional enthusiasts. They may make foreign connections too in 2022. Aries pals with unexciting career plans may face some issues. But rest easy as it goes without saying that every problem has a solution. So, how can be this problem left out?
Proper guidance would provide you with impeccable solutions as per norms related to Aries career horoscope 2022. However, the year 2022 is also good for those who are jobless or looking for new job openings. The mid-year may give you positive results if you make efforts while achieving your desired goals.
Fire signs are highly driven, ambitious people. Because, as an Aries, you're also a cardinal sign who is driven to make changes at every chance you get, you're also a born leader. Once you make up your mind about which direction you want to go, it's hard to stop you. As astrology reported, listen to other people's input, but have the confidence to stick to your own plans and follow through with your own ideas this year!
When it comes to opportunities, as astrology reported, you make your own. Rarely someone to sit back and wait for something to happen, you act (sometimes without thinking). While your spontaneous efforts don't always work out for the best (and, honestly, some can have some pretty negative results), you aren't about to make major changes to your style this year.
However, Aries, with tenacious Saturn paired with change-loving Aquarius this year, it's a signal to really consider changing things up. There are great opportunities to be had when you connect with others, so expect to hear about an exciting career opportunity through a networking group or social media.
As you already know, Aries, your ruling planet Mars starts the year in eager Sagittarius, which drives you to learn more by living in the moment and taking in all that each experience has to offer.
According to mypandit, the year 2022 is perfectly lucky for business owners. Your family members are the pillar of strength and patience for you. This may be beneficial if you are planning to extend your business activities. Those who are planning to start a new venture would find this Aries business horoscope 2022, a perfect guide for a start-up business. The year 2022 might be beneficial for big business tycoons. If they have a partnership venture, they might get expectable support from their partners.
Marketing is key for a successful business. However, you might have to spend some extra money on the branding and promotion of your business. You may think of new business deals for profitable partnerships. Be cautious while you select a partner for your new venture or you plan to expand the existing business empire. Be sharp, selective, and attentive while you invest in new business.
There are chances for travel. You may enjoy a business trip in the country or abroad as well. Also, your business trips may get cancelled. Hence, avoid mental stress and keep yourself active. Make smart moves and take wise decisions. It might help you in maintaining a cordial relationship between you and your partners.
According to Aries business horoscope 2022, the new firm might create mental stress and other problems. Hence, it would be wise to avoid new business dealings. Make sure that you save your energy for achieving success in your desired path.
Aries Horoscope 2022 for Health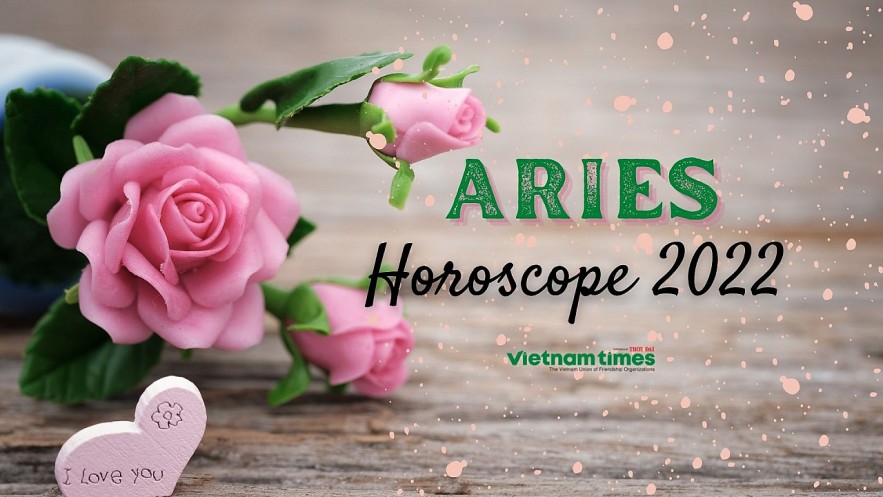 Aries Horoscope 2022: Yearly Predictions for Love, Financial, Career and Health. Photo: vietnamtimes.
Talking about the health horoscope of the Aries natives in 2022, you will need to pay attention to your health more than ever this year. Though you may not encounter harassment by a serious ailment, yet even a minor one will turn into a prolonged issue for you, says your yearly Aries health horoscope 2022. Thus it is recommended that you make needful changes in your lifestyle, or you will have to rely on medication that will do nothing but make you lazy for most of the year.
As per the yearly Aries horoscope 2022 for ill natives, you shall be relieved from any of the long-running health troubles this year. In other words, if you have suffered from some disease, Aries health horoscope 2022 foretells that with proper medication and elite doctor's advice and plan, you will get rid of your long-running ailments. Also, the final months will go in enjoying some good meals and healthy wellbeing.
Diet-conscious buddies, are you having a hard time losing or putting on weight? Well, take a deep and relaxing breath and let go of all the already made plans. Start fresh, seek advice from some trainer or a known person who has an idea of what to eat and what not to, suggests the annual Aries horoscope 2022 for diet planners. Please make sure you stick to what plans you are making and keep in mind that with food, "exercise is the key."
Eat fruits and don't skip any veggies. Avoid oily stuff and don't opt for junk food of any kind. If you already have a good life without any health ailments, you shall live the same this year. Keep in mind to be regular in your daily exercise, yoga, and meditation. With it, Aries horoscope 2022 for healthy folks says that whosoever looks after your diet in your house, you must ask them to include more veggies and less oily food. Go for a healthy eating pattern, and the year will go perfectly alright.
According to astrosage, this year is going to bring some financial strains for Aries natives. You may have to face some problems related to finance. However, after this, you will continuously move in the forward direction of progress. April to September are going to be very good for your income. According to Aries wealth horoscope 2022, the transit of Jupiter will strengthen you financially and make you free from all kinds of mental troubles.
By the end of the year, you will see good progress in your wealth and profit as per Aries Wealth and Profit Horoscope 2022. The presence of Rahu in the first house of your zodiac at the end of the year will give you multiple opportunities to earn money. At this time your expenses will also be increased because you will spend a lot of money on your illness. Hence it is advised that the Aries should not forget that saving money is very important for them.
On a positive note, as far as physical health goes, things look blameless. It's always good to keep a regular exercise routine, but there aren't many transits that seem threatening to that area. With that said, the Mercury retrograde of September could bring up minor upsets to the digestive system. This is mostly only true if you have either Saturn or (especially) Mars in your 6th house. Though, all Aries could benefit from avoiding getting too adventurous with their diet through September.
This year ahead's motto is "effort pays." Not that Aries has to ever worry about getting down to work and showing up for themselves, but 2022 more than ever will show you that if you put in the effort to your vices, whether they're psychoactive or not, will deliver incredible results. If this is your New Years' resolution, know that the 1st few months will be the most challenging, but diligence is your best friend. Good luck with making new habits, Aries!
Will 2022 be lucky for the Aries?
As per the Aries horoscope 2022, the year 2022 for Aries will be a joyous one. You will have a lot of opportunities to look forward to and these will help you become successful. On the other hand, there will also be adventure, drama and a lot of fun activities awaiting your response in 2022. All you need is a bit of discipline to nail the year 2022.
Will Aries get married in 2022?
Yes, the year 2022 marriage horoscope for Aries states that many Arians will tie the knot this year without hurdles.
Will Aries acquire wealth in 2022?
As per Aries finance horoscope 2022, if you have discipline and the virtue of patience, you may make good money from multiple sources. Look for investment opportunities that you know exist but you haven't paid attention to till now. This will help the Aries natives. Tension on the homefront will demand that you rein your expenses.
Is 2022 good for Aries?
As per astrology predictions, the year 2022 will be a favourable one for Aries natives.