Daily Horoscope June 13: Astrological Prediction for Zodiac Signs with Love, Money, Career and Health
Daily Horoscope for June 13: This is an energetically intense day. The cosmos is creating a lot of friction that will affect us over the long term.
Daily Planetary Overview
Venus in Cancer and Uranus in Taurus add a bit of unpredictability around financial matters and relationships. It's a time when the unexpected can come to fruition. It's crucial to accept your unique way of expressing your heart as well as the way those you care about declare their affection.
The Gemini sun squares off with Neptune in Pisces tonight. When these two planets share a frenetic astrological aspect, we can expect uncertainty, confusion, sentimentality, exhaustion, and emotional ambiguity.
Conversely, we could also feel as though we're living in our very own fairy tale. Life could feel like a dream or a nightmare, depending on how you look at it. Paranoia, fear, and repressed memories could come out of hiding, causing you to be lost at sea with your emotions. The fog could consume you, but the only way out is to live in your own reality even if it isn't the truth.
Venus also shares a minor aspect with Saturn, which adds a restrictive and less fluid vibe to romance. This might stifle declarations of love for the time being as the truest and deepest feelings in relationships are assessed.
Daily Zodiac Horoscope for June 13
Aries
The first sign of the Zodiac, Aries are the trailblazers. Passionate and independent, Aries will never do something just because everyone else is doing it—a Ram needs to be 100 percent committed to the task at hand.
Love Horoscope - There is a lot of good humor around with today's astral energy. But if you want to truly impress someone, then don't overdo it, as you may put them off, rather than turn them on. It is difficult for you not to attempt to raise a smile wherever you are, but there is a time and a place for everything. With this person, it is best to be subtler.
Money Horoscope - Two different aspects overlap today to create an opportunity to regroup. At the same time that a clash between the Moon and Pluto delivers its monthly work/life balance reminders, an alignment between Uranus and Ceres is getting to the heart of your income needs and priorities. Together this is giving you a better sense of how to manage your time.
Career Horoscope - Be conservative with your words today. If you are not careful, you are apt to give something away that you shouldn't. In short, you have some special information that someone else wants. Use this to your advantage. Your secrets are valuable.
Health Horoscope - Your ability to manage your busy life has a lot to do with what you eat and drink, whether you exercise regularly, and how you take care of your bodily needs. Take a clear look at your eating habits and your exercise regimen. Can you prepare your own meals more often, starting from scratch, instead of just getting takeout or heating a prepared meal? Can you add some more vegetables instead of adding a second helping of meat? It is the little things that can stand in your way to a healthier lifestyle. Being aware is the first step.
Taurus
Smart, ambitious, and trustworthy, Taurus is the anchor of the Zodiac. Amazing friends, colleagues, and partners, Taureans value honesty above all else and are proud that their personal relationships tend to be drama free.
Love Horoscope - The current planetary energy will certainly brighten up your life, especially where romance is concerned. You tend to have a very dry sense of humor, so it is sometimes hard for others to tell whether you are joking or not. Yet you will have a conversation with a certain person who not only understands your jokes but can give as good as they get. You will deeply appreciate all they have to offer.
Money Horoscope - A download of information and insight from both an eclipsing New Moon in your income sector and an alignment between the Sun and Mercury needs time to digest. As Mercury moves into his final 10 days in retrograde motion, the weekend is the perfect chance to reflect and especially on his view through the rear view mirror.
Career Horoscope - Have a mediator or some sort of third party listen in today while discussing important matters with someone else on the job. There will be details that neither one of you may have thought to consider. Invite someone you trust to join in to facilitate.
Health Horoscope - It's impossible to independently satisfy all of your own needs and curiosities, because as human beings we are intricately dependent on each other. But you can come pretty close through managing your own health. Health is not only illness-prevention; it is the various natural highs you get from eating the right diet and exercising regularly that help make life grand. The astral energy is encouraging you to take care of yourself. Go for the natural high!
Gemini
Smart, passionate, and dynamic, Gemini is characterized by the Twins, Castor and Pollux, and is known for having two different sides they can display to the world. Expert communicators, Gemini is the chameleon of the Zodiac, adept at blending into different groups based on the vibe and energy they perceive.
Love Horoscope - Whatever you do, you can't stay in and do nothing - not with today's planetary energy. You absolutely have to wear your best clothes and get out, even if it's for a little while. If you're able to socialize with others, you are guaranteed to have lots and lots of fun. You will also inevitably meet others who love to talk endlessly about all the secrets and mysteries of the universe, much as you do.
Money Horoscope - Mars' departure from your income sector yesterday may have taken the warrior planet of the cosmos out of the game but his warrior spirit is in safe hands. It is the roadblocks and barriers, whether real or imagined that Venus and the Sun, now just over a week away, will continue to benefit from. The most potentially lucrative weeks of 2021 are still in front of you.
Career Horoscope - Today's energy is working in your favor. The success that you have been waiting for is at hand. The key to this has to do with having a more critical eye of your own work. Don't be afraid to condense and consolidate. The results will be phenomenal.
Health Horoscope - It is only natural that you desire to do the right thing. However, it's not always easy to know what the right thing is! Today's planetary energy allows you to explore what is right for you. It's up to you to set the limits around what you eat; here are some guidelines to help you: The skeletal system and the skin, as well as hair, teeth, nails, the inner ear, and the knees are supported by nutrient-rich sea vegetables, like kelp. Try to become knowledgeable about the specifics of a healthy diet - it can be fun, too!
Cancer
Emotional, intuitive, and practically psychic; ruled by the moon and characterized by the crab, Cancer has so much going on in its watery depths. Cancers may seem prickly and standoffish at the first meeting, once they make the decision to become friends with someone, that person has a friend for life.
Love Horoscope - The astral energy encourages you to invite a few friends around for an impromptu party, if possible, so that you and a loved one can relax in good company and enjoy an evening of tales and jokes. If that's not possible, then do the same, alone, with oysters, champagne, and an aromatic hot tub thrown in for good measure. You WILL want to repeat this experience.
Money Horoscope - Knowing that the Moon will return to your income sector tomorrow, Mars' first full day is more a chance to get your bearings. Mars has returned to get things moving on the income front and while he is urging you to fight for what you deserve it can't just be about the money. Across all the currencies in your life, pay attention to where you are now starting to expect more.
Career Horoscope - Someone you work with is out of line. He or she has overstepped his or her boundaries and is simply not acting in an appropriate manner. Don't be afraid to address this situation with a person of higher authority. You have every right to do so.
Health Horoscope - The planets are forming a pleasant and potentially illuminating aspect! This configuration will gently alleviate the anxiety that can block you from understanding your true nature. A light workout, preferably including yoga, will open you to the benefits of this transit by putting your mind on hold, and allowing your body to assert its natural rhythms. Always follow up exercise with drinking plenty of water. Enjoy the enlightenment!
Leo
Bold, intelligent, warm, and courageous, fire sign Leois a natural leader of the Zodiac, ready to blaze a trail, vanquish injustice, and make a name for themselves along the way. Blessed with high self-esteem, Lions know that they possess enviable traits—and they're proud of them.
Love Horoscope - It is your great sense of humor that comes to the rescue in terms of one significant relationship. Today's aspect gives you just the edge you need in the communications department to help you to get around a certain argument that a loved one may put forward. You won't win by trying to force the issue, or by burying your head in the sand, but by making them laugh.
Money Horoscope - The Moon is wrapping up an eventful visit to an intuitive and imaginative part of your chart with a friendly aspect to Neptune in your financial sector. After an encounter with Venus, the planet of money yesterday and with lucky Jupiter the day before, it is the planet of dreams that the Moon connects with last and with it a chance to inspire your financial imagination.
Career Horoscope - Your overall confidence is strong. You are at a high point with regard to your career so embrace your inner strength. Ideas from someone older and/or more experienced than you are likely to prove extremely valuable today so heed his or her advice.
Health Horoscope - Thanks to the day's planetary configuration, you will intuitively sense the state of world affairs. This aspect sends messages of brotherly love, and in many cases, meets with resistance. Give yourself the benefit of a healthy lifestyle during this critical time in the human story. A healthy lifestyle includes plenty of rest because an overactive mind can take you away from the basics. Rest, diet, and exercise should be your mantra during trying times.
Virgo
Smart, sophisticated, and kind, Virgo gets the job done without complaining. Virgos are amazing friends, always there to lend a hand and also lend advice. Practical Virgos are incredibly adept at big picture thinking, and planning out their life, their vacations, and what they're going to do today isn't a drag it makes them feel in control and secure.
Love Horoscope - The current astral configuration will certainly give you all the powers of conversation that you could possibly need in order to persuade a very desirable person of the fact that you appreciate them deeply. Up until today you may have found yourself tongue-tied, but all of suddenly the verbal floodgates are opened, and you are able to discuss just about anything with flare, confidence, and wit.
Money Horoscope - For different but in both cases for indirect reasons, there is cause for confidence on both sides of the financial fence. This is less about what is and more a sense that the conditions ahead are favourable and that the pieces are falling into place. On the income side of the financial fence, this is a result of things coming together professionally while on the other side of the fence there is a less defined but just as valid reason for confidence.
Career Horoscope - There is a good balance of old and new ideas filtering through your head today, making it easier for you to make an educated decision on your next major career move. Don't be afraid to embrace a new idea while paying attention to older traditions.
Health Horoscope - The feeling that you can accomplish all that you set out to do is strong today. Make a point of centering yourself. Whether this is with a yoga session or a walk with the dog, it will be the apex of your day. With focus, you can channel your energy into the higher power that it truly is. You will relish feeling passionate about those you love, and for causes you champion. Give yourself the benefit of drinking lots of water: the time and effort it takes can center you.
Libra
Intelligent, kind, and always willing to put others before themselves, Libras value harmony in all forms. Ruled by Venus, the planet of beauty, Libra adores a life that looks good. As the master of compromise and diplomacy, Libra is adept at seeing all points of view and excels at crafting compromises and effecting mediation between others.
Love Horoscope - It seems that you can't fail today, with the interplay of planetary energies on your side. Whatever romantic interactions you have, you will find that they are extremely successful, and that you are clearly someone else's main priority. Because of your supreme confidence, you may find that one particular person is extremely attracted to you and wants to engage you in some artful conversation. Right now, you have nothing to lose.
Money Horoscope - At the same time that the Moon and Venus regroup after Mars' departure from your career sector yesterday, there is a chance to adjust to a new driving force. While you will continue to benefit from the doors that Mars has opened, as the planet of money, Venus can now focus more on fuelling your professional confidence, attracting opportunities and steering things in a lucrative direction.
Career Horoscope - Today is a good day for you to weed through your desk and get more organized. You may have offers and papers from weeks or months ago. This information is valuable only if it is organized. Establish a filing system that works to fit your needs.
Health Horoscope - When creating your healthy lifestyle, it's important to set specific goals within a specific timeframe. Be careful, however, not to over-estimate your goals or to expect immediate results. Focus instead on taking some action each day, no matter how small. Once you've got this going, you will be able to shift the focus to what else is important to you. You may need more in your life to balance your personal health goals. Is there a volunteer organization that appeals to you?
Scorpio
Passionate, independent, and unafraid to blaze their own trail no matter what others think, Scorpios make a statement wherever they go. They love debates, aren't afraid of controversy, and won't back down from a debate.
Love Horoscope - The current astral alignment indicates that your love life may blossom in relation to your spirituality. Perhaps you will bond with someone over your shared love of meditation or yoga. This blending of minds and hearts certainly seems to occur while you are away from your normal daily routine. It will be deeply satisfying to both of you.
Money Horoscope - At the same time that the Sun prepares to move into his final week in your financial sector tomorrow, Mercury moves into his final 10 days in retrograde motion here. Two days after aligning but now moving in opposite directions, the gap between the two is widening but in the process, when it comes to your financial situation and money matters a view of where you have been and where to from here is becoming clearer by the day.
Career Horoscope - You are starting to see the light on a problem that you have been wrestling with in association with your career. Long-term goals that seemed impossible are now within your reach. Pay attention to what others say today. The answer is there.
Health Horoscope - There are, thankfully, many ways to keep routine and structure interesting. If you are someone who enjoys yoga, there are many different methods to choose from, and different positions to choose from within one method. If you enjoy running or walking, there are as many paths to take as there are days in the year. Keep variety as part of your routine so that you do not get bored. It's best to limit your choice of times, however: choose a morning and an evening time and alternate between them.
Sagittarius
Independent and strong-willed, Sagittarius personalities are all about going off the beaten path. Sagittarius isn't afraid to step away from the pack and is a natural-born leader who goes after what he or she wants, regardless of what other people think.
Love Horoscope - All kinds of activities are meaningful for you, with today's scintillating celestial energy. If you are already involved in a wonderful partnership, then you will find the people you interact with enhance your current relationship no end. If you are looking for companionship, then all you need do is become involved in conversation and see what happens next. You could be in for a big surprise.
Money Horoscope - With the Moon still in your financial sector after Mars' departure yesterday but gone by tomorrow, it is by listening to your financial instincts and imagination that you will get a better read on his legacy but also of Venus, the planet of money's influence. As Venus moves into her final two weeks it becomes more about where you want to channel Mars' financial passions and fighting spirit.
Career Horoscope - Pay special attention to any document or contract that you come in contact with today. Scrutinize it thoroughly before committing yourself to it. When it comes to any sort of paperwork, it is to your advantage to have a more critical eye than usual.
Health Horoscope - Do you find that when you treat yourself better, the world is a better place? In order to take better care of yourself, take a close look at what you consume on a daily basis. It's important to keep weeding out the unhealthy habits, especially as you get older. You like to nibble, so be sure you have healthful things to nibble on rather than junk food. Dried cranberries are fun and tasty, as are pistachios. Dried papaya is a good friend too, as it aids in the breakdown of protein.
Capricorn
Smart, hardworking, and fully in control of their destiny, a Capricorn will always get what they set their mind to, in both personal and professional life—no excuses. Capricorns may get a reputation as stubborn, but they simply know what they want, and also know how they wish other people would behave.
Love Horoscope - Today's aspect significantly broadens your horizons. You may strike up an interesting conversation about literary topics like your favorite classic novels or the hottest best-seller. But the discussion is likely to continue for far longer than you initially imagined. It could take a long time for you both to actually complete it. Before you know it, you'll be dating on a regular basis.
Money Horoscope - Because the Moon will return to your financial sector tomorrow, giving you a better read on the impact of Mars' return, the warrior planet's first full day is fairly low key. This gives you time to adjust to having Mars' warrior spirit influencing your financial situation and money matters for the first time in two years, with no hurry to take this for a test drive just yet.
Career Horoscope - While talking on the phone with someone today, make sure that all the details are clear. You may get stuck with the short end of the stick unless you completely understand the full restrictions and conditions associated with the matter at hand.
Health Horoscope - Once you feel comfortable looking into your personal habits, take a trip into the kitchen. Do you have what it takes in there to prepare your own nutritious meals? It's important to feel comfortable in your own kitchen; it means you are ready to take control of what you eat. Even if you only cook one meal a week, you will begin to learn the process by which you nourish yourself intelligently. Make your kitchen a priority in the home-decorating budget!
Aquarius
Independent and enigmatical, Aquarians are unique. There is no one quite like an Aquarius, and because each is so incredibly individual, it can be tough to describe them as a group. Aquarians don't like labels, and may shy away from any adjective—even the good ones you might bestow upon them.
Love Horoscope - Romance is very much a matter of humor, especially with the current astral energy. Although you are more concerned with image and looks than with making others laugh, it is your particular approach to life that seems to have someone really gorgeous in stitches. You obviously have a lot to share and discover about each other - and looking on the bright side helps a lot. Good times lie ahead.
Money Horoscope - While the Moon's friendly aspect to Neptune in your income sector is a monthly event, the same friendly aspect to Jupiter two days ago and alignment with Venus yesterday is anything but. A day after Mars left your work sector, the Moon has been acting as a bridge for the planets of money, luck and dreams as they bring income and job matters into lockstep.
Career Horoscope - Someone is pulling your chain regarding work today. Be careful of retaliating in too harsh of a manner. You may find that your hand gets slapped harder than the person who started the whole thing. Take the high road and you will remain on top.
Health Horoscope - Today's astral configuration can help you understand the value of authenticity. There is no sense in wasting effort on schemes that ultimately don't matter to you! Knowing what healthy foods you like to eat is the first step in learning how to prepare them. The exercises that make you sweat, what makes you really relax, and what makes you laugh are things only you can know. Tap into this way of thinking and you will have an easier time building up your own healthful practices.
Pisces
Smart, creative, and deeply intuitive, Pisces can be close to psychic. Pisces feel things deeply and have incredibly strong gut reactions. A Pisces "knows" things from deep within, and can often judge whether a person or situation is good or bad.
Love Horoscope - The current aspect means you have a wonderful opportunity to make amends with your partner (current or prospective) after a time when you may have found it difficult to communicate properly. You will realize the folly of your ways and find the confidence and warm-heartedness to approach each other from a more positive stance. Take the time to have some fun, as laughter will work wonders for you both.
Money Horoscope - Knowing that the Moon's return to your work sector tomorrow will not only give you a better read on the impact of Mars' return yesterday on work and job matters but on income and career matters as well, you can afford to take a wait and see approach. Your sixth sense will be telling you that something has shifted but with a better read on the implications across the income, work and career fronts from tomorrow.
Career Horoscope - Someone is likely to poke holes in a brilliant new idea that you may have just come up with. Don't throw in the towel just yet. Use this new information to modify your plan instead of trashing it altogether. You are on to something big.
Health Horoscope - Take a look at what matters most to you in the world. Somewhere on your list is probably a sense of well-being for all, and a safe community for our children to grow up in. One of the ways you can balance your own needs and the needs of the community is through participation in organic farming. Consider getting knowledgeable about the issues surrounding organic farming. Being aware of what you can do will add to your sense of well-being. Buying organic is a political statement as well as a nutritional one!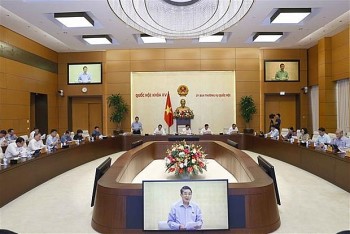 National
The National Assembly (NA) Standing Committee examined the draft revised Law on Protection of Consumer Rights on August 15 as part of its monthly session.