Daily Horoscope June 9: Astrological Prediction for Zodiac Signs with Love, Money, Career and Health
Daily Horoscope June 9: Today is a day to stick to the routine, make plans, and try not to give in to anyone's demands. You have set out on this path for a specific purpose. The Gemini moon, connecting with Saturn retrograde in Aquarius, urges us to turn our goals into reality. Making lists and checking them twice helps to counteract the scatterbrained, airy vibe.
Daily Planetary Overview
Someone's lesson for you might just be about following your own path. There is a need to go your own way as well as try to bring your friends along with you. For now, this isn't a group effort. Instead, it's the perfect day to plan your future. Paying careful attention to your emotional habits can help propel you to the next level. Making sure you keep yourself on track is what helps you restore your personal energy and keeps you from resenting those who tried to exert their power over you in the past.
There is also a strong spiritual aspect here that makes you a more solid presence in the game. This is a short-term transit, and right now you can shift your evolutionary path from a more constructive stance if you think about how to make the necessary changes to elevate your life in a mature way.
Daily Zodiac Horoscope for June 9
Aries
The first sign of the Zodiac, Aries are the trailblazers. Passionate and independent, Aries will never do something just because everyone else is doing it—a Ram needs to be 100 percent committed to the task at hand.
Love Horoscope - If you've never met someone in person, then you may hold a false image about what this person will be like. The astral configuration implies that you have built up your hopes and feel they could be perfect. However, you will need to get to know them for quite some time before you can judge whether they are really right for you or not.
Money Horoscope - Now is the time to reach out and network with others, Aries! The Moon is in Gemini and encouraging you to concentrate on your connections with others as this is a positive time of communication. New financial ideas can be generated from discussions today so keep yourself occupied with the long-term goals. It is possible you may talk to like-minded individuals with whom you can work with in the coming future to help you achieve your plans. Don't keep yourself to yourself today. Reach out and let your voice be your guide, Aries.
Career Horoscope - Your patience has paid off and finally you are reaping the rewards of the hard work you have been doing. Don't stop now! Today is a good day to plant the seeds for future success, but don't forget to stop and reward yourself for how far you've come.
Health Horoscope - The current planetary configuration gives us a chance to pull out the physical and emotional needs of our inner child - the need to be nurtured, the need to be fed and well taken care of - into the structure of our waking hours. It helps us to implement what we want in our lives. Therefore, this is an auspicious time for making known to yourself what will help you feel more secure in your life. Ask yourself: what do you need in order to feel good?
Taurus
Smart, ambitious, and trustworthy, Taurus is the anchor of the Zodiac. Amazing friends, colleagues, and partners, Taureans value honesty above all else and are proud that their personal relationships tend to be drama free.
Love Horoscope - Current astral energies could confuse certain issues within a close relationship that had been fairly clear. You both enjoy being together but may not be able to come to any decisions about how you would like to progress in the future. Don't fret about this now, as this will make matters even more muddy between you, just enjoy what you have today. Tomorrow will take care of itself.
Money Horoscope - This is a positive day of finances for you, Taurus, and you may experience a few joyful moments. Doing things by the rule book is the way you have always felt comfortable and you will find during these current universal energies that it pays off. Other people may seek your wisdom and guidance at this time. This is a day when you are able to help others a great deal. Maintaining inner harmony is also important for you. Taking a stroll among nature and practicing yoga and meditation are great ways for you to maintain inner balance and peace, Taurus.
Career Horoscope - Organize the data you have instead of actively trying to collect more. Sort, label, arrange, and classify instead of accumulating more atop the mounting pile on your desk. Doing so will make you much more prepared for events and opportunities ahead.
Health Horoscope - The day's planetary aspect is best summed up with the image of Cupid, except that the recipient of all your ardor will probably be yourself. Doing what you need to do to nurture yourself properly is what this aspect is all about. Once acknowledged, you usually have no problem with execution. There is no point gained by a beautiful throw that misses the target! Look at your health regimen and ask what you can give yourself to improve your well-being.
Gemini
Smart, passionate, and dynamic, Gemini is characterized by the Twins, Castor and Pollux, and is known for having two different sides they can display to the world. Expert communicators, Gemini is the chameleon of the Zodiac, adept at blending into different groups based on the vibe and energy they perceive.
Love Horoscope - Don't let certain dazzling attributes blind you to the reality of someone that you have recently become involved with. The planetary alignment means that you may not be seeing the whole truth about them, and certainly should not make any snap decisions about the way your relationship should progress in the near future. Be prepared to find out what they are really made of first.
Money Horoscope - Today brings the question: What is your relationship to money like, Gemini? With the Moon in your sign, you are encouraged to think about the impact that money has on you and the ways you may be able to improve your relationship with your finances. You can also benefit from making plans in the coming future to enable you to be more stable. You run the risk today of impulse-spending, especially on nice things! Be cautious as this is a time period that encourages caution. Keep saving for a rainy day and if you need to sacrifice something nice for long-term gain then go with it, Gemini.
Career Horoscope - Arrange a talk with an associate or employer that you need to speak frankly with. There is no need to hide your frustration with this person any longer. Your gentle, sensitive, and compassionate approach will smooth the wrinkles in your relationship.
Health Horoscope - The astral configuration that is forming may bring up old, familiar feelings. There may have been many days like this in your life. You seem to know your intentions, but the impact of your words and actions can leave people feeling confused, and sometimes afraid of you. The key is to recognize your own intensity and nurture it with things you do solo: skydiving or other risk-taking activities being prime examples. Get your daily dose of exercise.
Cancer
Emotional, intuitive, and practically psychic; ruled by the moon and characterized by the crab, Cancer has so much going on in its watery depths. Cancers may seem prickly and standoffish at the first meeting, once they make the decision to become friends with someone, that person has a friend for life.
Love Horoscope - The current astral environment may mean that you confuse what someone close is saying to you or trying to convey to you. If you are able to be out and about, then don't immediately assume that just because a certain very desirable person is talking and smiling, nodding and apparently taking a very serious interest, that they want to date you as a result. Wait before jumping to any embarrassing conclusions.
Money Horoscope - With the Moon in Gemini, you may feel a little inclined to keep yourself to yourself today, Cancer, and this is a day when you may feel like your head is in the clouds a little! A distorted view of your finances may occur so it is important to stay grounded at the moment. Impulse-spending is a risk so ground yourself with crystals such as clear quartz and shungite. Spending time among nature is likewise helpful for you. Meditation and yoga can be especially beneficial for you today, Cancer. The New Moon appears tomorrow so think about the changes you wish to manifest in your life.
Career Horoscope - You are likely to be up against some tough defense today while you work. You are shooting for a goal, but the referee is calling a foul. Instead of losing fans by creating a scene on the field, calmly review the rules and stick to them.
Health Horoscope - You have the determination and persistence to succeed in whatever you take on. Don't allow your inner fears to dominate. Today's planetary configuration asks you to look at your needs and to assess whether they are respected in the schedule you keep. Do you have healthy food in your fridge and cupboards? Are you able to consistently exercise and get a good night's sleep? Your health needs dictate the daily schedule you should follow.
Leo
Bold, intelligent, warm, and courageous, fire sign Leois a natural leader of the Zodiac, ready to blaze a trail, vanquish injustice, and make a name for themselves along the way. Blessed with high self-esteem, Lions know that they possess enviable traits—and they're proud of them.
Love Horoscope - The current astral environment may indicate that someone you are just getting to know has very different values from yourself, and this may highlight a clash. You could both get on if you respect that you are essentially not on the same page and so enjoy learning more about how you both tick. But don't expect to share the same ideas or ideals. You could still have a great time together, though.
Money Horoscope - Tomorrow brings the New Moon Solar Eclipse, Leo, making it the perfect time for manifestation and considering your options financially. You may feel a bit confused at this time and it's possible you run the risk of a few mistakes here and there - be sure to check every little detail, especially when signing things off, and ensure to read the fine print. There is tremendous potential under this lunar energy so think about the changes you wish to see and spend some time writing down your intentions. The universe wants you to succeed, Leo!
Career Horoscope - You will make a major breakthrough in your work today. Most likely, this will happen through the pursuit of more traditional methods. This is not the day to experiment with new techniques when the tried and true works just as well.
Health Horoscope - Once you have formed an opinion, you usually stick to it. Your goal in life is to develop true self-confidence that comes from within. Your independence of thought enables you to find the right path leading to a good balance, but you tend to easily lose it in a moment of eccentricity. The best practice to combat this is regular yoga: the gentle firming up of your muscles accompanied by the gentle release of negative energy.
Virgo
Smart, sophisticated, and kind, Virgo gets the job done without complaining. Virgos are amazing friends, always there to lend a hand and also lend advice. Practical Virgos are incredibly adept at big picture thinking, and planning out their life, their vacations, and what they're going to do today isn't a drag it makes them feel in control and secure.
Love Horoscope - Don't get led in the wrong direction today by the intense interplay of planetary energies. If you are just beginning a new affair with someone about whom you know very little, then you may find that they are not quite what you expected, and perhaps you are not what they expected either. Perhaps it is best to be honest with each other and modify the way that you relate.
Money Horoscope - The New Moon Solar Eclipse appears tomorrow, Virgo, and this marks a powerful time of transformation for you. It is important for you to take time today to unwind and assess your situation. There are big changes coming up and you have big plans. For now, it is a good idea to discuss them with everyone involved and do a bit of brainstorming. This is a positive time for communication, so take your time today to reach out for advice where necessary and think about how you can manifest the reality you want to see with the upcoming lunar energies.
Career Horoscope - Get your ideas down on paper instead of letting them fly out the opposite ear they went in. Make sure that this isn't a piece of scrap paper that will soon get tossed accidentally in the wastebasket. Your ideas are good - use today to organize them.
Health Horoscope - The day's astral energy emphasizes your changeable nature. The key here is to keep your balance as you accept all the challenges that life presents and succeed. You know that your sensitive nature needs to be taken care of especially well in times of stress. Do what you love best. Take some time out, lie back, listen to the music you love and let your imagination take you places.
Libra
Intelligent, kind, and always willing to put others before themselves, Libras value harmony in all forms. Ruled by Venus, the planet of beauty, Libra adores a life that looks good. As the master of compromise and diplomacy, Libra is adept at seeing all points of view and excels at crafting compromises and effecting mediation between others.
Love Horoscope - The current aspect at play gives you an opportunity to see someone close to you in a new light. The only problem is that you may have to adjust your former ideas about them, as these now prove to be something of an illusion. This brings you nearer in one way, and yet in another creates more distance. By talking, you will once again meet on common ground.
Money Horoscope - Some changes are on the way, Libra, and at this time it is important for you to save as much as you can and not engage in any reckless spending. You might hit a few bumps here and there, but just remember that the universe has your back. Have faith that everything will work out for the best. You may need to make a few adjustments here and there to your finances and that is OK. Take time today under this Gemini Moon to consider your options and think about the changes you wish to see in the coming future.
Career Horoscope - Work situations are not going your way today and the more you try to push to have things under your control, the more resistance you will encounter. Calm down and be patient. Remember that the only person you can control is yourself.
Health Horoscope - The current planetary aspect may have you feeling that there is no way to approach feelings without there being any trouble. You may experience other people's feelings as obstacles, or somehow too much to deal with. Your own feelings may seem out of reach or overwhelming. Try to take some quiet time to center yourself and find your emotional core. Any element's hold on you is stronger when you are unaware of it, so try to pay attention to what you are feeling by getting some kind of exercise.
Scorpio
Passionate, independent, and unafraid to blaze their own trail no matter what others think, Scorpios make a statement wherever they go. They love debates, aren't afraid of controversy, and won't back down from a debate.
Love Horoscope - Don't worry if you are not quite sure about how your current relationship is progressing. Today's astral alignment means you could discover over the course of the day that you have been wondering whether they really care about you or not. Your intuition tells you that they do very much, and yet their actions at the moment may not seem to reflect this. Trust what your heart is telling you.
Money Horoscope - Now is the time to think about your various options, Scorpio, as this is a positive day for your finances and with the upcoming powerful lunar energies, this is a great time to think about what you want to manifest in your life. You've likely hit a few bumps in the road but your fortunes are set to change. Positive thinking is key, as what you give out, you will inevitably attract. Tomorrow's New Moon Solar Eclipse brings the chance for something special. Great change is on the horizon for you, Scorpio. Take time today to assess, as this is a day of contemplation and figuring out what you really need.
Career Horoscope - You will feel the annoying pull of reality telling you to be more practical with your ideas. Today this is not a bad idea. You will be surprised at what you find when you take the time to be more realistic and think through an idea to its conclusion.
Health Horoscope - Given the current astral energy, you might be hearing the voice ringing in everyone's head: "Enough! I want what I want, and I want it now!" If this brings apprehension, it's because the day's planetary aspect is not through with you yet. Whatever the limitations you have been incorporating into your life may be, they need to be closely examined. Ask yourself if you are doing the best that you can in your self-care, particularly when it comes to your health.
Sagittarius
Independent and strong-willed, Sagittarius personalities are all about going off the beaten path. Sagittarius isn't afraid to step away from the pack and is a natural-born leader who goes after what he or she wants, regardless of what other people think.
Love Horoscope - The current planetary alignment enables you to pretend up to a point, but will it actually help you in your current situation? If you have any ideas about how your adopted behavior may change your current relationship for the better or keep a certain person by your side when they do not really want to be there, then it would be better to think again. Why can't you be yourself?
Money Horoscope - Luck is on your side today, Sag, do you may be feeling a little more boisterous and ready to take on your plans! Positive energy is in the air surrounding your relationships so this is a good time to have financial discussions. Reaching out for financial advice can be especially fruitful for you today. Believing in yourself is important at this time. Whatever you dream you can do. This is a powerful time for manifestation so think about what you want to draw into your life. You have the ability to create the life you want, Sag, so be sure not to doubt yourself!
Career Horoscope - You will make huge strides towards your career goals today so don't give up before you've even gotten started. If you are seeking a new job, chances are you will find one. At the very least, all interviews with potential employers will go extremely well.
Health Horoscope - For some time, you've been sensing a basic indecisiveness in yourself and the rest of the world. The astral energy is giving those who are sensitive the feeling that things could change any time. This day's aspect tickles your desire to make things all right for everyone you care about. The lesson you need to glean from this is to care for your own needs first. Be certain to drink plenty of water, take vitamins, and exercise on a daily basis.
Capricorn
Smart, hardworking, and fully in control of their destiny, a Capricorn will always get what they set their mind to, in both personal and professional life—no excuses. Capricorns may get a reputation as stubborn, but they simply know what they want, and also know how they wish other people would behave.
Love Horoscope - The current astral energy enables you to see just how far you have become hooked into this current relationship, and whether this is healthy for you or not. It is fine if you are both happy with each other's company and are making progress, but if one or both of you are holding something back, then it is better to be honest with each other.
Money Horoscope - This is a positive time to focus on your health and well-being and it may be worth spending on products to help you find greater physical and mental balance at this time, Capricorn. The Moon is in Gemini today, encouraging you to think of new ways of doing things. This is also a day of fortune for you, Capricorn. Keep an eye on nooks and crannies in your environment because you may just find forgotten coins or notes you thought you'd lost! Maintaining inner balance through meditation and yoga. Spending time among nature is especially helpful for you and can bring you inner peace and grounding.
Career Horoscope - You may get a slap on the wrist today for not being as reliable and practical as some of your co-workers. Don't let this get you down. Meanwhile, consider moving to another job in which you can set your own schedule and have more overall freedom.
Health Horoscope - Your feelings will guide you if you will let them. There is a temptation to go the route that will win the most approval, but it would be in your best interest to start opening up to approval from within. Getting to do what you want is an option you give yourself - it has nothing to do with outside approval. Thus, consider your body and how you feel in it today. Is there some nagging health issue that you wish were not there? Begin by addressing your problem areas.
Aquarius
Independent and enigmatical, Aquarians are unique. There is no one quite like an Aquarius, and because each is so incredibly individual, it can be tough to describe them as a group. Aquarians don't like labels, and may shy away from any adjective—even the good ones you might bestow upon them.
Love Horoscope - There is Romance, and there is romance, and it is the more dubious kind that you need to be aware of with the current aspect at play. If someone tries to flatter you and get you into a frame of mind to accept certain suggestions about becoming involved with them, then don't allow yourself to be led down this road unless you are sure it is something you want as well.
Money Horoscope - Today is an excellent time to pursue new activities and embrace your creativity, Aquarius. Think about the positive changes you wish to make, for new opportunities are upon you. Your finances can benefit from new plans and a new way of thinking. If the old way of doing things no longer works, it's time to consider new options that can help you. Reach out to others to have financial discussions as this is a good way to get a new perspective. The advice you receive today can be very rewarding for you in the coming future.
Career Horoscope - Positive affirmations of others regarding your skills will have a wonderful rippling effect today. A friendly comment and a compliment on someone else's work will create a fantastic sense of camaraderie that everyone will enjoy and thank you for.
Health Horoscope - Usually, you are a pretty happy and healthy individual. As long as you are in the spotlight and feel the admiration of those around you, you are energetic and seldom slow down. Yet, in order for this fire to not go out, you need to take care of your body's myriad needs. Visualize how you would eat and what schedule you would keep in a perfect world. Visualization is the starting place. Your enjoyment of unusual food can motivate you to try out new recipes that ultimately lead to a healthier diet.
Pisces
Smart, creative, and deeply intuitive, Pisces can be close to psychic. Pisces feel things deeply and have incredibly strong gut reactions. A Pisces "knows" things from deep within, and can often judge whether a person or situation is good or bad.
Love Horoscope - Current planetary energies may encourage you to tell a few white lies to a loved one in order to cover up a very embarrassing truth. While this may work for a while, they will begin to sense that something is not quite right, as long as you try and maintain the pretense. It would be better to be honest, even if it does create discomfort for a while.
Money Horoscope - With new and intense energy in the air, this is a time to focus on your home and environment, Pisces. You may feel like sprucing some things up around the home and a bit of new décor can help promote balance and harmony to yourself and to your environment. This is a fortunate time of finances for you and you may receive some good news in this area. However, don't become reckless. Keep a good balance with your finances and stay focused on the long-term goal, Pisces.
Career Horoscope - The exuberance of the past couple of days wanes as you feel yourself being forced back to the drawing board. Realize that this is not such a bad thing. Slow down and plan your next move instead of continuing on the same track you were on.
Health Horoscope - The current challenge for you is to find your balance among the various elements of life. In astrological terms, the elements are fire, earth, air, and water. In daily life terms, they are the spirit, the body, the intellect, and the emotions. Your natural interest in alternative medicine, psychology, health foods and nature point the way to a healthy balance. Paying attention to the needs of your body nurtures your basic well-being.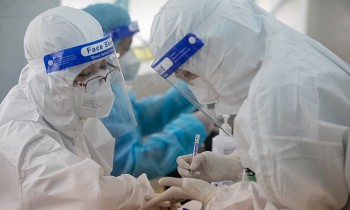 Focus
The fourth wave which hit the nation in late April has now seen over two million Covid-19 cases and more than 21.8 million recoveries from the disease.