Daily Horoscope June 15: Astrological Prediction for Zodiac Signs with Love, Money, Career and Health
Daily Horoscope for June 15: The Leo moon gets love from the Gemini sun today, which as we know gives the lunar energy a bright vibe. The gentleness of today makes us feel more tender, generous, and able to take on the world.
Daily Planetary Overview
The only negative is that our emotions will come from an egotistical place. It might be hard to put other people's feelings ahead of ours because we're all focused on how we feel rather than how everyone else is feeling. We could be unwilling to show our emotional cards and put them on display. However, being open to discussing our feelings can lead to a deeper, longer-lasting connection with those we care about.
The moon enters Virgo tonight and then opposes Jupiter in Pisces. This could create an over-the-top sentimental frenzy that brings to the forefront emotions that have been buried beneath the surface in our hearts.
Something to watch out for is a lack of boundaries between us and others, which might cause some drama before bedtime. Instead of pushing to get your way, take a step back and focus on the positive in your life. The good side to this transit is that it encourages us to make a conscious effort to embrace a spiritual attitude after an emotional meltdown.
Daily Zodiac Horoscope for June 15
Aries
The first sign of the Zodiac, Aries are the trailblazers. Passionate and independent, Aries will never do something just because everyone else is doing it—a Ram needs to be 100 percent committed to the task at hand.
Love Horoscope - Today's planetary alignment gives you the opportunity to make your presence felt with regards to a certain person. If you are able to see each other in person, you will have great fun. Not only will your natural charisma be very much at the fore, but it would be very powerfully offset by wearing the right kind of clothes, perfecting the right hairstyle, and also the right scent.
Money Horoscope - While you now have a better sense of your income needs and priorities you are starting to appreciate that this is just the first step. However, even without the Moon returning to your work sector tomorrow and the friendly aspect it will make to both planets in your income sector there is nothing to be gained from overthinking things, with your grasp on things sharper than you realise.
Career Horoscope - Your good nature and honest approach will win you big points at work today. Be sure to be extra courteous when communicating with others. A positive attitude - more than knowledge or skills - will be what gives you the leg-up you are hoping for in your career.
Health Horoscope - The sensitive side of your nature desires what's best for those you love - there is a deep feeling of "I would die for you" running through you with regard to your loved ones and your children. This intense emotion can be channeled into a more productive vein: caring for your body as though it were a loved one. Taking care of all its needs can be quite satisfying. This is ultimately nurturing for EVERYONE! Your life certainly does depend on your body.
Taurus
Smart, ambitious, and trustworthy, Taurus is the anchor of the Zodiac. Amazing friends, colleagues, and partners, Taureans value honesty above all else and are proud that their personal relationships tend to be drama free.
Love Horoscope - Even if you have been having problems lately with someone whom you absolutely adore, you will find that the celestial energy soothes away any difficulties, and enables you both to see what is truly special and beautiful in each other once again. A gift will cement the bond and show your honey how much you really care. Be open to miracles, and your relationship will begin to blossom daily.
Money Horoscope - At the same time that the Sun is spending his last full week in your income sector and Mercury his last in retrograde motion here, they are moving in opposite directions and away from each other. As the Sun looks to the future and Mercury is looking to the past, giving you the best of both worlds. With no more hurdles, there is a chance to look to the future with confidence while continuing to ensure no stone has been left unturned.
Career Horoscope - Trying to convince people of your ideas will fail today unless you have feelings and passion behind your words. Others will be able to see right through a flimsy idea that has no solid support. Be prepared before you present your ideas to others.
Health Horoscope - Experimentation is a fun activity for most of us. Sometimes it's even necessary to curb the tendency to try too many new things! For instance, if you are going to try a new food, be sure you also prepare (or order) something you know you will like that is also nutritious. Taking care of your own diet is like managing the diet of a child: you must be responsible and loving. Experiment with finding more ways that you can be loving to yourself.
Gemini
Smart, passionate, and dynamic, Gemini is characterized by the Twins, Castor and Pollux, and is known for having two different sides they can display to the world. Expert communicators, Gemini is the chameleon of the Zodiac, adept at blending into different groups based on the vibe and energy they perceive.
Love Horoscope - Today's astral energy encourages you to relax and calm down, and to take things a lot more slowly with regard to one particular relationship that has had you in quite a fever for some time. The person in question feels attracted to you and is not going to change their mind in a hurry. Allow your deeper feelings to emerge, so you can share them.
Money Horoscope - After the Moon left your income sector yesterday and Mars' over the weekend, Venus is finally spending her first full day here on her own. With the Sun just six days away from turning the solar spotlight onto your income situation, matters and options but also ushering in a more objective phase, this gives Venus a chance to focus more on raising the bar on your expectations.
Career Horoscope - The tables have turned, and you are suddenly in very good standing with your boss and the people around you. Events related to work will go smoothly for you and your overall confidence will be stronger than usual. Ask for favors now - don't wait.
Health Horoscope - There is a good deal of harmony in the air today. Give yourself the opportunity to tune into it through yoga or perhaps some individual tantric practice that you may enjoy already. It's a wonderful asset to have a schedule that includes yoga, because it both calms the mind and tones the body. You need to go regularly in order to receive maximum benefit. You will experience a feeling of heightened well-being.
Cancer
Emotional, intuitive, and practically psychic; ruled by the moon and characterized by the crab, Cancer has so much going on in its watery depths. Cancers may seem prickly and standoffish at the first meeting, once they make the decision to become friends with someone, that person has a friend for life.
Love Horoscope - People want everything to be instantaneous today and expect every aspect of their life to immediately work without having to put in any effort. The current aspect is encouraging you not to take the fast and furious path to someone's heart, but to allow yourself to be carried along by the natural flow of events, which will get you there far more quickly than you now consider possible.
Money Horoscope - To have the Moon return to your income sector just days after Mars' return over the weekend is an advantage in more ways than one. Where an alignment with Mars yesterday has made you more aware of his warrior spirit, the Moon's friendly aspect to planets on the job and career fronts today is also a taste of things to come.
Career Horoscope - Don't purposely pull the wool over someone else's eyes today in order to boost your favor with the boss. The truth of your actions will eventually surface, and you will be in worse standing than ever. Stick with an honest, open, and sincere approach.
Health Horoscope - There is plenty of favorable energy afoot today, which can leave you empowered and able to tune into the divine in your daily life. To encourage the positive flow of this energy, take special care to relax your mind and nourish your body with fresh food and exercise. Any stress you feel in your eyes is best relieved through yoga, which will open the chakras and release energy that has been stored up in the body.
Leo
Bold, intelligent, warm, and courageous, fire sign Leois a natural leader of the Zodiac, ready to blaze a trail, vanquish injustice, and make a name for themselves along the way. Blessed with high self-esteem, Lions know that they possess enviable traits—and they're proud of them.
Love Horoscope - The current planetary alignment creates a much more stable backdrop for your love life than you may have experienced for some time. You could be getting tired of the way things have been lately and trying to find a partner who will stick you with you for more than five minutes. Today you may meet someone who will, if you don't lapse into boredom.
Money Horoscope - In the lead up to the Moon's return to your income sector tomorrow it is always important to take a wait and see approach. Even more so as this gives you another day to process a better read on your professional needs and priorities an alignment between Uranus and Ceres has given you over recent days.
Career Horoscope - Loyalty to your work is a key part of your success - especially today. Demonstrate this loyalty by going a step beyond what is expected of you. If you don't feel the desire to dedicate yourself to this degree at your current job, then find a new one.
Health Horoscope - For every pharmaceutical treatment, there is a holistic way to take care of yourself! Pay attention to where you get your knowledge regarding wellness. Do you rely on what your parents taught you? (How is their health?) Do you believe what's written on all the packaging you buy? Do you have a friend or two who seem "tuned in" to holistic health care practices? Open yourself to receiving knowledge from new sources and notice the healthy difference it can make in your life.
Virgo
Smart, sophisticated, and kind, Virgo gets the job done without complaining. Virgos are amazing friends, always there to lend a hand and also lend advice. Practical Virgos are incredibly adept at big picture thinking, and planning out their life, their vacations, and what they're going to do today isn't a drag it makes them feel in control and secure.
Love Horoscope - You are feeling very much in demand right now, and today's astral alignment will only add to your appeal. If you have been wondering about your chances with a certain person, then you also have the confidence to let them know how you feel, and also how they make you feel when you see them from a distance. Let your natural magnetism draw them closer.
Money Horoscope - A friendly aspect between the Moon, as it moves through an intuitive and imaginative part of your chart and planets in your financial sector today is a monthly event. The difference this time is that the Moon is making its first visit since Mars' return and this is a preview of the more sustained and potentially game changing support he will bring. A rise in financial confidence today is just a taste of things to come.
Career Horoscope - Other people are difficult for you to deal with today. Co-workers have a rather moody aspect to them that is making it hard for you to effectively communicate with anyone. You are better off tabling any important issues to another day.
Health Horoscope - If you followed yesterday's advice, you would perhaps feel the benefit of maintaining your personal energy within yourself - not giving it out to other people or situations. Building further on this, try staying focused on your breath today. Exercise, and eat your meals slowly and deliberately so that your breath remains the priority in all that you do. The rhythm of your breathing is the guiding pulse to maintaining positive energy. Doing what's right for yourself is not always easy. Stay focused.
Libra
Intelligent, kind, and always willing to put others before themselves, Libras value harmony in all forms. Ruled by Venus, the planet of beauty, Libra adores a life that looks good. As the master of compromise and diplomacy, Libra is adept at seeing all points of view and excels at crafting compromises and effecting mediation between others.
Love Horoscope - The current planetary energies may encourage you to relax more as far as one potential date is concerned, rather than running around like a headless chicken trying to make the right kind of impression. The more laid-back and apparently indifferent you are to their good looks and charming ways, the more they will find you absolutely irresistible. So, play it cool, yet keep up the mysterious allure.
Money Horoscope - A day after an alignment between Uranus and Ceres in your financial sector ran its course you may feel under pressure to do something with the better read on your financial needs and priorities this has left you with. The very opposite is true, with a need to first let that awareness take hold and then slowly become your natural default.
Career Horoscope - Your productivity level at work is extra high today so take advantage of this time. The more you accomplish, the more you will be inspired to accomplish additional goals. This positive upward cycle will lead to great success at day's end.
Health Horoscope - There is a skip in your step today! You have felt the struggle of the last few days, and it is a relief to relax and reflect on what you learned. You have brought the life of the body into focus, and you may want to open up to something new as a complement. Aromatherapy is an ancient and subtle practice. Many alternative markets carry aromatherapy materials. The essences of nasturtium, iris, and tansy can help you break through fixed attitudes and behavior patterns.
Scorpio
Passionate, independent, and unafraid to blaze their own trail no matter what others think, Scorpios make a statement wherever they go. They love debates, aren't afraid of controversy, and won't back down from a debate.
Love Horoscope - If you have plans to get to know someone better, then you will enjoy the occasion no end. With today's celestial energies, you will feel like a million dollars. You will both have a soothing and calming influence on each other, which enables you to relax and trust. You especially need to feel this before you will open up and talk from heart and soul. Enjoy yourself.
Money Horoscope - It is during the Moon's first visit to your career sector since Mars' return over the weekend that has given you just a taste of things to come and not just professionally. The Moon is making the same friendly aspect to planets in your income sector that Mars will make over the coming weeks. In the meantime, this is giving his need to getting things moving professionally a better sense of where the money is.
Career Horoscope - Your work seems like drudgery today - even more than usual. You will feel uncomfortably chained to a situation that simply doesn't resonate with you. Don't be too rash and suddenly decide to quit. This is just a passing phase that will soon end.
Health Horoscope - Regularity in practice is the answer to almost all of your health concerns. You will benefit tremendously from a regular yoga practice, running, or gym workout. Exercise can be almost a religious practice for some, for it relieves the nervousness and anxiety that plague everyday living. Finding a reason for the health regimen you keep is a good idea. This is a good time to ask yourself, "What is health all about for me?"
Sagittarius
Independent and strong-willed, Sagittarius personalities are all about going off the beaten path. Sagittarius isn't afraid to step away from the pack and is a natural-born leader who goes after what he or she wants, regardless of what other people think.
Love Horoscope - The current planetary energy encourages you to be ever so nice to your dearest love. If you have been getting on each other's nerves of late, then why not make the effort to make amends, and perhaps buy them a nice present to really cheer them up. Or better still, invite them over for an intimate meal with all the romantic trimmings if possible. It will certainly be worth the trouble.
Money Horoscope - After the Moon left your financial sector yesterday and Mars over the weekend Venus, the planet of money is finally spending her first full day on her own. With the Sun just six days away from turning the solar spotlight onto money matters and from a more objective approach, this gives Venus a few days to focus more on the 'what' than the 'when, where and how'.
Career Horoscope - Don't be too critical of someone else's work today. This person's feelings are more sensitive than you may first realize. Too harsh of a critique may bring tears to this person's eyes. Go easy on him or her while getting your point across.
Health Horoscope - You have a great quality: the virtue of acceptance. Though not always forgiving after a bad experience, you are open to almost anything new. This is an excellent time to ask yourself what new avenues of physical activity you would like to open up to. The goal will be to choose something you are able to stick with. If you want to explore a higher level of what you are currently doing, open up to that possibility as well.
Capricorn
Smart, hardworking, and fully in control of their destiny, a Capricorn will always get what they set their mind to, in both personal and professional life—no excuses. Capricorns may get a reputation as stubborn, but they simply know what they want, and also know how they wish other people would behave.
Love Horoscope - After finally getting to know the person of your dreams a little better, you are no doubt feeling triumphant. The current astral configuration, however, encourages you to calm down now and take things more slowly. It would be nice to acknowledge that you are officially an item and give each other a chance to settle into the relationship.
Money Horoscope - To have the Moon return to your financial sector so soon after Mars' return over the weekend means that it will have time to come full circle, meeting up again this month. This might be the Moon and Mars' first encounter here in two years but it is not their last, with a coming together of your financial instincts, imagination, passions and fighting spirit just a taste of things to come.
Career Horoscope - Do unto others as you would have them do unto you applies to your job as well - especially today. Be careful of directing your negative attitude towards others. You will communicate something you regret if you are not careful with your words today.
Health Horoscope - You enjoy eating takeout or delivery often, and you know that taking action for a healthier lifestyle can be as simple as ordering fish and salad rather than meat and potatoes. This is a good time to bring your personality into your own kitchen and try to recreate the dishes you have enjoyed eating from restaurants. Many restaurants publish their own cookbooks! As you get familiar with preparing food for yourself, you will start to notice little things that make a big difference.
Aquarius
Independent and enigmatical, Aquarians are unique. There is no one quite like an Aquarius, and because each is so incredibly individual, it can be tough to describe them as a group. Aquarians don't like labels, and may shy away from any adjective—even the good ones you might bestow upon them.
Love Horoscope - Today's astral energy makes this quite an enjoyable day, especially if you've recently gotten the OK to hold a party or some kind of small impromptu get-together. Make sure you provide plenty of really good food, especially if you are hoping to impress a certain person. The more colorful, tactile, and aromatic, the better. Then you are in with a chance. Make sure the atmosphere is warm and cozy.
Money Horoscope - In the lead up to the Moon's return to your financial sector tomorrow it is always important to have your antennas up but your mind and your options open. This also gives you time to focus more on Venus, the planet of money's first full day on her own in your work sector since her return earlier in the month and her read on where the money is.
Career Horoscope - This is a high point of your week today with regard to your career. Relations with others are going well and you may even be able to make an important connection with your boss today that will open the door to future advancement opportunities.
Health Horoscope - Today's planetary aspect is splendid for creativity! So, consider creating a promise to yourself. First take a look at what you can do to promote your own well-being, then determine your goals and forge the commitment to abide by them. Bearing in mind that your health practices are for your benefit and of your choosing, you should feel optimistic and hopeful. Check in with yourself and note any doubts or fears. If you don't feel comfortable with your goals, you may want to lighten up.
Pisces
Smart, creative, and deeply intuitive, Pisces can be close to psychic. Pisces feel things deeply and have incredibly strong gut reactions. A Pisces "knows" things from deep within, and can often judge whether a person or situation is good or bad.
Love Horoscope - With today's astral energy, you have an amazing chance to express how you feel in words. If you are planning on reaching out to someone rather special, make it an occasion to remember by creating an incredible picture with your creative language. If your words inspire an in-person meeting, a walk somewhere beautiful will strengthen the bond between you.
Money Horoscope - To have the Moon return to your work sector so soon after Mars' return over the weekend is having multiple benefits, over and above a better read on where to channel his drive to make things happen. The Moon's friendly aspect to planets in your income sector today is the same aspect that Mars will make over the coming weeks, giving you both a taste of things to come and a read on where the money is.
Career Horoscope - Your aggressive tendencies may get you in trouble with your co-workers and even your employer, so be careful. You are better off lying low than actively trying to push the buttons or rattling the cages of others who are simply not in the mood.
Health Horoscope - Today's planetary configuration could make you feel a sense of loneliness, as you realize that there are imbalances in the world that you alone cannot change. You may experience a sense of isolation when considering certain health issues. Try to share your thoughts and ideas with supportive friends and family. This planetary energy is telling you to share what is in your heart and mind with those you trust.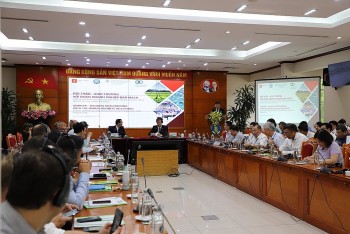 National
A Danish agriculture and food delegation visited Hanoi and Ho Chi Minh City on August 16-19 to exchange opportunities for cooperation and making business with their Vietnamese potential partners.