Daily Horoscope June 12: Astrological Prediction for Zodiac Signs with Love, Money, Career and Health
Daily Horoscope for June 12: Venus in Cancer squares off with healing centaur Chiron in Aries today. Fears of abandonment might trigger us to act out in relationships or try to control the financial activity of others.
Daily Planetary Overview
In order to overcome such sentiments, we'll have to be real with ourselves about emotions and personal triggers. Healing takes time and requires a lot of effort. It isn't something that can happen overnight. If we accept the fact that we're all a work in progress and give ourselves the acceptance we give others, then we can start the process of mending our hearts.
Instead of arguing and fighting with those you love—and even yourself—it's essential to look deep within for the understanding and compassion you require. You can heal your heart and spirit if you are gentle and less judgmental with yourself. No one is perfect, and we have to accept the fact that everyone has flaws. Some people are just better at hiding them than others.
We all have our own insecurities, but that doesn't mean we have to take them out on others and project past trauma into our relationships. Learning how to deal with this energy is a lifelong lesson, and today you are able to take the first steps in healing and mending your heart.
Daily Zodiac Horoscope for June 12
Aries
The first sign of the Zodiac, Aries are the trailblazers. Passionate and independent, Aries will never do something just because everyone else is doing it—a Ram needs to be 100 percent committed to the task at hand.
Love Horoscope - If you want to make an impact on your partner (current or prospective) and loved one today, then don't pursue the same line of argument that you have done for the past number of weeks. The current celestial energy urges you to find a different way of approaching the whole subject in order to have any real effect. But don't worry; the answer WILL arrive out of the blue - thankfully.
Money Horoscope - While an alignment between Uranus and the dwarf planet Ceres in your income sector peaked yesterday, it will take another three days for them to separate. This is their first alignment here in eight decades, with the light that Uranus shines on the truth merging with Ceres' understanding of your financial needs and priorities.
Career Horoscope - Someone is likely to present an alternate plan to you today that may throw you off balance with regard to your career. Accumulate facts and information but don't sign anything just yet. Be sure you sleep on these ideas before you act.
Health Horoscope - You are no stranger to change, but it may take some reining in of your personal power in order to direct your ability to change constructively. Imagine you are both your own father and your own mother (depending on your age, this will be easier or harder to do), and create your boundaries , including your actions and language, your limits in relationships and your requirements on the job. You are also in charge of nurturing yourself with the food, the rest, the exercise, the affection you need to survive. Don't forget to give yourself a lot of positive reinforcement!
Taurus
Smart, ambitious, and trustworthy, Taurus is the anchor of the Zodiac. Amazing friends, colleagues, and partners, Taureans value honesty above all else and are proud that their personal relationships tend to be drama free.
Love Horoscope - Today's aspect may mean that getting to know someone better defies all your expectations, and is decidedly unique, original, and completely different from anything you had expected. No, they are not an alien from a distant planet; they are definitely warm and human, but they exude real charisma, which is something that you will appreciate no end, and will certainly warm to. Let go and have fun!
Money Horoscope - The Moon's departure from your income sector yesterday may have brought the eclipsing New Moon this created to a close but even without the Sun and Mercury staying on, the implications would continue to unfold. This has left you with a sharp nose for money but also a better understanding of the different dynamics in play.
Career Horoscope - Your productivity is high, and your relations with people you communicate with in a work capacity are phenomenal. Anything you want to accomplish today is within your reach - mostly thanks to the help, support, and advice of those in your professional circle. These relationships are gold.
Health Horoscope - Today offers a good opportunity to rein in your desire to look for satisfaction elsewhere. Try aiming to be satisfied with your own body. This could take work in many areas of your life, not just diet and exercise. But acceptance of your own body is a lifelong issue, and you will serve yourself well if you can open up to what you truly feel about it. The day's planetary aspect will help you see the truth beneath the protective shell of denial.
Gemini
Smart, passionate, and dynamic, Gemini is characterized by the Twins, Castor and Pollux, and is known for having two different sides they can display to the world. Expert communicators, Gemini is the chameleon of the Zodiac, adept at blending into different groups based on the vibe and energy they perceive.
Love Horoscope - Your mind is at its most sparkling and witty, with today's astral energy. If you are able to go out on a special date, or perhaps to a small party, all you need do is offset your superior wisdom with the right clothes, the ones that reflect your unique approach to life, living, and love. Don't try to be like everyone else, as you are gorgeous just the way you are.
Money Horoscope - To have the Moon in your income sector as Mars leaves today will make it easier to hold onto his warrior spirit, get a sense of what he is urging you to fight for but also to regroup after he has gone. It is an alignment between the Moon and Venus, the planet of money that will give you a read on the new dynamics. Venus prefers to use the laws of attraction rather than declare war but will benefit from the breakthroughs Mars has made.
Career Horoscope - Don't rely on others as much today as you might normally. Keep in mind that other people are not likely to have the depth and perception that you have when it comes to tasks around the workplace. If you want a job done right, do it yourself.
Health Horoscope - Today's energy encourages you to muse on what you enjoy and what makes you happy. Write down some of your favorite foods, things you like to do, and consider the many ways in which you depend on your body, and your body comes through for you. This is an excellent time to contemplate what we must not take for granted. Your body is your most valuable earthly asset. Are there ways in which you've neglected it? How do you go about honoring it?
Cancer
Emotional, intuitive, and practically psychic; ruled by the moon and characterized by the crab, Cancer has so much going on in its watery depths. Cancers may seem prickly and standoffish at the first meeting, once they make the decision to become friends with someone, that person has a friend for life.
Love Horoscope - Today's astral energy may mean that your partner (current or prospective) decides to surprise you by doing something that is completely new and different. This will not only be quite a revolutionary experience, but it could reignite the flame between you, which may have been a little subdued of late. It will also arouse your interest in a subject that has long been dear to your heart.
Money Horoscope - The implications from Mars' return to your income sector today are bigger than just having the warrior planet of the cosmos here for the first time in two years. This breaks a drought, with Mars the first planet to return to your income sector in eight months. Finally, there is a chance to see some action on the income side of the financial fence.
Career Horoscope - You have many admirers of your work today. People will be open to your ideas and your role as a leader will be highly respected. Much information can be dispersed by way of your good-humored nature and fun-loving personality.
Health Horoscope - Slowly growing accustomed to new health practices can be a pleasant and enlightening experience. Looking to see the truth about what you eat is a way to introduce change into your diet without shocking your system on any level. Organic foods are grown according to specific regulations - there are even different interpretations of what is truly organic. Finding out for yourself where your food comes from is a great way to develop a healthy awareness of your environment.
Leo
Bold, intelligent, warm, and courageous, fire sign Leois a natural leader of the Zodiac, ready to blaze a trail, vanquish injustice, and make a name for themselves along the way. Blessed with high self-esteem, Lions know that they possess enviable traits—and they're proud of them.
Love Horoscope - You may think that you are going to have quite an ordinary evening, but today's celestial energy indicates that it will be anything but normal. It may not be particularly passionate, and you certainly couldn't describe it as romantic, but it will definitely be intriguing, so much so that you will want to see them again and again to repeat the experience.
Money Horoscope - In between a friendly aspect to lucky Jupiter in your financial sector yesterday and the same aspect to dreamy Neptune there tomorrow, the Moon aligns with Venus, the planet of money in an intuitive and imaginative part of your chart. The Moon is acting as a bridge between the planets of money, luck and dreams and in the process, this can fuel your financial confidence and imagination.
Career Horoscope - Any sort of new routine associated with your career will be highly successful. If someone needs a task done that's outside of your usual assignments, volunteer for the job. A chance meeting during your detour will prove to be quite favorable.
Health Horoscope - You may have the feeling that things are out of control. If you open up to all that you are feeling, you may become afraid or overwhelmed. It may help you to do some grounding exercise in order to remind yourself that you are in a human body! The regularity with which you exercise will affect the degree you feel overwhelmed in your life. Drinking plenty of water is the second half of the exercise equation. Be aware that your body may need more minerals and vitamins, depending on the stress level you experience.
Virgo
Smart, sophisticated, and kind, Virgo gets the job done without complaining. Virgos are amazing friends, always there to lend a hand and also lend advice. Practical Virgos are incredibly adept at big picture thinking, and planning out their life, their vacations, and what they're going to do today isn't a drag it makes them feel in control and secure.
Love Horoscope - Today's planetary alignment could make you see someone special in a different light. This is likely to be a wholly positive experience, as you may not have really appreciated them for the wonderful being they truly are, having already placed them in a certain pigeonhole. Your communications with them today will enable you to really find out how lucky you are to have this chance to know them better.
Money Horoscope - While it won't be immediately apparent, Mars' return to an intuitive and imaginative part of your chart today is good news financially. As well as taking a lot of urgency out of life in general, making it harder to sweat the small stuff, this will see Mars' form a friendly aspect to both planets in your financial sector over the coming weeks.
Career Horoscope - Communication with others your work with is especially strong today and you will find that anything you say will travel around to the ears of your co-workers like wildfire. Don't say anything that you wouldn't want to get back to your boss.
Health Horoscope - Your patience level could be low today. Honor your impatience with appropriate measures. Give yourself extra time to get to your appointments, and don't set yourself up for frustrating situations. When it comes to eating, choose what you put into your body carefully. Be sure you like what you order or prepare; otherwise, you will not be relaxed and truly fulfilled by your meal. On another note - it is best to hold your tongue if a dispute threatens to arise with a lover or friend.
Libra
Intelligent, kind, and always willing to put others before themselves, Libras value harmony in all forms. Ruled by Venus, the planet of beauty, Libra adores a life that looks good. As the master of compromise and diplomacy, Libra is adept at seeing all points of view and excels at crafting compromises and effecting mediation between others.
Love Horoscope - It is through one particularly enlightening conversation that you really get to appreciate a friend in a totally different light. The current aspect means that chance may bring you together and give you the opportunity to get to know each other more deeply. It is during this time that you discover the potential for romantic involvement between you. You were obviously destined to meet.
Money Horoscope - Mars' departure from your career sector today is not only significant professionally but financially as well. Mars has done what he can to get things moving and to create as much momentum as possible but as he leaves this allows Venus, the planet of money to take the wheel and she will have her eye on the money.
Career Horoscope - You may get frustrated today by others who are doing a cursory job of work that you know should be done more thoroughly. Communicate with these people with understanding instead of with a "higher than thou" attitude. Resist the urge to take over completely.
Health Horoscope - Once you have set your own health goals, you will inevitably compare your health habits to other people's. This is natural in the beginning and can be either encouraging or discouraging. The goal is really to focus on yourself, and refrain from comparison or judgment. Just take yourself and your goals seriously! If it helps, write down your intentions for the day and check them off at night. Reward yourself for healthy behavior - perhaps with a nice bubble bath!
Scorpio
Passionate, independent, and unafraid to blaze their own trail no matter what others think, Scorpios make a statement wherever they go. They love debates, aren't afraid of controversy, and won't back down from a debate.
Love Horoscope - Today's planetary energy may prove quite enlightening as you discover something that you didn't know. It may transpire that someone you have been secretly fond of is equally as fond of you but may have been hiding their feelings for reasons that possibly do not make much sense. Although this may come as quite a shock, it is actually a pleasant one - for once.
Money Horoscope - The Moon's departure from your financial sector yesterday has done more than leave you with your financial instincts and imagination fuelled. While the momentum from the eclipsing New Moon this created will continue, this has made it easier to interpret the ongoing impact that the Sun and Mercury are having on money matters and especially how transparent things are becoming.
Career Horoscope - Nasty rumors about you are being passed around among your co-workers that are making it difficult for you to be effective in the workplace. Do your best to resolve the situation calmly and diplomatically without escalating the drama even further.
Health Horoscope - Part of your nature is to see both sides of an issue. Another part of your nature is to be blind to the issue altogether because you have over-extended yourself. In other words, the real issue can sometimes get lost in the many perspectives you are able to see. This is why routine is so vital to your sign - routine in the most basic sense. Try to strengthen your routine by exercising every day and planning your meals ahead of time. Spontaneity should fall within structure.
Sagittarius
Independent and strong-willed, Sagittarius personalities are all about going off the beaten path. Sagittarius isn't afraid to step away from the pack and is a natural-born leader who goes after what he or she wants, regardless of what other people think.
Love Horoscope - Love may surprise you today by appearing out of the blue. The celestial energy encourages you to keep an open mind, and also to move in circles, or speak to people whom you don't normally associate with. Cupid's arrow could strike at any time and will prove accurate in its aim. Before you know what has happened, you will be head over heels, so be warned!!
Money Horoscope - To have the Moon in your financial sector as Mars leaves is giving you an intuitive read on the dynamics as they change. After seven weeks, Mars leaves you with a better sense of what you are fighting for but the intensity and urgency drops back as the Moon and Venus take over. This is a chance to regroup as Mars' need to fight is replaced by Venus' preference for using the laws of attraction.
Career Horoscope - There is a great deal of communication between you and others today, but it seems as if you are getting nowhere. You may walk away from a long dialogue with your boss still wondering what he or she was trying to communicate. Ask again tomorrow.
Health Horoscope - The world depends on you to give a daily dose of understanding and acceptance. All too often you feel under-appreciated and not recognized for the love you give. Maybe it's time to set some limits and turn that accepting love back towards yourself instead of giving it to the ungrateful! The problem is you don't find that to be easy. Hint: start with your diet. Are you giving yourself the best and freshest food possible? Are you getting enough vitamins and minerals? Are you drinking plenty of water? Turning the focus onto your own needs will help you sustain your giving nature.
Capricorn
Smart, hardworking, and fully in control of their destiny, a Capricorn will always get what they set their mind to, in both personal and professional life—no excuses. Capricorns may get a reputation as stubborn, but they simply know what they want, and also know how they wish other people would behave.
Love Horoscope - Today's planetary alignment means that a conversation could lead to a very interesting romantic situation, if you can be laid-back and relaxed enough to allow this - and also providing this is what you really do want. Perhaps you should get into the right frame of mind and body by releasing all tensions within you before you even start the day. Don't miss this chance.
Money Horoscope - Mars' return to your financial sector today is not only a game changer for money matters but will change the dynamics of this financial year. Until now, all the planetary activity has been on the income side of the financial fence but as Mars returns to focus on money matters, a need for a better balance between money coming in and money going out will energise both sides.
Career Horoscope - You will have your fingers in many different pies today and this will lead to great success with regard in your job. Incorporate different ideas from different people and share the success. You can put the pieces together to create a masterpiece.
Health Horoscope - When it comes to discipline, you sometimes react as though the guillotine had been drawn! The resistance to discipline can be quite strong. For instance, if you begin to think of all the things you could be doing to live a healthier life you could easily scare yourself. Try noticing what you already do that is working for you, then try to figure out what you really enjoy and what feels like a chore. Perhaps you can adjust and put more in of the former and reduce the latter. See how it goes.
Aquarius
Independent and enigmatical, Aquarians are unique. There is no one quite like an Aquarius, and because each is so incredibly individual, it can be tough to describe them as a group. Aquarians don't like labels, and may shy away from any adjective—even the good ones you might bestow upon them.
Love Horoscope - Getting to know someone better could prove to be an eye-opener in more ways than you can imagine. The current aspect breaks down a barrier that has existed between you and someone else with whom you secretly feel a powerful connection. Perhaps because of this you have been hesitant to speak to them; but an accident of fate means you have no choice. Thank goodness.
Money Horoscope - In between a friendly aspect to Jupiter in your income sector yesterday and the same aspect to Neptune there tomorrow, the Moon aligns with Venus in your work sector today. As Mars wraps up a seven week push to give work and job matters as much momentum as possible the Moon is acting as a bridge for the planets of money, luck and dreams, as they shift the focus more onto where the money is.
Career Horoscope - Don't get too caught up in the mental aspect of your job. The danger here is that you will get so involved with the analytical thought process that you will forget that your true strengths lies in your intuition and sensitivity. Embrace these gifts.
Health Horoscope - There may be more on your list than you feel you can ever accomplish! Don't be discouraged because you can't do everything, or because you can't become the best at something tomorrow. Becoming overwhelmed will hinder your progress. The goal is to slowly open up to the voice inside of you that intuitively knows what is right at a given time in life. Health practices come and go. The point is to remain mindful so that you can sense when your needs change.
Pisces
Smart, creative, and deeply intuitive, Pisces can be close to psychic. Pisces feel things deeply and have incredibly strong gut reactions. A Pisces "knows" things from deep within, and can often judge whether a person or situation is good or bad.
Love Horoscope - Today's astral configuration gives you the chance to express yourself in a way that may yet win over another's heart. If all of your other forms of persuasion and coercion have failed to move them, then the cosmos may have just the answer you have been looking for. Something that you say, or a line of conversation that you pursue holds the key to their heart.
Money Horoscope - Mars' return to your work sector today is not just a game changer for work and job matters but for the planets already active on the income and job fronts. Mars has returned to not only get things moving on the job front but to energise things across the income, work and career fronts. This is a game changing development for the two planets in your income sector.
Career Horoscope - Today's astral configuration gives you the chance to express yourself in a way that may yet win over another's heart. If all of your other forms of persuasion and coercion have failed to move them, then the cosmos may have just the answer you have been looking for. Something that you say, or a line of conversation that you pursue holds the key to their heart.
Health Horoscope - The current planetary influence encourages you to question your personal habits - at the same time, you feel mistrustful of the exercise, as though there would be criticism from the universe for anything less than perfect. It is important to notice if this is going on, because it is the key to breaking down a system of denial. When we feel judged, we deny the behavior in question. When we feel a sense of acceptance, we can embrace change.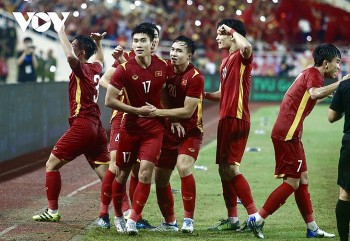 Viet's Home
The Vietnamese football team, both male and female, played their best, devoted themselves, united, and promoted the collective spirit, successfully defending their SEA Games champion title.