The Vietnamese government recently concluded an informative meeting concerning Covid-19 Prevention and Control, Vietnamplus reported.
Regarding testing, the deputy prime minister has assigned the Ministry of Health to quickly issue testing guidelines on the basis of effectively using existing equipment, technologies, and biological products to screen and localize outbreaks in the community; ensuring safety at medical facilities and facilitating procedures for licensing biological testing products. He has also requested the Health Ministry to issue documents on regulations, direction, and guidance on Covid-19 testing at centralized quarantine facilities for entrants by May 23.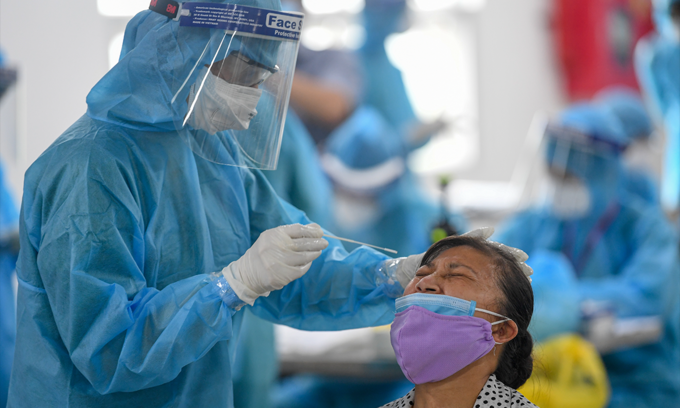 A medical staff take samples of a worker at Quang Chau Industrial Park in the northern province of Bac Giang. Photo by VnExpress/Giang Huy.
The Ministry of Defense has been tasked to ensure testing in its centralized quarantine facilities.
The Health Ministry has been asked to coordinate with the Ministry of Information and Communications to carefully review regulations, guidelines and strengthening communication work on Covid-19 testing; at the same time, handling the organization of testing for the wrong people, causing waste.
In terms of the management of people put under quarantine at centralized facilities and at homes, the deputy prime minister has urged to finalize and issue documents on regulations, directions and guidance towards enhancing disciplines during the process from receiving to testing and quarantining entrants.
The Ministry of Information and Communications, in collaboration with the Health Ministry and the information group of the National Steering Committee for Covid-19 Prevention and Control rapidly perfect information technologies to serve the management and supervision of entrants.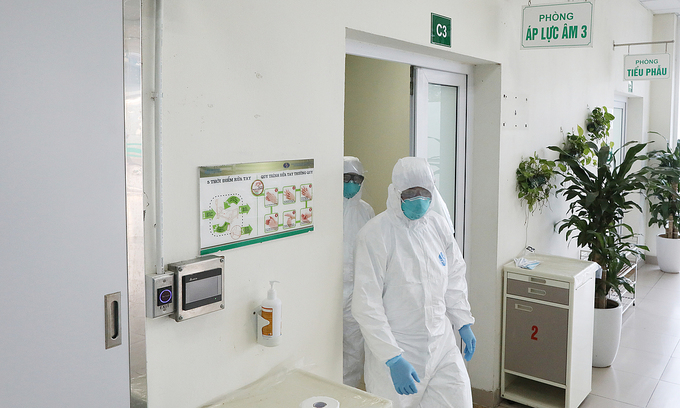 Medical workers operate at a quarantine ward for Covid-19 patients at Hanoi's National Hospital for Tropical Diseases, March 24, 2020. Photo by VnExpress/Ngoc Thanh
Concerning identifying risks and adopting pandemic prevention measures in localities, the Health Ministry has been requested to coordinate with the Government Office and the information group of the National Steering Committee for Covid-19 Prevention and Control to receive comments at meetings to report to the National Steering Committee on May 21.
The deputy prime minister noted inheriting plans built in May 2020, updating information in a simple, easy-to-understand and easy-to-follow manner and evaluating the situation in four levels namely new normal, at risk, at high risk and at very high risk.
Additionally, it is necessary to identify mandatory solutions and solutions decided by each locality to promote creativity and ensure dual goals of preventing the pandemic and developing the economy.
Deputy Prime Minister Vu Duc Dam has also requested the information group of the National Steering Committee to analyze information, recommend for improvement in the implementation process, and put forth initiatives to help decision-making at all levels more quickly and effectively.
Vietnam documented 24 new cases of Covid-19 over the past 12 hours to 6 am on May 21, the Ministry of Health said.
Of the domestically-transmitted cases, 15 were found in Bac Giang province, one in the neighboring province of Bac Ninh, six in Dien Bien province, and three in Hai Duong province.
The latest cases brought the national count of domestic infections to 3,355. A total of 1,785 cases have been detected since the fourth wave of the pandemic hit the country on April 27.
The number of recoveries and fatalities remained at 2,689 and 39, respectively.
Among the patients under treatment, 63 have tested negative for the coronavirus SARS-CoV-2 once, 34 twice, and 23 thrice.
As many as 129,502 people who came into close contact with Covid-19 patients or entered Vietnam from pandemic-hit areas are now under medical monitoring nationwide.
On May 20, 4,897 more people were vaccinated. As of 4 pm on the day, more than 1 million doses of Covid-19 vaccines had been injected in the nation.
Malie Nguyen