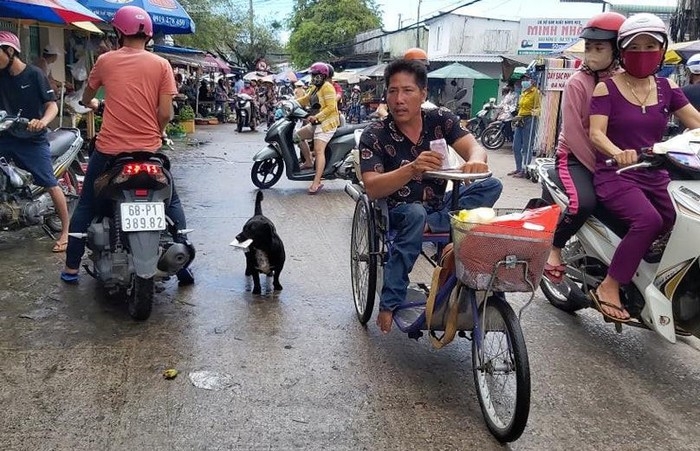 Ngo Van Ti has trouble moving on his own, therefore his commute pretty much depends on the wheelchair.
Lucky is spotted following Ti's steps with lottery tickets on his mouth (Photo: Bao Moi)
Lucky was adopted four years ago by a Ngo Van Ti, 49, living in Kien Giang, southern Vietnam, who troubles with his legs, therefore his daily commute pretty much depends on the wheelchair.
"Lucky was just a small, skinny puppy back then, and you know what, we might be the only one wanted to raise him. As we were childless, we took him home. We've been keeping him company and loving him like a family member since then", Ti told Bao Moi.
Being a crossbreed dog, Lucky was too small to eat by himself during those first days at Ti's house, thus the couple had to spoon-feed him with milk. However, the dog grows to be a loyal, clever dog who follows Ti down the streets and helps him sell lottery tickets.
Talking about Lucky's special "lottery tickets selling talent", Ti recalled the day he was selling tickets in Rach Gia city two years ago.
"I was wheeling on the street and all of a sudden, Lucky carried the lottery tickets on his mouth and ran into a café nearby. Seeing this was quite a strange thing, some coffee goers called Lucky over to buy the ticket. The thing was, Lucky kept lying in the same place and wait until the customer gave him the money then picked up the money back to me", the 49-year-old man smiled.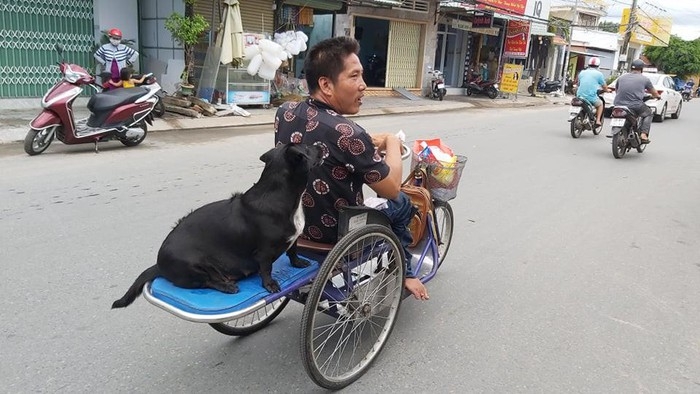 Ti's wheelchair has a special back seat for Lucky (Photo: Bao Moi)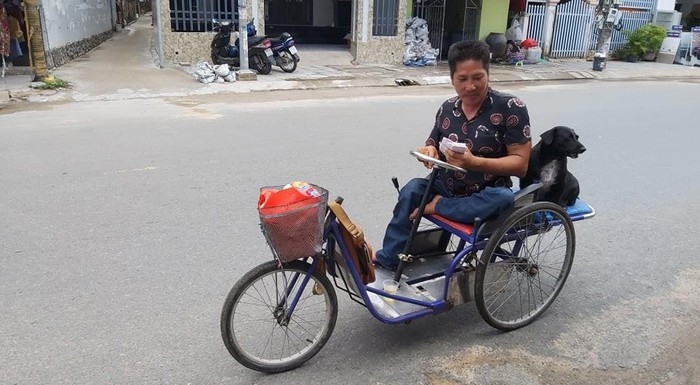 (Photo: Bao Moi)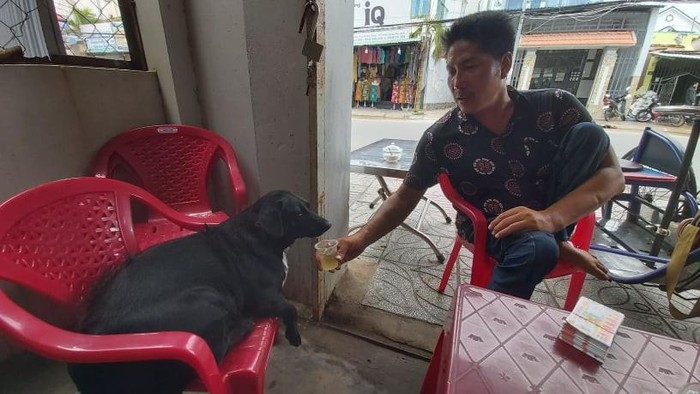 Ti and his wife consider Lucky a family member (Photo: Bao Moi)
The clever dog kept following Ti from the mainland to Phu Quoc Island, helping the middle-aged man earn a livelihood. Every day, Ti wheels his wheelchair across the streets with his loyal "companion" holding lottery tickets on mouth running after.
Ti would point his finger to signal the dog to run towards the customers. Lottery tickets are wrapped inside a plastic bag. Customers will have to take the bag from the dog, unwrap it to get the ticket themselves before returning the ticket bag (with money in it) to the dog. Ti's only task then is to take the money from the dog and keep going.
"Lucky never come close to the customers without my permission, thus, there's no need to worry if the dog would attack you", Ti said.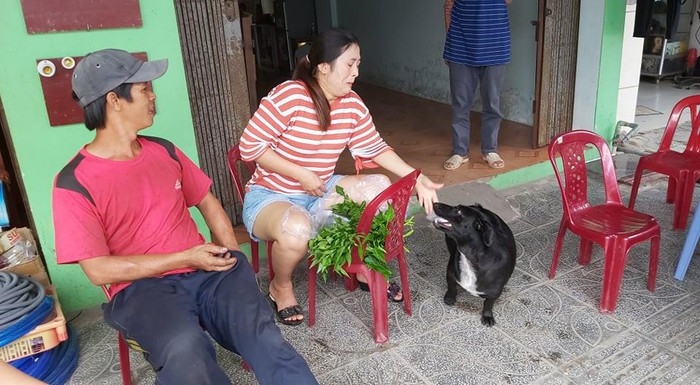 (Photo: Bao Moi)
"The dog would stay at the same place if you don't pay him", Nguyen Thi Thao – a lottery buyer – told Bao Moi, adding that local people often buy tickets from Ti out of pity and the interest in the dog.
The special "lottery ticket seller duo" draws large attention from local people and tourists alike. Some people who haven't bought a single lottery ticket before decide to buy one from Ti as they got "too attracted to the cute dog".
Some tourists even take photos, make videos, and posted on social media. The "debut" of the "handicapped man and the cute dog" has garnered a wave of reactions, comments, and shares.
(Video: Nld.com.vn)
Lucky even helps his owner take the rice bag from a charitable project. As reported by 24h, Lucky immediately jumped out of the backseat and ran towards the charitable site, stood in a queue with other people waiting for his turn to receive the rice. He then quickly ran back to his owner with the rice bag held by his mouth, then stayed on his seat before the two sellers continuing their journey.
The video, which was posted on the Internet earlier in late May has spurred Internet joy, with many netizens could not hide their excitement and love for Lucky.
Jasmine Le