"Dust knight" American teacher spends four years collecting garbage on Hannoi streets
An American loves Vietnam too much that he has decided to spend four years in the country working as an English teacher during day time but bestowing everyday night with his team to collect garbage across streets in Hanoi.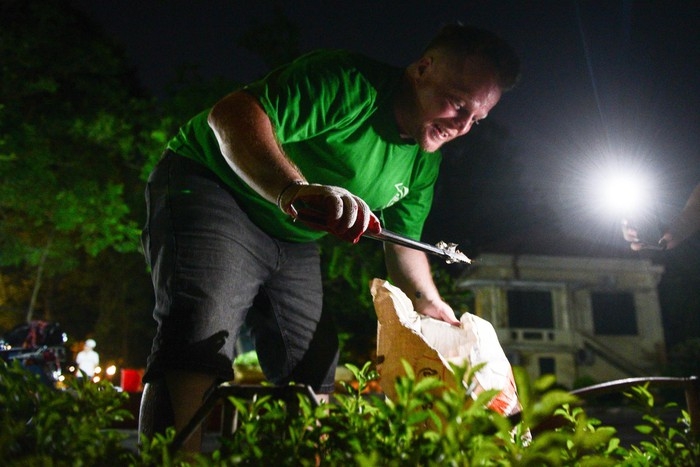 James Kendall is pictured as he's collecting garbage at the flower garden (Photo: Bao Moi)
James Kendall, 38, is an American teacher. He loves Hanoi and has been living in the capital for almost 7 years, with 4 years voluntarily clean trash around the capital. His enthusiasm for protecting the environment gives him the nickname "the foreign dustman".
Kendall is the founder of the Hanoi Clean organization. He moved to Vietnam since August 2013 and could speak Vietnamese fluently. Being an English teacher, the 38-year-old ex-pat also spent time collecting trash on the streets in his spare time.
"People often call me 'foreigner garbage collector'. I really like that nickname", Kendal told Zing.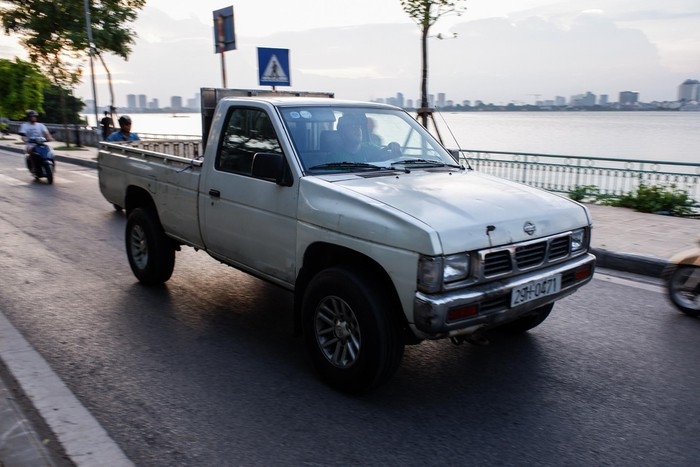 (Photo: Bao Moi)
On July 12, Kendall held the "Night Owl Cleanup" event at 7:30 pm. As there are quite many necessary tools needed, Kendall drove his truck to the cleaning site at 4 pm and picked up Bruce – a very active volunteer in the group – along the way.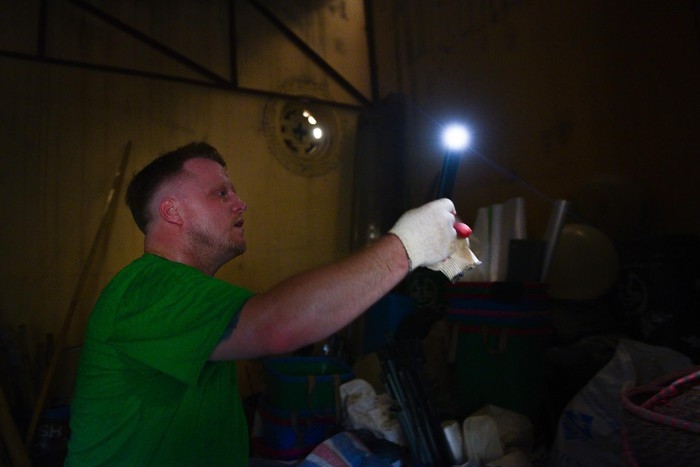 (Photo: Bao Moi)
At nearly 5 pm, they are at Tao Sach pagoda on Trich Sai Street to load all the cleaning tools at the warehouse onto the truck with the helping hands of all team leaders. "I've always kept the habit of being punctual both at work and in daily life.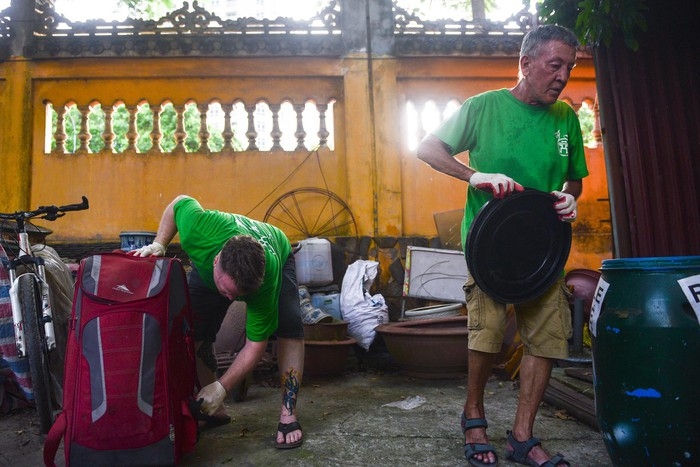 (Photo: Bao Moi)
Kendall and Bruce put on the protective gloves to move the cleaning tools from the warehouse. Once finished checking all the necessary items, which include 5 tables, a stack of chairs, 2 recycling bins, turtle cars, protective gloves, clamps, sacks, scales, and first aid kits, the group puts them all in the cars.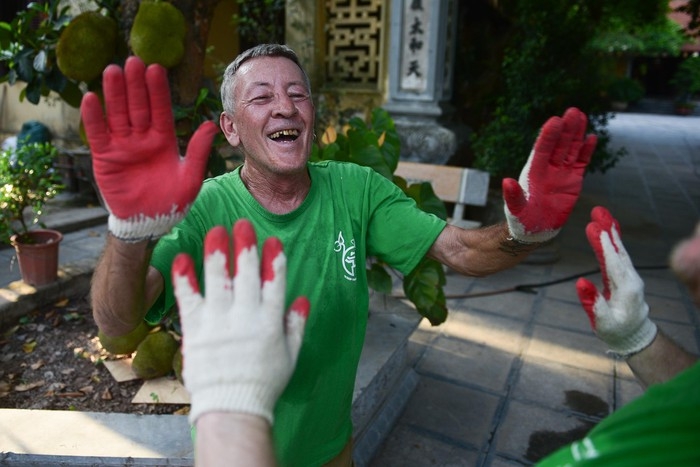 (Photo: Bao Moi)
After loading all the tools onto the truck, Kendall and other team members take a rest for a while under the trees.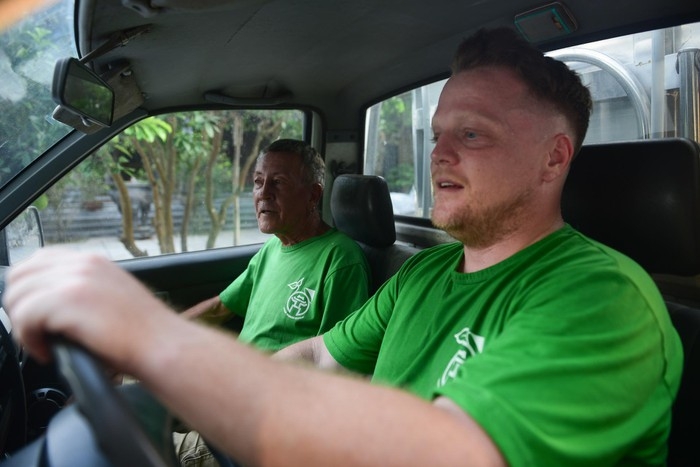 (Photo: Bao Moi)
All drives to Ly Tu Trong flower garden, where members and volunteers are gathering and ready for the "Night Owl Cleanup".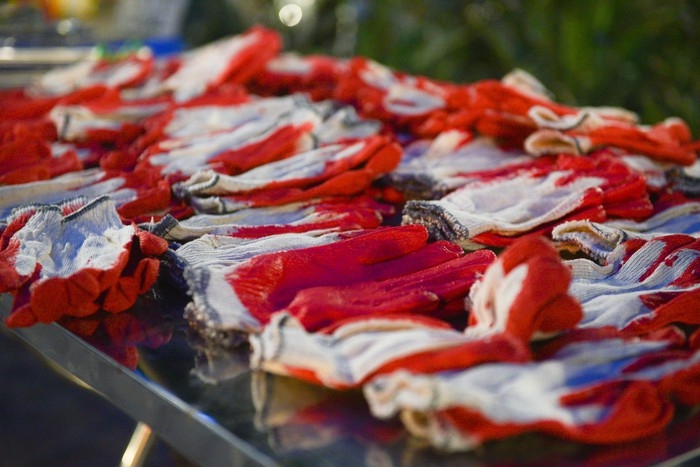 Protective gloves are readily available for volunteers to use (Photo: Bao Moi)
There are two rows of tables at the area of Ly Thai To Statue and Flower gardens. One row is filled with free protective gloves for volunteers to use while cleaning while the other is for information registration. Free iced tea is also served.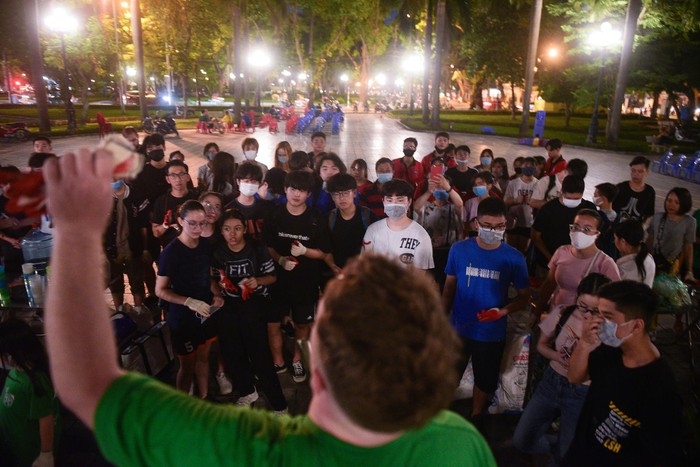 More than 40 volunteers are at Ly Tu Trong flower garden (Photo: Bao Moi)
Around 7:20 pm, more than 40 volunteers presented at Ly Tu Trong flower garden. Kendall starts to disseminate safety rules to everyone, reminding all volunteers to wear protective gloves, being careful when using sharp tools, discarding the trash into bags.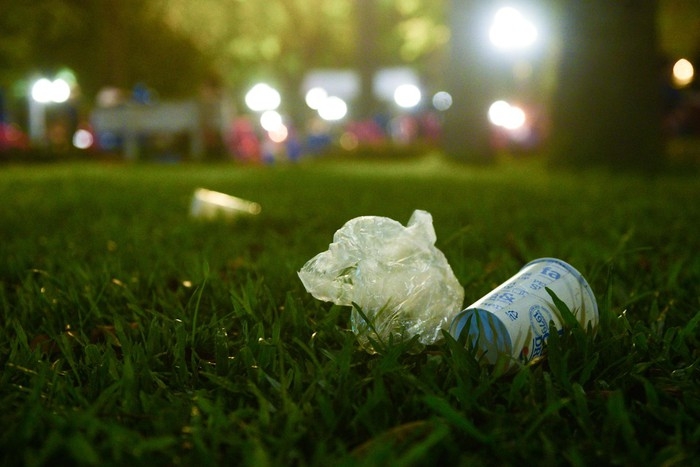 (Photo: Bao Moi)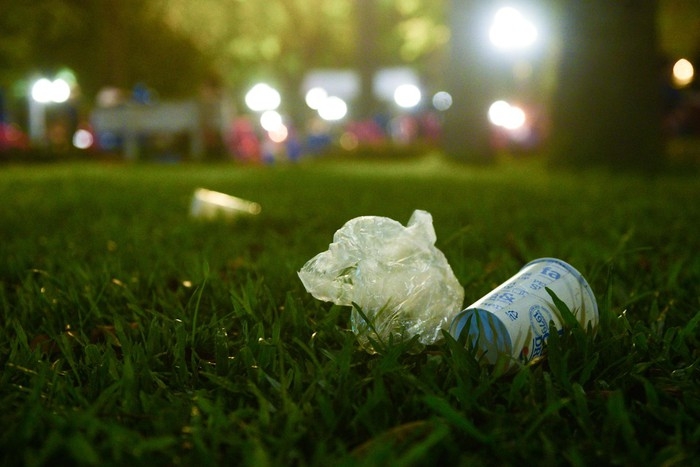 After only a few minutes, he has picked up quite a lot of garbage, mostly are mainly plastic straws, nylon bags, confectionery shells.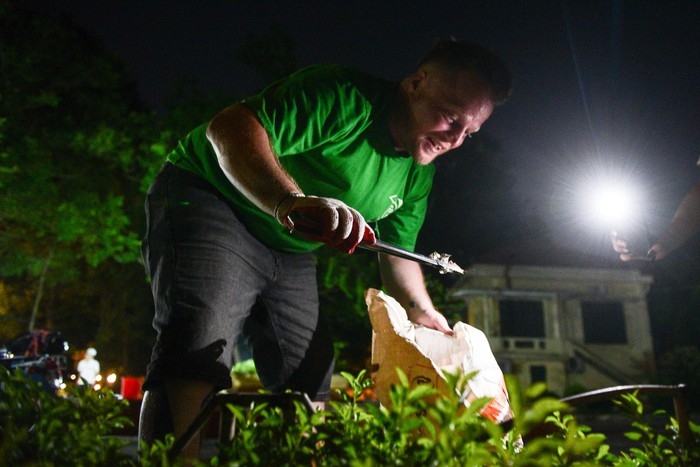 (Photo: Bao Moi)
The volunteer group has helped plan the "Night Owl Cleanup" event for over a month. "We feel fortunate to have such great support! Because without team leaders, volunteers, government's permission and support, the event could not have taken place", Kendall said.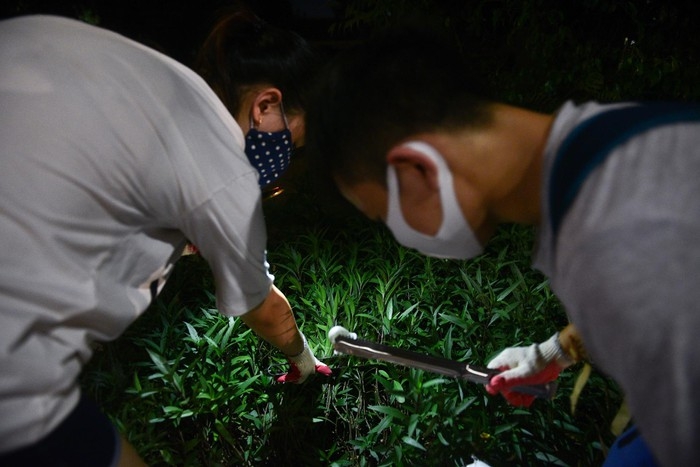 (Photo: Bao Moi)
At around 9 pm, Kendall moves to Truc Bach Lake area, one of the two places where waste was gathered.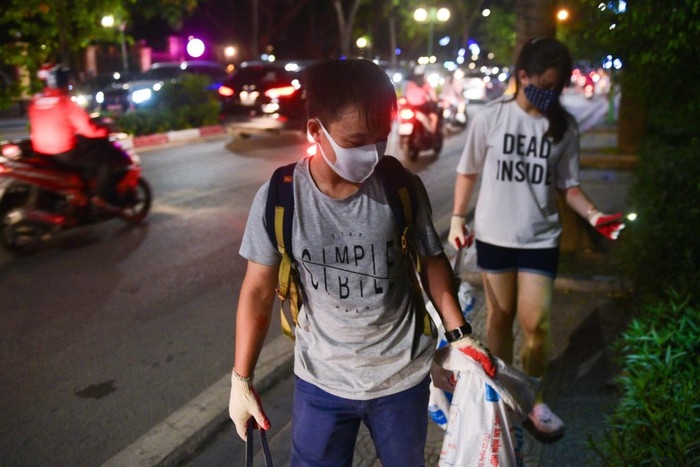 (Photo: Bao Moi)
Thanks to the help of all volunteers, dozens of sacks of garbage are quickly loaded onto the truck then dumped at Ly Tu Trong flower garden.
(Photo: Bao Moi)
All garbage bags are finally put into a location along Nguyen Dinh Thi Street. By midnight, the environmental company would come to collect all the trash to transport to the landfill.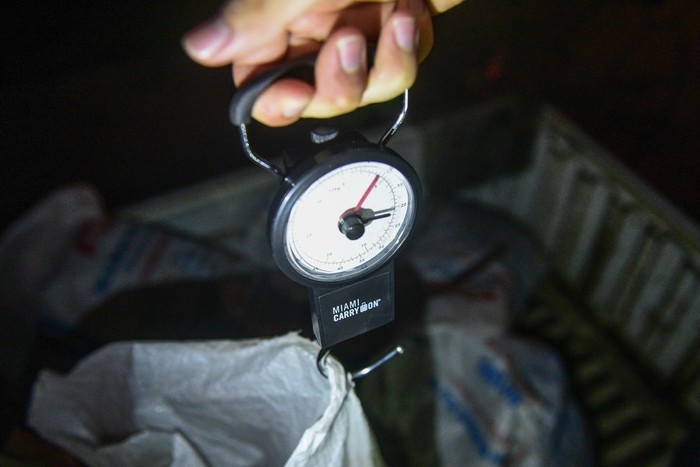 (Photo: Bao Moi)
According to the recorded results, Kendall's group has collected a total of 53 garbage sacks, which weigh around 150kg. "I'm quite surprised at the number", he said.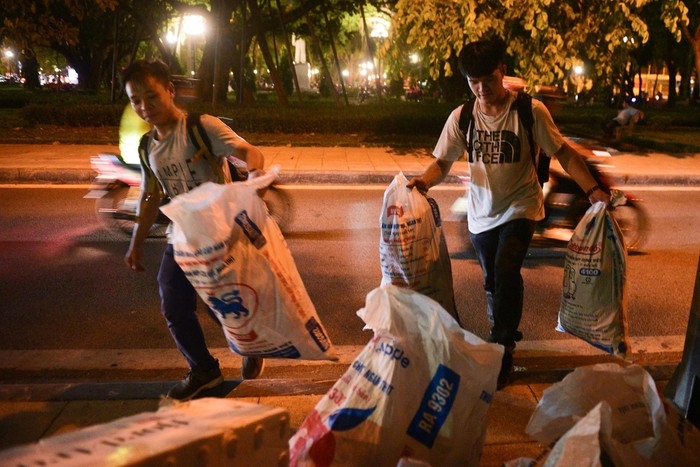 (Photo: Bao Moi)
"Many people ask me why I founded the 'Keep Hanoi Clean' organization. I thought the real question should be "Why not join hands to protect the environment?". This planet needs our action. Let's do the smallest thing to minimize the impacts that us human have brought to the Earth", he said.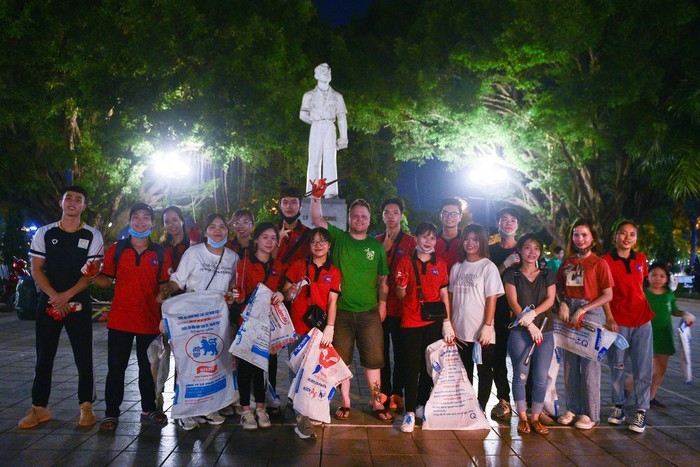 (Photo: Bao Moi)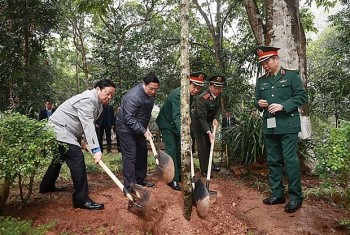 National
The Prime Minister launches a tree planting festival in Ba Vi on New Year of Cat.