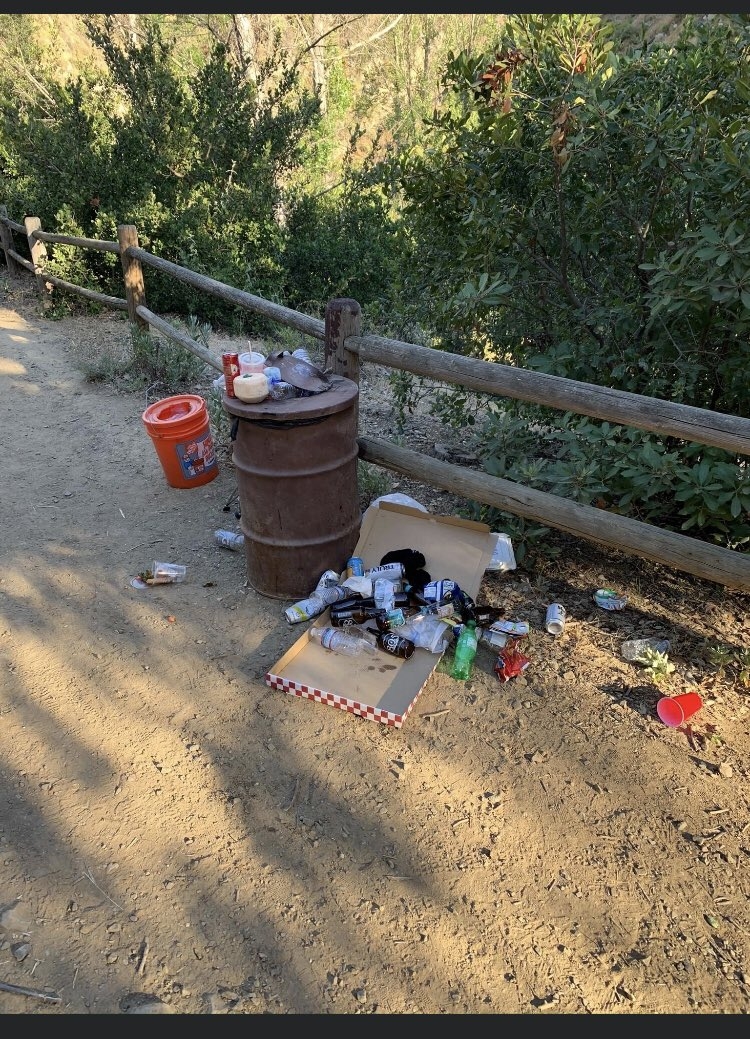 The destination has been shut down due to trash and human waste. Photo: Conejo Open Space Conservation Agency
The scenic hiking destination in Thousand Oak has been overrun with crowds 'in the hundreds' in the past two weeks as the weather has starting warming up and cooped-up residents look to get outdoors.
"Over the past two weeks, Paradise Falls attracted unprecedented crowds that behaved differently than they have in the past," agency officials wrote in their statement.
"While Paradise Falls has traditionally been a simple scenic stop on a hike through the park, recent crowds arrived by the hundreds with plans to spend hours at this sensitive spot. This resulted in environmental impacts to the land that are not sustainable."
According to Conejo Open Space Conservation Agency (COSCA), rangers have collected "multiple truckloads of trash" left at the 40-foot canyon waterfall despite the presence of trash cans in the area.
The organization also cited issues involving human waste after "many used areas along the creek both upstream and downstream as a toilet."
"COSCA has worked diligently to encourage visitors to be respectful of the environment and fellow visitors, and to obey posted rules, but many have not answered these calls," a spokesperson said.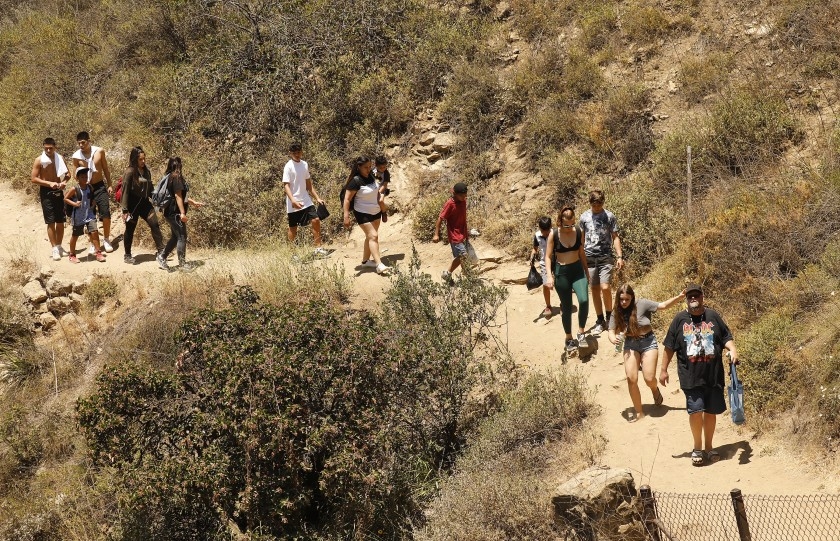 Crowds line the steep trail that leads to Paradise Falls in Thousand Oaks' Wildwood Regional Park on Thursday May 28, 2020. (Al Seib/Los Angeles Times)
Staff usually picks up trash once or twice a week, but over the weekend they were doing it every day to keep up. It was disappointing and gross for the staff members who take care of the open space they've spent most of their lives protecting, said Brian Stark, an agency administrator.
"It's easy so sit back and put the blame on somebody else, but the responsibility of caring for the Earth is everybody's," Stark said.
Hikers typically spend only a short time at the falls before continuing on the trails. Over the past two weeks, Paradise Falls has attracted unprecedented crowds of people who stay for hours at a time, causing an environmental impact to the land, Stark said.
The majority of people coming to Wildwood Park are headed for the falls. One person even brought a barbecue to the fire-prone area, he said.
The wetlands have been trampled and the trash and human waste is affecting water quality, Stark said. Additional disruptions include impacts to bird nesting season, which is currently happening. Parking problems have also emerged.
Paradise Falls will be closed starting Friday "until further notice."
Local users are requested to find alternative destinations for now and let Paradise Falls recover," officials said.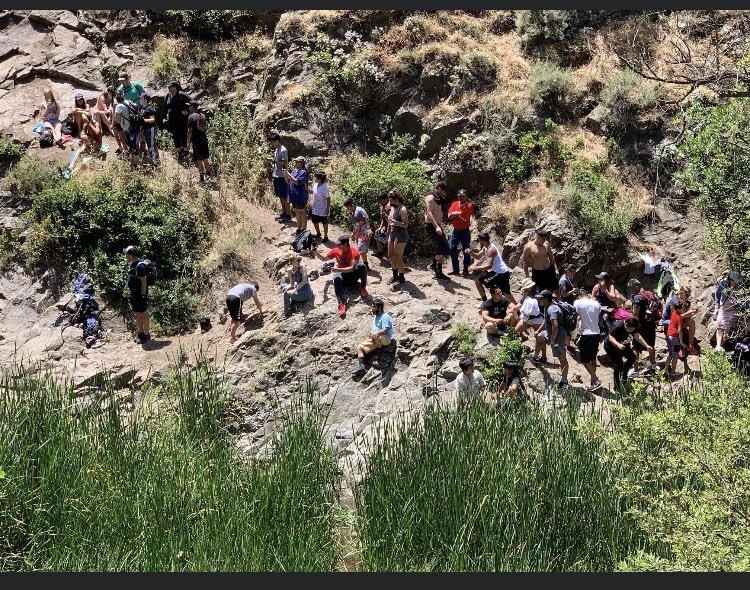 Photo: Conejo Open Space Conservation Agency
Thousands Oaks Police Department personnel will be on hand to help keep the public out during the closure. Those who don't comply will be cited, according to the statement.
The agency's other trails will remain open for now, but COSCA emphasized that visitors won't be able to access Paradise Falls.
Crowding has been an issue at some other newly reopened trails following coronavirus-related-closures, including Eaton Canyon in Altadena.
The popular hiking destination in Los Angeles County was shut down again this past Sunday because too many people were on the trails and too few were adhering to public health guidelines put in place to stem the spread of COVID-19, officials said. The area is scheduled to reopen once more on June 1.
Paradise Fall (Wildwood Falls)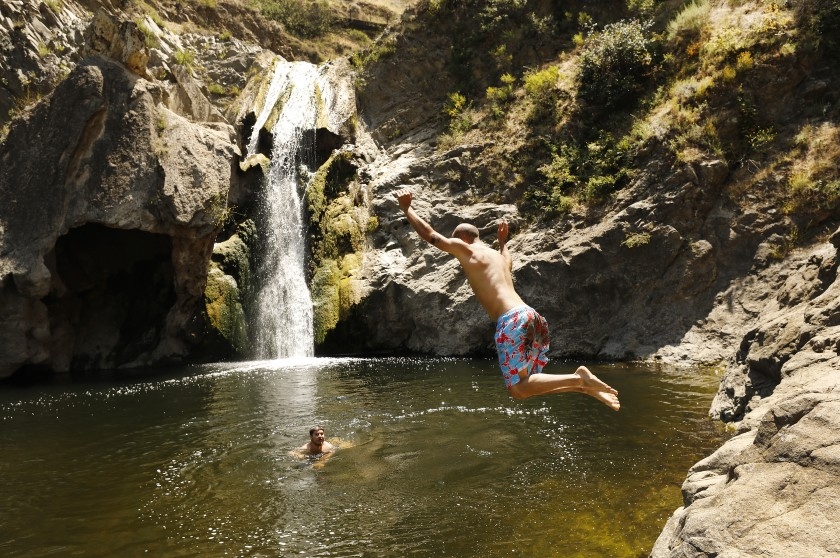 A man jumps into the water under Paradise Falls in Thousand Oaks' Wildwood Regional Park. (Al Seib/Los Angeles Times)
Paradise Fall (also known as Wildwood Falls) in Thousand Oaks packs a shockingly diverse landscape into its 1,765 acres. There are sweeping grasslands, prominent ridges and peaks like Lizard Rock, the beautiful year-round Paradise Falls and its oak and sycamore-lined riparian canyon, and even some unusual eroded rock formations like Indian Cave. The park is home to seven different plant communities and more than 250 species of plants, 60 species of birds, 37 species of mammals, and 22 species of amphibians and reptiles. Without hyperbole, this is one of the most fascinating regional parks in the L.A. area.
Jennifer Tran