Foreign students volunteer to Covid-19 frontline
Unable to return to their home country, overseas students are performing good deeds in Vietnam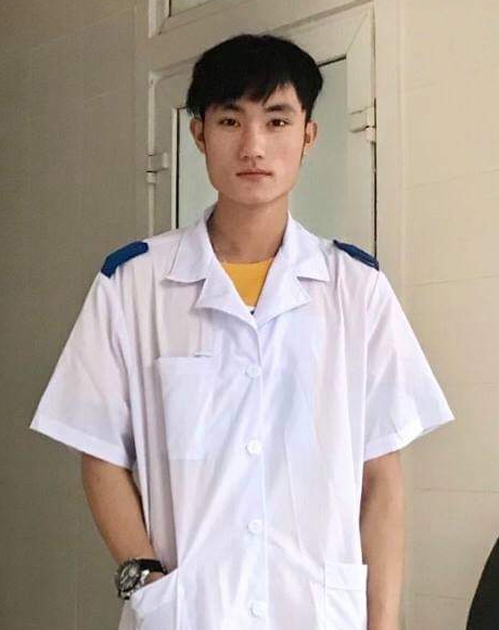 Yenh Xua Ly volunteers on the frontline during his sophomore year (Photo courtesy of Yenh Xua Ly)
Yenh Xua Ly, a Laotian sophomore at Vinh Medical University, volunteered to join Covid-19 frontline workers in neighboring Nghe An province as the locality faces rising cases of the virus.
The overseas student said he had hesitated at first because he couldn't speak Vietnamese well, but decided the language barrier wouldn't stand in his way. He enlists local help for clear communication, and his Vietnamese has got even better through such situations.
"Laos and Vietnam are struggling with new outbreaks. I can't join the anti-pandemic campaign in my country, but I can do it here in Vietnam," Ly told VNE.
Som Oh, another Laotian student in the university, also signed up to volunteer in Nghe An. The 21-year-old said she wanted to contribute to Vietnam's pandemic prevention and control efforts, getting hands-on experience with senior students and frontline medical personnel.
"My friends were worried. They kept saying I might get infected and distracted from my academic study. But still, I wanted to join the first responders and help them shoulder the burden," Oh said. "I'm still a student though, but I will do the best I can."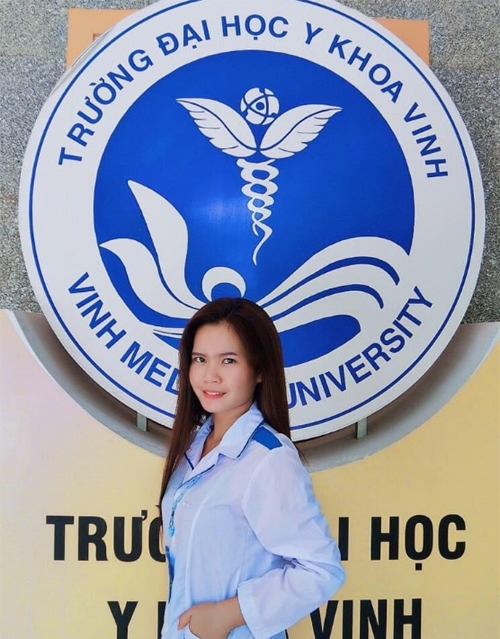 Som Oh (Photo courtesy of Som Oh)
Ly and Oh's parents have no clue about their children's decisions. In their hometowns, Xiengkhuang and Vientiane, there have been few infections.
"I haven't told them about my volunteering for fear they might be worried. They called and reminded me to wear a face mask and not to visit crowded places," Ly said. "I often reassure them that the university is very protective of us and the pandemic in Vietnam is effectively contained."
Ly and Oh often engage in charitable activities. Ly follows lecturers and senior students to remote areas to examine and offer treatment to local people. Meanwhile, Oh is a regular blood donor. Both are members of the Health club, and often go to primary and secondary schools to spread healthcare knowledge.
Both students spent nine months learning Vietnamese before advancing to Vinh Medical University. Both are staying at dormitories, enjoying free tuition and accommodation fees.
Dr. Nguyen Anh Duc, deputy secretary of the Union of the university, said the schoo has received over 1,000 applications to join the Covid frontline from medical students and lecturers. Of the volunteers, there are 10 Laotians.
Duc said university authorities can mobilize and sent more Laotian students to epicenters in Ha Tinh province for medical support.
"I'm moved by the enthusiasm and affection of the foreign students. They've had a lot of difficulties since the pandemic broke out. They couldn't reunite with their families in Laos during New Year and summer break," the deputy secretary added.
The university reportedly often holds exchange activities among Vietnamese, Laotian, Thai and Cambodian students.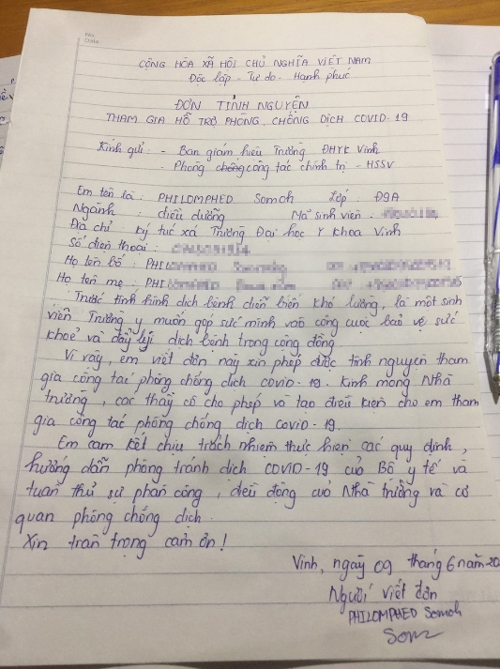 Yenh Xua Ly's application letter to join the frontline (Photo courtesy of Yenh Xua Ly)
In late May, Minister of Health Nguyen Thanh Long called for students at medical and pharmaceutical universities and colleges nationwide to help Bac Ninh and Bac Giang provinces in their Covid-19 fight.
Earlier, 375 people including medical officers, lecturers, trainees and students arrived in Bac Giang and Bac Ninh to support them in fighting against the novel coronavirus.
A total of 1,976 medical staff and students from 15 universities and colleges are currently participating in Covid-19 prevention and control in localities such as Bac Giang, Bac Ninh, Hanoi, Ho Chi Minh City and Can Tho.
As of May 27, as many as 34 medical universities and colleges with 23,888 people have registered to volunteer to join the Covid-19 battle.
The novel coronavirus, which stemmed from Wuhan city, China's Hubei province, has spread to 220 countries and territories. In Vietnam, it has affected 11,794 patients, claiming 61 lives. While the two northern provinces of Bac Giang and Bac Ninh are struggling with a growing daily tally, central Vietnam is the least affected of the three regions.
In Vietnam's fourth wave, which started on April 27, the nationwide tally has topped 8,569 cases and 25 deaths.