Efforts Redoubled towards Removal of EC's "Yellow Card" on IUU Fishing
Experts have called the yellow card a significant risk for Vietnam's seafood industry.
There are only a few days left before the European Commission (EC)'s fourth on-site inspection in Vietnam over the fight against illegal, unreported, and unregulated (IUU) fishing. In the effort to lift the IUU yellow card, the most crucial prerequisite was to put an end to the situation of fishing vessels violating the exploitation of seafood in foreign waters. However, the task remained challenging, VNS reported.
The Ministry of Agriculture and Rural Development has announced that with relentless efforts to curb the illegal fishing by Vietnamese fishing vessels in foreign waters, Vietnam's fishery sector hoped that the removal of its yellow card warning for IUU fishing will happen this year.
Deputy Minister of Agriculture and Rural Development Phung Duc Tien made the statement on September 29 during a virtual conference with 28 coastal cities and provinces and relevant agencies and units, regarding preparations for the EC inspection team for the fourth time.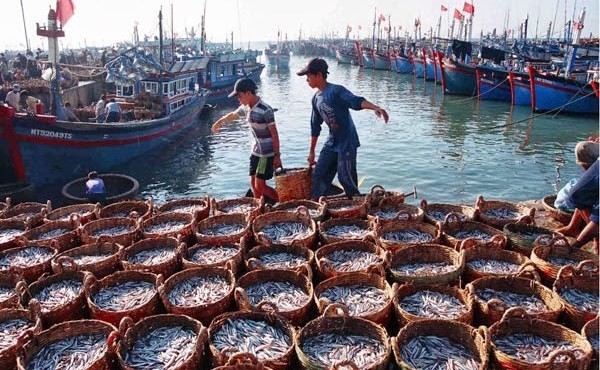 Illustrative image. Photo: VNA
The EC inspection team was scheduled to visit Vietnam between October 10-18 to evaluate the implementation of EC recommendations on combating IUU fishing following the third inspection in October 2022. Based on their findings, a decision would be made regarding the removal or maintenance of the yellow card warning for Vietnamese seafood products.
During the meeting, Deputy Minister Tien reported that Vietnam has focused on addressing four groups of issues, including legal frameworks, management and supervision of fishing vessels, origin traceability, and law enforcement.
Regarding legislative regulations, Vietnam has already enacted the Fisheries Law in 2017. The ministry has completed nine circulars and amended two decrees, including Decree No. 26/2019/NĐ-CP and Decree No. 42/2019/NĐ-CP for the implementation of IUU fishing regulations.
Furthermore, Circular No. 81-CV/TW has concentrated all available resources on lifting the yellow card, and the Prime Minister's Decision No. 81/QĐ-TTg was issued to establish an action plan to combat IUU fishing.
In collaboration with various ministries, sectors, and localities, the ministry has been implementing programs and plans for sustainable, responsible, internationally integrated seafood industry development, IUU fishing prevention, and effective implementation of Vietnam's seafood development strategy by 2030 with a vision to 2045.
Regarding fishing vessel management and monitoring, the ministry has advised the Prime Minister to instruct localities to review the entire fleet of fishing vessels, update vessel data in the national fisheries database (VNFishbase), and issue directives to temporarily suspend the granting of new permits for construction of fishing vessels with a length of 15 meters or more.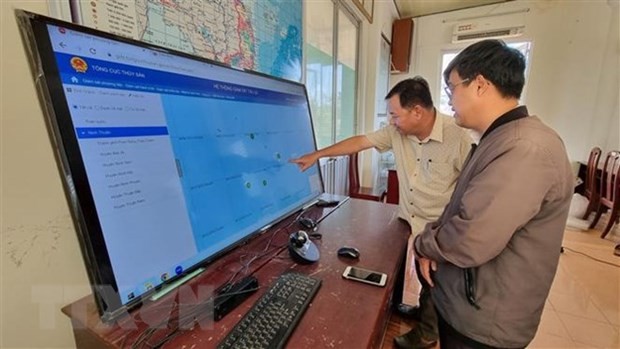 Fishing vessel operation supervision via VMS in Ninh Thuan province. Photo: VNA
As of now, the entire country has installed vessel monitoring systems (VMS) on fishing vessels with a length of 15 meters or more, achieving a rate of 97.86%.
Tien said in the effort to lift the IUU yellow card, the most crucial prerequisite was to put an end to the situation of fishing vessels violating the exploitation of seafood in foreign waters. However, he acknowledged that the task remained challenging.
Currently, the country has 86,820 fishing vessels with a length of six meters or more, including over 30,000 vessels with a length of 15 meters or more.
Related the origin traceability, the origin tracing of fishing vessels has been tightly controlled, including monitoring through a confirmation and certification mechanism for the origin of seafood, ensuring consistency with vessel control records at port entries and exits, confirmation at designated fishing ports, and issuance of export certificates, and control of raw materials at processing plants.
Control over the origin of seafood raw materials imported from foreign countries has also been enhanced to ensure compliance with regulations.
Tran Dinh Luan, head of the ministry's Directorate of Fisheries, stated that the yellow card warning has been in six years.
This was a matter of great concern to the Government, especially the Prime Minister, he said, adding that the actions taken by the Government and various ministries and agencies demonstrated an unwavering determination to fulfill the EC's requirements.
Luan said legal regulations have been completed and are in line with Vietnamese law. Coastal provinces and cities have developed local models, with some fishermen performing exceptionally well, and these models needed to be replicated in other areas.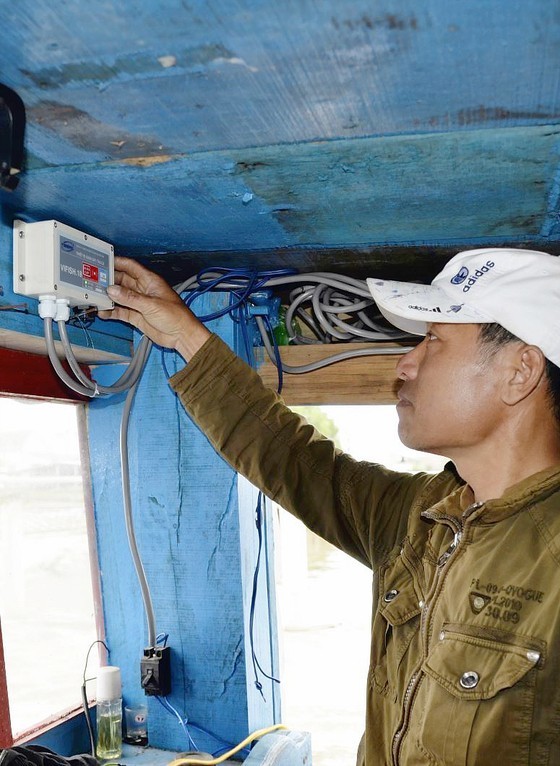 Surveillance device installation on a fishing boat in Quang Tri province. Source: SGGP
However, Luan said, violations of fishing vessels in foreign waters still persisted, which the EC viewed as a serious issue.
The Fisheries Law, Decree No. 26, and Decree No. 42 have clearly defined sanctions for this violation, but in practice, some regions mostly issued warnings.
Furthermore, Vietnam has made every effort but has only been able to control 50% of the vessels entering designated fishing ports for origin tracing.
Regarding administrative violations, the functional sectors have handled more than 4,000 cases with fines totaling VND 110 billion (USD 4.5 million), but these matters have not been rigorously enforced in many localities.
Duong Van Cuong, deputy director of the ministry's Department of Fisheries Surveillance, highlighted that the issue was not just about lifting the IUU yellow card but also about building a sustainable and responsible fishing industry.
In the upcoming inspection, he said, the EC would focus on the implementation of its recommendations on its third inspection in Vietnam.
Localities and ministries have actively prepared with the highest determination to achieve positive results, he added.
Last month, EC Commissioner for the Environment, Oceans, and Fisheries Virginijus Sinkevičius met with the Vietnamese Minister of Agriculture and Rural Development Le Minh Hoan in Brussels.
The EC representative also said the EC wants to assist Vietnam in becoming a model of sustainable fisheries development and anti-IUU fishing in the world.
Through inspections, the EC has concluded that Vietnam's efforts to have the yellow card lifted are on the right track and that the fight against IUU fishing has been prioritized by the Vietnamese government and yielded marked results. The EC has also emphasized a "clear legal framework" and pledged to support Vietnam to remove the label as soon as possible.
For Vietnam, transforming its fishing industry to a modern, sustainable, and responsible sector, and changing the mindset of fishermen remain a big challenge, requiring the strong determination of all stakeholders, especially in implementing the EC's recommendations to prevent fishing vessels from encroaching on foreign fishing grounds.