Hanoi, Da Nang schools switch to distance learning over coronavirus fears
Educational institutions in Hanoi and Da Nang will be closed starting May 4, with classes going online instead amid rising Covid-19 concerns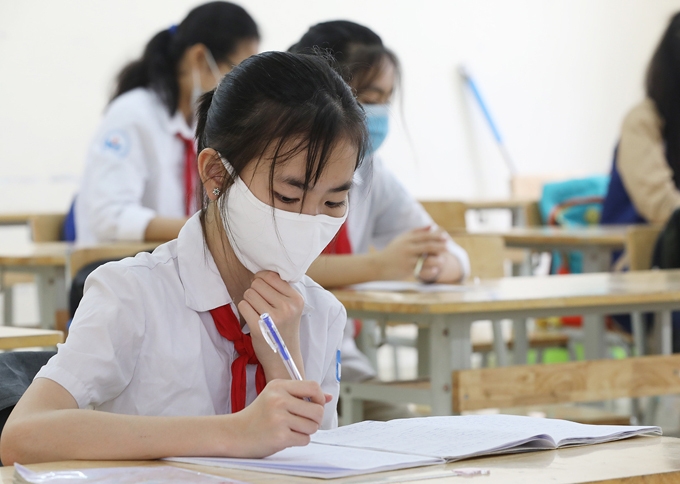 A student at Nguyen Du secondary school in Hanoi (Photo: VNE)
Around 2 million students from nurseries to high schools and vocational training centers in Hanoi will attend virtual classes from Tuesday morning until further notice. The decision was made by Hanoi Department of Education and Training on May 3 as the city reported three community infections. Experts evaluate the infection risk in Hanoi as very high, given the large number of commuters traveling in and out during the recent holiday break.
Da Nang municipal People's Committee also issued an official dispatch asking for educational establishments to switch classes from online starting May 4 to avoid possible exposure to the novel virus. Teachers are tasked to ensure teaching quality.
The central city, which was Vietnam's coronavirus epicenter last August, reported one local Covid-19 case on May 3. Municipal authorities also requested the Prime Minister to stop receiving repatriation flights bringing Vietnamese citizens home.
Hanoi and Da Nang, therefore, become the 6th and 7th localities in Vietnam to close schools over coronavirus worries, after Ha Nam, Vinh Phuc, Hung Yen and Yen Bai.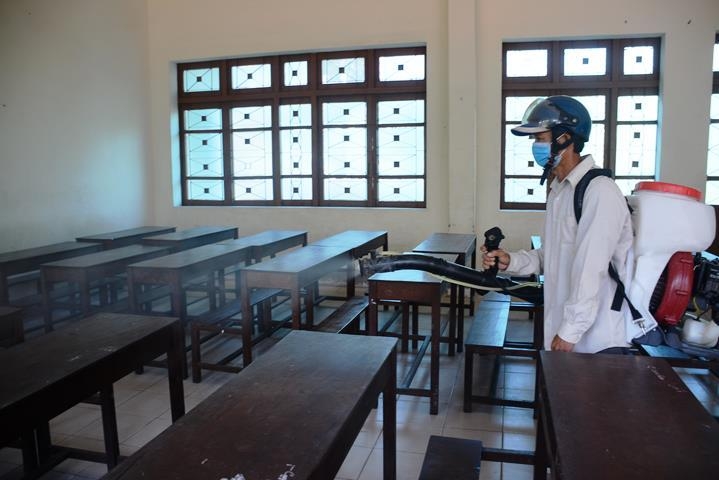 Medical staff sanitizing classes in Quang Nam (Photo: Vietnamnet)
In the meantime, teaching in many universities in Hanoi and Ho Chi Minh City has also been halted. Vietnam National University was the first university to deploy online classes. Dozens of universities have followed suit, including Hanoi University of Science and Technology, the Academy of Journalism and Communication, and the University of Transport and Communication.
With such a school closure plan, Vietnamese students are to "enjoy" a prolonged holiday break after a 4-day-off period for Reunification Day and International Labor Day.
Education disruption has been common in Vietnam since the start of the Covid-19 pandemic. Last year, students across the country returned to school in mid-June after 4-months of online tuition, an event unprecedented in history. The National University entrance exam was also put off until September, nearly two months later than normal.
Vietnam has recorded 36 cases scattered across the country since the latest oubreak started on April 29.
They are all linked to the "super spreader" known as Patient 2,899.
By April 29, Vietnam had gone more than one month without recording any new locally-transmitted of Covid-19.
Patient 2,899 tested positive for the coronavirus after returning home from two weeks of quarantine following his return from Japan.
The Ha Nam Center for Disease Control announced the 28-year-old man's test result on Thursday.
The man returned from Japan on April 7 and was quarantined at the Alisia Beach hotel in central Da Nang City. He tested negative for the coronavirus three times during his stay.
On April 22 he returned home to Ha Nam and self-isolated. But on April 24 he began to display symptoms lsuch as coughing, fever and throat pain, and was taken to a local medical facility for testing.
Following the positive test result, he has been quarantined at the Ha Nam General Hospital, while his close contacts have been put in quarantine..
Vietnam reported 19 new cases of Covid-19 from 6 a.m. to 6 p.m. May 3, according to the Health Ministry. Nine of the new cases were imported. The domestic cases included eight in Vinh Phuc and two in Ha Nam.
Four new cases found on the morning of May 4, of which two were isolated immediately after entry in An Giang, and two were recorded domestically in Da Nang and Hanoi.