Exhibition Introduces Vietnamese Culture To French People
More than 40 works including paintings and sculptures by artist Pham Trong Chanh, an overseas Vietnamese painter has been presented to the public in Paris since May 13.
Displayed at the headquarters of the Association of Vietnamese in France (UGVF) in Paris, Pham Trong Chanh's works vividly show his love for the homeland, where he used to live before going to France to study abroad. It is the heroic history of the nation since the founding of the country by the Hung Kings, the fairy tale of Thanh Giong praising the strength and spirit of fighting against foreign invaders, as well as the typical cultural features of locals in Vietnam.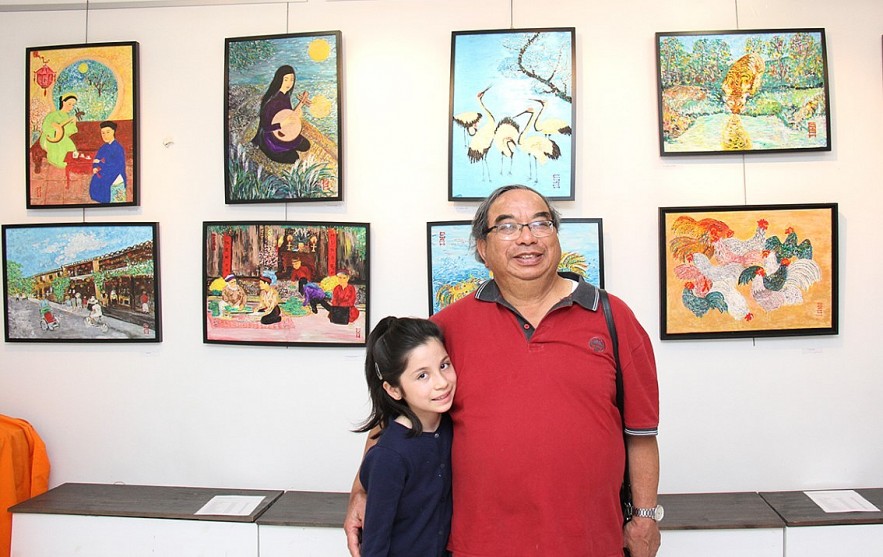 Painter Pham Trong Chanh with his paintings on display in the background at the exhibition. Photo: nhandan.
Being an expat, Pham Trong Chanh has been living and working in France for a long time. He works as a painter and a sculptor. Having a passion for literature, poetry and painting since he was still studying in Vietnam, in 1970, he went to study abroad in France. Under the instruction of Prof. Le Thanh Khoi, he obtained his PhD degree in Educational Sciences.
Even during his university years in France, he was apprenticed to painter Le Ba Dan and was inspired by his love of the country through painting. He has also developed passion for painting, sculpture, and poetry as a way to relieve his nostalgia and express his love for the motherland.
Artist Pham Trong Chanh has organized many painting exhibitions and printed many poetry books in France. For the past few years, he has been busy drawing, waiting until activities return to normal in France so that he can introduce more than 40 paintings and sculptures with the theme named "From East to West."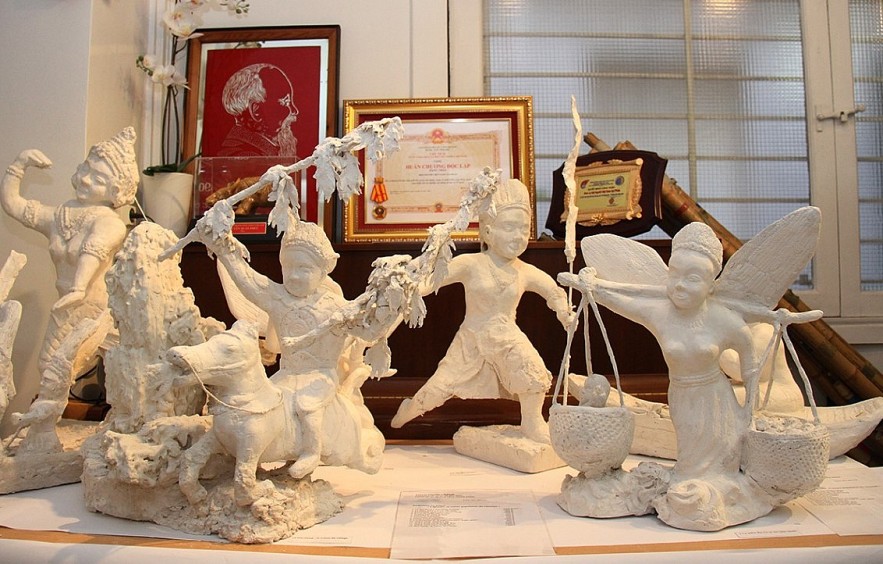 Photo: VNT.
He shared that the motherland is an endless inspiration for his paintings. His artworks vividly feature a range of topics from Vietnamese fairy tales and folklore stories to the daily life, beautiful landscapes, and friendly people in Vietnam.
Each picture and statue created has a historical story of the nation, the typical cultural features of his homeland. Artist Pham Trong Chanh said that Vietnam is an endless topic for him every time he holds a brush. He creates characters stepping out of thousands of years old fairy tales and stories, ones from the peaceful scene of a family excitedly wrapping banh chung on Tet, ones from the image of a girl in an idyllic grandmother's shirt holding a moon lute singing a song in the moonlight. All of them are portrayed in a vivid, unique and colorful way.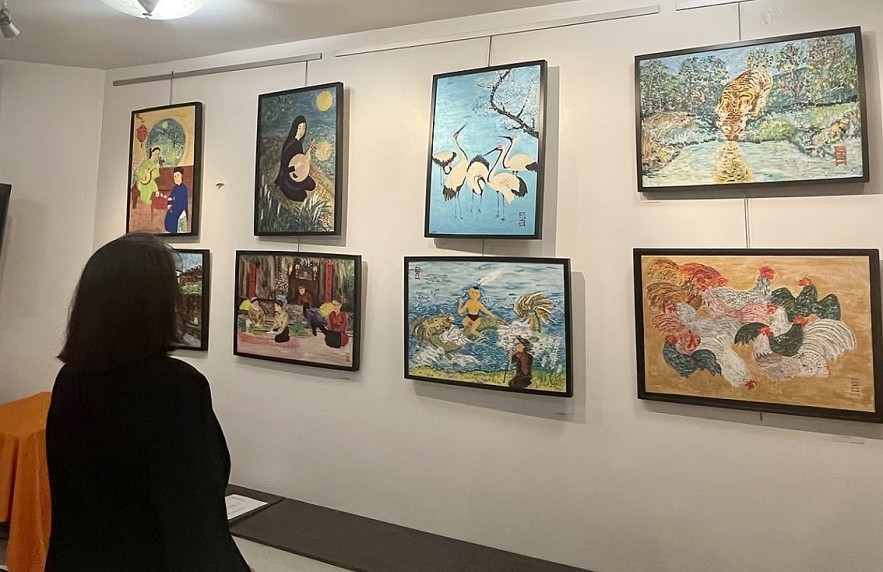 Photo: VNT.
Mr. Can Van Kiet, former Vice President of UGVF, said that this is a very meaningful cultural event in a series of community activities in France that resumed after Cpvid-19 pandemic. The exhibition is an opportunity to introduce the painting talent of overseas Vietnamese to the French public, and also an opportunity for young generations of Vietnamese and international friends to learn about the culture and traditions of the country and Vietnamese people.
Running until May 28 at the headquarters of the Association of Vietnamese People in France (UGVF) in Paris, the exhibition is expected to provide French people with a closer look into the history and culture of Vietnam.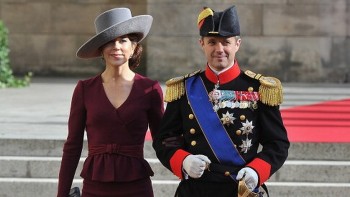 Friendship
Denmark's Crown Prince and Crown Princess will visit Vietnam to celebrate 50 years of diplomatic relations and promote green solutions.