Experts urge tightening home quarantine for diplomats
Experts have suggested tightening home quarantine procedures that are being applied for diplomats entering Vietnam in order to avoid COVID-19 outbreaks.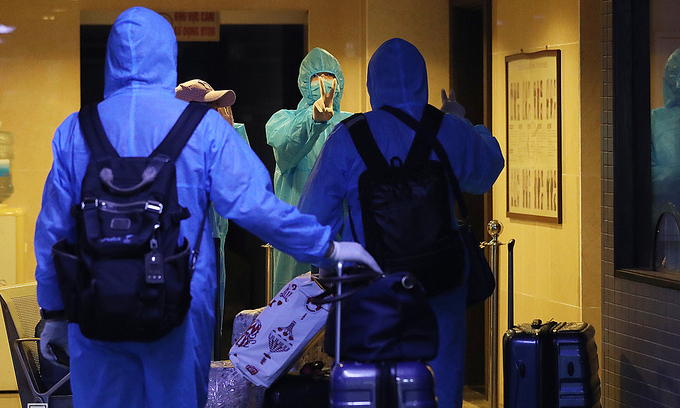 Experts from the Republic of Korea (RoK) arrive at a hotel in Hanoi for quarantine, November 2020. Photo: VnExpress
Experts have suggested tightening home quarantine procedures that are being applied for diplomats entering Vietnam in order to avoid COVID-19 outbreaks.
The Health Ministry confirmed on December 6 that a 54-year-old Libyan diplomat had tested positive for the novel coronavirus. He and his family had landed at Hanoi's Noi Bai International Airport on November 11 from Qatar and were quarantined at their residence in the Diplomatic Complex building in Hanoi's Bac Tu Liem District.
Medical staff took their samples for testing upon arrival and the results came back negative, VnExpress reported.
On November 30, the Libyan man felt tired, stressed and uncomfortable, with high blood pressure. He was taken to the Duc Giang General Hospital for a health check.
A day later, he returned home and continued his quarantine. On December 3, medical staff took his samples for the second testing and the results came back positive. He was transferred to the National Hospital for Tropical Diseases for treatment. Samples of five other members in the family have tested negative for the novel coronavirus. They have been moved to a centralized quaratine facility at Hanoi's Municipal Police Hospital.
Dang Quang Tan, head of the health ministry's General Department of Preventive Medicine, said that under Vietnam's current regulations, those holding diplomatic passports and their families can be quarantined at their offices, guest houses or lodgings of their choice for 14 days.
They will be tested on arrival for the first time, and a second test carried out after 24 hours. They can only work after they have been quarantined for 14 days at home and tested negative twice.
Tan said the ministry applies strict preventive measures for diplomats quarantined at home.
He said local authorities and the owner of the quarantine facility are responsible along with the health sector for ensuring strict management in places where diplomats are quarantined.
Tan also said the Libyan diplomat's case was "a normal incident," and the processes of isolating and testing similar cases "are very strict" and have been applied in the past.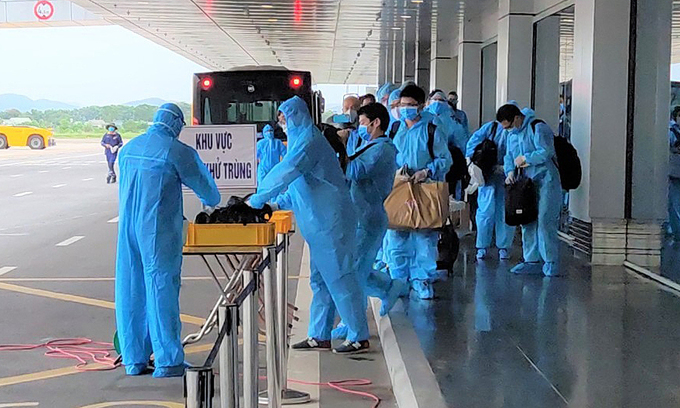 Japanese experts go through disinfection at the Van Don Airport in Quang Ninh province, June 25, 2020. Photo courtesy of the airport.
Khong Minh Tuan, deputy director of the Hanoi Center for Disease Control (CDC), said the supervision of diplomats and their families under home quarantine was not difficult because "they generally show high awareness and compliance with the nation's Covid-19 prevention regulations."
Dr Nguyen Viet Nhung, director of the Central Lung Hospital in Hanoi, also affirmed that the risk of spreading the virus into the community from diplomats entering the country is quite low but he proposed tightening supervision against them to ensure safety.
Pham Van Hoa, member of the National Assembly's Law Committee, expressed concern that though the ministry has issued strict procedures for quarantining diplomats, the risk of infections spreading cannot be completely ruled out.
Hoa said the global pandemic situation was becoming increasingly complicated and therefore, the risk of Covid-19 transmission from outside the country was very high.
While diplomats being allowed to quarantine themselves at home might restrict communication and isolate themselves, they are still likely to be in touch with family members and others who might go out, without strict management.
In reality, Hoa noted, local authorities find it difficult to carry out medical supervision for diplomats and their families in home quaratine. Therefore, the health ministry should study appropriate measures to eliminate risks, he added.
Under the health ministry's regulations, foreign experts, investors, and business managers entering the country for less than 14 days are also exempt from centralized quarantine, but will be isolated at their accommodation or place of work and are required to comply with Covid-19 prevention regulations, including wearing a mask and refraining from shaking hands.
Nguyen Thi Lien Huong, director of the health environment management agency under the ministry, said that before entering Vietnam, those coming for stays of less than 14 days must have a specific work schedule that has to be approved by local authorities. This should cover their accommodation, work schedule, transportation plan and a list of people they will contact while working in Vietnam.
They must have tested negative for the novel corornavirus three to five days before entry. Upon arrival, they will be tested for Covid-19 again and can only start working if they show negative results again. After this, they will have their samples taken for testing every two days. They will also be tested before leaving Vietnam.
"Experts entering the country for short visits are not allowed to stay in their own homes or personal residence to prevent the risk of community transmission," Lien said.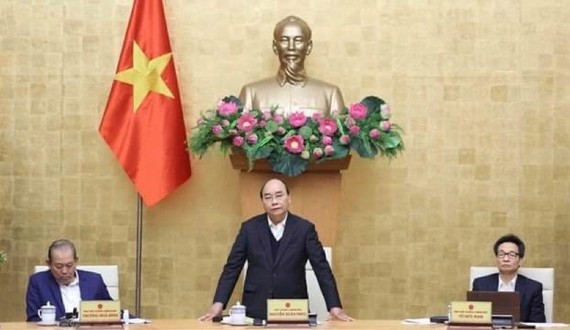 Prime Minister Nguyen Xuan Phuc orders that those entering Vietnam for less than 14 days are required to limit their time at bars, dance clubs, karaoke parlors and other crowded places. Photo: VNA
Earlier, Prime Minister Nguyen Xuan Phuc also ordered that those entering Vietnam for less than 14 days are required to limit their time at bars, dance clubs, karaoke parlors and other crowded places.
He agreed to suspend commercial international flights and only run flights carrying home Vietnamese citizens meeting requirements. He directed the Defence Ministry and Ministry of Public Security to closely manage the border and entry-exit activities.
Ministries, agencies and localities were required to suspend activities gathering large numbers of people, impose social distancing in high-risk areas while the mass media must continue to remind the public about the imminent danger of the pandemic and guide them in prevention measures.
The health sector must cooperate with foreign partners to produce COVID-19 vaccine for domestic use or buy vaccine if necessary, he was cited by the Vietnam News Agency as saying./.
Ten imported cases of COVID-19 were reported on December 8, raising the national count to 1,377, according to the National Steering Committee for COVID-19 Prevention and Control.
All of the new patients were quarantined upon their arrival, with eight in the central province of Khanh Hoa, one in HCM City and one in the central province of Quang Nam.
As of December 8 afternoon, Vietnam reported 693 locally-transmitted COVID-19 cases.
A total of 1,224 COVID-19 patients have fully recovered. The fatalities still stand at 35.
Among those under treatment, eight have tested negative for the novel coronavirus (SARS-CoV-2) once, four twice and five thrice.
There are 20,262 people who had close contact with COVID-19 patients or arrived from pandemic-hit areas being quarantined across the country./.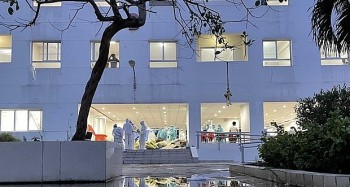 National
Vietnam News Today (Aug. 16): More than 251 million doses of Covid-19 vaccines administered in Vietnam; HCM City ready to reactivate Covid-19 treatment hospitals; Vietnam Airlines opens ticket sales for upcoming Tet Holiday; Demand for logistics real estate increases sharply: Savills Vietnam.