Explore Food Paradise At Da Lat Night Market With Only VND200,000
What is Da Lat City's night market famous for? It is definitely food. With only VND200,000 (USD8.7), visitors can enjoy a variety of dishes at the Da Lat's food paradise.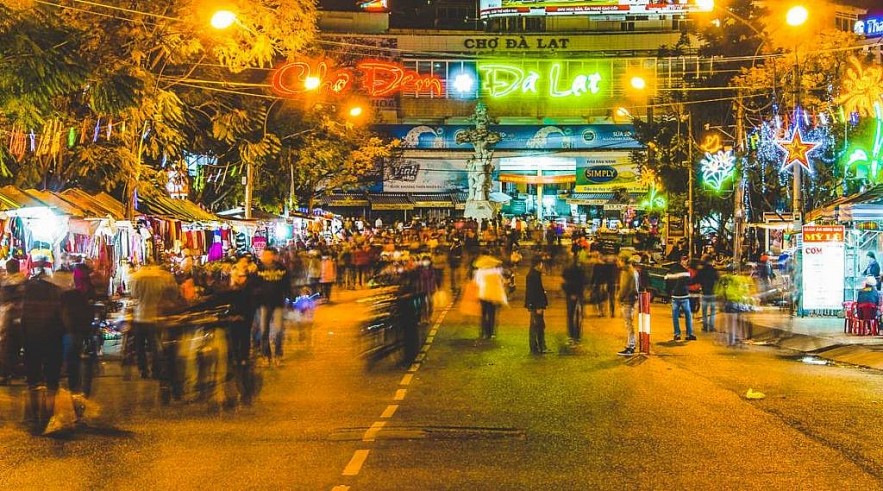 An entrance to Da Lat night market in Da Lat City, Central Highlands province of Lam Dong. The market is always crowded with tourists before the pandemic. Photo Local Vietnam
Meat BBQ on skewers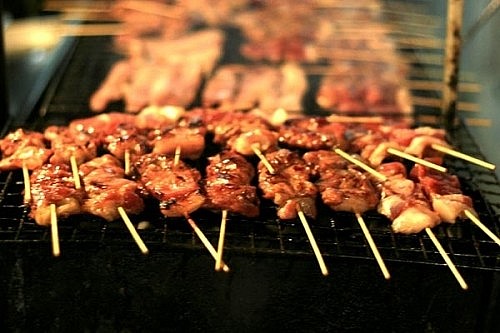 Photo Time Out Vietnam
Vietnamese grilled bamboo stick meat is a popular dish at Da Lat night market.
The BBQ stalls which attract diners with colorful display of sticks offer a dozen of different grilled dishes from pork, seafood, chicken wings, thighs, pork intestines, chicken intestines, sausages, beef rolls with guise leaves.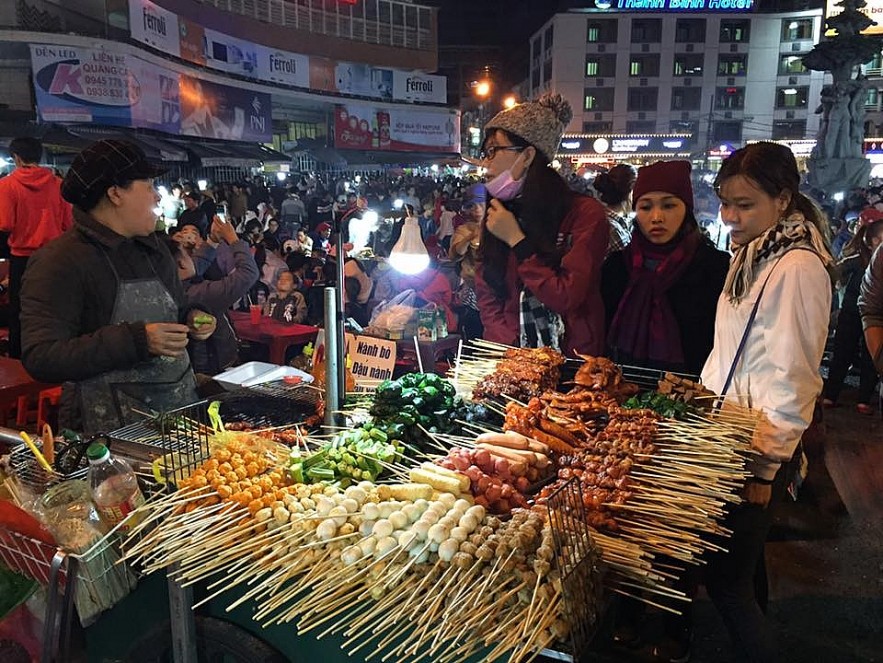 Photo Trang Trai Viet
Each grilled skewer is between VND15,000 to 30,000. Grilled pork is a favorite dish of many tourists. Thinly sliced lean meat seasoned with roasted sesame seeds grilled on charcoal make the meat soft and savoury. The grilled meat is served with sour food and laksa leaves.
Where is Da Lat nigh market?
The Da Lat Night Market is located right in Da Lat city centre, just a five-minute walk from Xuan Huong Lake. Open daily between 5pm and 10pm, it's within walking distance from most places in the city.
Vietnamese pizza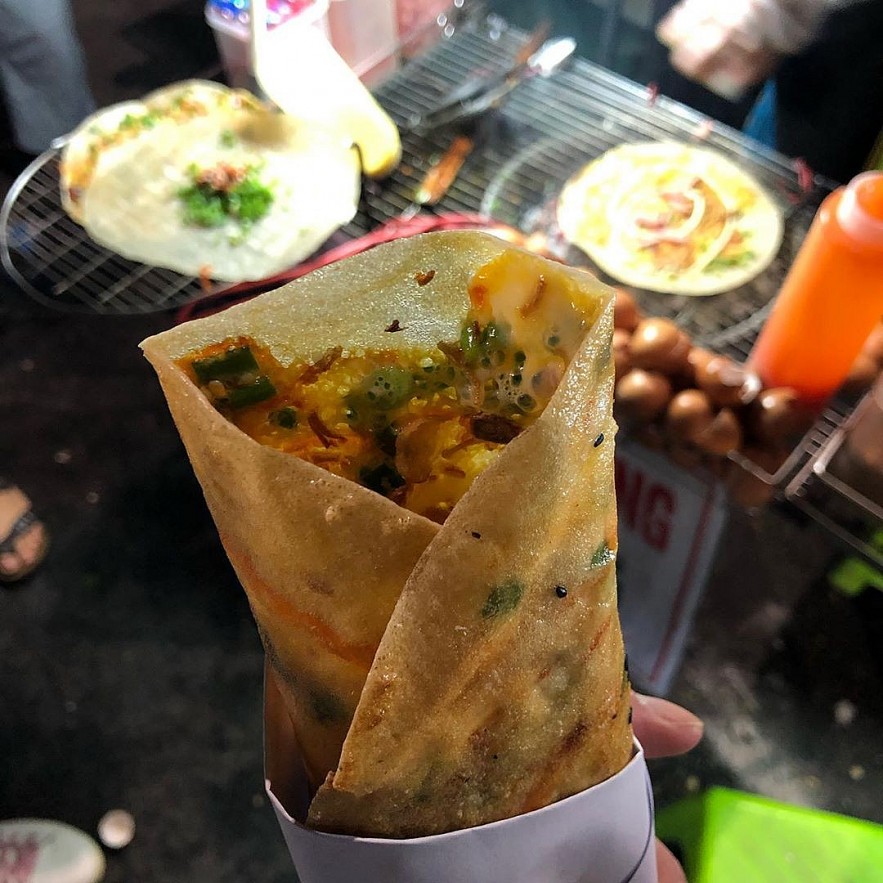 Photo Place VN
Banh Trang Nuong (grilled rice paper with toppings) is a must-try dish in Da Lat. It is called Vietnamese pizza because it looks like a Western pizza but is thinner.
Each rice paper is sold at VND25,000 to 30,000 with topping like cheese, sausages, and salted shredded pork.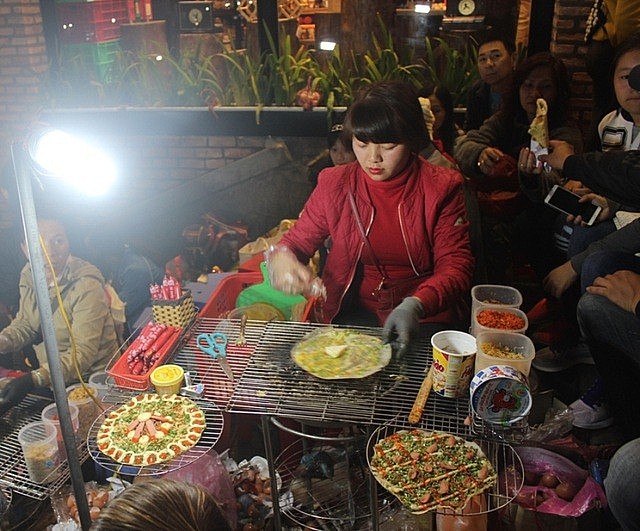 Photo Dan Tri
You can easily recognize Vietnamese pizza stalls at Da Lat market with low stools. Sitting on the chairs around a cooking pan, seeing the stall owner heating charcoal, breaking eggs, making pizzas, adding green onions, dried shrimps, and all kinds of fillings and then sitting and waiting for the rice paper to be cooked are a favorite experience of many visitors.
Right after the pizza is cooked, tourist can enjoy the crispy hot rice paper and feel the warmth from the stove in a Da Lat cold night.
What to buy at Da Lat night market
According to Local Vietnam website, visitors can buy clothes and souvenirs at the market.
Clothes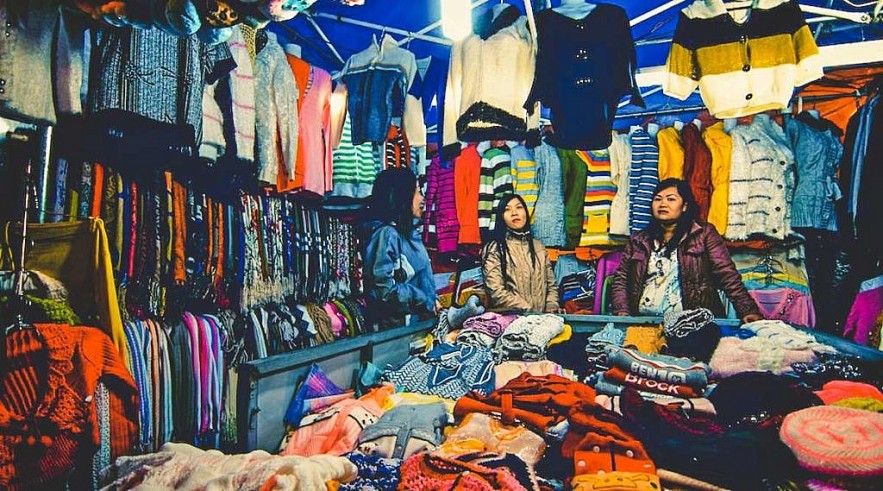 Photo Local Vietnam
Like other markets in Vietnam, you find shirts, pants, shorts, shoes, socks and a lot more at Da Lat market. Because Da Lat is located in the highlands, it has a cooler climate than other southern localities. You can also find a lot of warm clothes here, like jackets, gloves, woolen hats and scarves. There is also a section of stalls with second-hand clothes sold at the price of USD 2 to 3.
Souvenirs
There are also lots of souvenirs you can buy at the market. Don't expect a lot of high quality handicrafts though. Typical local products are jams, tea and coffee.
Soy milk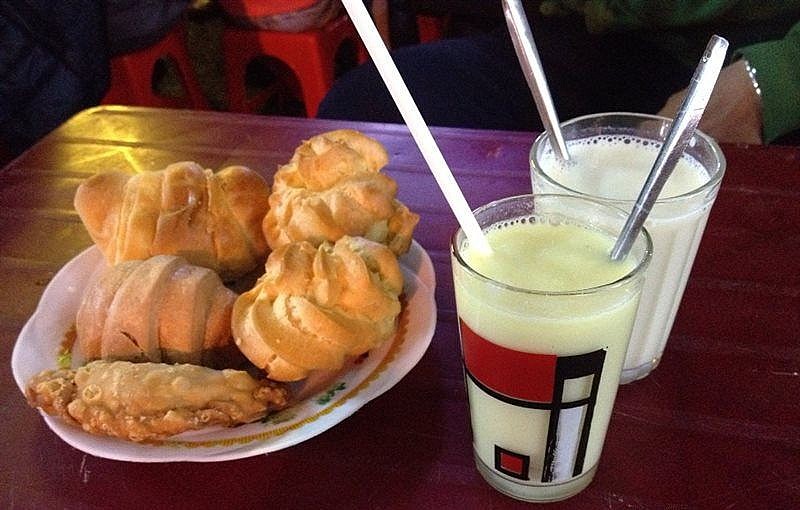 Photo Agotourist
Hot milk is a favorite drink in the 'romantic city' and it seems to taste more delicious when you have it in Da Lat. Tang Bat Ho Street is famous for crowded milk shops that serve all kinds of milk such as soy milk, mung bean milk, corn milk, black sesame milk, peanut milk. The price of each cup is affordable, ranging from VND10,000 to 15,000. Diners can order cakes and breads to eat with hot milk.
Crab soup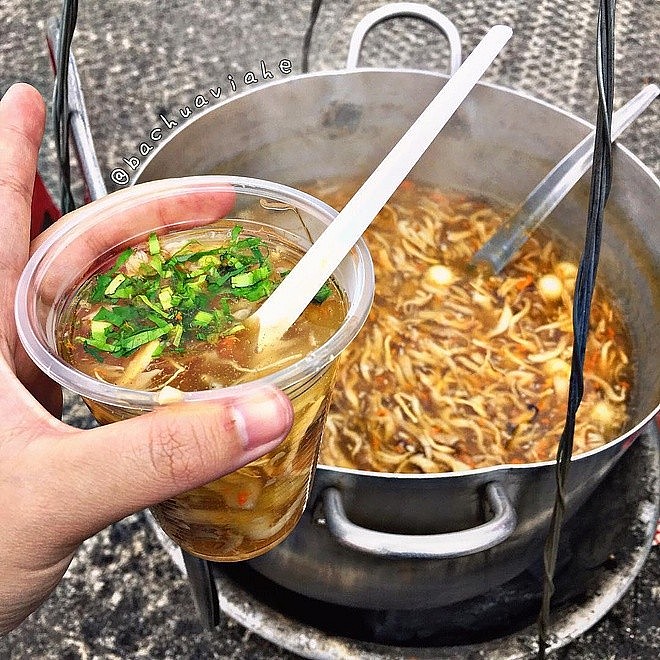 Photo Zing News
If you want to have a meal that warms up you body, try crab soup. Only VND20,000 VND each bowl.
It is a simple dish that combines tapioca starch with sweet broth from the bones, chicken breast, crab meat, quail eggs and fresh Da Lat vegetables such as corn, mushrooms, carrots,.
Shumai bread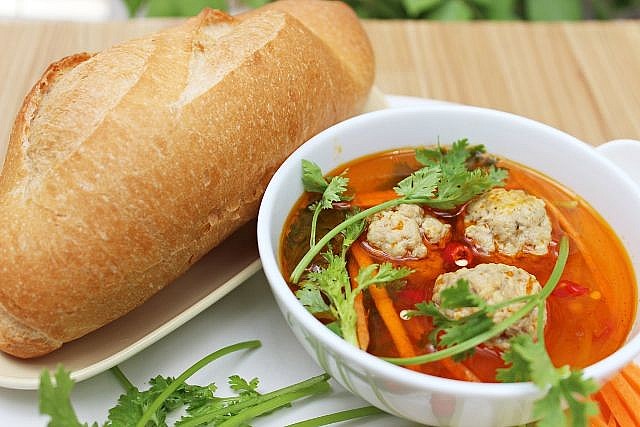 Photo Du Lich Da Lat
Shumai bread can be eaten for breakfast or an evening snack.
Shumai is usually served in small bowls, dipped in rich broth, added with spring onions, herbs and coriander on top, sometimes with pork skin or pork pies. Each serving is from VND30,000 to 35,000.
Snack suggestion at Da Lat night market
Avocado ice cream is considered a must-try dish for diners who love sweet food. Avocado is blended with condensed milk and eaten with coconut cream. You can order durian to boost the taste. Ice cream is mixed well before eating or served in each scoop.
Fruit shake
If Saigon (Ho Chi Minh City) is famous for a mango shake, Da Lat's strawberry shake is also a well known snack.
Strawberries grown in Da Lat are mixed with salted dry plum products, or xi muoi. Sour taste of strawberries mixed with sweetness of salt from xi muoi give the dish a unique taste.
Fruit shake is fill of vitamins with low price from VND25,000 for each glass.
Must-Try Da Lat Hotpots

In Da Lat's pleasantly cool weather, nothing is better than gathering with friends over a delicious bowl of hotpot.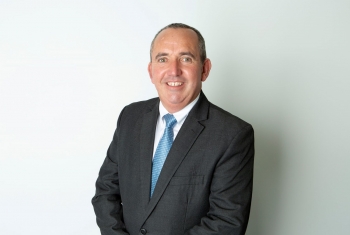 Economy
Skipton International, the award-winning Guernsey-licensed bank, has announced the launch of limited company buy-to-let lending giving customers an additional financing option for growing UK property portfolios.