Exploring street food paradise at Sai Gon flower market
Ho Thi Ky flower market, one of the most famous flower markets in Ho Chi Minh City, will not fail to entertain you with beautiful flowers and street food paradise with over 100 stalls.
Like the other well-known street food hubs – Bui Vien Street in District 1, Phan Xich Long Street in Phu Nhuan District, Vinh Vien Street in District 10, and Ha Ton Quyen Street in District 11 – Ho Thi Ky Street is a popular spot among foodies, Vn Express reported.
From 3 p.m. onwards Ho Thi Ky Street begins to liven up. More than 100 food stalls flank two sides of a street section, serving an assortment of foods and beverages from various places like Hue, Nha Trang, Dong Nai, and An Giang. All kinds of fruit and sweet soups and traditional cakes from the southern region can be found here.
Co Ut's Sweet Soup sells over 10 different kinds like banana, black-eyed pea, corn, and taro sweet soups at VND10,000 ($0.43) per bowl and VND30,000 ($1.29) for a platter of five.
For a heartier meal, swing by nearby stalls selling thick noodle soup (banh canh) and hu tieu noodles at a bargain price of VND25,000 ($1.08).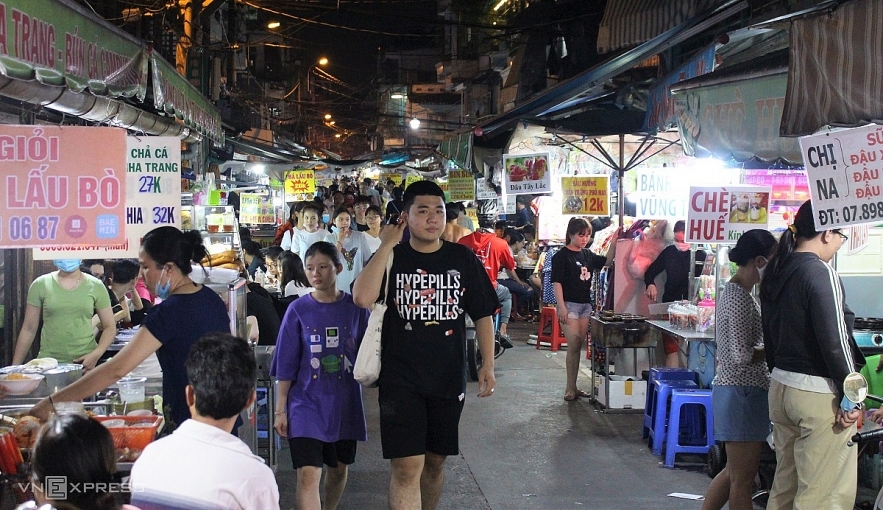 Photo: Vn Express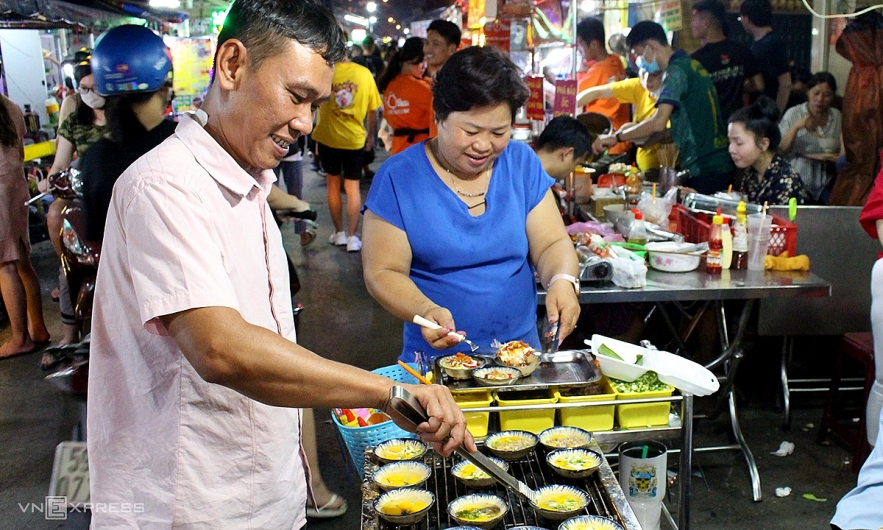 Photo: Vn Express
The veritable food paradise also has Cambodian foods like num banh chok (Cambodian rice noodle soup) and snail hu tieu.
For skewer fans, there are stacks of fish balls, prawn balls, meat balls, cuttlefish balls, sausages, and fried wontons at stalls along Ho Thi Ky, reported Tien Phong News.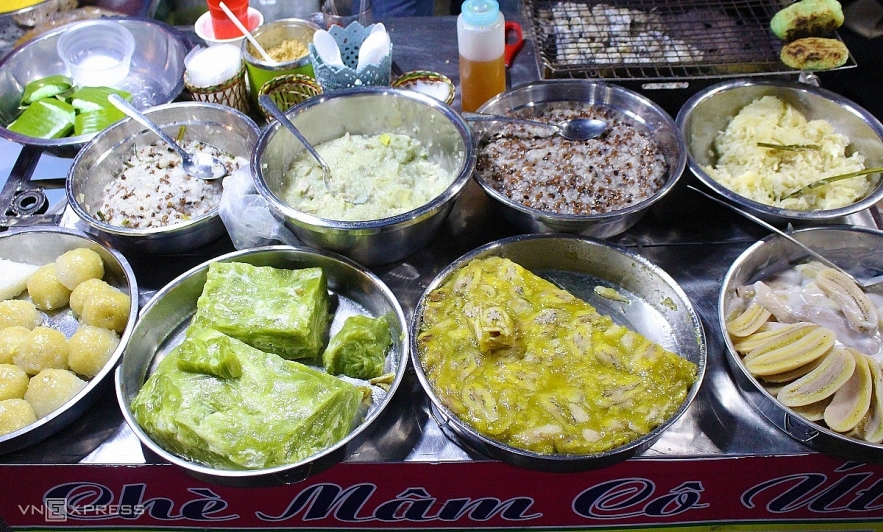 Photo: Vn Express
Photo: Vn Express
Each stall typically offers around 15 varieties of fried snacks. This mini buffet of skewers ranges in price from VND8,000 ($0.34) to VND20,000 ($0.86) per stick.
Some stalls also serve international foods like sushi, takoyaki from Japan, and kimbap and tteokbokki from South Korea. Eat your way through this food paradise at Alley 52, Ho Thi Ky Street, Ward 1, District 10.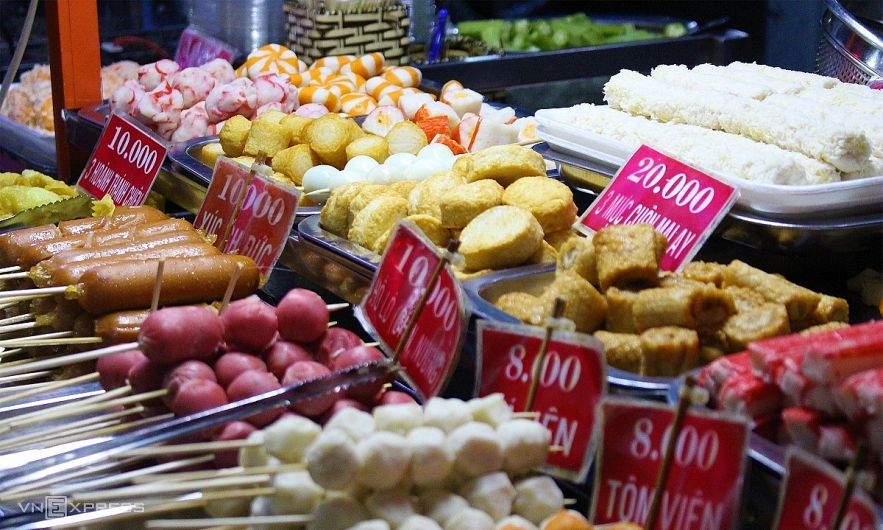 Photo: Vn Express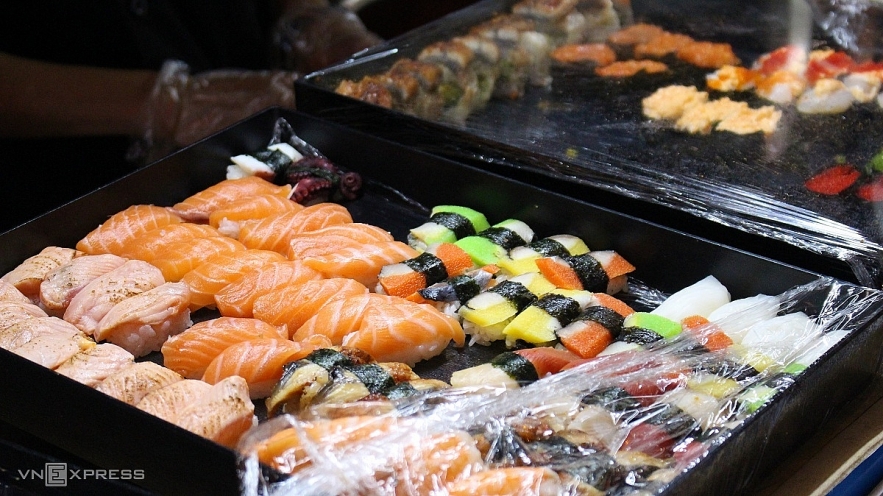 Photo: Vn Express
According to Scooter Saigon Tour, here are some impressive foods which are great tasty, strange and unique for tourists:
+ Beef hot pot: When you order Beef hot pot, they will bring to you a mini gas stove with a pot of hot pot's broth, lean beef, beef organs, beef balls, garlic chives, onions, daikon on it. The hot pot is served with Pho noodles, egg noodles, mushrooms, vegetables, taro, tofu, tofu skin.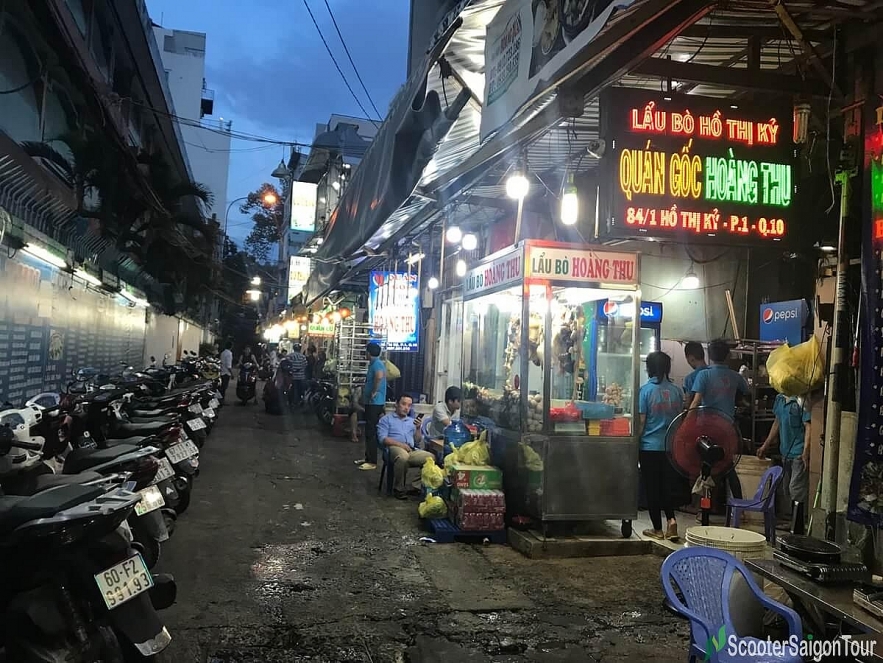 Photo: Scooter Saigon Tour
+ Clear rice noodle soup with snail: Similar to other kinds of Vietnamese rice noodle soups, Clear rice noodle soup with snail consist of clear rice noodles, broth, and toppings. Clear rice noodles are thin, chewier, stickier and more smelling in comparison to rice noodles which are used to make Spring rolls or Rice noodles with grilled pork.
The broth is cooked from pork bones, snails, lemongrass, chili pepper so that it is rich, clear, smooth and hot. This amazing noodle soup is topped with crunchy and sweet-tasty boiled snail meat, steamed clams, some slices of Vietnamese pork roll, minced pork and wood ear meatballs, chopped green onions and herbs. Clear rice noodle soup with snail will satisfy your taste and warm your stomach.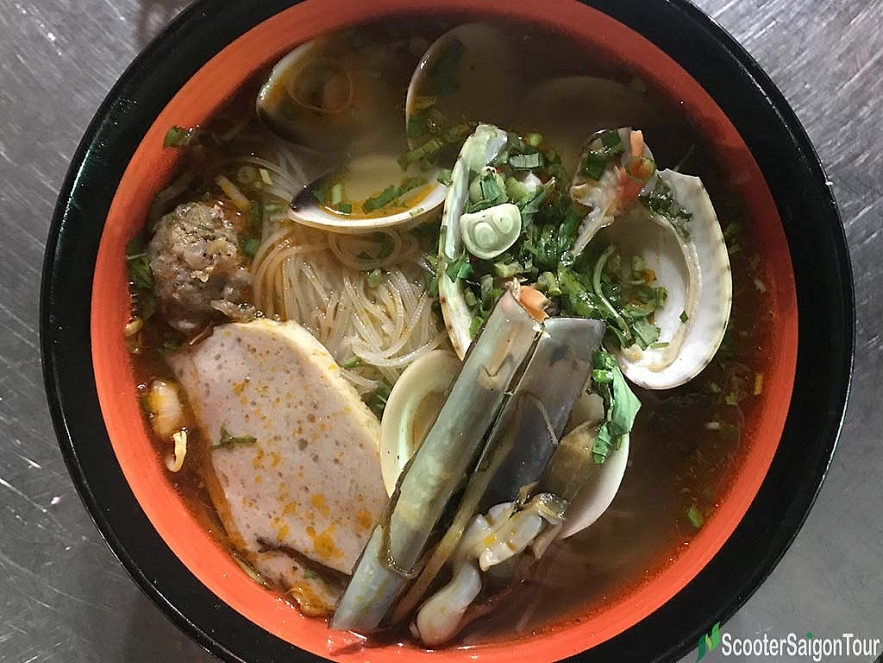 Photo: Scooter Saigon Tour
+ Stir-fried worm-like rice flour jelly: Droplets of worm-like rice flour jelly are ingredients of many delicious desserts in Vietnam such as Worm-like rice flour jelly with mung bean and coconut milk, Agar agar, mock pomegranate, and worm-like rice flour jelly, etc. In Ho Thi Ky flower market, you can find a unique food which is made from the jelly: Stir-fried worm-like rice flour jelly. It is a simple recipe: stir-fry droplets of worm-like rice flour jelly with bean sprouts, creamy egg, tender garlic chives.
However, the cook should be experienced so that worm-like rice flour jelly is sticky, chewy, not too tender, the bean sprouts are not tender but juicy, crunchy, the egg blends the others well. The food is served with sweet, salty and hot soybean sauce dip. It is a perfect mix of all ingredients. Although it is a little oily, you should give it a try. You can not find it out of the market.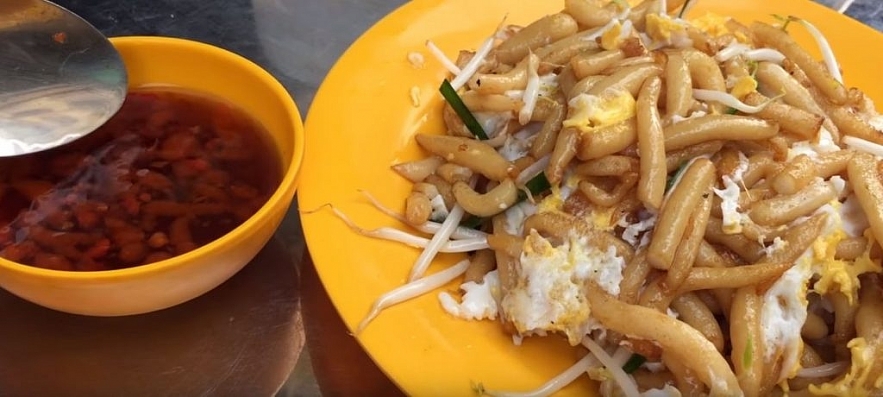 Photo: Scooter Saigon Tour
+ Grill beef on lemongrass stick: Anyone who passes by a street food stall at 57/27B Ho Thi Ky could not stand for the charming smell of Grilled beef on lemongrass stick on charcoal. Ground pork and beef are mixed with minced onion and spices are wrapped around lemongrass sticks, brought to grill until smelling, well-done, brown, crispy outside, and tender inside. Instead of using bamboo or wooden sticks or skewers, they use lemongrass stick which enhances the flavor of this grilled dish. Grilled beef on lemongrass stick is served with morning glory pickle, Vietnamese mint, and chili sauce.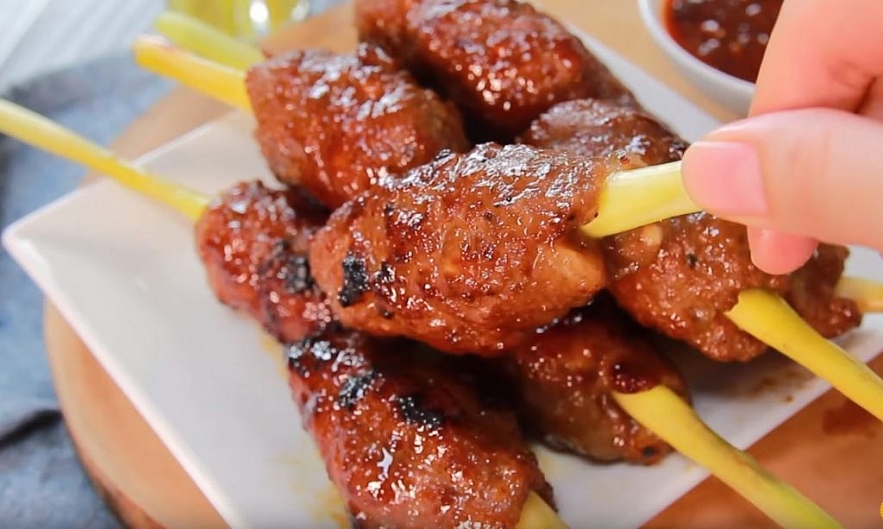 Photo: Scooter Saigon Tour
+ Grilled girdle cake: Banana girdle cake is made from banana thinly sliced, cassava, coconut milk, oil. Or you can choose to eat Sesame girdle cake which is also crispy and distinctly smelling. Coming to Ho Thi Ky Market, you have a chance to see how to grill the cake until crispy on charcoal. A grilled cake costs only 10,000 VND ($0.43).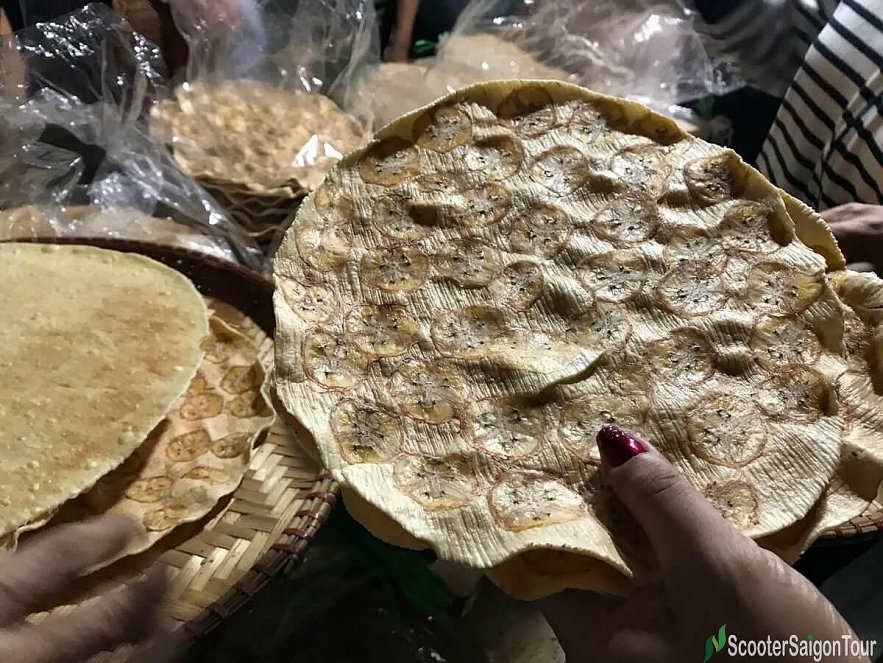 Photo: Scooter Saigon Tour
+ Cambodian clear rice noodle soup: Cambodian clear rice noodle soup at Tu Quy restaurant is simply topped with lean pork slices, ground lean pork, intestines, chopped green onions, deep-fried shallots, and minced herbs. Chewy clear rice noodles and the rich broth are highlights of this food. The "secret" dipping sauce which is sweet and salty attracts customers to come to the restaurant. In addition, various fresh vegetables (bean sprouts, salad, garlic chives, celery) and herbs are also served with this rice noodle soup.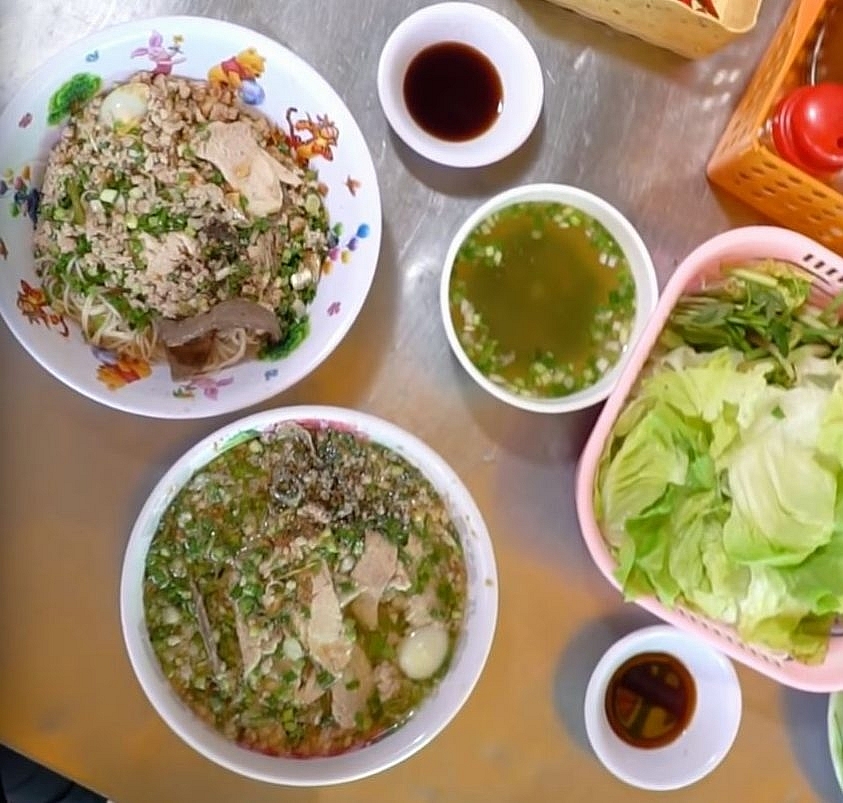 Photo: Scooter Saigon Tour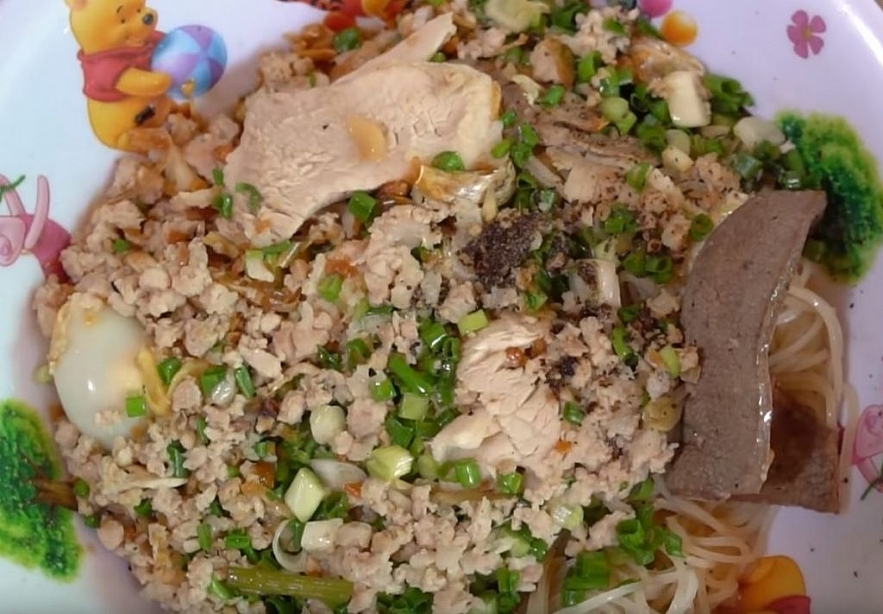 Photo: Scooter Saigon Tour
If you do not like to eat clear rice noodles with the broth, you can order portion of Cambodian dry clear rice noodle. The broth is served separately in a bowl, clear rice noodles and toppings are mixed with a special sauce and served in another bowl.
How to go
From Ben Thanh Market (city center) to Ho Thi Ky flower market is about 4 km, you can get there by bus, taxi or Grab. You should use google maps to get there easier. If you want to go by bus, you should install the Busmap app, reported Saigon Traveling.
In departure, you enter: "Ben Thanh Market".
In destination, you enter: "Ho Thi Ky".
Then click on "Start" and follow the instructions.
Similarly, if you come from another place.
If you get there by taxi/grab, the cost around 50,000 VND ($2.16).
If you go there by bus, you take the bus number 02, the fare is 6000 VND ($0.25).