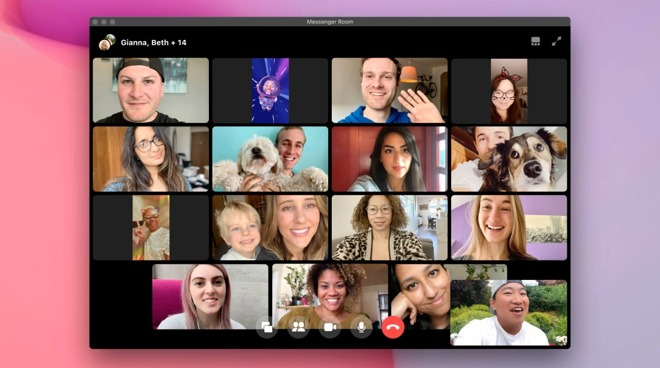 Illustrative photo: AppleInsider.
On Friday, CEO Mark Zuckerberg announced that the company is introducing "Messenger Rooms" — a new feature that allows members to create public or private video chatrooms to interact with friends and strangers, Business Insider reported.
The newly mass video conferencing services capable of hosting 50 people have become popular in recent weeks, due to the stay-at-home orders and a push for home working prompted by COVID-19. This is up from the previous Messenger video call limit, which allowed up to eight people to converse.
While Zoom has gained prominence as the main service people use to host large-scale webcam meetings, with Houseparty and Group Facetime also being used for similar purposes, Facebook has waded into the marketplace with its own take on the idea.
According to Appleinsider, users will be able to start and share a room on Facebook itself via the News Feed, Groups, and Events, though the social network also hopes to introduce ways to make rooms via Instagram Direct, WhatsApp, and Portal in the future. Rooms created by friends and communities followed by the user will be shown to them within Facebook for easy joining.
Like Facebook Messenger, users can also take advantage of AR effects on their video feed, including adding bunny ears and other items to their face, a background, or mood lighting.
Messenger Rooms is rolling out to a few countries at first, with expansion to all other markets within weeks.
Rooms comes alongside a bunch of other video-related announcements from Facebook. The company is adding eight-person video calls to messaging app WhatsApp, as well as video-call functionality to Facebook Dating, the company's dating service that faces the challenge of most prospective daters being unable to meet face-to-face right now.
According to The Guardian, there has been an explosion in video conference-calling, and the big winner thus far has been Zoom — once a firmly corporate-focused video-chat service, it has skyrocketed from 10 million daily users to 300 million in a matter of months.
However, it is alleged to struggle with the security needs when seeing the number of users scaling up in recent months due to warns of limiting interface during coronavirus outbreak.
The video call platform this week announced a new update in an effort to address an onslaught of security concerns surrounding the service. The latest version allows hosts to "report a user" to Zoom with a new security button and the app now defaults users to a "waiting room" feature, which requires participants to be approved to enter a meeting. All meetings will now require a password to enter.
Zoom also added a new encryption standard, called AES 256-bit GCM encryption, which is considered the "gold standard" of encryption and is used by the US government to secure data.
The change will help prevent meetings from being hijacked by hackers, said Thomas Hatch, the co-founder and chief technology officer of Utah-based software firm SaltStack.
Lyan Vu