Facts about VinFuture Award: Founders, Value, Council & More
Three times higher than Nobel Prize's monetary value, special prize for female innovators - Here's what you may not know about the new scientific prize launched by a Vietnam's leading group.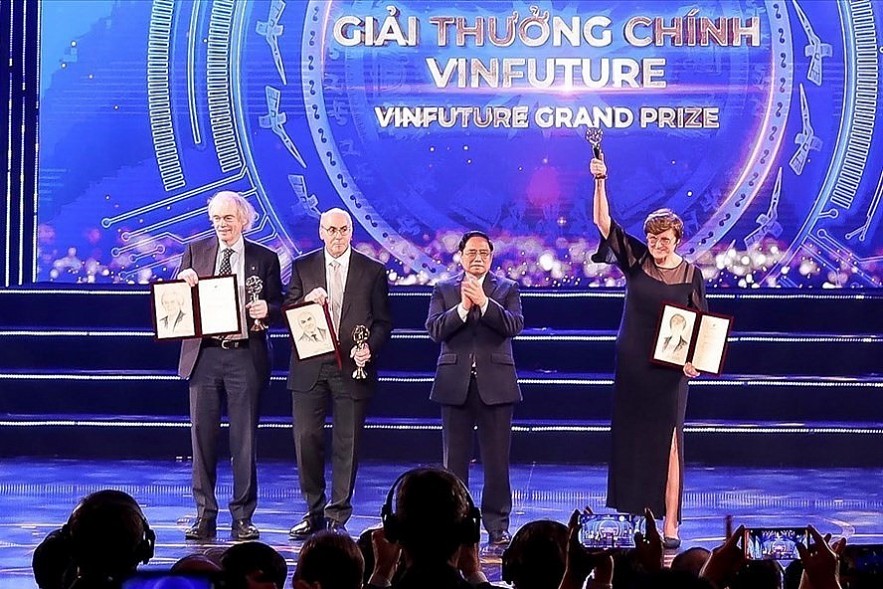 Vietnamese Prime Minister Pham Minh Chinh (second from right) presents the VinFuture Main Prize to scientists. (Photo: Lao Dong)
What's to know about VinFuture Prize?
The annual VinFuture Prize, instituted by the VinFuture Foundation, was launched by Vingroup Chairman Pham Nhat Vuong and his wife Pham Thu Huong. The award aims to recognize groundbreaking scientific and technological discoveries around the world.
VinFuture, the first global sci-tech award from Vietnam, managed to attract nearly 600 nominations from around the globe in its inaugural year.
"The vision for the VinFuture Prize is to catalyze meaningful change in people's everyday lives through tangible and highly scalable improvements in areas such as productivity, prosperity, connectivity, health, safety, environment, sustainability, as well as their overall happiness regardless of socioeconomic status," its website says.
The award cherishes advances in science and engineering that align with the 17 Sustainable Development Goals (SDGs) of the United Nations, including eradicating poverty and hunger, enhancing health and quality of life, promoting access to quality education, clean water, and renewable energy, reducing inequality, addressing climate change.
"VinFuture Prize will contribute to the promotion of diversity and inclusion in the global scientific community," said Professor Sir Kostya Novoselov FRS, who was among the youngest laureates of the Nobel Prize in Physics when he was 36. "It is a very impressive result that will contribute to the promotion of diversity and inclusion in the global scientific community."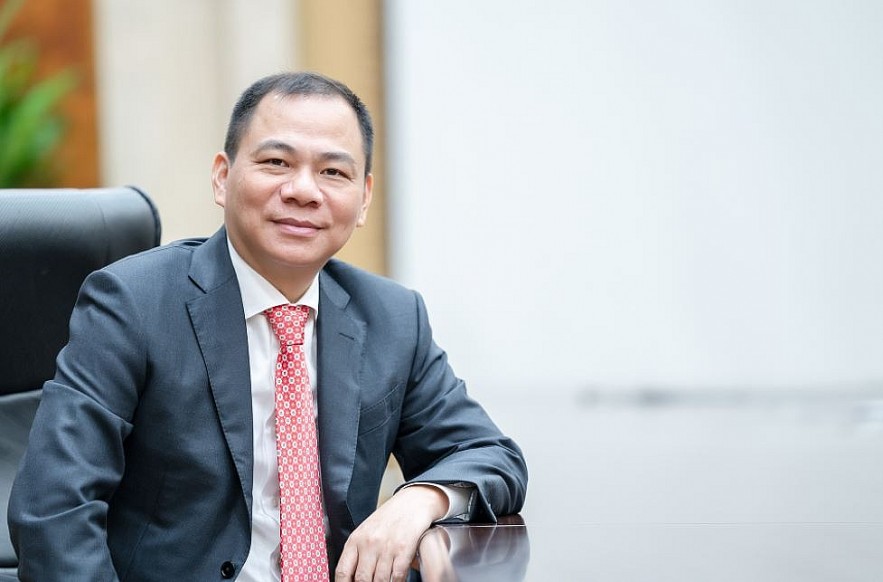 Pham Nhat Vuong (Photo: Ngay moi online)
VinFuture Prize's founders
Pham Nhat Vuong (born 1968) is the current chairperson of the Board of Directors of Vingroup, also the founder and chairperson of the VinFuture Prize Foundation.
Vuong studied in Russia and started a popular instant noodle business in Ukraine in the 1990s before moving back. He chairs Vingroup, one of Vietnam's largest conglomerates with interests in real estate, retail, and healthcare, according to Forbes. He turned some investments into non-profit ventures, including some in healthcare, education, and sports. He also built a center of contemporary art.
The group's main units include automaker Vinfast, which recently launched two electric cars at Los Angeles Auto Show 2021, VN Express cited.
Vuong has been listed as the richest person in Vietnam for several years. His wife, Pham Thu Huong, and sister-in-law Pham Thuy Hang are also named in Vietnam's top 10 richest. As of 12 April 2021, Forbes estimated his net worth to be US$9 billion.
Co-founder of the VinFuture Prize Foundation, Pham Thu Huong, Vuong's spouse, is the second-standing Vice Chairperson of Vingroup. Huong graduated from the National University of Kyiv (Ukraine) with a Master's Degree in International Law. She has been working alongside Pham Nhat Vuong since his early days of entrepreneurship in Ukraine.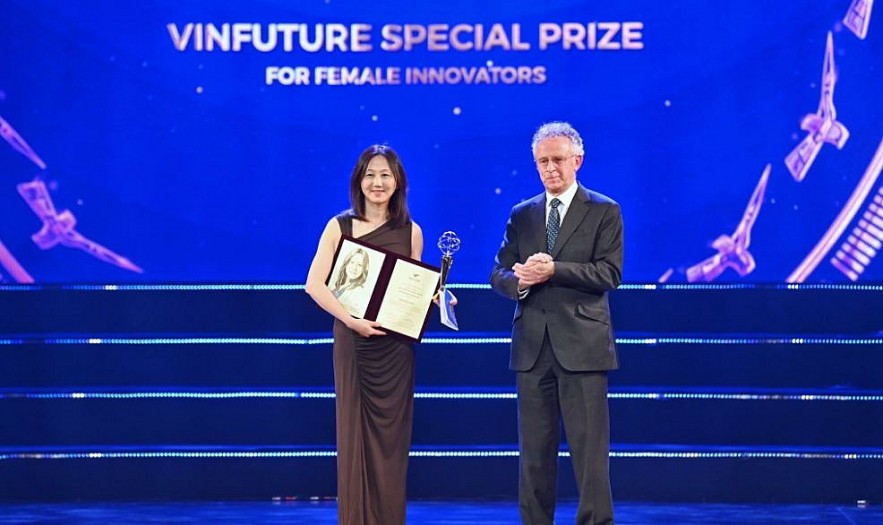 Photo: VN Express
Who decides the prize?
VinFuture Prize's council includes individuals from academia, research, and industry, globally known for their achievements and contributions in science, technology, and industry.
The council consists of:
Professor Sir Richard Henry Friend, FRS - University of Cambridge, United Kingdom
Doctor Padmanabhan Anandan - AI Matters Advisors LLC
Professor Jennifer Tour Chayes - University of California, Berkeley
Professor Pascale Cossart - Pasteur Institute of Paris, France
Professor Van-Chi Dang - Ludwig Institute for Cancer Research
Doctor Xuedong David Huang - Microsoft
Professor Gérard Albert Mourou - École Polytechnique Palaiseau, France
Professor Sir Kostya S. Novoselov FRS - The University of Manchester, UK, and National University of Singapore
Professor Michael Eugene Porter - Bishop William Lawrence University Professor, Harvard Business School
Professor Leslie Gabriel Valiant, FRS - Thomas Jefferson Coolidge Professor of Computer Science and Applied Mathematics Harvard University
Professor Ha-Van Vu - Yale University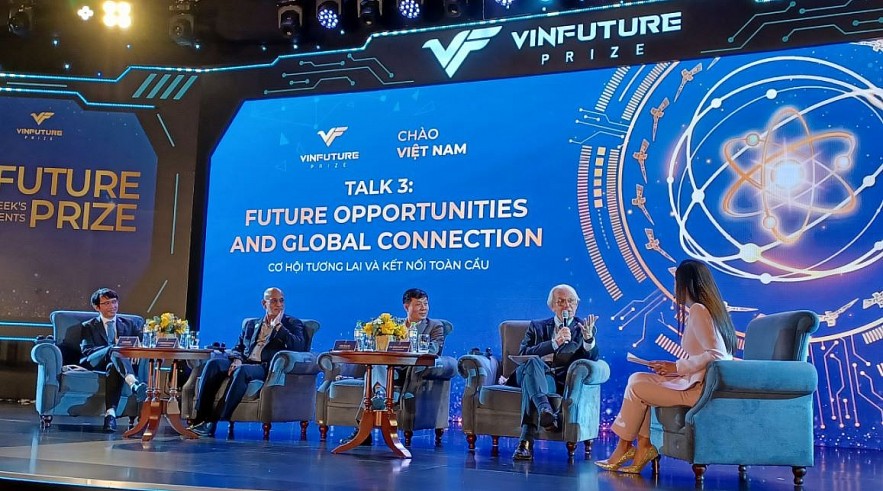 Photo: Thanh Nien
How to nominate?
The prize partners academic institutions and organizations around the globe to identify nominations. For 2021, the prize accepts nominations from both invited nominators and nominators who do not receive the invitation letters from VinFuture Prize provided that they meet the criteria approved by the VinFuture Foundation.
Those who wish to enter the nomination waitlist have to send their CVs to secretariat@vinfutureprize.org.
How much does VinFuture Prize worth?
The VinFuture Prize pledges US$4.5 million annually to reward breakthrough scientific research and technological innovations, including one grand prize of US$3 million, three special prizes of US$500,000 each, dedicated to developing country innovators, female innovators, and outstanding achievements in emerging fields.
For comparison, the Nobel Prize amount for 2021 is set at Swedish kronor (SEK) 10.0 million per full Nobel Prize, equivalent to over one million USD.
On Jan. 20, four prizes were awarded at a ceremony at Hanoi Opera House: a VinFuture Grand Prize valued at $3 million and three special prizes of $500,000 each for female innovators, innovators from developing countries, and innovators with outstanding achievements in emerging fields.
Three scientists: Hungarian biochemist Katalin Kariko, US physician-scientist Drew Weissman, and Canadian physicist and biochemist Pieter Rutter Cullis were awarded the VinFuture Grand Prize valued at $3 million for their contributions to the development of the mRNA vaccine technology.
South African scientists Salim Abdool Karim and Quarraisha Abdool Karim were awarded a VinFuture Prize valued at $500,000 for developing country innovators for the invention of a gel with tenofovir, a product for women to prevent HIV infections, according to VN Express.
US scientist Zhenan Bao was awarded a VinFuture Prize for her research on "electronic skins" capable of stretching, healing like normal skins and are biodegradable.
US scientist Omar M.Yaghi was awarded a VinFuture Prize for his research into water and material science.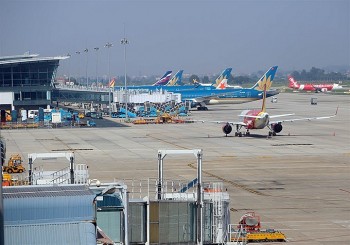 National
Vietnam News Today (May 20): Vietnam eyes 15-day visa exemption from Russia; Vietnam tops medal tally, exceeding gold medal target at SEA Games 31; HCM City, Cuba bolster co-operation in diplomacy, youth and cultural exchanges; Various activities held to mark President Ho Chi Minh's birthday.