Multi-talented Vietnamese-Korean Student Earns Prestigious Prize
Yang Geun-mo, 16, a multi-talented student at Geumsan Hitech High School in South Chungcheong Province, is the grand prize winner of The Korea Times' 10th Korea Multicultural Youth Awards.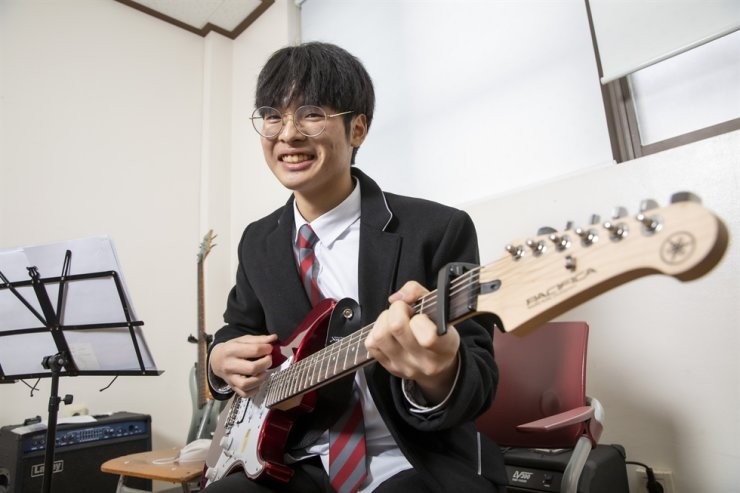 Yang Geun-mo, grand prize winner of the 10th Korea Multicultural Youth Awards hosted by The Korea Times, poses with a guitar in the band practice room at Geumsan Hitech High School in Geumsan, South Chungcheong Province, Nov. 29. Photo: Korea Times
Born to a Vietnamese mother and a Korean father, Yang is one of the top students in the vocational training school, praised by teachers for his hard-working attitude and kindheartedness in offering help to those in need, according to Korea Times.
Yang scored the highest in the midterm and final examinations in his year. Other than his academic performance, he has obtained two technician certifications in welding, as well as four certifications in computer programming, an outstanding accomplishment for a high school sophomore, according to his teachers.
The teachers who spoke with The Korea Times at the school campus on Nov. 29 described Yang as "a brilliant student with high potential."
Lee Song-woo, a computer-aided design (CAD) software teacher, said, "Geun-mo is a high achiever. I would say he is the best student I've taught here. With his passion and hardworking spirit, I expect him to win an award at the provincial vocational skills contest next year, as well as at the nationwide contest in his senior year."
Kim Hyo-jeong, Yang's homeroom teacher who has known him for four years since middle school, spoke highly of his goal-oriented attitude in and outside the classroom.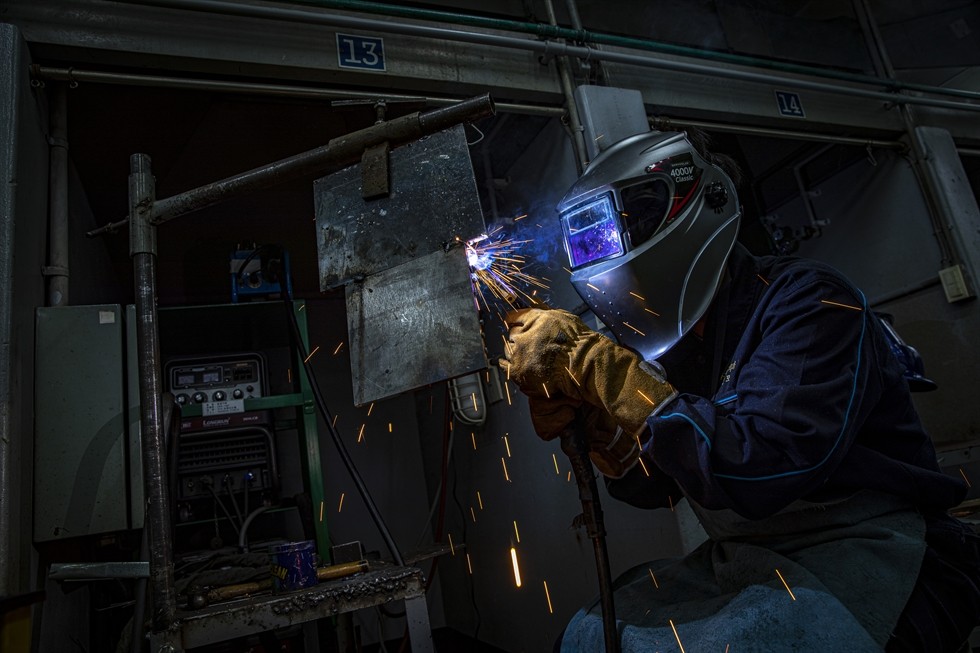 Yang Geun-mo, grand prize winner of the 10th Korea Multicultural Youth Awards, shows off his welding skills in a training center at Geumsan Hitech High School in Geumsan, South Chungcheong Province, Nov. 29. Photo: Korea Times
"If he sets a goal, whether it be to achieve high scores in school exams, obtain technician certificates, or win an award in a music contest, he never fails to achieve that goal. He works so hard that I sometimes have to tell him to get some rest, advice that teachers would rarely give to a high school student," Kim said.
"As the class president, he doesn't hesitate to help other students to keep up with the class. And his diligent attitude brings positive energy to the classroom and motivates other students. Thanks to Geun-mo, the students in our class have obtained the highest number of technician certificates in the school."
"I just do what I have to do, because I enjoy the feeling of achievement I get after fulfilling the tasks ahead of me," Yang told The Korea Times when asked what motivates him to work so hard.
"But sometimes, when I get tired, in order to stay focused, I imagine myself 10 years or 20 years from now. And winning awards like this also motivates me to keep up with the hard work. I feel grateful for the grand prize, which I think will bring me a big step closer to my dreams."
Yang pictures himself working as a mechanic at a large company in the future.
"I like making things from scratch, for example, something that I've designed through the CAD program. After graduating from high school, I want to get a job with a stable income, after which I plan to enter a university to learn deeper about mechanics."
But things have not always been bright for Yang.
His mother left home when Yang was in elementary school, leaving him and his younger brother behind to be raised by their father. His father, however, has not been able to take good care of them as he has been suffering from alcoholism.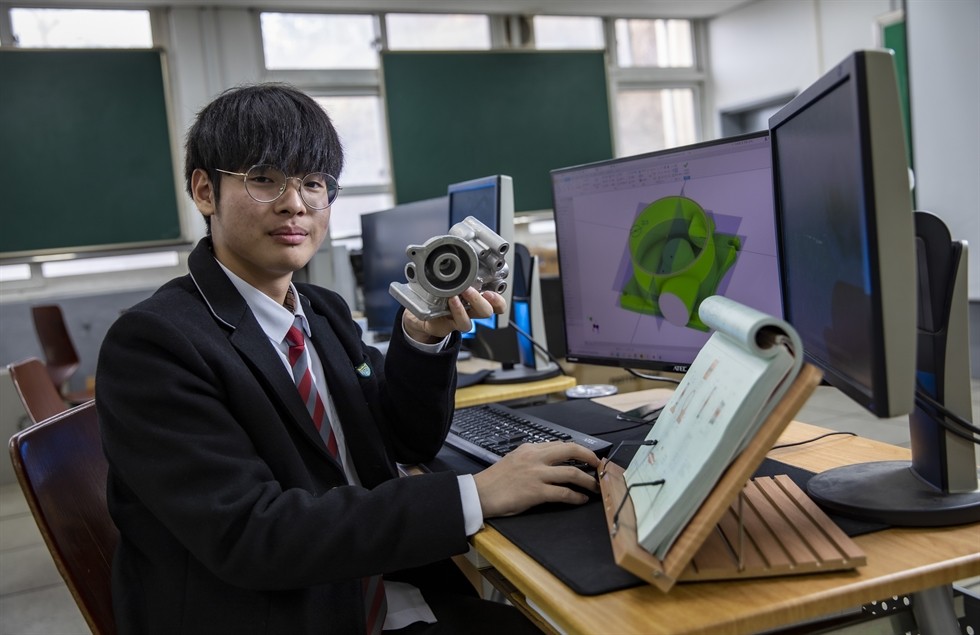 Yang Geun-mo poses at a computer-aided design (CAD) program classroom at his school, Nov. 29. Photo: Korea Times
The 16-year-old was burdened by the fact that he has to be the breadwinner of the family.
"The reason I chose to enter vocational high school, instead of an academic one, is to get a job as soon as I finish school," he said. "Things were very hard in the past, but now I feel like I'm a happy person. I guess sometimes things get better with time," Yang added.
Yang's enthusiasm goes beyond the subjects covered in the classroom.
"There are so many things I would like to learn and experience in the future. I want to learn more about electronics. And when I grow up, I want to obtain knowledge in various fields, for instance by getting a barista certificate or certificates on Korean history," he said.
Yang is also a decent guitar player and is currently a member of the school band.
"Since I had a lot of free time at home when I was in middle school, I began to play the guitar by myself through videos on YouTube," he said.
Though he has been playing the guitar for less than three years, the self-taught guitarist won the grand prize at a provincial music contest last year.
On top of his activities, Yang strives to look around to offer help for those in need. He helps his classmates during technician training sessions as well as students from multicultural backgrounds who sometimes struggle to keep up with the class.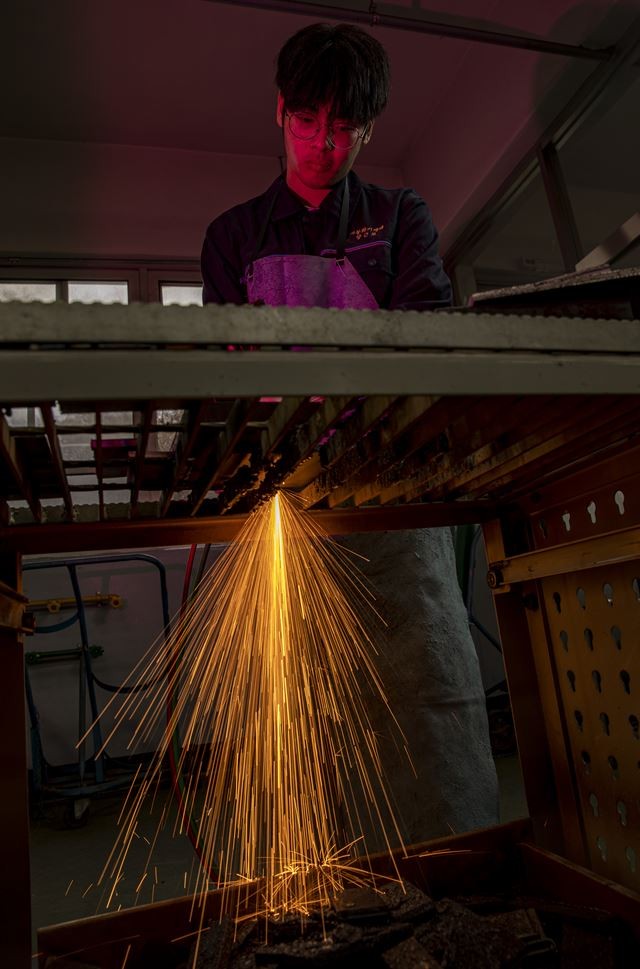 Yang Geun-mo shows his welding skills at a training center in his school, Nov. 29. Photo: Korea Times
"Frankly speaking, I don't think my interracial background makes me different from any other student," he said. "But I've heard that many biracial children suffer from prejudice and discrimination.
"I hope children from multicultural background become more confident in themselves. We can experience two cultures and languages from the early stages of childhood, an opportunity rarely given to children whose parents are both Koreans."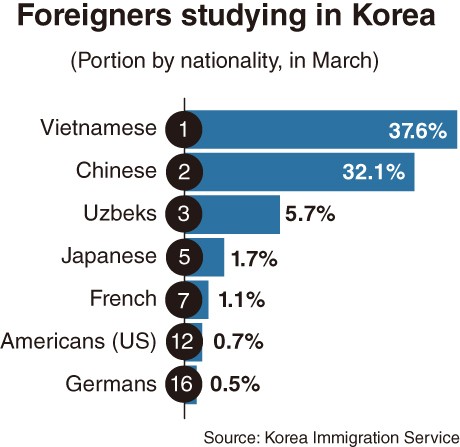 Graphic: Korea Immigration Service
As reported by Korea Herald, 7 in 10 foreign students are Vietnamese or Chinese. According to the Korean Immigration Service, those from Vietnam and China took up the dominant percentage, 69.8 percent, of 158,923 foreign students staying in the nation as of March. Among the group, 59,876 were Vietnamese and 51,094 Chinese.
Vietnamese nationals ranked No. 1 among those studying only Korean language at colleges or other certified educational institutions, while those from China topped the list in the number of people studying regular semester courses at colleges, international schools or other establishments.
In contrast, the portion of students from Japan, the US and other Western countries was quite small, though Koreans make up meaningful portions in Japanese, North American, Oceanian and some European schools.
The number of Japanese and US nationals studying in Korea stayed at 2,790 and 1,237, respectively, with a share of only 1.7 percent and 0.7 percent of the total.
Of the total 158,923 foreign nationals, 47,681 people were studying Korean language, 111,231 were enrolled in regular educational courses, and 11 were studying other foreign languages.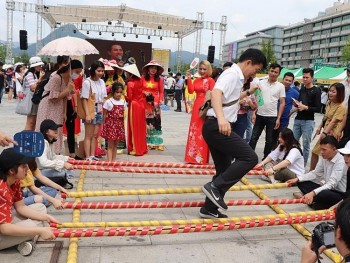 Focus
Vietnam Days Abroad is an annual national promotion program hosted by the Ministry of Foreign Affairs since 2010.