Famous traditional Khmer people's shrimp cake dishes in the delta
One of the famous Khmer people's traditional and delicious plates, Banh cong or Vietnamese fried shrimp cakes, is loved by its crispy taste and simple ingredients.
Who needs sugar and frosting if you can eat cakes for lunch and dinner?
Cupcakes are predictable – they are named that way because they are baked in cup-shaped containers, and they are cakes.
Then comes the Vietnamese banh cong, which can turn your conventional idea of cupcakes on its head.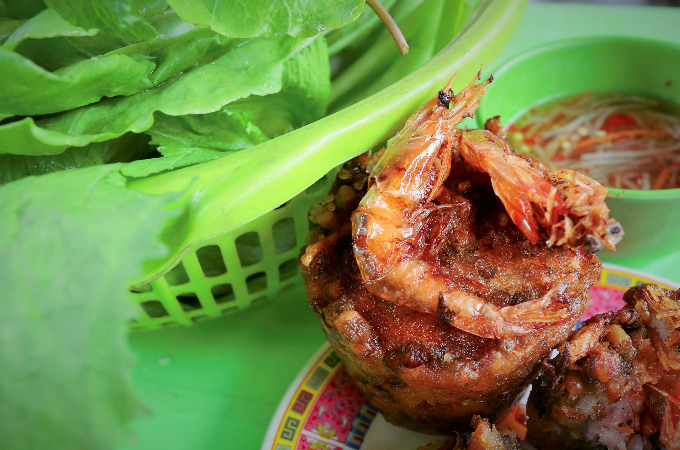 Photo: VnExpress
The cake is made in a mold that is half a soup ladle half a tube. The final result may look similar to your favorite dessert at a quick glance, but it's not.
Banh cong is originally a dish of the Khmer in southern Vietnam. A long time ago it could only be found in Soc Trang Province, but southerners loved it so much they brought it around the Mekong Delta with them and turned the cake into the popular dish that it is today.
The main ingredients of the dish are rice flour, mung beans, shrimps, and minced pork. The preparation decides how tasty the dish is. First, selected fragrant rice is soaked in water for two days and then ground into flour with a little amount of salty water. Mung beans are also soaked in water before being cooked until they become soft.
The dish's filling includes minced pork, mung beans and eggs. Minced pork will be stir-fried with shallots chopped up to make the filling have a pleasant smell. According to some local cooks, the fried shrimp cake will be more delicious if they use shallots grown in the coastal commune of Vinh Chau in the province.
The cake mold is filled with a mixture of rice flour, mung beans, stir-fried minced pork with shallots and topped with more rice flour and a big shrimp. The whole mold is then dipped in boiling oil. When these cakes turn crispy and swell, they are ready to serve diners. The right way is wrapping a shrimp cake in a big leaf of lettuce. Next add herbs and then dip the whole thing in sweet and sour fish sauce.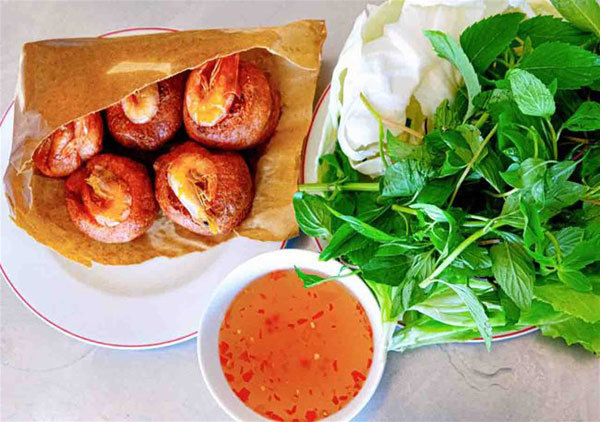 Fried shrimp cakes are served with lettuce, herbs and sweet and sour fish sauce. (Photo: Vietnamnet)
The secret of the cake is that it will be quickly fried one more time, mold-free. This gives banh cong a perfectly crispy skin, but the cake inside is still very soft as if it were baked, not fried.
And because the Vietnamese cuisine is all about balance, a fried cake will be served with a lot of fresh herbs and vegetables.
Finally, the genius thing about banh cong is its dipping sauce, similar to the version paired with the famous banh xeo.
The lightly sweetened sauce with a touch of lime takes the cake to a whole new level. It's truly the proverbial icing on the cake.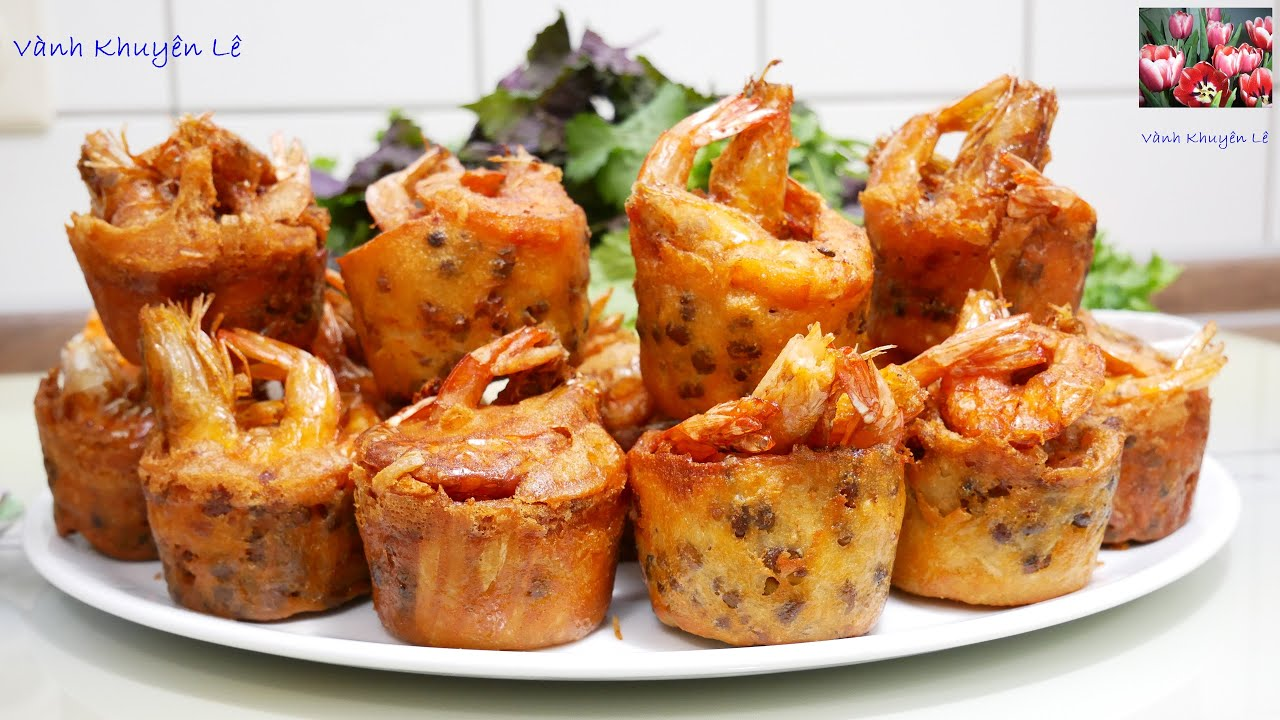 Photo: Youtube
Where to try: Can Tho City and Soc Trang Province in the delta are arguably two best places in for banh cong.
In Ho Chi Minh City, check out the small shop at 8 Ly Thuong Kiet Street in Go Vap District.
Traditional Khmer food that you should try
Typical Khmer dishes which are palatable to westerners include:
Amok – The most popular Cambodian dish with travelers. A coconut milk curry dish less spicy than those found in Thailand. Amok is usually made with chicken, fish, or shrimp, plus some vegetables. It is sometimes served in a hollowed-out coconut with rice on the side. Quite delicious.
K'tieu (Kuytheav) – A noodle soup generally served for breakfast. Can be made with pork, beef or seafood. Flavorings are added to the customers taste in the form of lime juice, chili powder, sugar and fish sauce.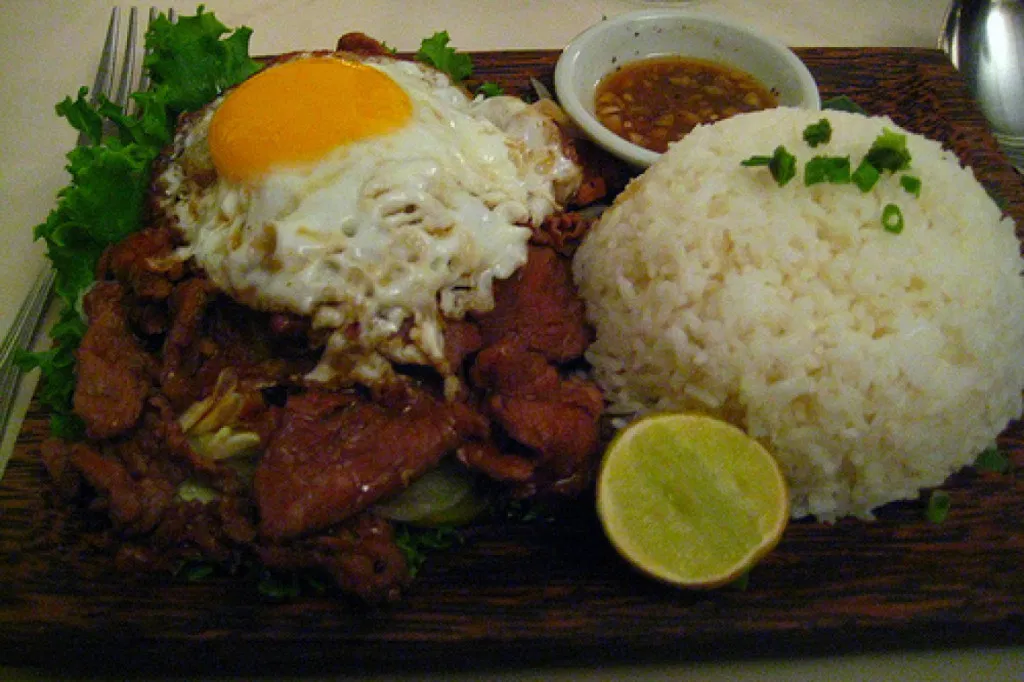 Traditional Cambodia food – Lok lak (Photo: Traveldudes)
Somlah Machou Khmae – A sweet and sour soup made with pineapple, tomatoes and fish.
Bai Saik Ch'rouk – Another breakfast staple. Rice (bai) with pork meat (sec trouk) often barbequed. Very tasty and served with some pickled vegetables.
Saik Ch'rouk Cha Kn'yei – Pork fried with ginger. Ginger is relatively commonly used as a vegetable. This tasty dish is available just about everywhere.
Lok lak – Chopped up beefsteak cooked quickly. Probably a holdover from the days of French colonization. Served with lettuce and onion, and often with chips.
Mi / Bai Chaa – Fried noodles or rice. Never particularly inspiring, but a good traveller's staple.
Trey Ch'ien Chou 'Ayme – Trey (fish) fried with a sweet chili sauce and vegetables. Very tasty. Chou 'ayme is the phrase for "sweet and sour".
K'dam – Crab. Kampot in the south is famous for its crab cooked in pepper. A very tasty meal.
Vietnamese style duck vermicelli

When imagining Vietnamese cuisine, great noodle soups often spring to mind. This is an amazing combination of grilled-duck, raw herbs and dipping sauce.