Recipe: Braised beef with sugarcane molasses – a specialty of Nghe An with video
The dish is like the combination of of the four tastes spicy, sweet, sour and salty.
Braised beef with coconut molasses is a traditional delicacy indispensable in the Tet (Lunar New Year) holiday of people in central Nghe An province. The typical spice in this dish is Nghe An sugarcane molasses, which is sweeter and denser than molasses from other places, wrote Vnexpress.
- Total time: 1 hour 30 minutes, excluding marinating time.
- Servings: 6-8 people
- Total calories: 2404 kcal
Ingredients
- 1.2- 1.5 kg of beef or beef tendon
- Braised green tea to soak and wash the beef to help deodorize
- 1 cup (small bowl) of fish sauce
- 1 cup (small bowl) of molasses
- 1 branch of ginger
- 7-8 cloves of garlic
- 4 lemongrass bulbs
- 4 anise flowers
- 2-3 cinnamon sticks
- 2 tbsps chili powder for coloring
- 3-4 fresh chili peppers (optional)
- 1 tbsp lightly crushed black pepper
- 1 tbsp cashew oil
- Dried onions (optional)
Instruction
- Tea leaves (fresh tea, green tea) washed, crumpled and braised with boiling water to get water to soak and wash beef meat. Then pat the meat dry.
- Marinating the meat with ginger, onion, garlic, minced lemongrass, crushed chili, star anise, crushed cinnamon: The longer the marinating time, the more delicious and rich the dish will be.
- Putting the beef into a large bowl, add all the spices on top of the sauce above (fish sauce, molasses, cashew oil), crushed black pepper into the mix, put on gloves and squeeze well. Cover and refrigerate for at least two hours, preferably overnight, when the stock will taste better.
- Making Beef stock: Storing twice makes the meat richer, firmer and tastier
First time helps the tendons shrink:
+ Put the meat and all the marinade in a pot, turn the stove to high setting.
When the mix boils, reduce the heat to simmer. Turn the meat to absorb the seasoning.
After 15 minutes, turn off the heat and let it cool.
Second time helps spices penetrate deeply into the meat to make it firm and rich.
Turn the stove to high setting. At this time, some water is released, lower the heat and simmer. Turn occasionally to allow seasoning to penetrate evenly on all sides.
After about 45 minutes, the sauce thickens and covers the meat. At this point, turn off the stove, let it cool.
When the meat is cooled, put it in a box and put it in the refrigerator to use it gradually.
When eating, slice thinly and drizzle sauce on top.
The finished product: Yellow-brown beef, with a harmonious taste of salty, sweet, bitter, spicy, fragrant with ginger, molasses, cinnamon anise. This dish is very delicious with banh chung, sticky rice or rice.
Note:
+ Do not add water when cooking, mainly marinated sauce (molasses, fish sauce) and water secreted from beef create a deep and attractive sweetness.
+ You should choose the beef shank or the part with a bit of tendon and fat, so that after braised the meat will not dry.
+ The longer it sits in marinade, the more likely to have a seasoning and delicious piece of meat,
+ Nghe An molasses is an indispensable spice, creating the characteristic and attractiveness of this dish.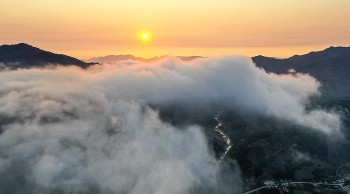 Multimedia
The gorgeous dawn behind a sea of fluffy white clouds creates a wonderful and beautiful picture of Truong Son Dong peak, Quang Ngai.