Famous Vietnamese paintings to be auctioned at Christie's
Three Vietnamese art pieces of three latest Vietnamese artists will be displayed and sold at Christie's upcoming 20th and 21st Century Art Evening Sale in Hong Kong (China) on May 24.
The masterpieces include "Jeune femme Attachant son Foulard" (Young Lady Tying Her Scarf) by Le Pho, "La Joconde" (Mona Lisa) by Mai Trung Thu and "Dyers at work" by Nguyen Phan Chanh.
The "Jeune femme Attachant son Foulard" painted in 1938 has a dimension of 59.5 x 48,5 centimeters. The painting carries an estimated value of US$875.000 – US$1.1 million.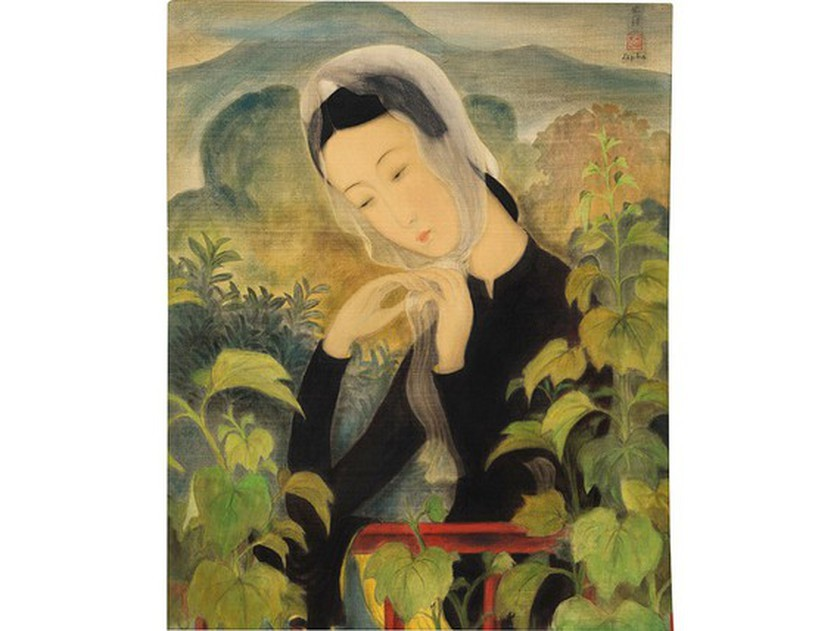 The "Jeune femme Attachant son Foulard" (Young Lady Tying Her Scarf) by Le Pho (Photo: Vietnamnet)
The "La Joconde" painted in 1974 with a measurement of 53.5 x 57.5 centimeters is valued at over US$300,000 while "Dyers at work" created in 1931 and measured 60 x 88.5 centimeters is estimated between US$257,000 – US$386,000.
Previously, an oil painting entitled Portrait de Mademoiselle Phuong (Portrait of Mademoiselle Phuong) by painter Mai Trung Thu achieved a record price of US$3.1 million for a Vietnamese artwork at the Modern Art Evening and Day Sales of Sotheby's Hong Kong on April 18.
On March 16, the painting "Autoportrait dans la forêt" (A self-portrait in the forest) by Le Pho was sold at over one million dollars at an auction at Sotheby's, Paris.
In 2018, the paintings "La Marchande de Oc" (The Snail Seller) and "Enfant à l'oiseau" (Child with Bird) by Nguyen Phan Chanh were sold for US$600,000 and US$853,000 at an auction by Christie's Hong Kong respectively. The auction with name "20th Century & Contemporary Art" on 29 May 2019, the painting "Le Jeu des Cases Gagnantes" (Playing 'Go') was sold for US$440,000 by Christie's Hong Kong.
Experts and collectors expect that Le Pho will get a whopping price breaking the record for prices paid for Vietnamese art.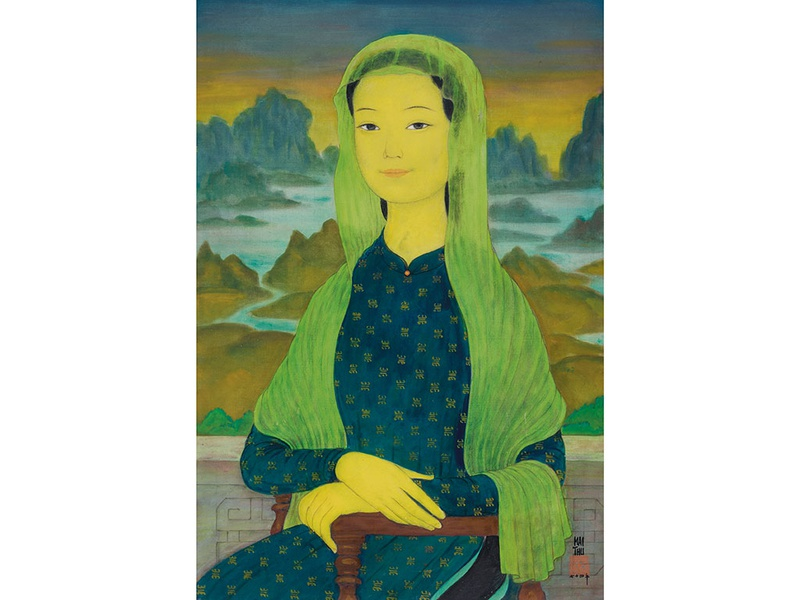 "La Joconde" of Mai Trung Thu (Photo: Thanh Nien)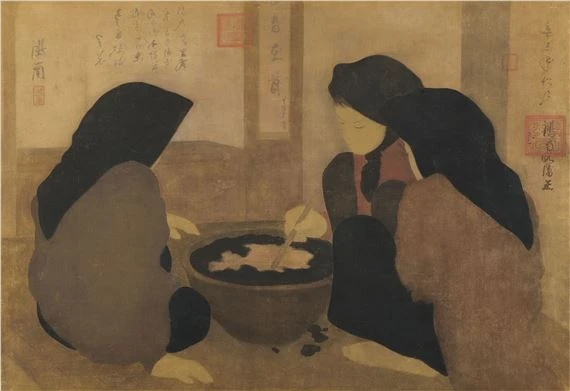 "Dyers At Work" of Nguyen Phan Chanh. (Photo: MutualArt)
About the artists
Le Pho is an important Vietnamese artist along with Vu Cao Dam. Born in 1902 son of Le Hoan, a senior mandarin, Le Pho received a comprehensive education, including training in brush training. At the age of 18 Le Pho went on to study at the Ecole des Beaux-Arts of Hanoi for five years. Afterwards for two years he then studied at the Ecole des Beaux-Arts in Paris. After completing his education, Le Pho returned to Vietnam to teach at the Ecole des Beaux-Arts for four years. Then in 1937 he returned to Paris as a delegate in the International Exposition there. He also served as a member of the jury of this exposition. During the thirties and forties, Le Pho travelled extensively in Europe and Asia. At this time Le Pho painted with long, thin brushes of watercolor on silk. His subjects, including birds, bamboo, and lotus flowers were traditionally Asian. His work was clearly influenced by Pierre Bonnard and Odilon Redon. For the rest of his career Le Pho was a notable artist, represented in many exhibitions and shows throughout Europe and the United States. Le Pho died in 2001. His works are in the permanent collections of Museum d'Art Moderne in Paris, the Vietnam Museum of Modern Art, and the Oklahoma Art Center.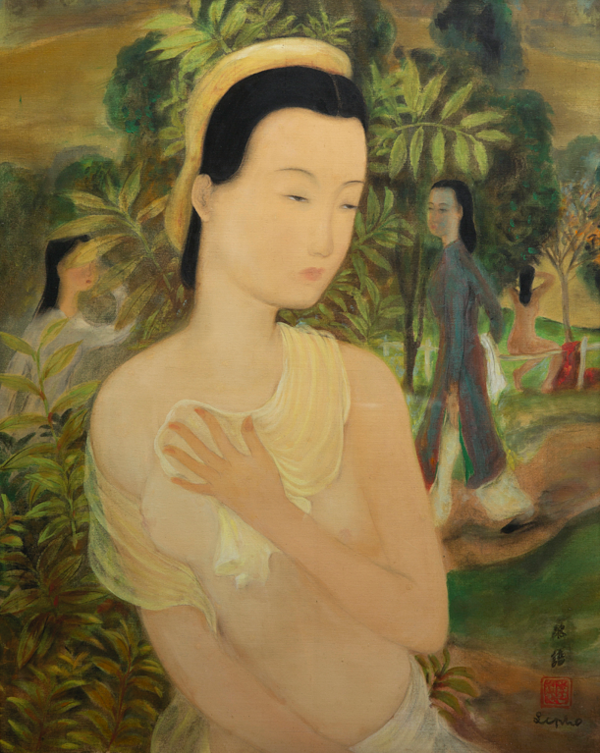 After The Bath by Le Pho. Photo courtesy of Tajan.
Among the first graduates of the École des Beaux-Arts de 'Indochine (VietnamUniversity of Fine Arts) in Hanoi, Mai Trung Thu (1906-1980) was a painter whose oeuvre celebrated the innocence of rural Vietnam. His participation in the International Exhibition of Decorative Arts in Paris in 1937 led him to settle down inFrance. Despite staying there for most of his life, Mai Thu continued a deep sense of love for his homeland, painting tender images of Vietnamese women, children and idealised landscapes.
His silk paintings depict ethnically Vietnamese figures – mainly women – engaged in a variety of leisurely activities. Their serene facial expressions, evocative poses and lively interactions create a romantic and poetic vision of Vietnamese everyday life. In contrast to other silk painters, Mai Thu often used bold colours to illustrate traditional garments and paraphernalia, culminating in vibrant scenes of peaceful nostalgia.
After moving to France in 1937, Mai Thu quickly gained recognition by participating in the annual exhibitions, Salon des Indépendants and Salon d'Automne from 1938 to 1940. While in France, he proceeded to have many solo exhibitions surrounding the themes of women, children and family. The retrospective exhibition, The Poetic Universe of Mai Thu, opened at the Galerie Vendôme before his passing in 1980.
Nguyen Phan Chanh (1892-1984) was born in Bat Tien hamlet, Trung Tiet commune, Thach Ha district, Ha Tinh province.
Chanh, among the first students of the Indochina College of Fine Arts, now Hanoi University of Fine Arts, was one of the greatest Vietnamese painters of the last century. With a good command of folk art and an intense passion for the art, he was inspired by Eastern art after gaining access to Chinese silk paintings and Japanese silk paintings.
He created his own style and techniques for painting on silk.
In 1996, he was posthumously awarded the Ho Chi Minh Prize, the noblest award for literary and fine-art work in Vietnam .
Chanh left about 170 silk paintings and 52 sketches when he died, according to his family. Most of them are stored in museums and private collections throughout the world. His family owns a small number.
His work has been displayed in France, Italy, the US, Japan, the former Czechoslovakia, Hungary, Romania, Poland and the former Soviet Union.